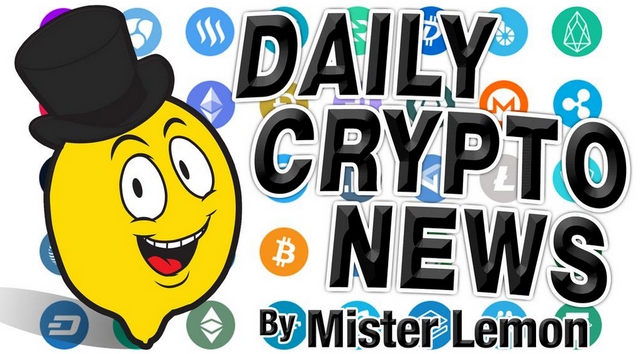 Bitcoin Price: Big Move Brewing as $9.5K Becomes Next Key Battleground ;
Huobi Global Is Forcing US Customers to Use Its Local Partner ;
Users of Two More Crypto Exchanges Can't Access Their Funds ;
Stellar's Foundation Just Destroyed Half the Supply of Its Lumens Cryptocurrency ;
US Federal Reserve Hiring Retail Payments Manager to Research Digital Currencies ;
🗞 Daily Crypto News, November, 5th💰
STEEM Trading Update
Welcome to the Daily Crypto News: A complete Press Review, Coin Calendar and Trading Analysis. Enjoy!
Bitcoin price (BTC) closed the week at $9,207, down 3.66%. Despite a surprisingly low volatility weekend, the bulls helped keep Bitcoin price above $9,000 for 10 days and at the time of writing the price continues to consolidate.
So far Monday has brought a move higher to retest $9,300, representing a 1% gain. EOS (EOS) and Ether (ETH) have had notable gains on the day with EOS trading over $3.50 and Ethereum at $185. The total crypto market cap is $249 billion, with Bitcoin dominance at 67.2%
Huobi Global will kick all of its U.S. customers off its platform later this month.
The cryptocurrency exchange announced it would freeze all U.S. accounts on Nov. 13, framing the move as a compliance step made to conform to U.S. laws and regulations. Huobi is recommending that customers transfer their assets to HBUS, the U.S. firm affiliated with the global brand.
"Our User Agreement expressly prohibits users in the United States from using our platform," Huobi said of its main platform.
A financial regulator in a Canadian province has placed one cryptocurrency exchange into receivership and is investigating another – with scores of customers concerned about the whereabouts of their funds.
Per multiple Canadian media outlets, including news agency The Canadian Press (via Vic News), the British Columbia Securities Commission last week asked the province's Supreme Court to place the Vancouver-based Einstein Exchange into the regulator's hands after the latter "received numerous complaints about customers being unable to access their assets."
The court granted the application on Friday last week, appointing auditing firm Grant Thornton as an interim receiver, with a remit to "protect Einstein Exchange's assets." The auditor posted a legal document issued by the court, which specifies that it may make "forced entry into any of [Einstein Exchange's] business properties."
MEXICO CITY – The Stellar Development Foundation has burned 55 billion of its XLM tokens, over half the cryptocurrency's supply, CEO Denelle Dixon announced from the stage of the Stellar Meridian conference Monday.
Previously, there had been 105 billion XLM in existence, with 20 billion in circulation. With this burn, the supply has shrunk to 50 billion.
"We didn't start by wanting to burn. We started by asking, 'What do we need?'" Dixon told the room of roughly 200 attendees. "As much as we wanted to use the lumens that we held, it was very hard to get them into the market."
The U.S. Federal Reserve is hiring a manager to oversee its traditional payments section, while adding new responsibilities to the role, including researching how to integrate digital currencies, stablecoins and distributed ledger technologies.
For months, the central bank's governors have been hinting at its broader interest in understanding and even issuing a digital currency in the face of corporate stablecoin proposals and national coins abroad, but this hire appears to be the first human resources investment made by the Fed towards integrating the technology into its existing systems.
In a job posted to the Fed's website on Monday, the role, to be based in Washington, D.C., would manage the Fed's Retail Payments Section, overseeing check and automated clearinghouse services, facilitating research in retail payments innovation, and addressing policy and regulatory issues concerning retail payment systems.
🗞 Daily Crypto News, November, 5th💰
"Remember, Remember the 5th of November, the day Tritium changed Distributed Ledger. Yes, this is an official release date."
"Get your validator infrastructure ready. Proposed genesis is Nov 5th, 14:00 UTC."
"Mark your calendar as TomoX testnet will be live on Tuesday, Nov 5th!"
NEM Foundation Council Member Anton Bosenko will be speaking in the upcoming International Innovation Forum in Kyiv on November 5, 2019.
"We are pleased to announce that the ICON x Steem DApp SEOUL MEETUP will be held in the ICON Lounge on November 5th."
STEEM Trading Update by my friend @cryptopassion
Here is the chart of my last analysis :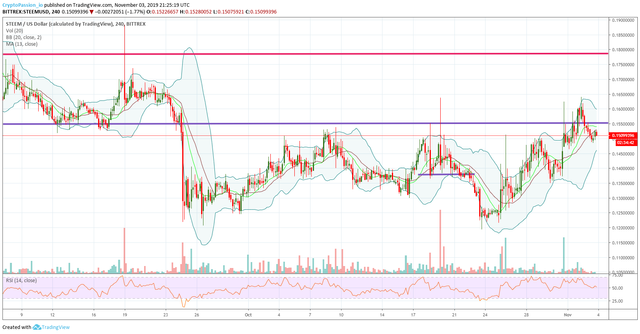 Here is the current chart :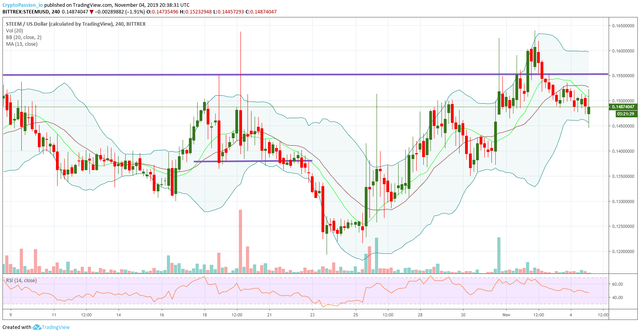 We are having a DOJI on the STEEM chart. The meaning of that DOJI is that the market has some indecision and that a change of direction is possible. Does it mean that the rejection is finish? It could ;-) At least it means that the market has difficulties to continue the drop. Let's see if we will be able to reverse the move and go again in the direction of the resistance line at 0.155$.
Last Updates

Join this new Free To Play on the STEEM Platform !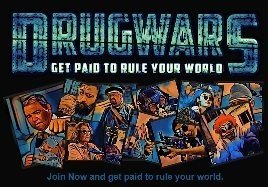 You don't want to miss a Crypto news?
Join SteemFollower and get Upvotes back !