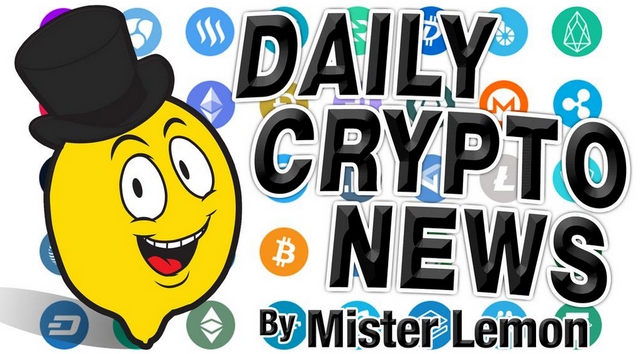 Fiat-to-Crypto 'Carry Trade' May Tempt Traders Tired of Negative Interest Rates ;
CFTC Chair Says Ether Futures 'Likely' in 2020 ;
Bitcoin Futures: Institutional Long Positions Value Doubled in October ;
Telegram Backer Sought Circle Listing Before SEC Halted Token Launch ;
Opera Becomes First Major Browser to Enable Direct Bitcoin Payments ;
🗞 Daily Crypto News, October, 22nd 💰
STEEM Trading Update
Welcome to the Daily Crypto News: A complete Press Review, Coin Calendar and Trading Analysis. Enjoy!
With the era of negative interest rates well and truly here, return-hungry investors may increasingly borrow in low-interest fiat currencies and invest in higher-yielding cryptocurrency accounts.
"The fiat-BTC carry trade is the next step in bitcoin growth," tweeted popular bitcoin quant investor @100trillionUSD on Oct. 10.
A carry trade is a strategy where a trader uses a low-yielding currency to fund a high-yielding investment.
For instance, the yen carry trade was popular in 2004-2008 when the Federal Reserve hiked rates from 1 percent to 5.25 percent and interest rates in Japan were stuck near 0.5 percent.
Investors borrowed in yen to fund dollar-denominated investments. As a result, the yen weakened by 20 percent against the U.S. dollar.
Commodity Futures Trading Commission (CFTC) Chairman Heath Tarbert believes the crypto world will see ethereum futures contracts sometime in 2020.
Speaking at Georgetown University in a fireside chat during the first day of DC Fintech Week, Tarbert told moderator Chris Brummer that he "absolutely" believes ether futures could trade in the next six to 12 months.
"I'd say it is likely that you would see a futures contract in the next six months to a year," he told Brummer, though he cautioned that simply launching a futures contract isn't the be-all and end-all. He went on to add:
"The volume to which it'll trade, no idea, that's where the markets decide, but my guess is now that we've provided at least … a little bit more clarity on [ether's eligibility for futures contracts], my guess is market participants will consider that."
One class of investors has more than doubled the value of the long positions it holds in Bitcoin (BTC) futures contracts this month.
Institutions settle in for the long term
According to fresh data from analyst Skew Markets on Oct. 22, the value of institutional investors' long positions went from below 500 BTC ($4.11 million) on Oct. 1 to over 1,000 BTC ($8.23 million) on Oct. 16.
The gains reverse a decline in institutional longs from September. The launch of Bitcoin futures from Bakkt coincided with open interest falling from around 1,300 BTC.
"For reference, institutions include pension funds, endowments, insurance companies, mutual funds & portfolio/investment managers whose clients are predominantly institutional," Skew clarified.
A least one crypto exchange, Circle, was asked to list Telegram's tokens before the Securities and Exchange Commission (SEC) halted the launch of the TON blockchain, court filings show.
According to documents submitted to the court by the SEC, the agency obtained a registration form titled "Circle Asset Listing Form." According to the form, it was filed to request a listing on Circle's Poloniex crypto exchange and submitted by Sergey Vasin, chief operating officer of Blackmoon, a small crypto exchange that earlier had announced plans to list grams.
In the form, Vasin said he was acting as the chief operating officer of Gram Vault, a crypto custodian that claimed to have brought a large part of investors into the 2018 Telegram token sale and was planning to hold the tokens on those investors' behalf.
Web browser Opera now allows making payments with Bitcoin (BTC) directly inside the browser.
The company announced the news in a press release shared with Cointelegraph on Oct. 21, detailing that Opera's 350 million users can now send and receive BTC directly from the browser, as well as use the cryptocurrency for purchasing goods and services on e-commerce websites.
Additionally, the browser now enables adding a Bitcoin and TRON (TRX) card into the built-in Crypto Wallet to keep track of the cryptocurrency owned. Charles Hamel, head of crypto at Opera, commented on the new feature launch:
"We believe that opening our browser to more blockchains, including Bitcoin, is the logical next step to making our solution more relevant to anyone who has a Bitcoin crypto wallet and would like to do things with their cryptocurrencies beyond just keeping them in an account."
🗞 Daily Crypto News, October, 22nd 💰
"... @Huobiglobal . Deposit #TRC20- #USDT, enjoy APR up to 30%, starting from 00:00, Oct, 22 to 00:00, Nov, 1, 2019(SGT)."
0x (ZRX), Celer Network (CELR), General Event (CRYPTO), Filecoin [Futures] (FIL)
"Our investment team has curated a day focused on the most important topics in the blockchain industry."
General Event (CRYPTO), LTO Network (LTO)
"The future of consumer identity & access management (CIAM) & customer experience"
Next week, join Lewis Freiberg, our Director of Ecosystem, to learn how to build an ecosystem around IoT focused distributed ledgers.
"Jeff Cao PCHAIN founder & CEO, will host an AMA on 22nd Oct at 11:00 PM (UTC+8) in the @Binance_DEX Telegram."
STEEM Trading Update by my friend @cryptopassion
Here is the chart of yersterday :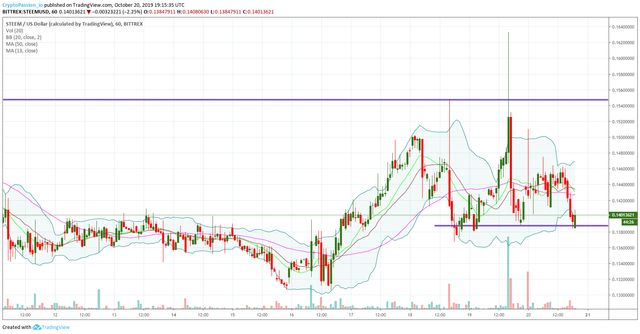 Here is the current chart :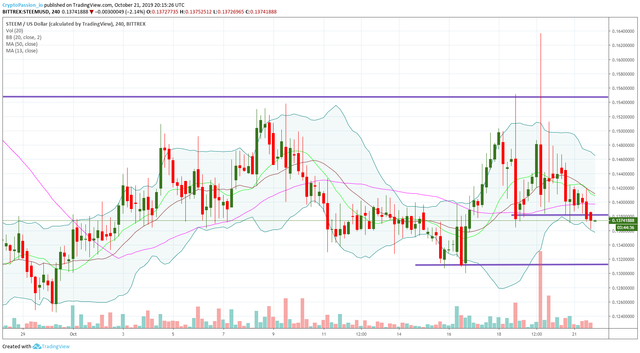 Today, we broke the support line at 0.138$. However, this is not powerfull break as till now, we are staying around that line. That break must be confirmed by a more important drop or you can consider it again as a little trap from the market. If we have a new drop confirming the break, we should go quickly go try to break the support line at 0.131$. Let's see my friends but for sure we don't have again a nice trend on the #NewSteem...
Last Updates

Join this new Free To Play on the STEEM Platform !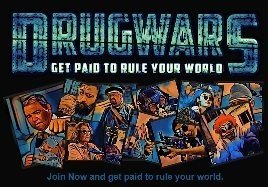 You don't want to miss a Crypto news?
Join SteemFollower and get Upvotes back !