2/13/2018 The Market View and Trading Outlook


Not a tremendous amount of information to add in regards to BTC. It is continuing the battle with the longer term moving averages as I noted here:
https://steemit.com/bitcoin/@pawsdog/2-10-2018-the-market-view-and-trading-outlook
As there is nothing new to report this will be a continuation of my market report from 2-10-18
Excerpted from above for context: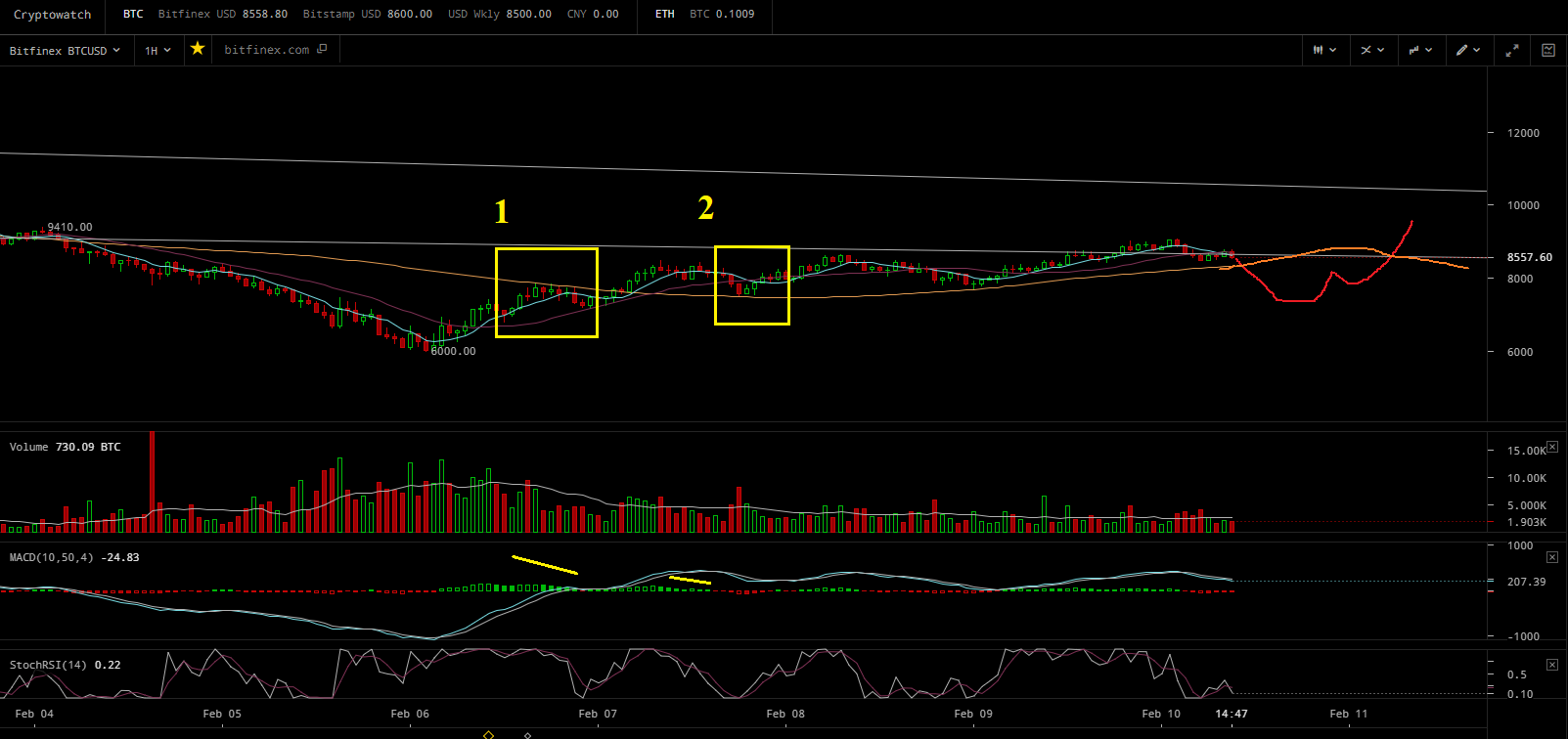 I'm going to start with the 1 hour to demonstrate a point as there are things that assets do that typically repeat over and over regardless of time frame. In this instance, price always runs into a barrier as it approaches a longer term Moving Average; in my charts I use a 77 period (orange) as my longer term. Another interesting thing is that the larger the time frame the greater the rejection prior to breakthrough.
(Number 1) we can see that after BTC recovered from $6000 it ran up to the average at $7700 was rejected for $7300 recovered and moved up and through the average.
(Number 2) After breaking above it reached $8450 then it did what assets normally do, faltered and came back to $7700 to test the top of the MA as support and moved on from there. This is a fairly routine cycle that usually goes as follows: rejection, breakthrough, breakdown to test, new high, a few bounces (usually 3) and a break below; then the cycle will repeat in a bullish market. My projected trend lines are included.
In that report Bitcoin did exactly as I said it would do; price was attempting to break above the 4 hour 77, was rejected and fell back to support at the 2 hour 77 or $7900 on Feb 11th.
Excerpted from my market report from 2-10-18: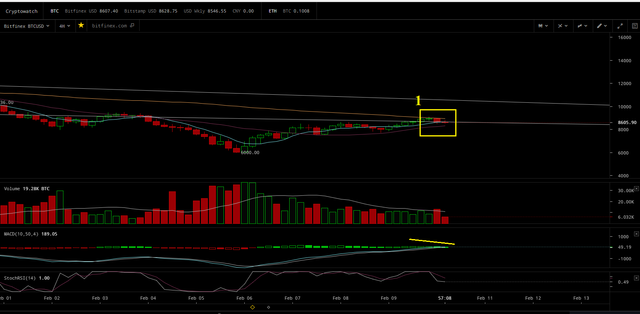 So where is it likely to find support? You have to step back to the 2 hour, as price likes to bounce the 77 a few times prior to breaking below, we find that the price at the 2 hour 77 is around $7900. This will most likely be in the neighborhood of a low for the 4 hour rejection it may be higher as time progresses and it slowly creeps up as price stays above it.
That said, price does not usually stop dead on the 77 and most often breaks a bit below it on the test. So, I theorize a 4 hour rejection low of somewhere between $7700 and $7900. I will be able to better narrow it down as time progresses.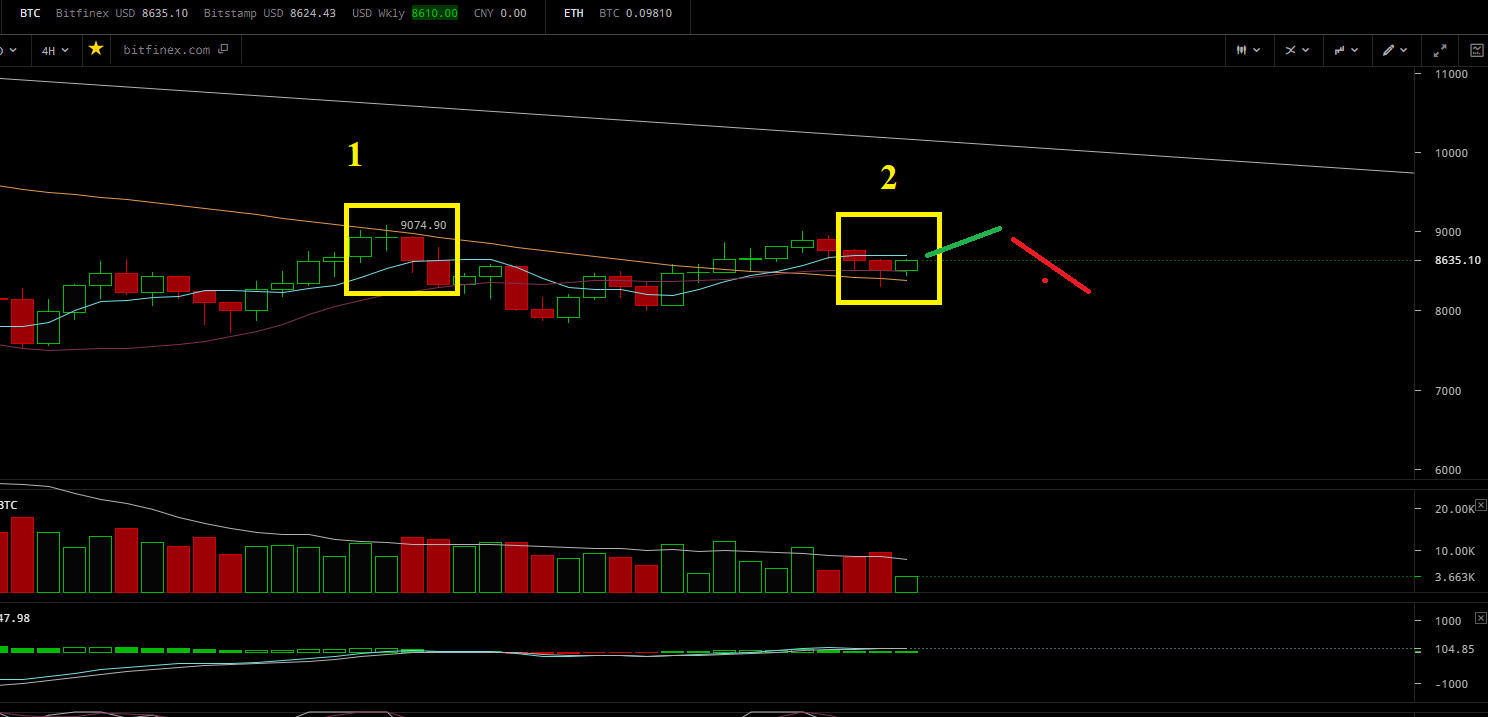 We have since broken above the 4 hour 77, but under the 6 hour 77. The most likely occurrence will be a fall back to the 4 hour 77 to test support around $8300 range.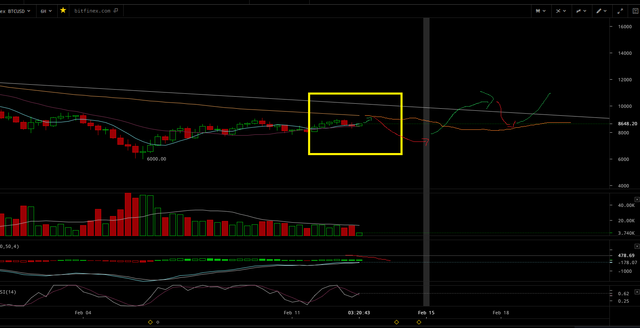 If (and this is a big "IF") the market remains bullish BTC will then most likely move up towards the 6 Hour 77 Period Moving Average (Orange line) around $9300 and face rejection, fall back down towards the 4 hour 77 which should sit in the neighborhood of $8500 by then. Alternatively, if we break well below the 4 hour 77 period moving average post rejection of the 6 hour 77, we could see a significant decrease in price sub $7500 or worse.
The goal for the moment is to HODL the BTC I picked up at $8300 this A.M. wait for the break above $9,000 begin selling and hopefully rebuy in the mid $8500 range "IF" the market stays bullish and the 4 hour 77 period moving average provides the necessary rebound support.
Of some concern is that on the 6 hour we are beginning to run out of gas according to the histogram, we have been in an extended buying period since the low of $6,000 and it is essentially time to give some of that back. Which could begin the slightly more bearish scenario of a sub $7500 sell off.. All eyes should be on the 4 hour 77 period moving average for support, if price starts to break down at $8300. I would sit out the storm until another suitable buy point can be found.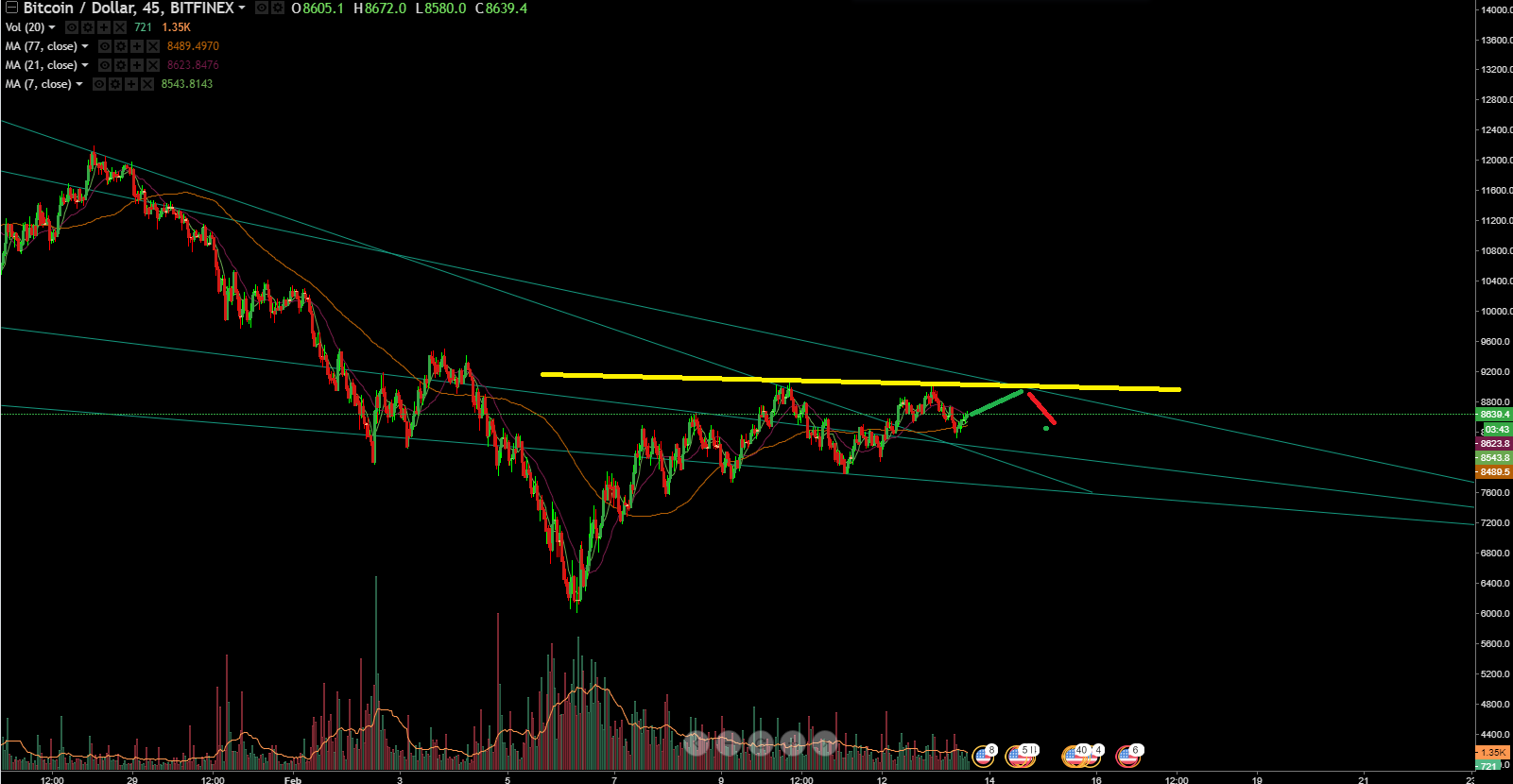 If we move to the much bigger picture, the yellow line represents the $9000.00 zone from which we have thus far been rejected twice. We need to break above this to $9300. Failure will most likely result in a low starting at $7900 that could potentially cut much deeper by the time it is all done.
Lastly for Alt Lovers.... Check NBT in times of BTC correction, you may like what you see...
---
My Previous Analysis:
https://steemit.com/bitcoin/@pawsdog/2-10-2018-the-market-view-and-trading-outlook
https://steemit.com/bitcoin/@pawsdog/2-7-2018-the-market-view-and-trading-outlook
https://steemit.com/bitcoin/@pawsdog/1-29-2018-the-market-view-and-trading-outlook
https://steemit.com/bitcoin/@pawsdog/1-27-2017-the-market-view-and-trading-outlook
https://steemit.com/bitcoin/@pawsdog/1-26-2017-the-market-view-and-trading-outlook
https://steemit.com/bitcoin/@pawsdog/1-25-2017-the-market-view-and-trading-outlook
https://steemit.com/bitcoin/@pawsdog/1-24-2017-the-market-view-and-trading-outlook
https://steemit.com/bitcoin/@pawsdog/1-23-2017-the-market-view-and-trading-outlook
---
Who Am I? STEEMIT INTRODUCTION
---