SUMMARY
Note: Video has much more details not captured in this summary.
Cycles are either phasic (in sync) or non-phasic (out of sync). Bitcoin (BTC) price cycles are mostly dominant at the 20 week and the 40 week terms. The below chart shows the peak and the trough cycles and the sub-cycles the compose the larger ones. I primarily utilize Hurst cycles.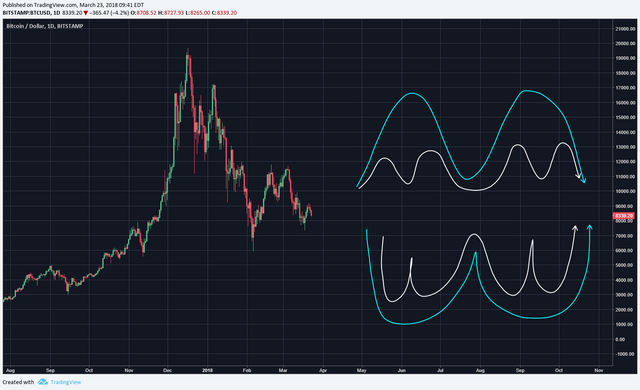 I believe Bitcoin (BTC) could be displaying a W shaped cycle bottoming process. The white arrow below shows that the bottom of the first trough was at around the $5,900 price area and the second has already occurred at $7,290 or is about to occur. I beleive it's already occurred. Therefore, if this is correct, higher highs are due in early April.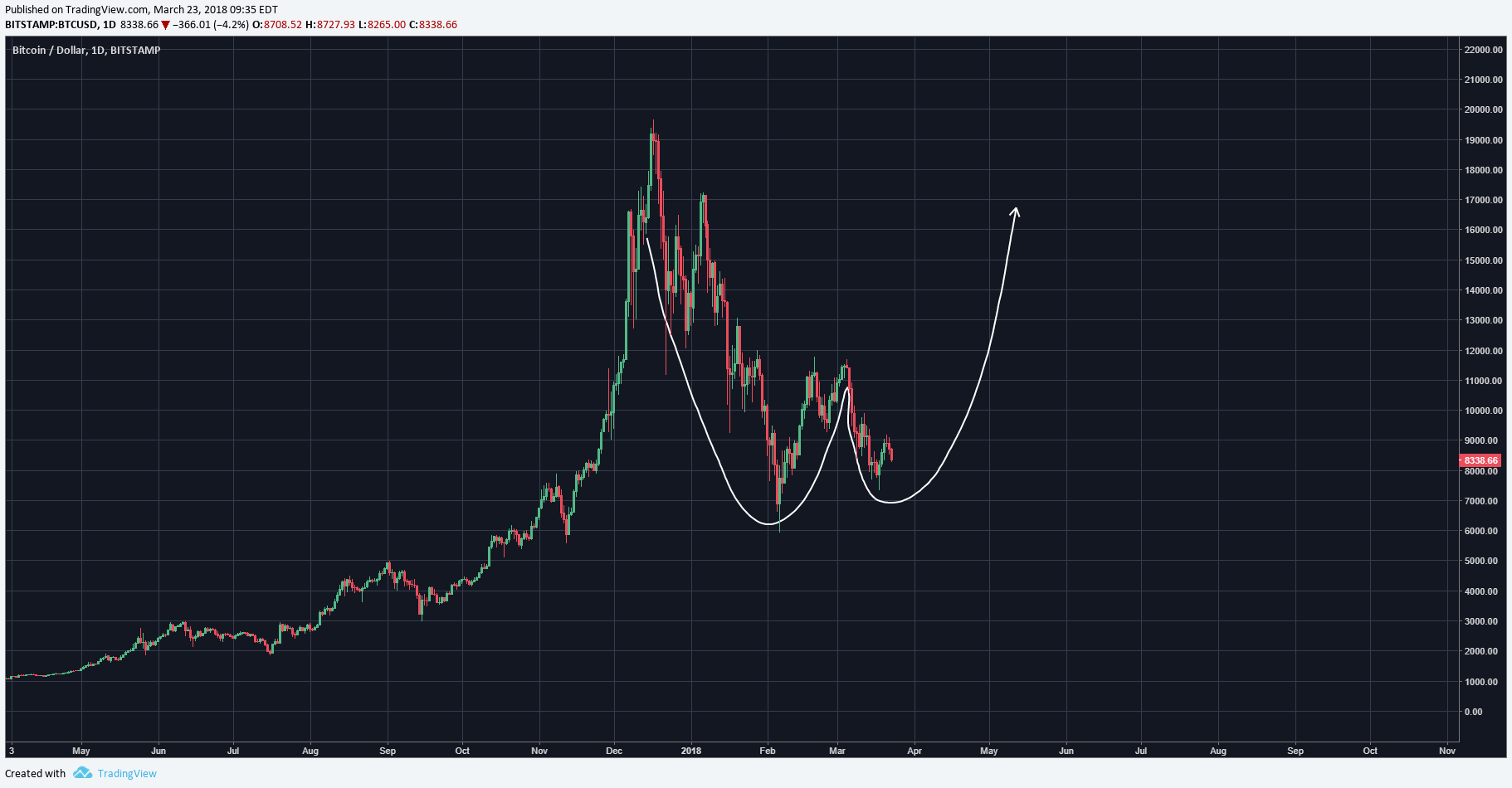 The alternate to the primary white W cycle is the blue as shown in below chart. Note how the white touches first yellow line long term support. The blue touches the second yellow line support. To the uninformed and unaware, the blue line represents despair but to the informed and the aware, it represents a phenomenal ladder entry opportunity. How you see it makes all the difference as a trader/investor.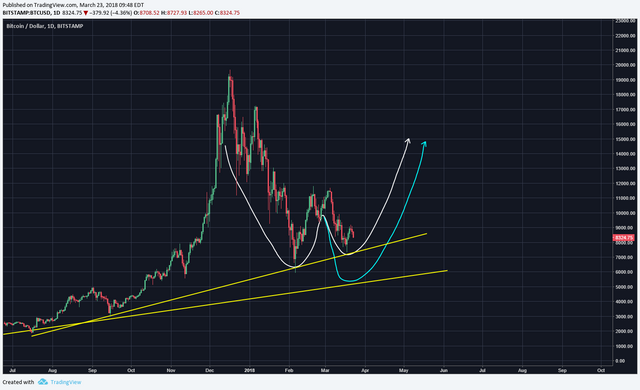 Whether the white or the blue pathway....it matters none. They both work in parallel. This is what I mean when often I say that there are multiple paths but same destination. Einstein stated that the past, present and future all occurred in a single instant at the same time. The white and blue represents a parallel event. Again, more details in the video and shorter term overnight price action analysis will be posted in a little while...but first, digest this one.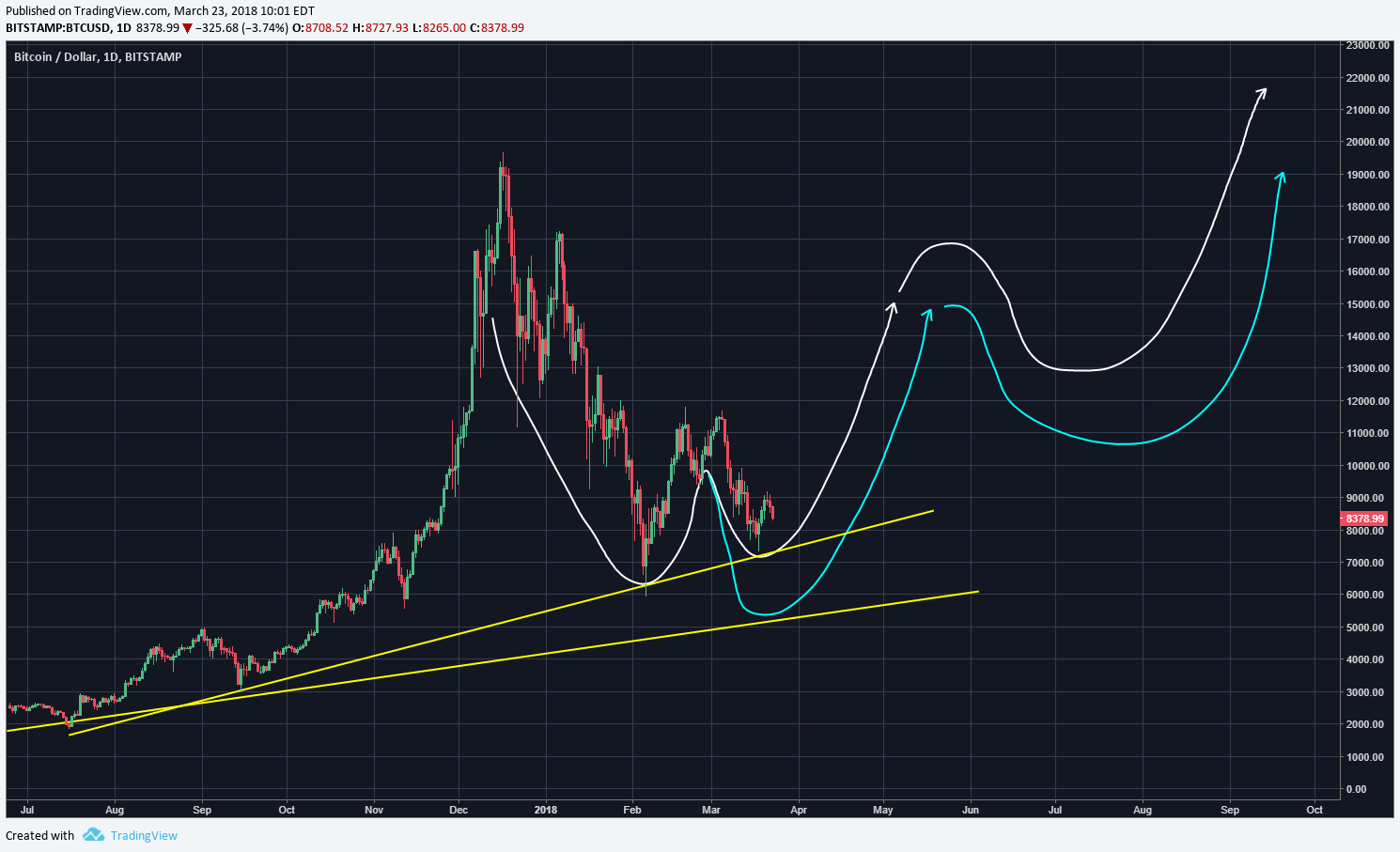 Legal Disclaimer: I am not a financial advisor nor is any content in this article presented as financial advice. The information provided in this blog post and any other posts that I make and any accompanying material is for informational purposes only. It should not be considered financial or investment advice of any kind. One should consult with a financial or investment professional to determine what may be best for your individual needs. Plain English: This is only my opinion, make of it what you wish. What does this mean? It means it's not advice nor recommendation to either buy or sell anything! It's only meant for use as informative or entertainment purposes.
Please consider reviewing these Tutorials on:
Elliott Wave Counting Tutorial #1
Elliott Wave Counting Tutorial #2
Elliott Wave Counting Tutorial #3
Laddering and Buy/Sell Setups.
Laddering Example with EOS
Tutorial on the use of Fibonacci & Elliott Waves
@haejin's Trading Nuggets
Essay: Is Technical Analysis a Quantum Event?
Follow me on Twitter for Real Time Alerts!!
Follow me on StockTwits for UpDates!!
--
--