Officially Done - Model Morgan Freeman / Duration : 125 hours
Hello everyone,
Wow, I'm finally done with the #PenArts work of a great hollywood star, producer and also a film writer. It has been a wonderful drawing so far it happened to be the best of my drawings so far because I spent more time creating my best talented skills in professional career. Friends there is more in this ballpen drawing than you think.
Let see what I have to offer here..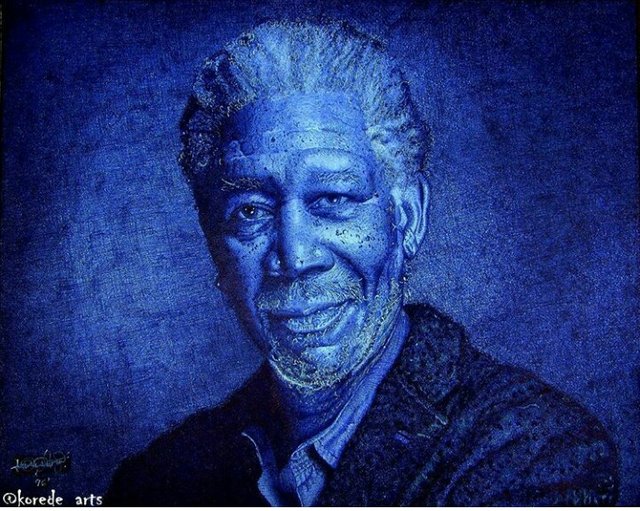 I finally made the impossible very possible in the eyes of many people out there. I tell you this, it is very easy to say NO. but when u start from somewhere people around you will support you and before you know it you are already standing upright, before you know it, you are already helping people up the way too. That's life for you. When I started this #PenArts work on ballpen many people discouraged me on the way but I didn't even look at them because I know my future is brighter than they think. Even though there is no SBD now, keep on putting your effort even more harder than before. Reason to join STEEM BLOCKCHAIN, To add to your knowledge, to react with friends, to know more people through out the world, to connect, to have fun.
My simple advice to everyone reading this, never stop trying your best💪💪💪.
Oh, sorry for taking much of your time, let get back to work..
PROCESS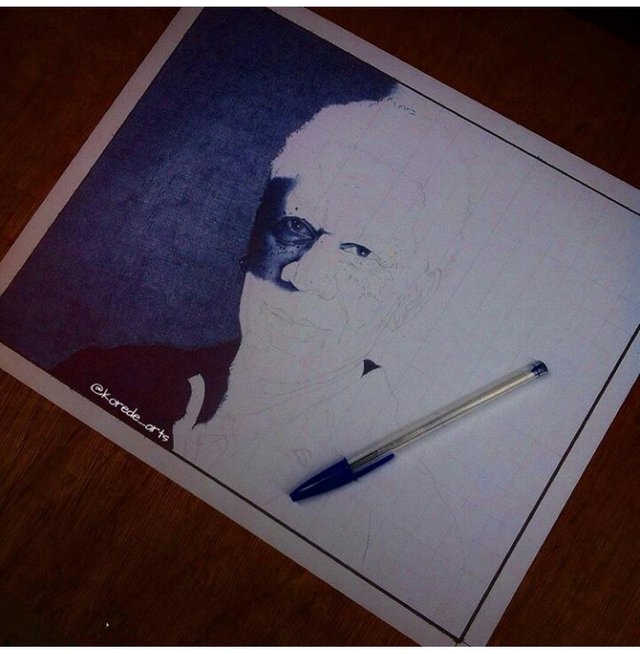 Here is what I did here for the purpose of we who are willing to learn, that's why I love to put my step by step process. I used a blue Biro on the half paper, you can see how deep it was. I spent close to half Biro on this making the background a awesome one. Also I was done with the partial eye and down the suit. Much work still here. Trust me.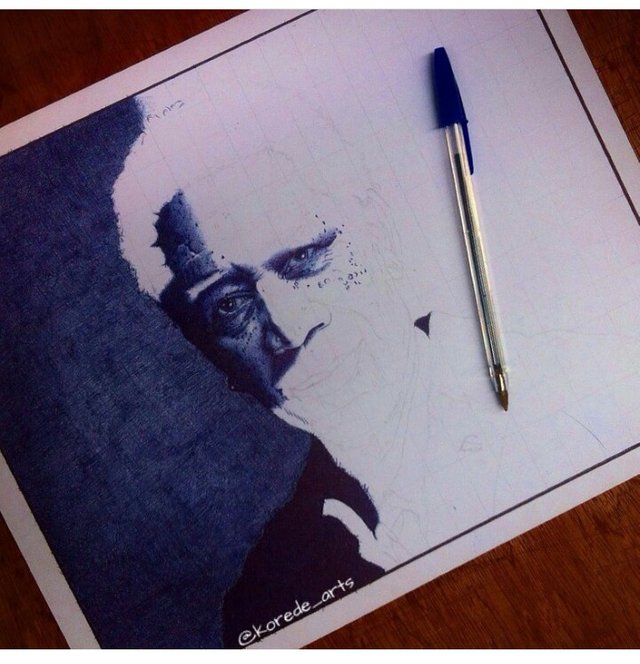 After I made the usual curves on the face and the trace on the eyes, nose, and the suit with my Biro, I was done with the face partially here , the nose area , the eyes region of Morgan Freeman. This is my #PenArts work.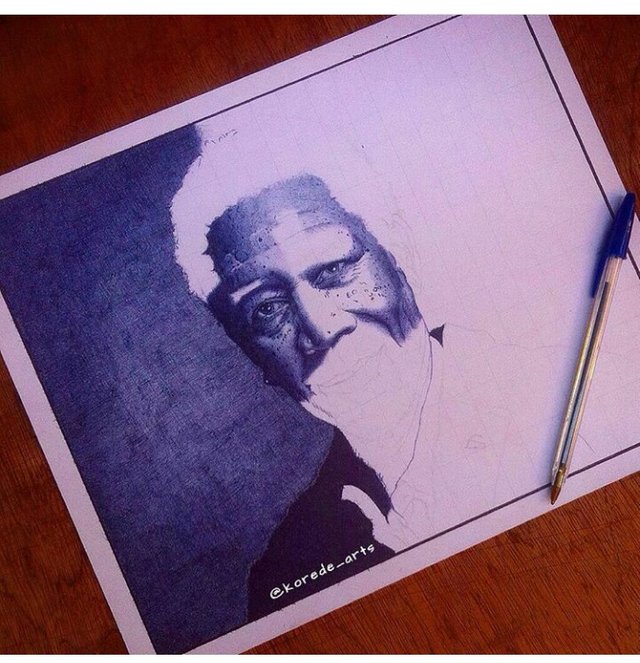 The slight improvement here was on the face, I deepen the face quality and I used my biro for trace the suit collar fiantly.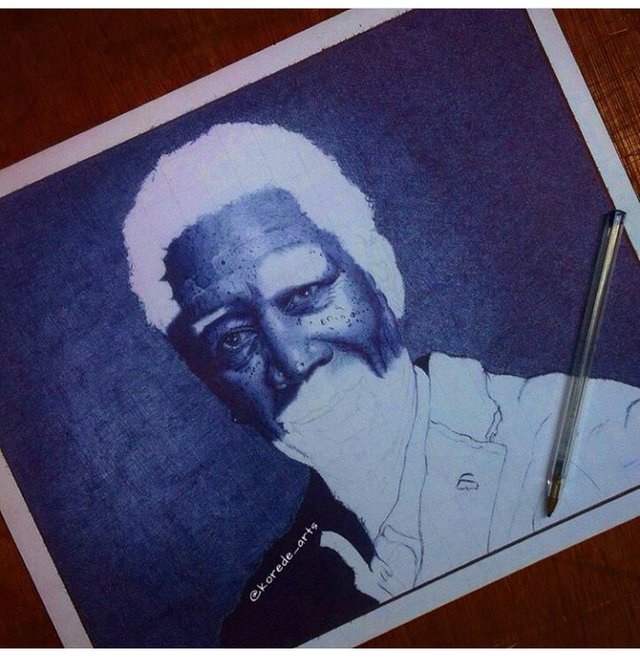 As for the background, it took me 48hours to get it done finally , but as you can see it almost done but I bet you I still have a long way to go on this, I will definitely create more time for it to complete. I finished one Biro on this work. Believe me. It never a small task. That's why I love steemit.
Steemit helps me to tightening up my belt and be focus. Thanks to everyone for supporting me. I love you all.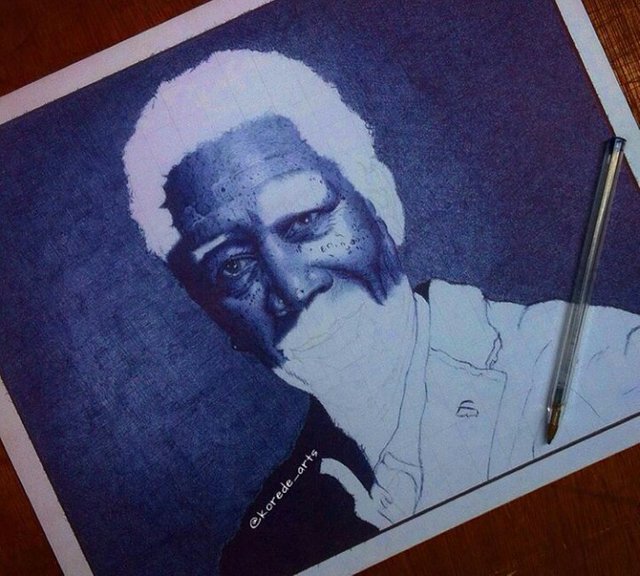 Zoomed view of the #Ballpen drawing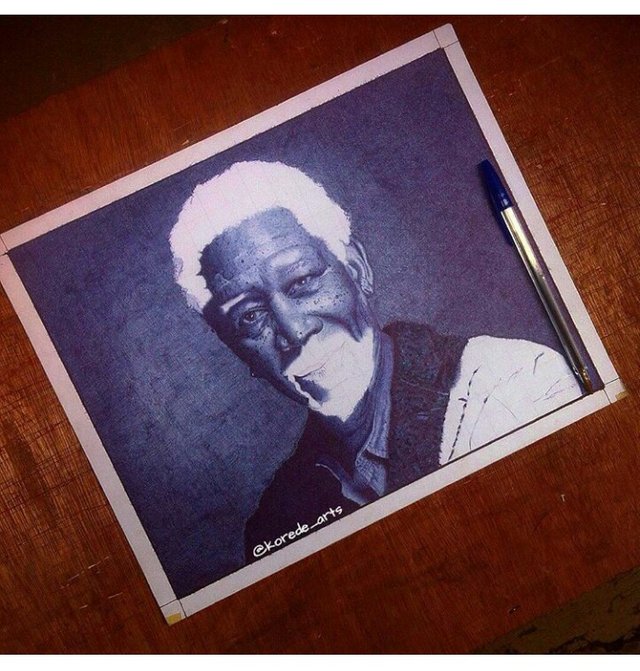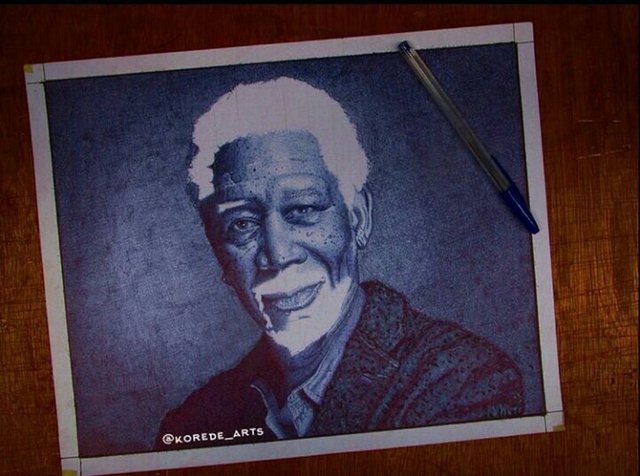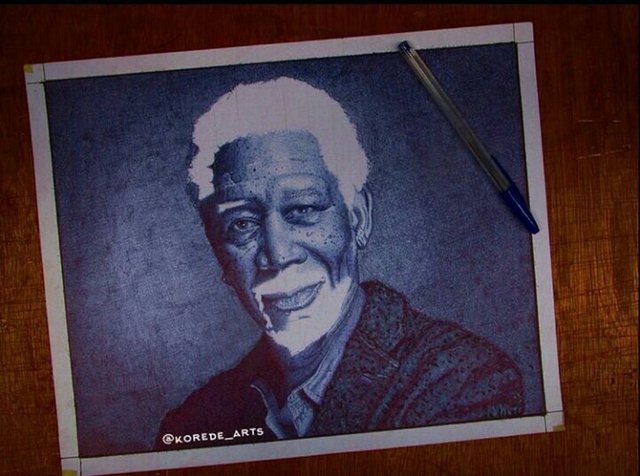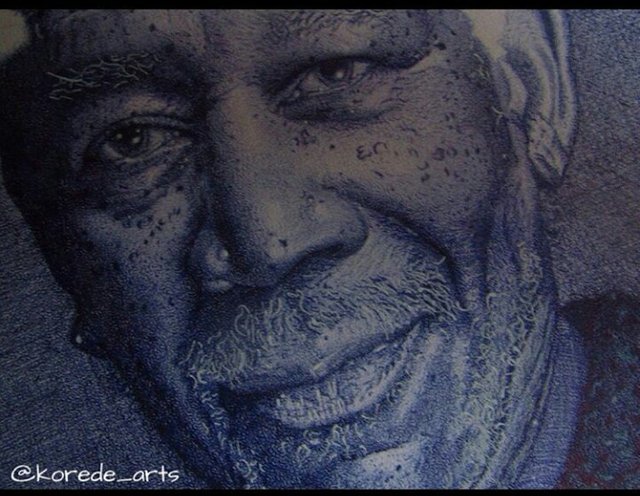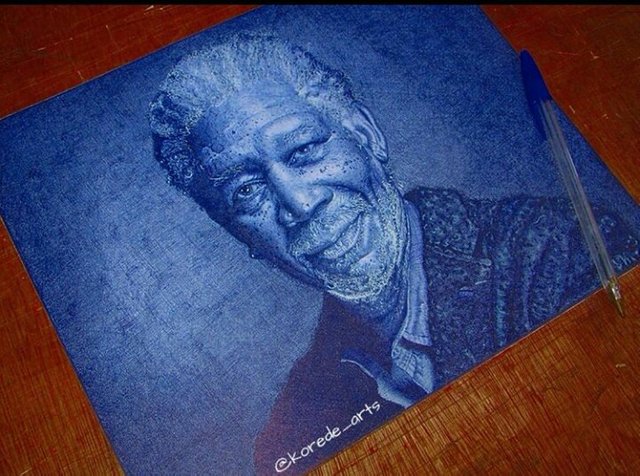 MY FINAL STEP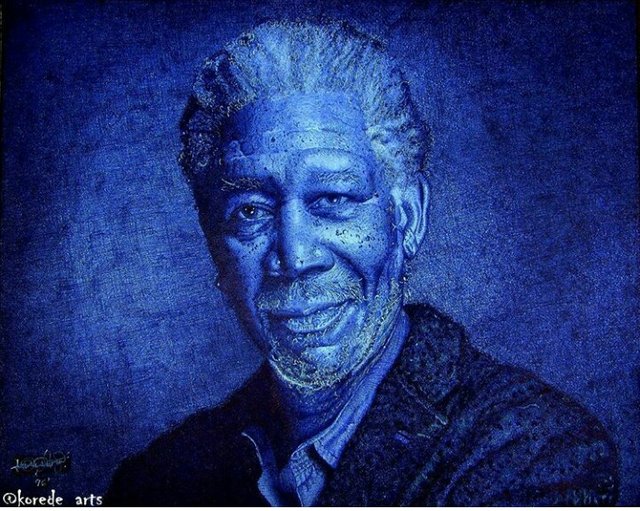 #penart #ballpen #biroart #leader #artist #art #ballpointpenart #ballpenart #steemartists #artzone.
Wow: what do you like about this drawing? Let me know and hear your comment.
Model:- Morgan Freeman
Artist :- korede-arts
Medium :- Ballpen (big Biro)
Duration :- 125hours
Thanks for reading, it your #PenArtist
@korede-arts. Always follow me to see more of my #PenArts on your feed.
Endeavor to read my latest post:
(a). Welcome to Steemit ' My introduceyourself post'
(b). #PenArts: Old woman series 3 / the making still celebrating the Old Women / The Passion for #PenArts
(c). Original Pen on Paper drawing review of The President of Federal Republic of Nigeria [ President Muhammadu Buhari ]
(e). #PenArts Process: An Original Pen drawing of a well celebrated Yoruba actor Odunlade Adekola / the making still nollywood series 1 / The Passion for #PenArts
(f). Sleepless night but still working for the best / final PenArts drawing of Nigerian's number 1 meme creator Odunlade Adekola / nollywood series 1 / The Passion for PenArts
(g). untalented art.. Could anyone tell me please, who could this be ?
h. 72hours workdone / BallPointPen art not completed Morgan Freeman / Hollywood Actor, a producer and a writer
i. Mixology 101 /coloured pen study / Motivated spirit
Thanks to:
Support @timcliff @noblewitness @ausbitbank @demotruk @teardrops, @surpassinggoogle @hr1 @good-karma @curie and continue to witness @good-karma @steemgigs, @pharesim @aggroed @minnowsupport human quality for this great community.To enter and vote for them through this Link below :
https://steemit.com/~witnesses
Copyright @korede-arts - All Rights Reserved