Adz Coin (ADZ)

SUMMARY
Adzcoin (ADZ) hurriedly finished up an impulse motive of five waves up (white). The wave 5 wick is quite common in Cryptos. Often these represent a flameout of pent up demand of buyers. This type of flameout is common on the sell side as well. It's pretty much a way of "burning" out the remaining "fume" of eager buyers blinded by greed and unaware. It's often difficult for price to resume the original trend once a flameout occurs. For AdzCoin, this is how the top of wave 5 was placed and the start of the correction was started. Thus far, the retracement has been tracing a triangle pattern which is incomplete.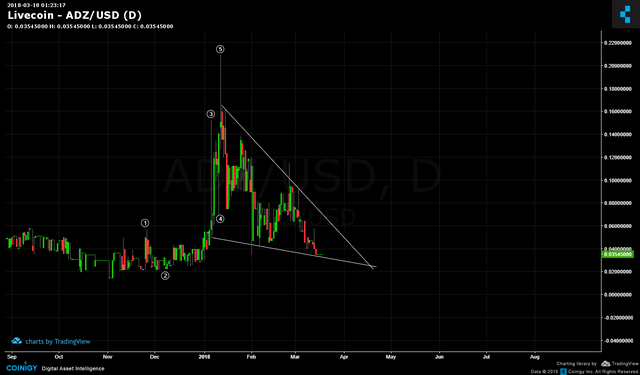 The abcde red waves are each subdivided into threes and thus far, a,b,c are complete with d and e pending. Should the triangle complete at projected target, it would have hit the 0.78 Fibonacci zone and it most likely won't be the end of the whole correction because it would be too quick. The degree of time extension is likely the next projection to be assessed one the triangle pattern completes.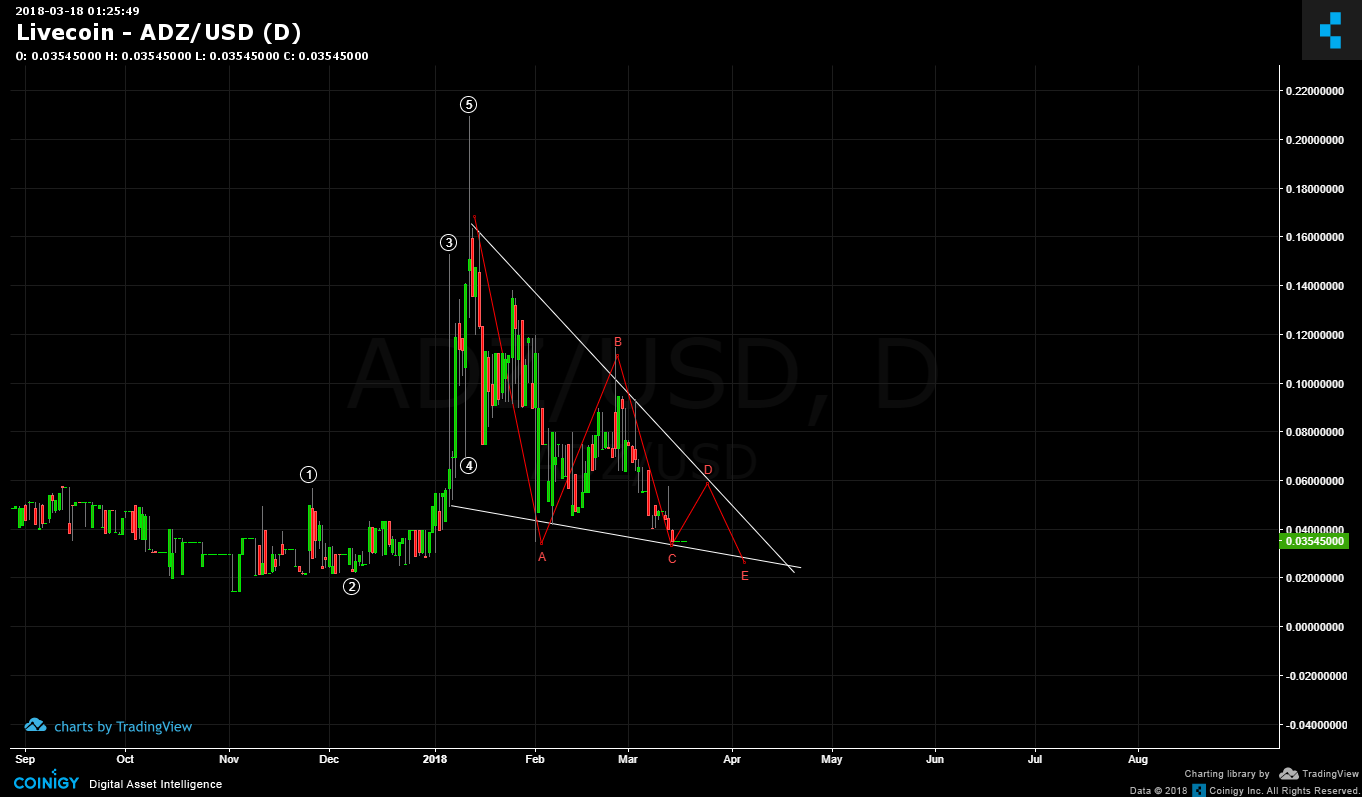 Legal Disclaimer: I am not a financial advisor nor is any content in this article presented as financial advice. The information provided in this blog post and any other posts that I make and any accompanying material is for informational purposes only. It should not be considered financial or investment advice of any kind. One should consult with a financial or investment professional to determine what may be best for your individual needs. Plain English: This is only my opinion, make of it what you wish. What does this mean? It means it's not advice nor recommendation to either buy or sell anything! It's only meant for use as informative or entertainment purposes.
Please consider reviewing these Tutorials on:
Elliott Wave Counting Tutorial #1
Elliott Wave Counting Tutorial #2
Elliott Wave Counting Tutorial #3
Laddering and Buy/Sell Setups.
Laddering Example with EOS
Tutorial on the use of Fibonacci & Elliott Waves
@haejin's Trading Nuggets
Essay: Is Technical Analysis a Quantum Event?
Follow me on Twitter for Real Time Alerts!!
Follow me on StockTwits for UpDates!!
--
--