A Dollar A Day charitable giving project : it's all about the people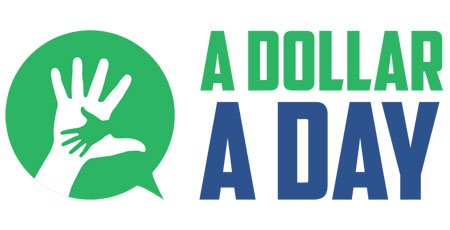 Despite the name A Dollar A Day is not just about the money.

It is so much about the people.

The people who run the projects and the people who receive benefit from the projects.


It is also about the people that donate to A Dollar A Day, the people who delegate SteemPower and those that join the curation trail, and those that upvote the posts.
It is the people and the connection with those people that makes A Dollar A Day so special for me.
I talk regularly with the founders of the projects that A Dollar A Day supports. With some of them I talk almost every day. Keeping up to date with the projects, sharing ideas and advice if requested.
I count the project founders as friends and helping friends makes it even better.
So to celebrate these connections and these friendships I am going to be publishing over the coming days a series of interviews with each of the project founders.
This will allow us all to get to know each other better and hopefully will encourage more people to donate to A Dollar A Day to support their projects.
I have asked all the project founders the same 8 questions...
1 . Tell us a little about yourself... who you are, where you and what you do?
2 . How did you find steem?
3 . Tell us about your project... what it does , where you operate, who you work with?
4 . What made you decide to start your project?
5 . What do you enjoy most about running your project?
6 . What do you enjoy least or find most difficult about running your project?
7 . What are your hopes and plans for your project in five years time?
8 . What advice would you give to anyone else thinking of starting or running a charitable project on the steem blockchain?
The first interview will be published very shortly.
Sit back, enjoy the reads and if you feel connected please do donate, delegate or join our curation trail. Or even better do all three...
---
---
---
---
HOW TO SUPPORT A DOLLAR A DAY


The A Dollar A Day project is based on the simple idea of people donating one Steem Backed Dollar (SBD) each day. Those SBDs are pooled to give to a bigger daily donation to a good cause around the world.
If you would like to support the work of A Dollar A Day there are five ways you can help :
Just send SBDs for however many days you would like to support to @adollaraday.
---
If you don't have SBDs send steem instead to @adollaraday.
---
A Dollar A Day uses SteemAuto to vote on the posts of all the projects currently supported to provide an extra regular income. The aim is to achieve sufficient steempower to provide a $1 upvote to each project each day.
Delegations of all sizes are welcome - you can use these links for quick delegations :
Delegators (and regular donors) also receive a small auto-vote as a token of appreciation.
---
4. Follow the @adollaraday curation trail


We have recently set up a curation trail for the @adollaraday account. You can follow this to help the projects A Dollar A Day supports. @cryptocurator has made an excellent post all about the A Dollar A Day Curation Trail :
---
All upvotes on @adollaraday posts are welcome. All post rewards are ploughed back into supporting the project.
If you can add @adollaraday to your auto-voter even better.
---
---
Thank you for your support.
---
---
Previous A Dollar A Day posts :
---
---
[ logo by @hungryhustle // photos provided by A Dollar A Day project partners ]