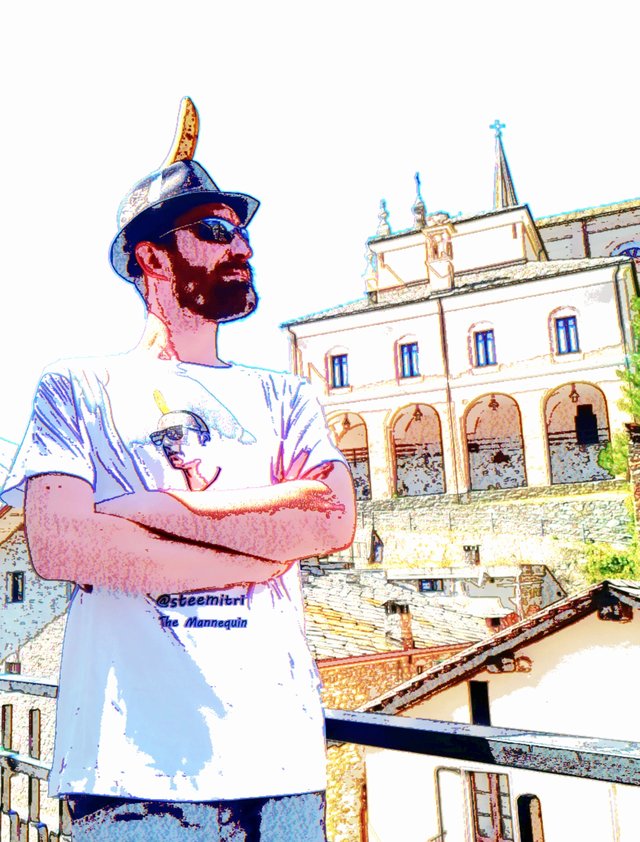 Ciao Steemians!
---
DRIIIIIIIIIIIIIIIIIIIIN!!!
---
Suonano al citofono, ma chi sarà mai!? È quasi ora di pranzo ed ho proprio voglia di divorarmi un ottima banana!
---
[Io] Salve, chi è?

[Interlocutore dall'altra parte del citofono] Buongiorno, sono il postino mi può aprire per favore? Ho un pacco per lei.

[Io] Ok, scendo subito!
---
Scendo le scale prendo il pacco, ringrazio il postino e mi accingo a salire le scale, mentre faccio gli scalini palpo il pacco che è sofficissimo e mi cade l'occhio sulla scritta Svizzera, forse ho già capito e guardando il mittente ne ho la conferma... la fantasmagorica T-Shirt del:
Manichino più cool del pianeta terra!!! WOW!!!!!!
---
Corro letteralmente in casa e faccio a brandelli la busta per ammirare quella diventerà la mia T-Shirt Punta di diamante, l'avevo vista nei post quando è arrivata o sognata mentre guardavo alcuni grafici di mercato, ma devo ammettere che dal vivo è davvero magnifica... sono letteralmente rimasto a bocca aperta 😮...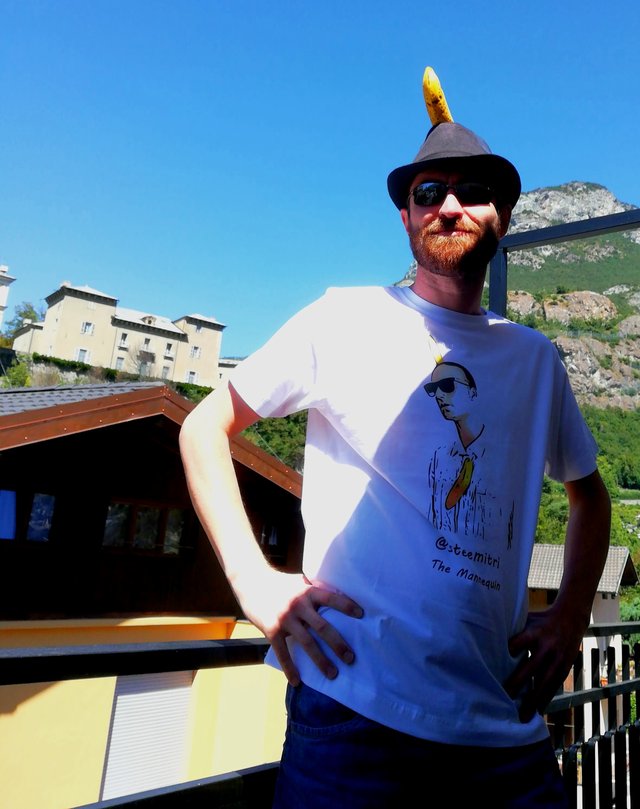 GRAZIE MILLE-MILLE-CENTOMILA STEEMITRI!!!
---
Altri epici Steemians prima di me hanno avuto questo onore e sono certo che tra non molto saranno molti di più, sono letteralmente al settimo cielo!!
Ho finalmente raggiunto quella che considero la magnifica famiglia delle banane 🤗 , c'è anche un grandioso programma delle banane in atto se vi interessa! 🔝
Bene, ora invece è ora di merenda per me e mi preparerò un bel banino al salame 😛 che ho imparato a fare grazie a lui, sta sera invece mi sa tanto che opterò per un bel dolce alle banane 😛😛😛 !!!
Ringrazio tutti voi per essere lì davanti ad un qualsiasi schermo a leggere il mio post! 😃 ...non scordate di fare un salto a trovare @steemitri se non l'avete già fatto che gestisce un ottimo blog che ha da poco raggiunto i cento post a suon di banane!!! ✌️
---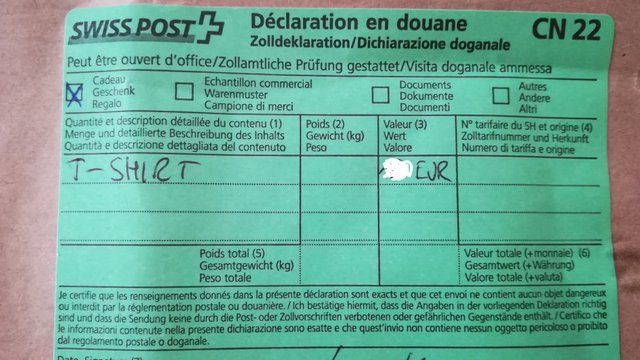 ---

Hi Steemians!
---
DRIIIIIIIIIIIIIIIIIIIIN!!!
---
Somebody is on the intercom, but who will it be!? It's almost time for lunch and I really want to devour a good banana!
---
[I] Hello, who is it?

[Interlocutor on the other side of the intercom] Good morning, am I the mailman can you open the door for me please? I have a package for you.

[I] Ok, I'll be there right away!
---
I go downstairs to take the package, I thank the mailman and I am going upstairs, while I do the steps I touch the package that is very soft and my eye falls on the written Switzerland, I've already understood and looking at the sender I have the confirmation... the phantasmagoric T-Shirt of:
The coolest mannequin on planet earth!!! WOW !!!!!!
---
I literally run inside my apartment and destroy the envelope to admire that it will become my favourite T-shirt, I had seen it in the post when it arrived or dreamed when I was looking ito some graphic market, but I must admit that live is really magnificent... I literally was amazed 😮...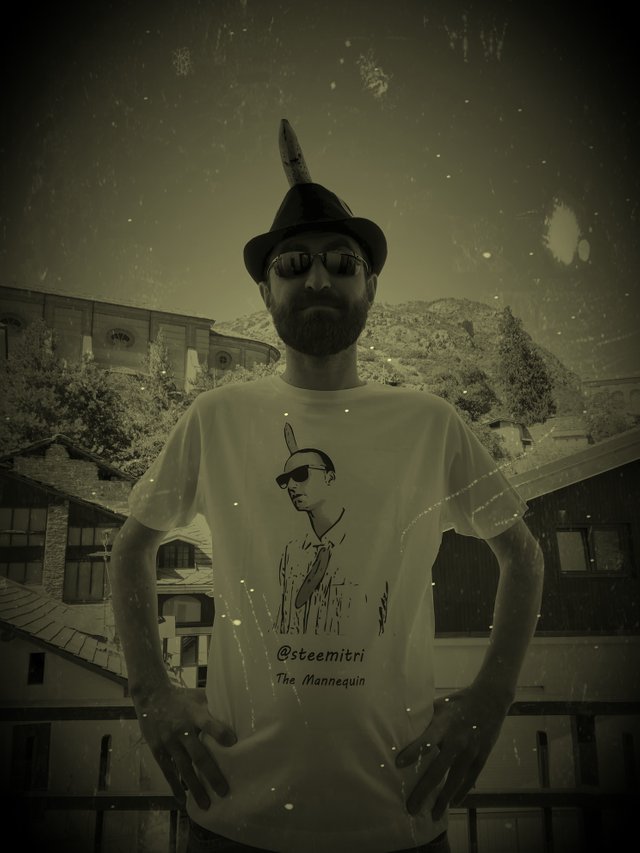 THANKS THOUSAND-THOUSAND-HUNDRED THOUSAND TIMES STEEMITRI !!!
---
Other epics Steemians before me have had this honor and I'm sure that soon we will be many more, I'm literally on top of the world!!
I finally reached what I consider the magnificent banana family 🤗, there is also a great banana program in act if you are interested about! 🔝
Well, now it's time for me to snack and I'll prepare a really good salami banana sandwich 😛 that I learned to do thanks to him, tonight instead I will eat an amazing Steem banana cake 😛😛😛!!!
I thank all of you for being there in front of a screen to read my post! 😃... do not forget to take a look at @steemitri profile if you have not already done yet, he manages a great blog that has recently reached hundred off banana posts!!! ✌️
---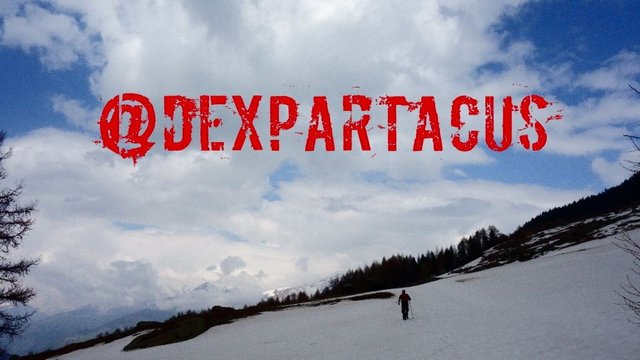 ---