Dear Steemians!
In today's post I am going to explain STEEM's progress in the past months and I will tell you how the market could change in the next hours!
It will look ridiculous, almost a joke, but also today I will use the help of my beloved bananas!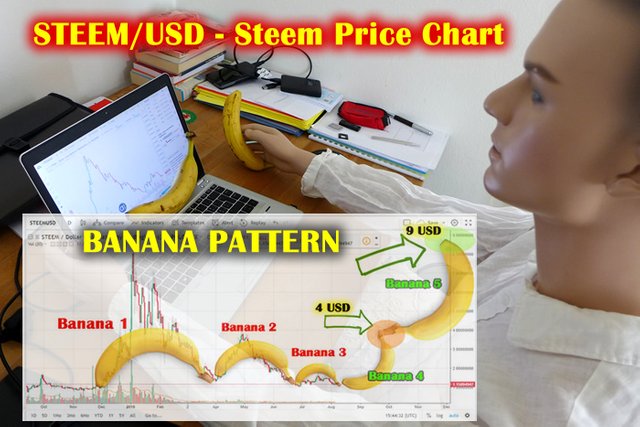 The bananas' theory never fail to succeed! It is a very popular fruit that goes across cultures and borders, a nice example of success. This is due to its curve, which we find in STEEM's graphs!
Here is the current banana-chart :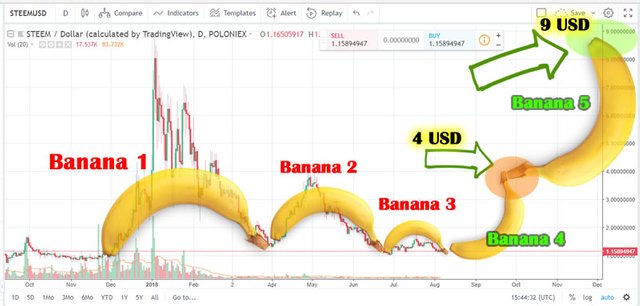 As you can notice from the graph, the third cycle of the Banana-pattern is about to end! Everything has gone smoothly, from the biggest to the smallest banana (Banana1-Banana2-Banana3).
At this point the reverse banana cycle should start, therefore following the curve of the fruit upwards! Banana4 should get to 4 USD by mid-September, while Banana5 will end in December getting to 9 USD!!!
After Banana5 there could be Banana7 with unimaginable results! Banana6 has been cancelled during the years because it brought bad luck!
Remember by the way to never keep 6 bananas in your house! Better if they are in odd numbers!
Well, we are done for today!
---
Disclaimer:
Do not eat more bananas than those you are able to digest.
This post is my personal opinion, do your own research before buying too many fruits.
I am not responsible for any of your losses, but if you make some profit feel free to send me a few SBD.
By reading this post you acknowledge and accept that.
---
Steemitri The Mannequin
---


This work (text and photos) is licensed under a Creative Commons Attribution-NonCommercial-NoDerivatives 4.0 International License.
---