Do you vote for a witness or 30?
If not please consider taking 60 seconds out of your day to help me work on constantly improving steemit!
I care about steemit & will be your electoral vote adding witnesses that donot miss many blocks and helping develope steemit into the future!
I will work on posting articles highlighting the good & bad witnesses & why our votes are casted for whom.
Proxy your vote to me if you would like my vote to represent you! Click Here to go to the witness page & scroll all the way down and typre dynamicrypto into the box and click set proxy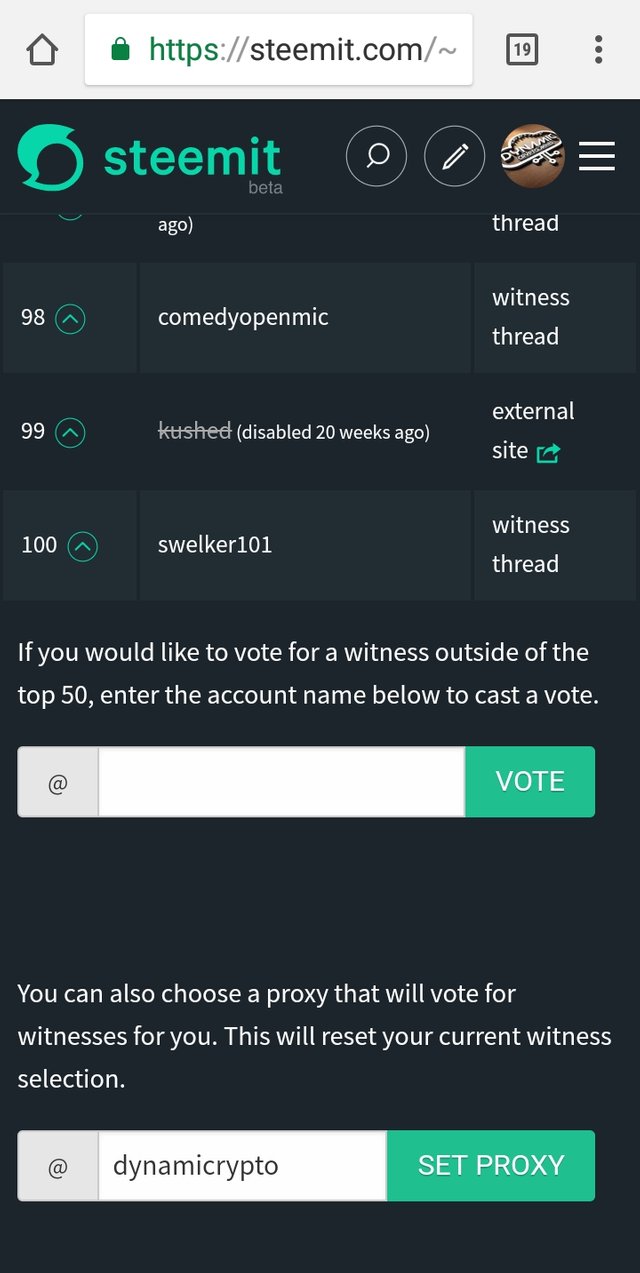 Thank You for Your consideration!


Did you know?
You can win the @dynamicsteemians 100+ curation trail vote by commenting on steemit posts with our contests.
You get a free 0.01- 0.03 cent daily upvotes on your posts from @dgi by joining the @dynamicsteemians curation trail. (info below or click the discord link in my profile)
Thanks for stopping by please remember to help a minnow a day! Post helpful links and suggest any I should add in my comments.

If you enjoyed this or need help with @steemit, see my posts and discord links for minnows listed below & on my profile by clicking on my name.
(need to learn anything steemit just ask I will try my best to provide you a tutorial)

Minnow Resource Highlights


Curation Have You Stumped?

Curation Explained by @elsiekjay

How To Tutorials

How to create a discord link that does not expire
How to follow a curation trail
How to autovote another Steemian & How to Earn
How to avoid phishing sites & scammers


If you join the @dynamicsteemians (DS) discord ask for help, many are on daily to help you as we have Ambassadors from around the world here to help 24/7 with more ambassadors added soon! Interested in being a DS Ambassador? talk to @dynamicgreentk it involves helping new Minnows learn & is rewarded with small upvotes.

Please visit my other posts by clicking on my name!


A couple of my favorites maybe you will enjoy

Free Minnow Helping Discord Links