Witness "scottcbusiness" 🗳️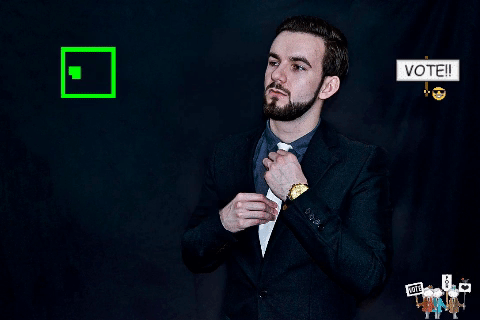 Hello everyone,
This will be my official announcement to say that I'm running as a witness. Below you will find information about my witness node, contributions, and projects I plan to undertake. Moving forward I will be updating my progress as well as writing reports about what other witnesses are up to. I want to continue supporting the minnow community, making steemit education related posts. I've taken some time off from that to get started with being a witness, but will be moving forward strong and would like to thank all those supporting me already before I'd officially announced I was running.
Witness Node
I finally got my witness node more or less ready I just need to link it my witness thread here. This is what I ended up going with server-wise (starting decent, but smaller-ish)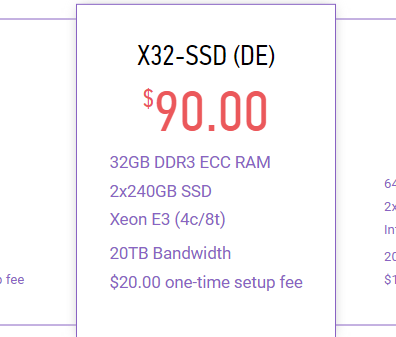 32GB RAM
Xeon E3 (4c/8t)
2x240GB SDD
20 TB bandwidth

This will also put in perspective how much I'll be spending to do this as well. I ended up having a sunk cost on the first server I got, so I'm praying this goes smoothly! By the way it's syncing now!

I will release updates occasionally for the server in how it is running etc and any changes I make to it. I still have to get my price feed up and then I will make my first server update post :)

Witness Communications Assembly (WCA) - a.k.a My First Project - https://discord.gg/ecStvEf
I will be running many projects I am very sure, however the first one I would like to emphasize and start with is the WCA. I am starting a discord group for witnesses to share a bulk of information as well as link to updated posts etc. I will include a lot of my current work and everything you need to know within that server which I will later link when it's setup and that way I can index my posts and have a directory I can update as well as other witnesses can do the same for their posts if everyone were able to join the discord.
https://discord.gg/ecStvEf - WCA - join and share it, please encourage witnesses to join and communicate!
Witnesses can post their official postings there so people don't have to look their posts to find witness related ones. They can pin their important projects on their individual witness channels and people can leave inquiries and questions. Then we have an open area for general questions and topics to be covered. Suggestions to make etc. Witnesses can also post answers to various questionnaires to give people a better understanding of who they are and what they represent. All of this will create trust, improve communication, and user relations and support. I will also look for projects This is one of the various project I will try to run as a witness. To avoid political hang ups and spamming etc. we will have to moderate it so that we are only allowing formal questions and inquiries that are polite and professional so as to keep it civilized. This will be a MASSIVE improvement from the little to no communication currently. It's alarming when the top 50, many barely post, post about nothing relevant to what people might want to know from them or what they are working on, no easy means of communication (they may all have different servers on discord or none) I'm not accusing anyone I just think to help with the scaling of Steemit as we grow, we will need a more formal political process. One step in the right direction is communication, awareness, proper presentation and representation :)
I do think some initiatives like the witness forum
https://steemit.com/steem/@aggroed/steem-witness-forum-jesta-good-karma-roelandp-aggroed-anyx-ausbitbank-lukestokes-followbtcnewsare
are great starts, but what I really want to see is more end users to witness involvement and interaction!
I will explain more how I want it to work and how I will make it easy for witnesses to get on and get started etc with templates and kits etc. I will do that in a new post that dives further into it once I have it a bit established.
I think the easiest way would be to demonstrate. So this would be what I'd love to see from other witnesses and what I'm setting up now.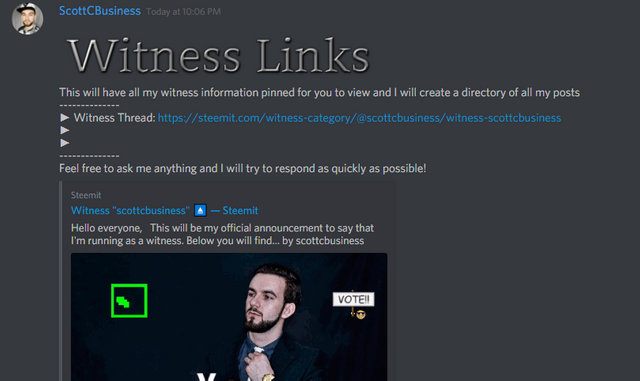 So I have my own witness channel and then I put all my updated content under the headers and it forms a table of contents or directory for people to find relevant posts related to me as a witness.
Below I have witness reports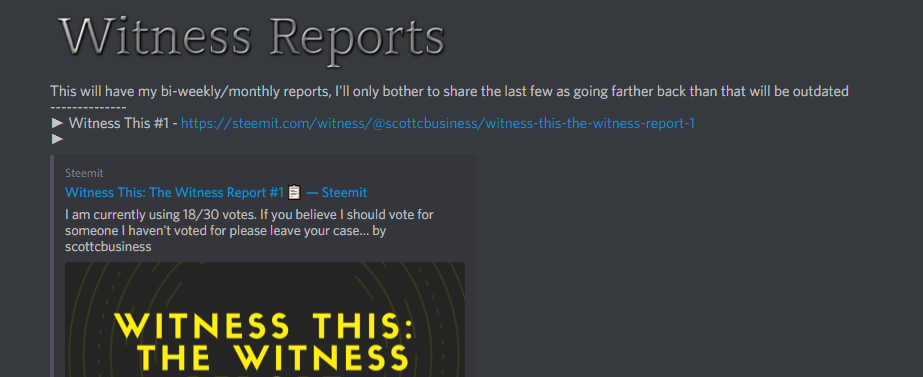 Then current projects, then my personal values etc.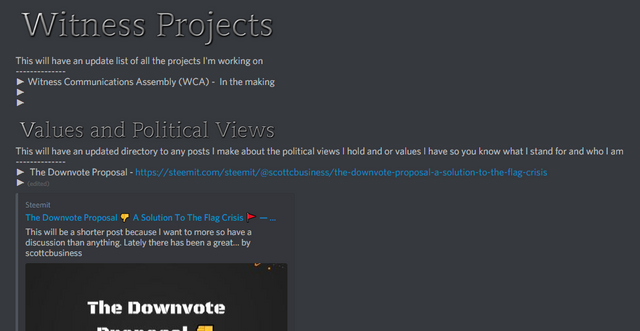 And it will keep going or end shorter depending on the witness. I will have a very extensive list, but that's just me.
I will list some here, but the updated list will be on the WCA discord group, like a resume.
One of the biggest things I've worked on and probably what I'm most known for is Steemers which is a community based around educating minnows and sharing experiences and strategies on how to better use and understand Steem and Steemit.
There is an official discord - https://discord.gg/ecStvEf
Facebook Group - https://www.facebook.com/groups/Steemers/
Minds Group - https://www.minds.com/groups/profile/827289411271684096
@Steemersbot - https://steemit.com/@steemersbot
The point is to curate and highlight educational content as well as I spend a lot of time making said content and sharing it to the group as well. I will make a more official post about Steemers and what it's all about. It is the graduation from the original idea of my What's Up Steemit digest. I will post all the updates etc. on my discord witness channel.
I also do a ridiculous amount of posting educational content myself which you can find on Steemers and my witness channel for the really useful ones. I'll list some here:

I will list some here, but the updated list will be on the WCA discord group and be made into a directory of all my active projects.
Evolving Steemers to a much bigger project with a curation trail and more
Witness Verification - a sub project within WCA for verifying witnesses as real people
Originally I shared "The Downvote Proposal" as a point of my political views and personal values, but with enough support we could turn this into a full on movement. I think we need a downvote that doesn't affect reputation and or a way to fix flag abuse.
Correcting Steemit tag use - Currently tags are being used incorrectly, they should be used to be informative but now there are too many branded tags and everyone is using them just to get a curation post or an upvote and it ruins the point of Steemit. I don't how this can be corrected but I want to garner support for it.
Bot Limits - we need bot limits on how much you can upvote per bot. It makes sense to have like a 5 SBD limit to at least deter people from massive self promotional bids and make it more of a nuisance to do so.
(I'm not fully against or for bots, I understand how they are bad and I understand how they help minnows, but the profit and the distribution of the profit seems poorly representative of what Steemit tries to be.
Removing inactive votes (I hear this is planned soon, but not sure so I'm including it)
Minnow Representation - not sure what I will do here, but I plan to help more minnows find ways to get noticed and break the minnow ceiling earlier if their content is quality.
Witness Interviews - I'd love to work with some other people to get a consistent interview schedule going with witnesses on a weekly basis.
I also list these and more on the discord project I support as well which are equally as important if not more important than the work I'm doing myself.

I will summarize some of my beliefs and values, but like everything else, you'll be able to find the rest in discord. I will just link some posts that help share my perspective which you'll find on discord too:

THANK YOU!
Last, but not least I want to thank everyone for all your support and I believe we can really make the difference here. I really want to strive to improve communications between witnesses and the community and get the minnow voices heard more!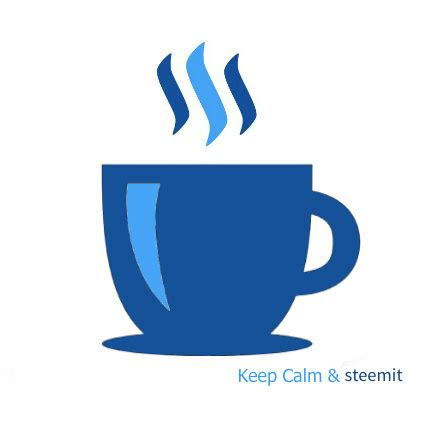 If you believe in me as a witness kindly vote for me by going to https://steemit.com/~witnesses and voting for me at the bottom by typing in my username 'scottcbusiness'
🙌 You can also connect/contact/follow me on:
Twitter - https://twitter.com/Scottcbusiness
Facebook - https://www.facebook.com/ScottCBusiness
Instagram - https://www.instagram.com/scottcbusiness
LinkedIn - https://ca.linkedin.com/in//scottcbusiness
Steemit - https://steemit.com/@scottcbusiness
Minds - https://www.minds.com/scottcbusiness
Discord - ScottCBusiness#5242