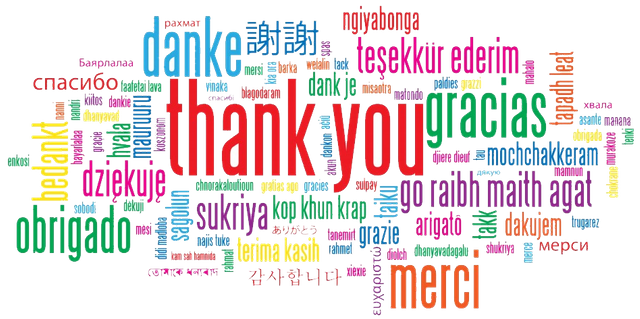 KINDNESS
A while back I entered a contest set up @jasonhick for the weekly250. This was my entry to the contest -Reaching My Goals On Steemit - My Entry #Weekly250
The object of this contest in @jasonshick's words :
If you have been following along with the #weekly250 project, you'd know it was supposed to be a weekly contest where a new minnow is delegated 250 SP for a week in order to spread some love to our minnow community.
GRATITUDE
I am glad to say I have be blessed with this kindness and opportunity. I want to use this opportunity to thank @jasonhick for creating this opportunity. Thank you you selecting my entry as the winning one for that week and thank you for reading my previous post and upvoting my posts. I assure you will not be disappointed.
My gratitude goes to the #smartcash community for its support here on Steemit
---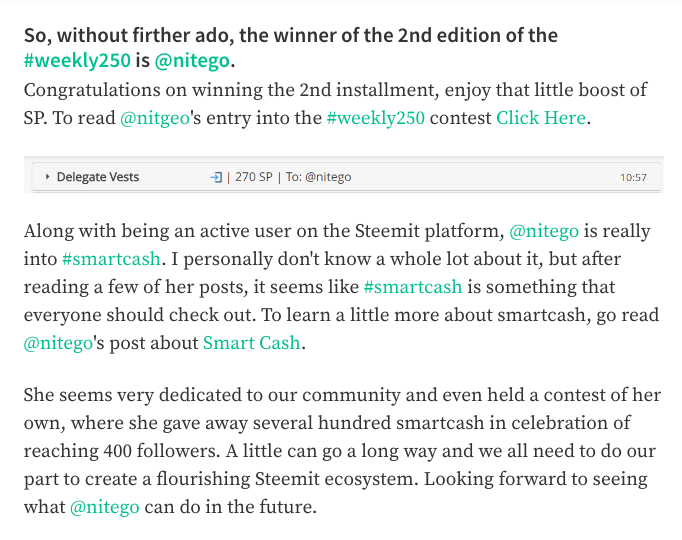 ---

---
I encourage everyone to participate in this. Acts of kindness like this should be amplified and hopefully we can create a culture of kindness here on #Steemit.
On the other hand if you are in need of this kind of boost you may want to enter this weekly250 contest. The Rules are:
A CALL TO ACTION - Minnows
As I previously stated, this will be an ongoing competition with an ever growing amount of SP so if you would like to be eligible for the contest, there are a few simple rules to enter:
You must have under 1000 SP to be considered for this delegation.
You must make a post explaining why you deserve the delegation, and use the tag #weekly250
You do NOT have to resteem this post to enter, however it is in your own interest, as the more rewards this post earns, the higher the delegation will be.
That's it, pretty simple to follow rules to enter.
Make sure to use the #weekly250 tag as I will be monitoring that tag.
Anyone who makes a post for this contest will receive a 100% upvote from me, plus the potential to earn that coveted 250+ SP delegation.
Source
Once again thank - you
---
Learn More About Smartcash:
Smartcash.cc
---
Join Our Community:
FORUM
TWITTER
REDDIT
FACEBOOK
TELEGRAM
DISCORD
INSTAGRAM
Thank you for visiting me. Please leave a comment, upvote and resteem
My Smart Address: ShqfkDUq8JmYMHYksUm99NZA9BgKjhiKTX
ETH Address: 0x0dB0f86db751291d52467CA97E75dd03FF659F03
Bitcoin Address: 3FWWAV9GVPtXrCRGxRd8SZJYuagVgFKnNR
Please Read My Other Articles
400 Followers Celebration Contest - SmartCash Giveaway
Reaching My Goals On Steemit - Weekly 250
When a Dip is not really a Dip
EOS Registration Deadline Approaches -Tips for Trezor Users
Anarchaforko First Time Experience - Notes from Acapulco
Smartcash RoadMap Updated
SmartCash Coming To A Shop Near You
SmartNodes - Stay the Course
It's Raining Smartcash
When the going Gets Tough
How to Invest in SmartCash part 1 -for Non Geeks
How to Invest in SmartCash part 2 - for Non Geeks
Introduce your Teens to smartCash
SmartCash Coin of the Future