Spanish Translation of Node.js (Part 25) (1108 words)

Logo source
Hello,
This is my 25th contribution to Node.js. I'm currently translating this project into Spanish, along with an awesome group of translators and moderators from Utopian + Da Vinci, we are doing our best to do everything correctly. If you are interested in open-source projects, I encourage you to keep reading.
Node.js is a very extensive project, it may seem impossible to translate it completely, but the Spanish team is working really and we are slowly making progress. It's currently at 39% on Crowdin:

Repository
https://github.com/nodejs/i18n
Project Details
Node.js is an open-source, cross-platform JavaScript run-time environment that executes JavaScript code outside of a browser. It achieves low latency and high throughput by taking a "non-blocking" approach to serving requests. Basically, Node.js can open, create, read, write, close and delete files on a server, using JavaScript. It also includes tasks that will be executed on certain servers.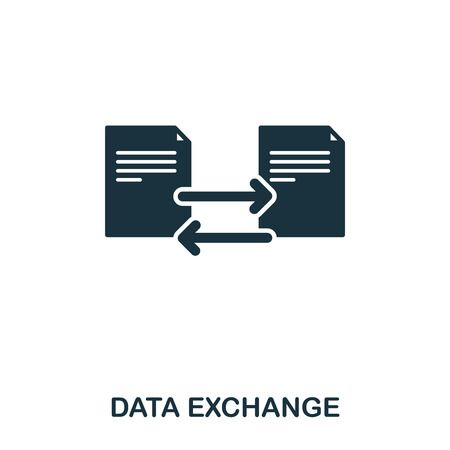 Source
I know it can be a bit confusing at first, so let me explain it to you in simpler words:
Let's say you want to build a software to keep record of your company's earnings. A feature where viewing your monthly earnings is updated live can be very useful. In that way, if one of your sales employees is busy, another employee could still be seeing the updates live, without reloading the page.
This has been done before using another technologies. However, Node.js is way faster and better. So, yes it is the best option for developers who want to build real-time applications where both the server and the client can exchange data freely with no restrictions.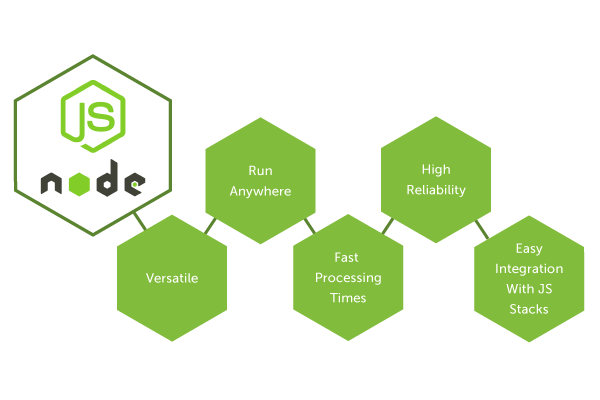 Source
Contribution Specifications
Being such an important project, Node.js is being translated to several languages so it can reach many people around the world. As it for me, I am contributing to the Spanish language.
Translation Overview
During this contribution I finished working on "child_process" inside the version 6.
As I mentioned on one of my previous post:
A parent process can create many child processes and if a process does not have a parent, it is assumed to be created directly by the kernel, which is a computer program that has control over everything in the system, so it's like the heart of the OS.
The child_process module in Node.js has several purposes: it allows the user to access the Operating System functionalities by running any system command, as well as controlling the arguments to be passed to the underlying OS command. It also enable us to control the input stream of an specified child process and listen to its output stream.
The module child_process has three ways to create a child process: [child_process.spawn()][], [child_process.fork()][], [child_process.exec()]. They all return a ChildProcess instance and they implement the Node.js [EventEmitter][] API, allowing the parent process to register listener functions that are called.
I translated the functions: subprocess.stderr, subprocess.stdin, subprocess.stdio, subprocess.stdout, and the maxBuffer option. Each one contains a set of paragraphs that explain their functionalities.

Then, I started to translate the "path" folder, also inside the version 6. Basically, the path module provides a way of working with directories and file paths, as well as many useful functionalities to access and interact with the file system.
A file system stores and organizes files in a way that they can be easily retrieved. A path is the complete location or name of where a computer file, object or web page, is located. It's important to know that a file will always be identified by its path through the file system, beginning from the root node.
Here on this picture you can see an example of a command line path in Windows:

Source
The default operation of the "path" module in Node.js varies based on the operating system on which a Node.js application is running. That is why the first paragraph of this folder provides an explanation of the differences between using Windows and Posix.
Here is an example: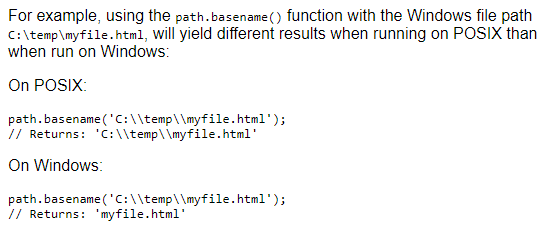 And this is my translation: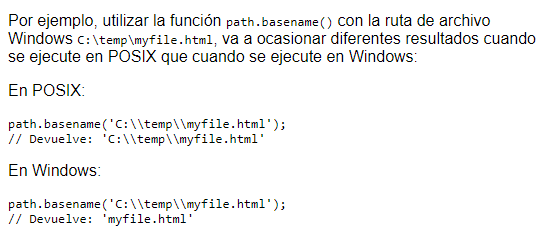 Let's remember that POSIX stands for "Portable Operating System Interface" and it is a set of standard operating system interfaces based on the Unix operating system.

I also translated the functions: path.basename(path[, ext]), path.delimiter, path.dirname(path), path.extname(path), path.format(pathObject), and path.isAbsolute(path). They were very short and concise. I'll explain some of them:

This method returns the filename part of a file path, similar to the Unix basename command.
My translation:



Next we have the "path.delimeter" function, which returns the delimiter specified for the platform. The delimiter character is the one that separates each path component. They are most commonly the slash ("/"), the backslash character (""), or colon (":"), but this depends on the operating system.
In this case, it will be:

And in Spanish:

These were the sites I used as references: 1, 2 , 3, 4
Other translation samples:
English:
To achieve consistent results when working with Windows file paths on any operating system, use [path.win32][]:
Spanish:
Para alcanzar resultados consistentes cuando se trabaja con rutas de archivo Windows en cualquier sistema operativo, utilice [path.win32][]:
English:
When providing properties to the pathObject remember that there are combinations where one property has priority over another.
Spanish:
Al proporcionar propiedades al pathObject, recuerde que hay combinaciones donde una propiedad tiene prioridad sobre otra.
Some words and code values were left untranslated on purpose, otherwise, their true meaning would be lost in the translation.
---
Languages
Source Language: English

Translated Language: Spanish
I have worked as a translator for the project Da Vinci Polyglot and I am currently working as a language moderator for the Utopian + Da Vinci translation category.
And of course, I am part of the Spanish team!
Word Count
I translated 1108 words on this contribution.
Proof of Authorship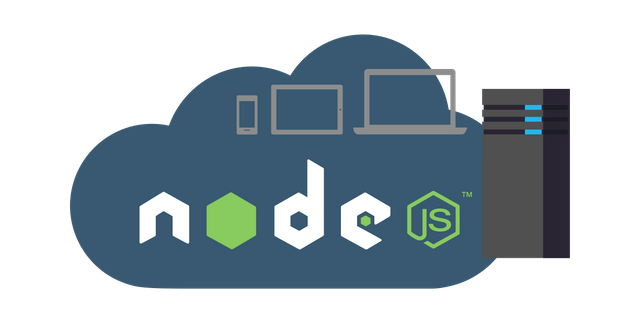 Source