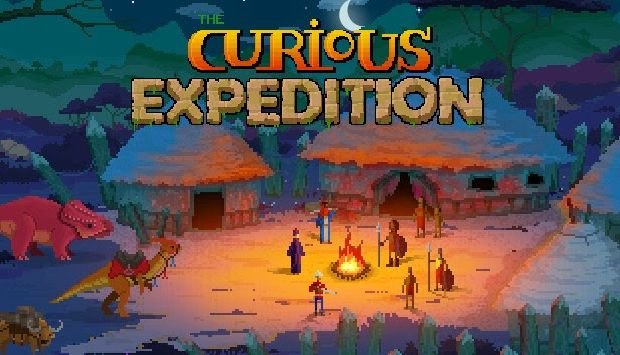 1.Repository
The Curious Expedition on Github
The Curious Expedition on Crowdin
2.Project Details
2.1. Project name: The Curious Expedition
The introduction of this project was written in details in my previous post. However, I would like to list out some main ideas as follows:
Like other adventure games, the players in "The Curious Expedition" also assume a role of the characters to interact with the activities in the story.
This is a rather difficult game. The game takes place over a series of 6 expeditions, each being larger and more difficult than the last. The goal of each expedition is to discover and explore the Golden Pyramid in each map, and hopefully bring back items to increase your fame and fortune.
Game-play Overview:
Experience your very own adventure through a procedural story which makes every game unique.
Explore procedurally generated worlds, each with its own distinctive set of challenges for the ambitious explorer.
Plan and equip your trek. A good explorer is prepared for any eventuality.
For more information about the Curious Expedition, you can find out via its official website: http://curious-expedition.com/
And, on 15/8/2018, the Dev team has announced the Beta version of The Curious Expedition RIVALS. Here is some more information about it:
Curious Expedition RIVALS.
It's a new way to play collaboratively with many other players. It's still in BETA, but the players can play it in the web browser, here right now:
http://curious-expedition.io/
What are the biggest differences of this version?
Everyone plays on the same, huge world.
If you're the first person to discover a region (by finding all the ?-locations), it's marked as discovered by you.
Discover Regions and deliver treasures to get fame, and compete with each other in the weekly highs cores.
There's no harbor. Instead, the world has many Outposts, where you can return to rest, shop, and deliver treasures.
Unlock Expedition Packs and Outposts to be used when outfitting your next expedition.
2.2. Translation's Reasons:
This project caught my attention when I was thinking of choosing the project to translate. It seems that Vietnam is a potential market for gaming projects. The number of players in Vietnam is increasing rapidly. However, the game market in Vietnam is underdeveloped and not diversified. There is even a lack of standard documentation to cater to the game players.
I want to use my translation skills to give the Vietnamese community a standardized document that is suitable for Vietnamese culture when approaching an international game.
3.Contribution Specifications
3.1. Translation Overview
This is my 8th translation segment of The Curious Expedition. I continued to translate the Main Game file from page 20 to page 21. This paragraph of story is about a strange cultist and a strange priest. This is a thrilling and sometimes scary experience that you can expect in such an adventure.
To make my translation better, I carefully paid attention to the context and the background. Moreover, I also took a look at this post: How to translate the Curious Expedition - An Easy guide for Everyone.

3.2. Languages:
Source Language: English
Target Language: Vietnamese

3.3. Word count:
This part has 1160 words in English.
The untranslated words are: 95 words, such as: $name, $his, $he,...
The translated words in total are: 1065 words.

3.4. Proofread
My translation part was proofread twice by the Language Manager of the Vietnamese Team - @carlpei. It means that my work was checked and followed in details by the authorized person.
4. Proof of Authorship
You can lookup Crowdin project on the following link, as well as the summary of my activities: Crowdin Project Activity
__
This part I would like to spend to say many thanks to you and my team for taking your time to follow me and my translations. Moreover, I would like to say a big thank to my Language Manager for his time reading and making proofread in details. I highly appreciated what he has done for our team.
I am so happy to be a part of our team and we are trying our best to bring to our community the useful sources of information. You can check more Vietnamese translations via my team who have Steemit accounts are: lantracy, adam.tran, lecongdoo3.
Finally, I am so grateful for being an approved translator of Davinci and Utopian.
My other contributions: