[Translation][Vietnamese] FreeCAD (Part 28) [Completed]
Source
This post is published in relation to the @utopian-io & @davinci.polyglot translation project, by a selected Translator for the Vietnamese language.
Repository
Project details
(This part is the same as in my previous post. So, I will just quote it from my first report)
The project that I have taken charge of is FreeCAD. FreeCAD is a software or a tool created to support architects and engineers to build a 3D model for specialized objects related to mostly Mechanical Engineering and Civil Engineering. It's a completely open and free software. FreeCAD is often used design engineering products particularly in Mechanical Engineering. In addition, it's also used in other sectors such as architecture and building construction. Likewise other modern 3D modern CAD software, it has a range of 2D tools to sketch out 2D shapes or extract specific design from 3D models to create 2D drawings. FreeCAD supports many different operating systems and is running well into Windows, Linux/Unix and Mac OSX. As a translator of the project, I have a great chance to understand better its values and its complexity. I believe it is an incredibly useful tool for Vietnamese engineers and architects in their work. Sometimes, there are several difficult terms but my other team members and I confer to find the most appropriate translated words, resulting in a quality translation.
Contribution Specifications
This is my 28th translation for FreeCAD project. My motivation is that I desire to be able to help Vietnamese community access enormous knowledge from overseas in the role of a translator. I hope that my work will help Vietnamese citizens especially engineers and architects have a deep understanding of FreeCAD through reading the document. I also strongly believe in the concept of open source and in helping each other.
My work involves a translation of the project from English to Vietnamese. This time I continued translating the file Draft.ts. Thanks to the translation, I had a chance to broaden my horizons and especially gain a deeper understanding of the software as well as specialized knowledge related to FreeCAD's features. In addition, I have acquired more useful information about different operations and some tough technical terminologies in freeCAD software and how to use the program to design and draw engineering objects effectively.
Finally, I've completed translating FreeCAD project (100%). To be honest, although most of the strings are somehow related to my field which is Civil Engineering, I still have gained a lot of knowledge from it. Specifically, I had to go to the Internet and ask my friends to learn more about what I'm not sure about or what I'm unaware of. Thanks to that, I did collect a huge amount of useful information to sharpen the accuracy of the terminologies translated. Besides, my other team members particularly the Language Moderator Carlpei provided assisstance to me during my translating period, as you can see I had to go back and forth several times to choose the most appropriate words for the specific situations, thus improving the quality of the translations. Perhaps after having FreeCAD project done, I will turn to oroCRM software which, I think, is the most intriguing project compared to other ones.
Languages :
The project's source language is English and it was translated into Vietnamese (my mother tongue). In addition to collaborating on Open Source Projects on Crowdin, I also work as an interpreter for some projects in Vietnam. I also gained some experience of translation when doing scientific research at school. You can read more about my English ability through my application post.

Word Count:
Part 28 : 786 translated words ( 840 words in total, 54 untranslated words)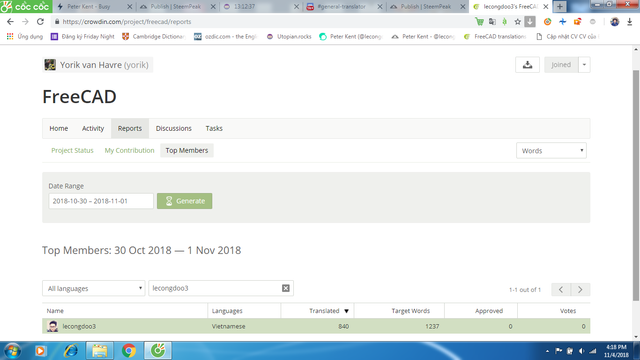 (All the translated words were approved by Vietnamese Language Moderator @carlpei)
Proof of Authorship
You can lookup Crowdin project on the following link, as well as the summary of my activities:
My previous contributions
---
Credits:
Thank you - Vietnamese Language Moderator Carlpei for your tireless effort on reviewing our translations and supporting us during our translating work!

A big thank to other members of Vietnamese translation team for supporting me: lenancie, lantracy, adam.tran and symonp.

Last but not least, special thanks to Davinci & Utopian collaboration for running and developing this incredibly meaningful program !
---
I take pride in being a member of Vietnamese translation team.
Thank you all for your support !