Weekly overview of the bug-hunting category- week 26, 2019
This is a report on the weekly contributions to the bug hunting category. The post contains basic stats like the number of contributions received by the category, an excerpt on new contributors if there are any and a detailed comparison of the week's output with previous weeks.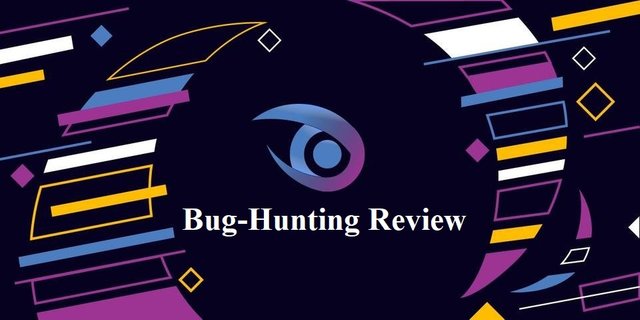 Previous Reports
2018
2019
Bug hunting contributions summary
Week 26: June 20th - June 27th
29 Contributions, 26 scored higher than 0
An average score of 62.25
6 unique contributors
No Staff Picks
No new contributors
Number of reviewed and rewarded contributions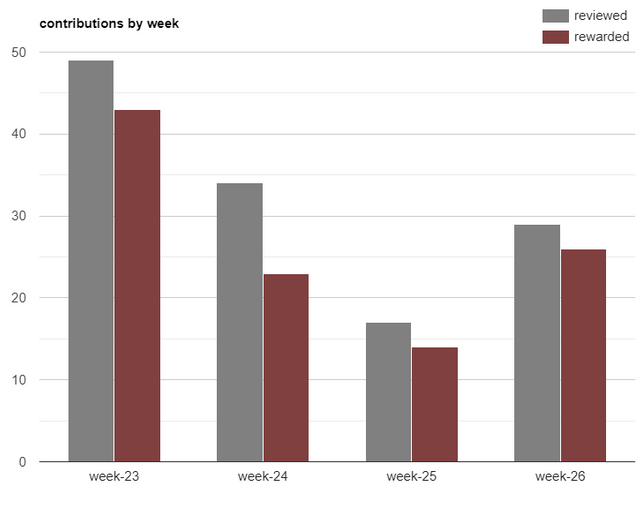 Average score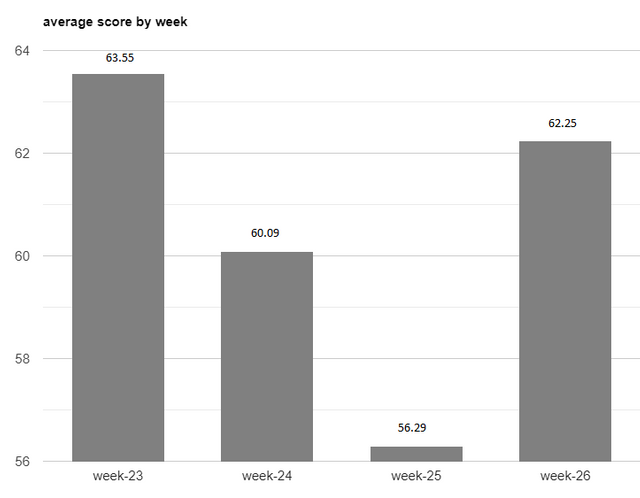 Reports Reviewed By Reviewer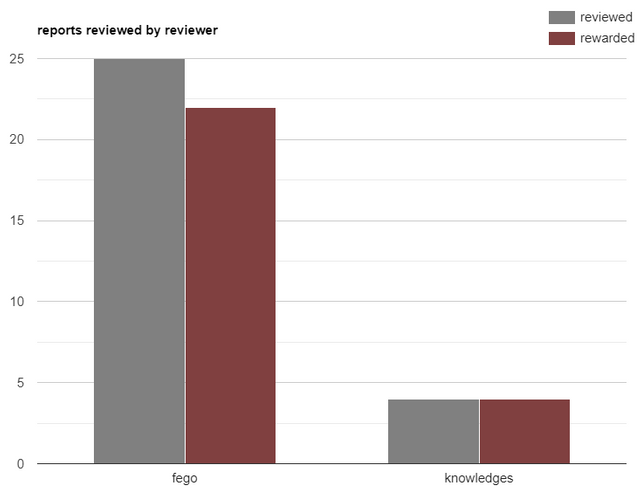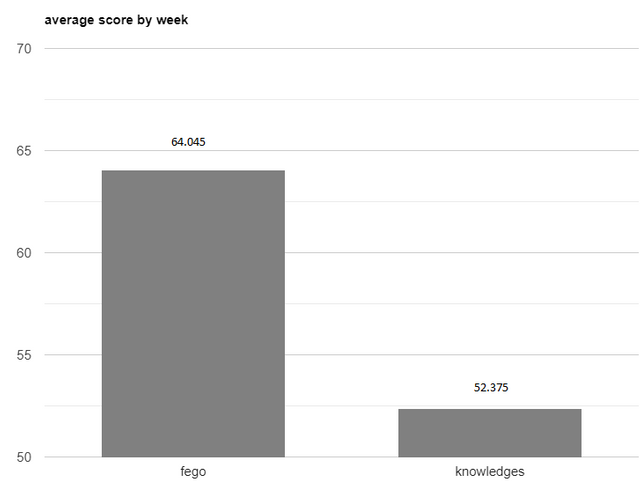 This week the numbers increased from what we had in the previous week. In total there were 29 contributions reviewed. So we received 12 more contributions that we had last week. There were 3 reports that were not scored. The reasons were:
The contributor in this case (1) did not follow the steps described in the project's documentation. Here, an error was encountered in a companion app because the project's parent framework was not installed first before use.
The hunter in this case (2) opened a ticket for an issue that was known and already confirmed by a different contributor on the same thread
The last case (3) was based on an unimplemented feature. The PO at the time this was reported argued that the feature itself was yet to be implicitly implemented.
That left us with 26 contributions eligible for rewards. This brought the average to 62.25, greater than last week's average of 56.29. The increase in average is a welcome relief to the category. It is not the best yet, but the light at the end of the tunnel is close enough.
One factor that contributed to this rise in average is the sudden jump in the number of reports. Not comparable to heights achieved by major categories in weeks past, but enough to influence the week's average. Another point to consider is the severity level, of the bugs recorded. We had more crash cases than in recent weeks.
The week in particular had quality outputs. Much kudos to the contributors.
contributions
With 29 contributions this week, @darewealth had the most input. He submitted 16 reports, the highest by any top contributor in 4 weeks. 15 of these reports were scored, 7 were scored 75 or higher. In total, he received an average score of 64.8. In a week where we had just 6 contributorss, the category's faithfuls (@harry-heightz, @ckole) were on hand to add 3 apiece to the mix.
It's the fifth week in a row, and the most active repo is the ACG player. If you have been following the weekly overview for some time now, then this is no longer news. This week the project received 11 bug reports.
The ACG player is designed with all the basic features of a music player. Well, it has some other cool features like;
Playlist.
Car mode
Data overview
UI customizations
bugs
You can look up the repo by following this link - https://github.com/AugustToko/ACG-Player .
Other project repos that stood out
If you are looking for new applications to explore, here are some repos that stood out this week.
https://github.com/billthefarmer/diary- Diary is an innovative app where you could put your personal notes or personal journals every day. If you have a habit of writing on your diary every day, a safe, simple and easy mobile diary app could be of great help. It will help you keep it ordered by date like a traditional journal or personal diary. The app is available on F-Droid and here. You can also get more information fom the documentation

https://github.com/7LPdWcaW/GrowTracker-Android- This app was created to help record data about growing plants in order to monitor the growing conditions to help make the plants grow better, and identify potential issues during the grow process. You can follow development, post questions, or grow logs in the Subreddit.
And there you have it. Happy hunting :D
Common Mistakes And How To Fix Them
I will be highlighting the common mistakes found this week. I will also be offering tips on how to avoid them in future contributions. The tips will depend solely on the scores received by the contributions in a particular week.
1. Contributions with a score below 40
The severity level of the bug was marked as negligible.
Submission of cosmetic or trivial UI issues (phone orientation, phone locking/unlocking etc.) that have a negligible effect on the functionality of the application may lead to a lower score of your contribution, thus reducing your chances of receiving a reward
If what you spotted is a discrepancy in the user interface or just the front end appearance of the software, then it is most probably a trivial bug and would be scored as such. So make sure to look out for this.

Also, there are times when a contribution is scored negligible because the expected behavior of a particular feature could still be achieved by a default option. For example - while some third party camera apps may not work when used for uploading within other applications (probably because the PATH for that particular cam app is not set), the default android cam works. It will be particularly stressful and redundant to have the project owner set a unique PATH for every cam application out there. This is one thing a contributor should look out for.
2. Contributions with a score below 60
The contributor made no efforts to pinpoint the cause, or applied incorrect methods in searching for it.
To avoid being scored in the questionnaire with this option, I will advise hunters to comb through the app's repo. Search the repo using a keyword related to the affected feature, it could be the name of the function itself. If found, analyze the block of code behind the function's implementation. Check for syntax and logical errors, document your findings.

You can attach logcats in your reports for issues that involve a crash. If you don't know to produce one, watch this tutorial for how to.
Other News
---
This is to inform contributors and the general public that while reports will be accepted to projects outside the whitelist, they will only be reviewed if the issue opened is acknowledged by the project owner or maintainer.
While the new guidelines are yet to be officially announced, bug-hunters and open source enthusiasts looking to help open source projects, please take a look at our whitelist of projects that you can submit bug reports for:
https://docs.google.com/spreadsheets/d/1S7ayFTEy5CBMyeJvFRgq5JUjlqZxFjWAWhhrBL0GC60/edit#gid=1954068373
---
If you wish to have your open source projects added to our whitelist you can contact us on our help channel at our discord server. You can also leave your questions and comments below :)
---
Thanks