Weekly overview of the bug-hunting category- week 50, 2018
This is a report on the weekly contributions to the bug hunting category. The post contain basic stats like the number of contributions received by the category, an excerpt on new contributors if there are any and a detailed comparison of the weeks output with previous weeks.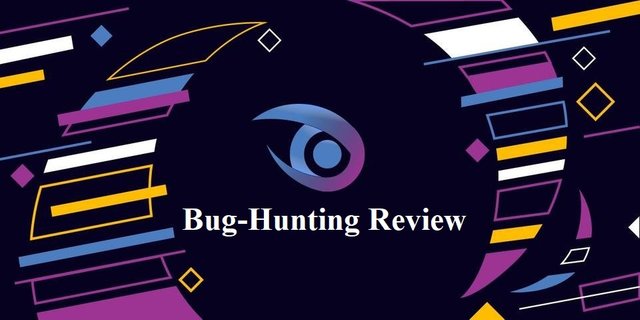 Previous Reports
Bug hunting contributions summary
Week 50: December 6th - December 13th
1 Contribution, 1 scored
No new contributors
An average score of 78
At the time of writing this report, the bug received have been fixed by the PO.
The contribution
@tobias-g is a moderator in the category. While testing the app, he noticed that entering a link without https:// or http:// did not show the link that was added, instead it showed the 1ramp "create a post page" within the embedded link.
Hunter Totals and Average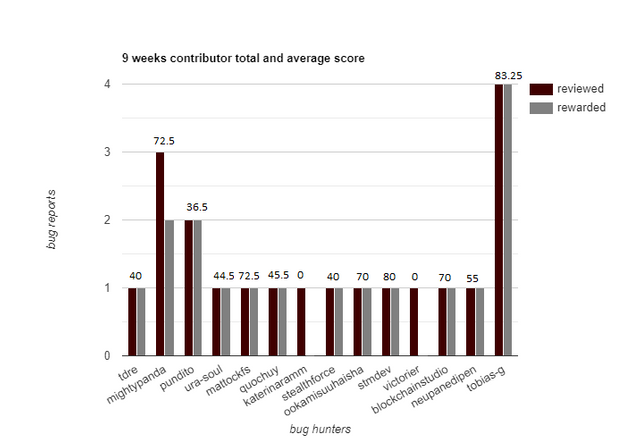 @tobias-g is presently the most consistent hunter with 4 finds. He is also the hunter with the highest average of 83.25, previously occupied by @stmdev at 80. The only difference in the chart from that of last week is the 1.58 point rise of tobias's score
Weekly Average Score and number of Contributions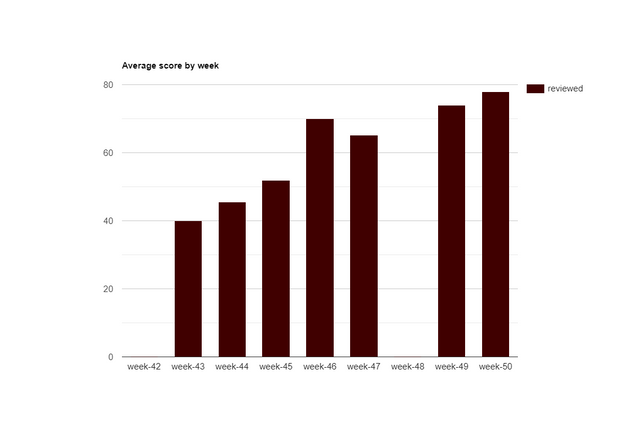 This week, the category received just one contribution that was scored 78. When compared to the contributions from last week, this week was short by 4 contributions. Also, in comparing other weeks we can for certain predict how the weeks to follow will be. At present, it stands at a 50/50 chance. There would either be good or bad weeks. If the charts from the weeks before are anything to go by, a good week would have a minimum of 3 and a maximum of 5 contributions, while a bad week would have 1 contribution.
Reports Reviewed By Reviewer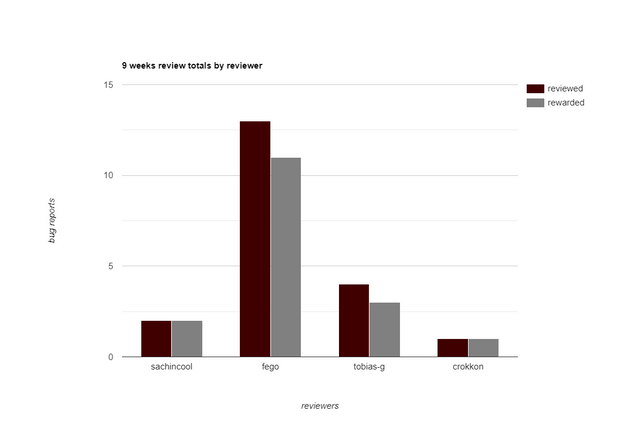 The 20 contributions received by the category in the past nine weeks were assessed by 4 reviewers. Of the 20 contributions, 17 were rewarded.
Other items
In other updates, in last week's discussion with @espoem on what to do with the whitelist; there were suggestions among the moderators to completely remove the list and in its place draft, a guideline that allowed contributors to test open source projects of their choice as long as the new guidelines were met. The agreement was that the current list restricts the hunters to just a number of projects. Discussions however, are still in place as to how to better implement the suggestions.
For bug-hunters and open source enthusiasts looking to help open source projects, please take a look at our whitelist of projects that you can submit bug reports for:
https://docs.google.com/spreadsheets/d/1S7ayFTEy5CBMyeJvFRgq5JUjlqZxFjWAWhhrBL0GC60/edit#gid=1954068373
---
If you wish to have your open source projects added to our whitelist you can contact us on our help channel at our discord server. You can also leave your questions and comments below :)
---
Thanks