November'18 STEEM Post Bench-Marking Report - Blockchain Business Intelligence
 Repository
https://github.com/steemit/steem  
Aim of Analysis
Every month I  produce a Post bench-marking report with the aims of:
• Aiding the STEEM Community with a place to benchmark their posts and growth
• Create a report that can be used for comparisons in other periods
• To track my personal targets and record achievements
Please note this data is based on Posts and not Comments.
If you missed last months report you can check it out here
https://steemit.com/utopian-io/@paulag/october-18-steem-post-bench-marking-report-blockchain-business-intelligence-1541714847409
In September we had HF20, this caused a reduction in on chain activity for the last week of the month.  This lead to an increase in rewards pool which would have inflated payments in for a time October.  This report for november should show a true reflection of activity with everything from HF20 now leveled off.
Financial Performance
In November 18 the % of posts with no payout was just over 16%, remaining consistent with last month.  Pre fork this was always above 20%
The % of posts with a payout of <$1 has increased from 56% last month to +60% in November.
There were no posts with a payout of above $500 this month
The average post pay-out value in Nov was $1.68  and if we exclude posts with no payout this increases to $2.02
The median payout value was $0.10 with a standard deviation of 7.64
The number of posts decreased by 14% on the previous month and the gross payouts decreased by 57%.  The drop in the price of steem has had an impact on payouts.
You can see how this compares to previous period in the charts below.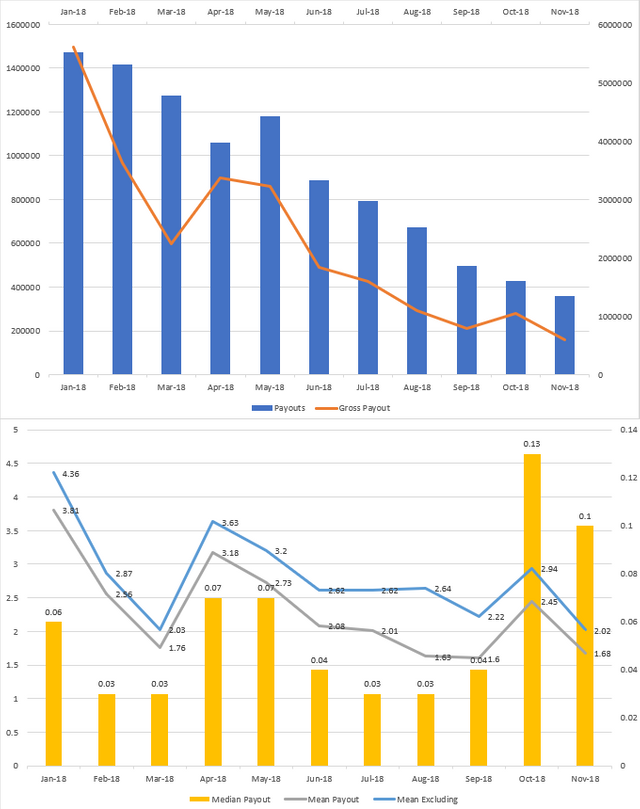 Top Authors based on Gross post payouts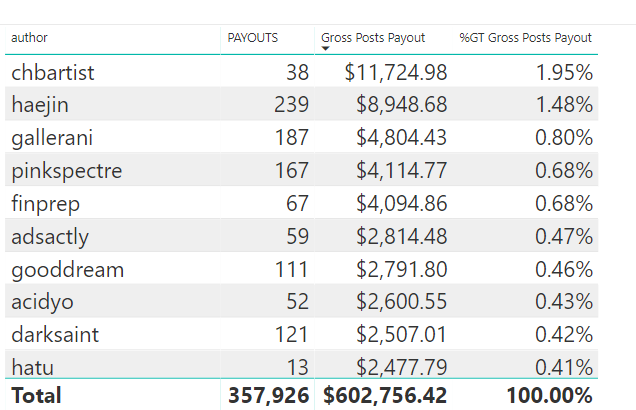 Top Category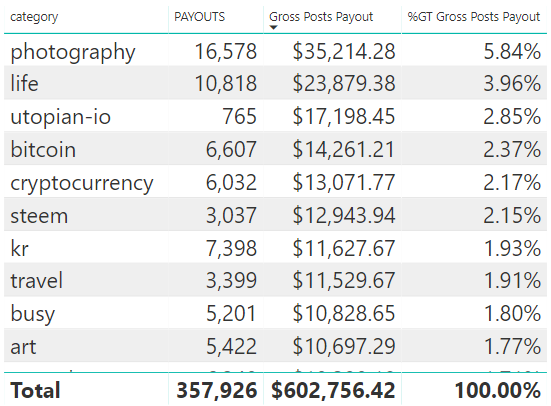 Comments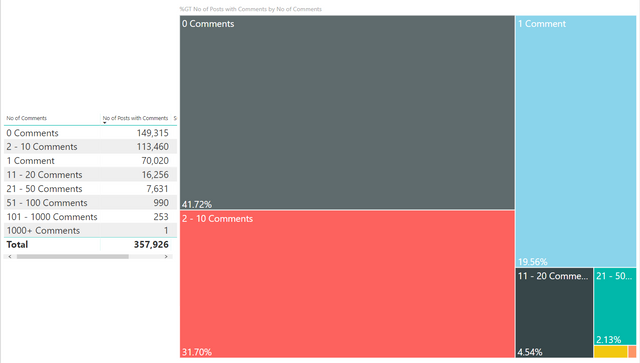 The % of posts with no comments  41.72%, this is consistent with  October.
The mean number of comments per post is 3.10, and the median is 1. You can see how this compares to previous period in the chart below.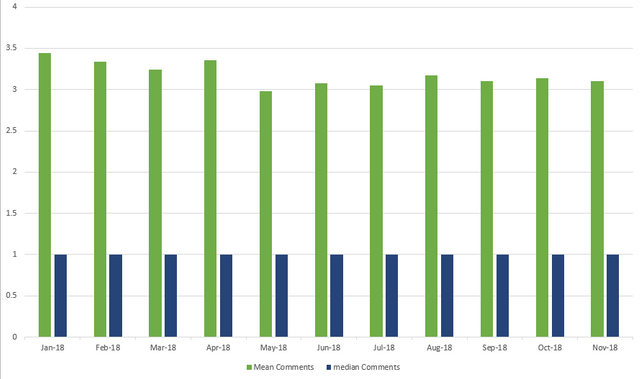 Votes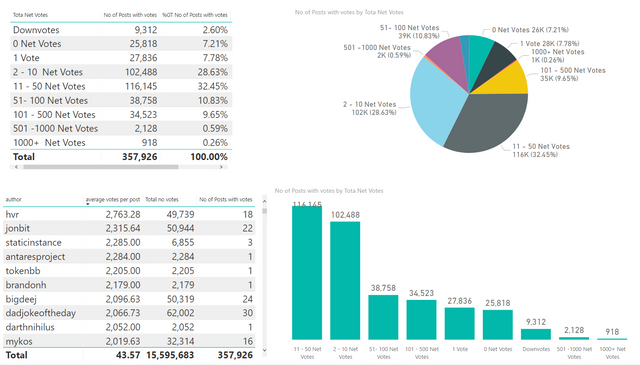 The % of posts with 0 net votes has also remained consistent with last month at 7.21%.
The median votes per post was 13 and the average was 43.57.  You can see how this compares to previous period below.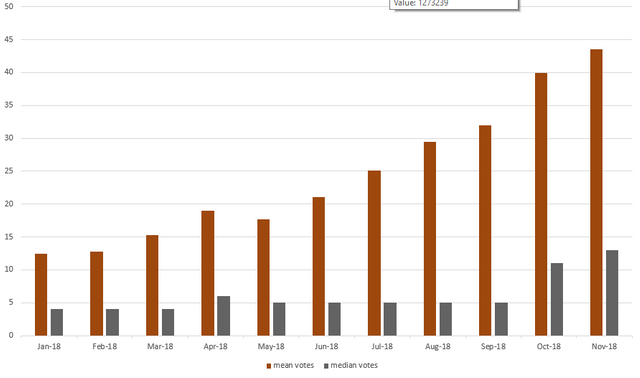 Flags
In votes above we also have flags, however combined only 2.6% of posts had a net downvote.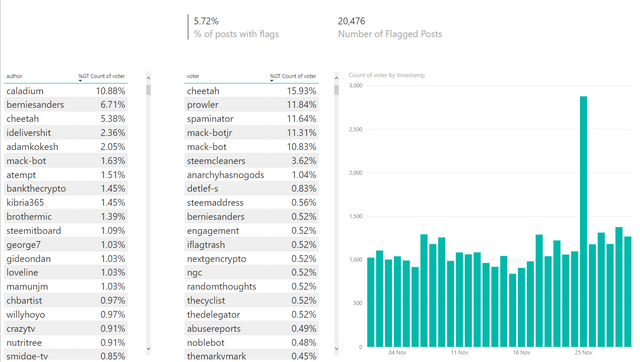 20.5K posts received 1 or more flags (this is posts not comments).  This makes up 5.72% of all posts made.  This is also consistent with last month.
In the first table we can see the authors with the highest % of flags and after this the table shows who gave the most flags. Following this we can see the time series for when flags were given
Other Data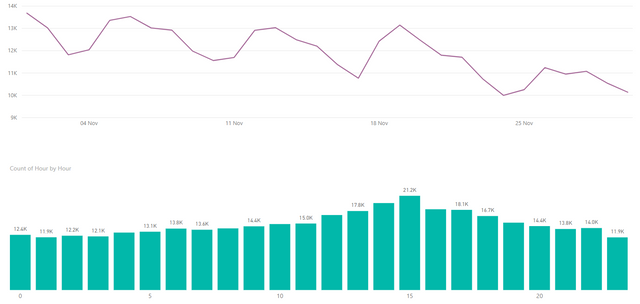 The line chart above represents the number of new posts per day in September 18 and the bar chart below that shows the peak posting hours. 
Conclusion
The number of posts each month has been on a downtrend this year and November was no exception. I expect that the crypto downturn is responsible for much of the recent drop.
As expected the payouts reduced as the rewards pool had leveled off by the end of October from the HF20 changes, however there was an additional hit with the lower price of steem.
Engagement in terms of comments per post has remained rather consistent, however last month we seen a massive jump (over 100% jump) in the median number of votes per post and this has remained consistent this month.  This can be tied in with the new user report I produce where I have found less inactive accounts registering and more voting only accounts.
The % of posts that received flags has remained consistent.
Keeping track of my own posts, on average I earned $17.41 per post, and each post received an average of 209 votes.
How did you posts do in November, please do leave a comment below and let me know how you got on?
The Data and Queries
 As always I have connected to Steemsql managed by @arcange using Power BI and the query is used was

     SELECT
     author,
    category,
     created,
     children,
     total_payout_value,
     net_votes,
     pending_payout_value
     FROM 
     Comments (NOLOCK)
      where created >= CONVERT(DATE,'2018-11-01')
     and created< CONVERT(DATE,'2018-12-01')
    and depth = 0
The code used to get flag details was 
SELECT
*
FROM 
txVotes (NOLOCK)
where timestamp >= CONVERT(DATE,'2018-11-01')
and timestamp< CONVERT(DATE,'2018-12-01')
and weight <0
Shameless Promotion
 Like what we are doing?  Dont forget to vote for @steemcommunity as your steem witness.