This is a weekly overview post of the Analysis category at @utopian-io. The report aims to provide insight into the topics covered, the scores provided, staff picks (if any), and a look at how the current week has fared against recent weeks gone by.
Any other work taking place and my personal thoughts in relation to the category will also be included.
If you have any suggestions for additional information that could be included in this report, please comment below.
This report covers the previous 2 weeks of contributions to the Analysis category.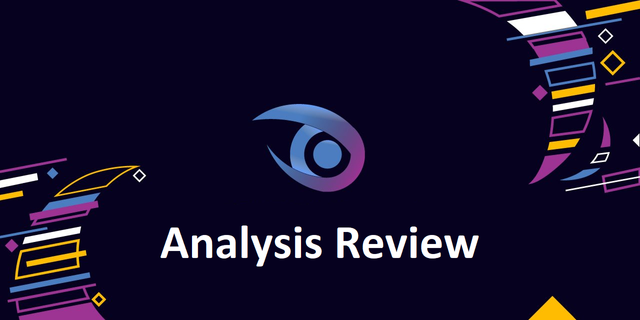 ---
Previous reports
2018
43, 44,45-46, 47, 48-49, 50-51, 52-53.
2019
1, 2, 3, 4, 5-6, 7-8, 9-10, 11-12.
---
Analysis contributions summary
Week 13: March 28th - April 3rd (inclusive)
Week 14: April 4th - 10th (inclusive)
3 contributions, 3 scored, 3 authors
1 Staff Pick
An average score for the week of 75
An average of 26 comments per contribution
Contributions
Week 14
As with the previous report covering 14 days, there have been just 3 contributions to report in this window. And in-keeping with the trend last time, 'blockchainstudio' has received another Staff Pick. This award is given to outstanding contributions, and the review team felt that the analysis on Drugwars revenue and transactions by 'blockchainstudio' was exactly that.
Not only was the presentation of data and findings superb, the analyst also took the time to contact a large account who has been playing the game to try to glean further information around their actions. The analyst found that more purchases were made at the weekend, and attributed that to the TGIF feeling, where users perhaps have more time (and funds) to spare. Despite some accounts choosing to purchase units and buildings, it is clear from the chart below that this action is occurring much less at present than over the past couple of months, and is still declining.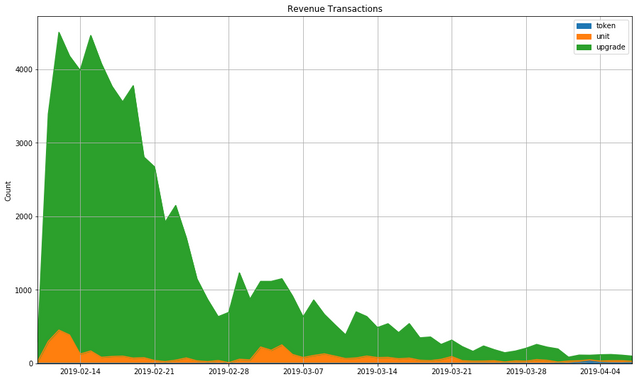 source
Interestingly though, the number of new registrations is still slightly on the increase. The game does need new money and new members, and so this is a promising takeaway.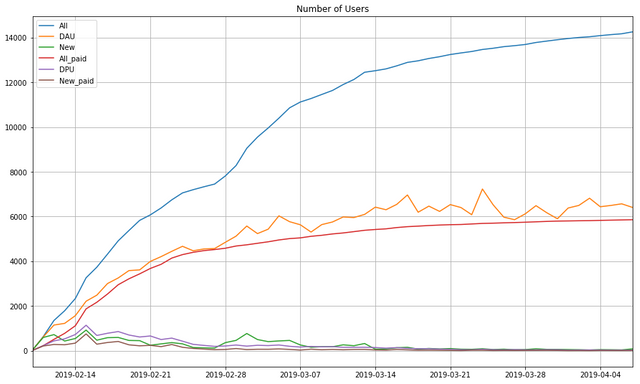 source
The contribution also ties to a Suggestions/Ideas piece by the same author in which they put forward ideas to the Drugwars team on how to manage transactions so that they can be verifiable, but not open to abuse.
....the transactions should be verifiable after some delay. Currently, there's no way to prove or disprove some transactions.
I fully support this suggestion and hope that it is considered in future versions of the game. Overall, and excellent contribution to @utopian-io.
The other contributions from 'dalz' and 'paulag' were similar to previous work but not without merit. We are happy that despite the recent dip in price of the STEEM token again, and the loss of a large delegation for utopian-io, that analysts still find the category a worthwhile place to be.
---
Analysis and visual reporting
The aim of this section is to represent the current weeks activity along with a recent set of data. The current data span covers the previous 28 weeks.
Weekly Average Score and number of Contributions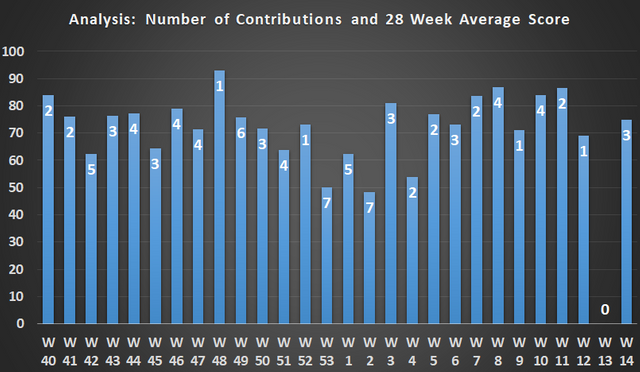 The week without contributions is a blot on the copybook for the category, but last weeks average of 75 is slightly above the average score. Three contributions (and the 0 from the previous week) lowers the average weekly contribution total to 3.14.
---
Contributor Totals and Average Score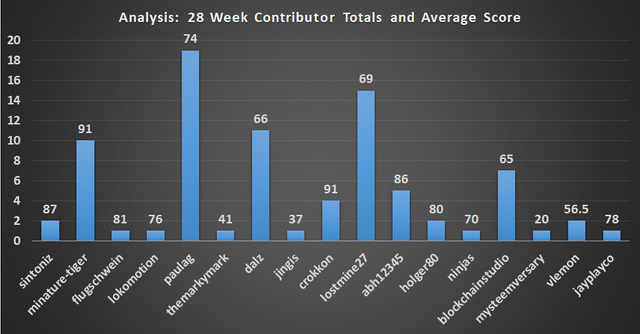 Ten contributors hold average contribution scores above 70 over the past 28 weeks of data analysis.
Contributions that did not receive a score are not included in the charts above.
---
Review Totals by Reviewer (Scored/ Not scored)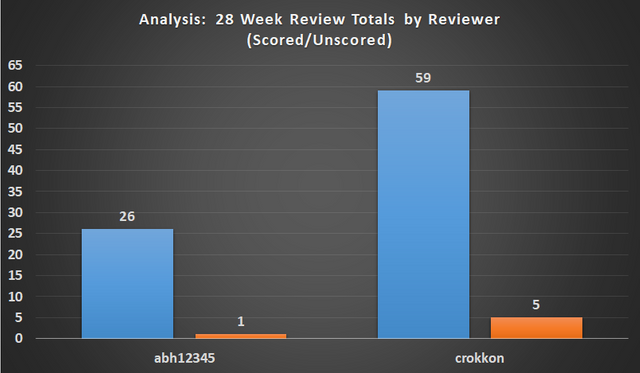 Two reviewers assessed all 91 contributions that received a score in the past 28 weeks. 'crokkon' has reviewed over two-thirds of all contributions to the category. Six contributions have not been scored during this period.
---
Other items
Utopian Colony receives a huge boost!
The funding campaign on Indiegogo and Fundition has received a large donation this week which will enable the project to continue. This is fantastic news for all concerned at @utopian-io - Thank you @freedom!
@utopian-io delegation total reduced
The liquid send to support the Utopian colony also came with the action from the same account to remove their delegation to Utopian-io. This is obviously a bit of a blow, and one analyst commented:
I'm worried if Utopian postings further would decrease. While for most people even previous Utopian voting can't cover their time cost and they're posting for fun and for helping community, it's still worrisome. As I also told elear, hope we also start delegation campaign.
It is a concern that the reward a successful, scored contribution at utopian-io will be reduced, especially as the current market conditions aren't entirely favorable. It is with hope that new and existing contributors look past the rewards as they are right now and continue supporting the project with regular contributions.
As a contributor myself, I will certainly be looking to contribute as I feel there is still much potential for Steem and utopian-io.
---
The Analysis team is available for contact in the utopian-io discord, and also via our blogs. We would like to be able to give every contribution the opportunity to be scored and welcome conversation from potential, or existing contributors that have an idea of a piece of work they are thinking about submitting.
utopian-io Discord: https://discord.gg/6T97um
Analysis team: 'crokkon', 'abh12345'
---
That's all for this week, thank you for your time.
Asher