Heeeyho Readers! Bringing a quick post to express gratitude and some thoughts.
---
By this time you may have read or seen my big adventure across Europe by bicycle and how it ended; If not, this post contains the tragedy that happened a few days ago.
Even though it feels like a sad end for an exciting story, I can proudly and gratefuly say that the misery of that fateful night, when some bastard stole my bike, can be seen as some sort of destiny, somethig that was meant to happen, a new beginning.
The days after the robbery have been the most fantastic I've had during the whole trip so far. The truth is that, hadn't the bicycle been stolen, I wouldn't have met all the brazilian friends in London, who quickly received me in their busy house for two days giving me the best of the brazilian warmth. The days there were so busy that I didn't have much time to think about my bicycle.
Then @travelling-two and @soyrosa reached me, encouraging me to go to the London meetup and indroducing me to @redrica, who I jokinly say adopted me as part of her family, finding me a place to stay and carrying me all over the place in her car. You rock Red!
Destiny sometimes can be a dang bastard, but the amount of great things that have been happening on the past days, and the many new doors that are openning, greatly surprass the price of a fancy mountain bike. In a matter of a few days I went from travelling alone throughout 6 or 7 countries to meeting strangers that I now consider fundamental parts in my life.
Is Steem a valuable cryptocurrency? I don't know, but its community is 100% sure the best, the most carrying, the most united and sexy community on the whole crypto space. Thank you all so much!
The London Meetup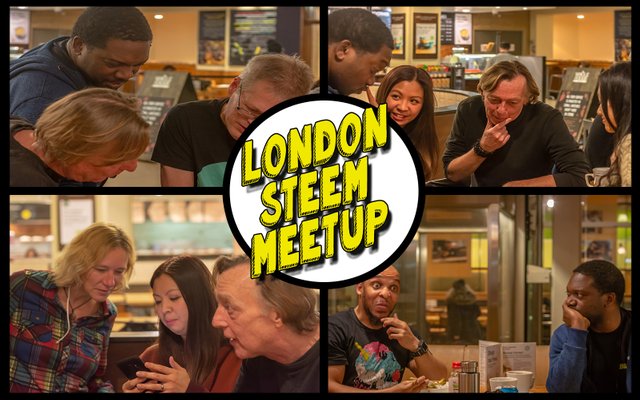 To finish the week in great shape and enthusiasm, nothing like meeting new Steemians with tons of wisdom and creative minds. There were so many great conversations that the day flew past at incredible speed. What a sexy group of Steemians!
I'm not really into people photography, but I managed to snap some sneaky peeky photos, some of them turned out to be quite funny.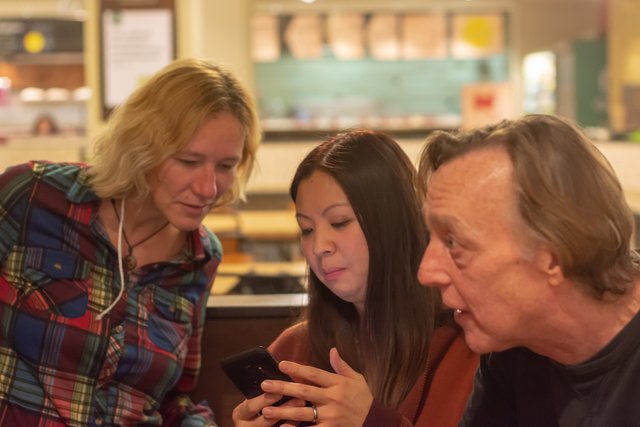 @teodora, @redrica and the new Steemian @dougalporteous
---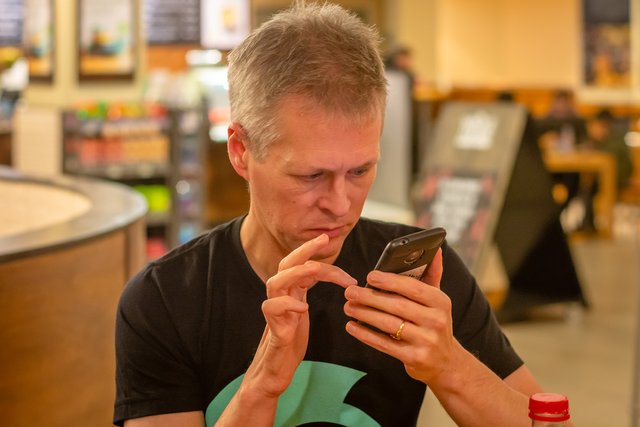 Here's @steevc absolutely concentrated!
---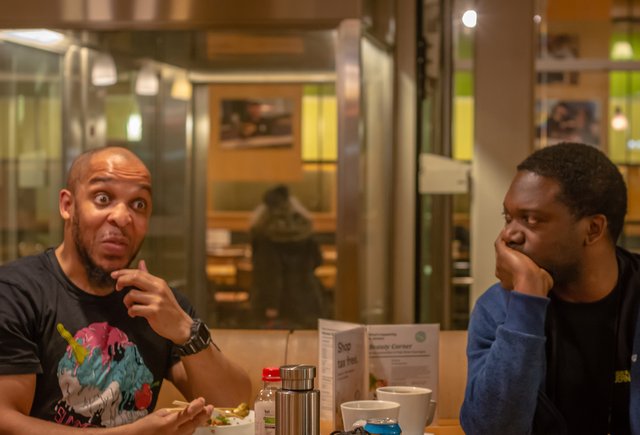 These two awesome dudes are @colossus39 and @adetorrent, there's a lot to learn from these dudes!
---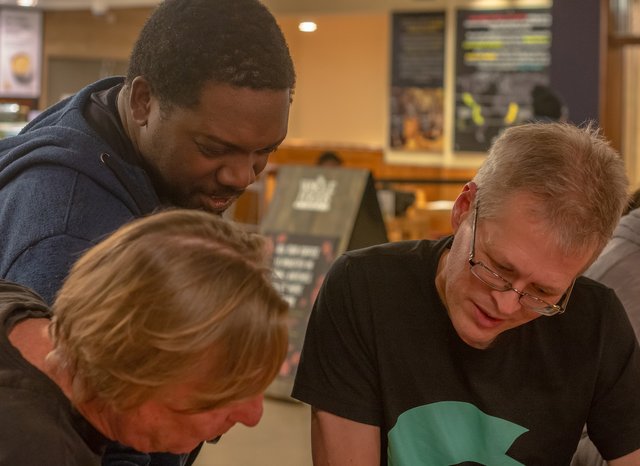 The dudes obviously checking something on the Steem chain.
---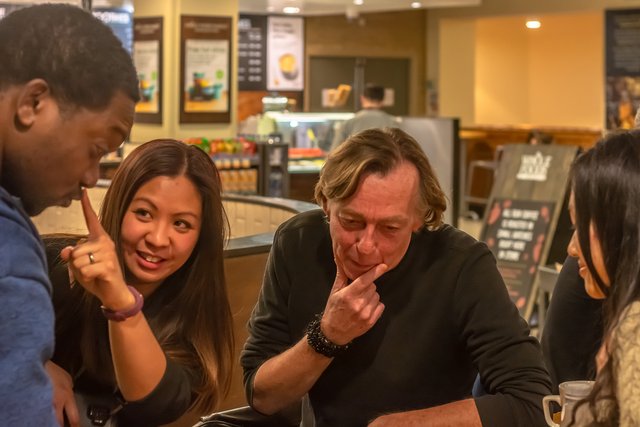 I swear to god this pic was not staged.
---
It's a shame I don't have photos of the other sexy sexy Steemians that were present @susanlo (you see her a little bit on the last picture), @travelling-two (Sam), @ultravioletmag and @zoltarian. If you want to see them all check the other London Steem Meetup posts!
@adetorrent- https://steemit.com/steemians/@adetorrent/woo-woo-food
@dougalporteous- https://steemit.com/steemit/@dougalporteous/steemit-meetup
@steevc- https://steemit.com/steemit/@steevc/follow-friday-steemians-assemble
@teodora - https://steemit.com/meetup/@teodora/bow-to-my-dearest-friend-skills-oz5a1pyu
@travelling-two - https://steemit.com/actifit/@travelling-two/actifit-travelling-two-20190118t222822229z
There's also a video: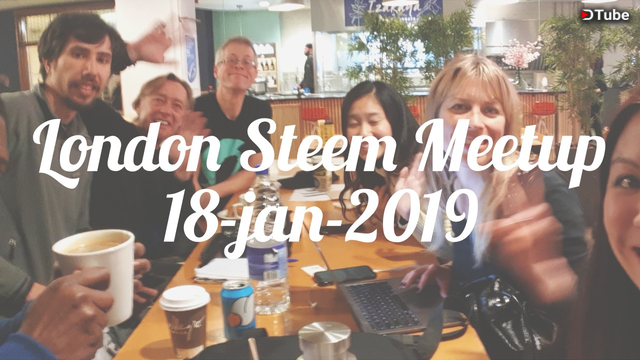 ---
The Show Must Continue
With all the great stuff going on, I'm confident enough to get back to work on the Steem blockchain, so hands to work!
I'll continue to upload content that is delayed from the trip, there will be some awesome videos on the road. You can also expect some real time content around London (my current base for the next months). And don't bother if you see quite a few translation posts lost here and there in the middle of my travel posts.
As for the bicycle, I've got one to use for now, until my life gets better in terms of money. I plan to re-buy something similar to what I had in the future. Plans for 2019 are:
Be able to forward help and positivism to others, the same way I'm receiving
Earn bucks to upgrade video equipment
Bring even more crazyness to this channel
Give more attention to @cyclefeed
After aaaaaaaaaalll that being said, I'd like to thank everyone, from my family to friends, for being amazing. I won't quote the names, but you know who you are!
---
Let's wooooooooooooooooooooooooork!
If you liked this post, please, consider leaving your upvote for a hot coffee.
~Love ya all,

---
Disclaimer:  The author of this post is a convict broke backpacker, who has travelled more than 10.000 km hitchhiking. Following him may cause severe problems of wanderlust and inquietud. You've been warned.
---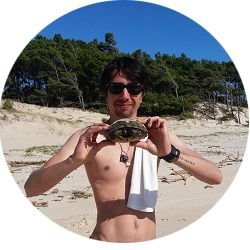 I'm Arthur. I blog about Adventure Stories, Brazil, Travel, Camping & Life Experiences.
Follow me to stay tuned for more craziness and tips.
You may also want to read:
Quick Trip Update: My Bicycle Was Stolen in London
Quick Trip Update: We made it to Slovenia!
[vlog #29] Bike Vlog on the Road | Austria | Going Crazy on the Forest
Quick Trip Update: Mr. Wild Camper and the Holy Tractor
[vlog #28] My2018: Just a normal day | Is travelling different from being at home?
CO-FOUNDER AND CURATOR ON:

A PROUD MEMBER OF: