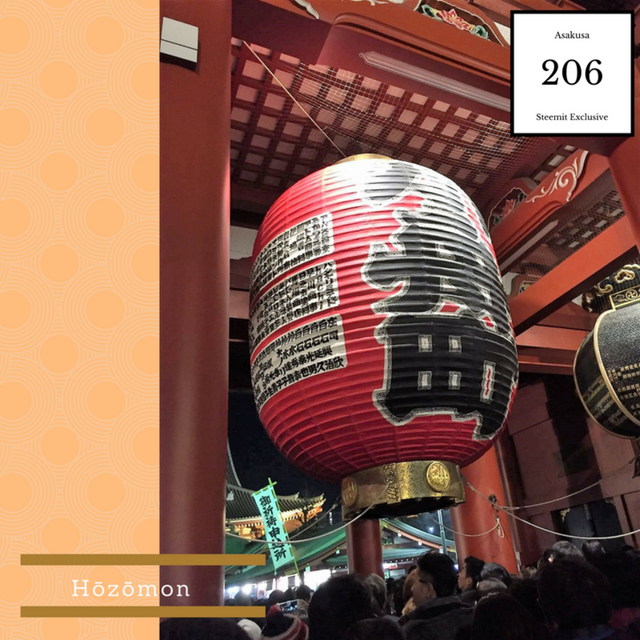 Japanese New Year
This is the first time that I was able to experience Japanese New Year in Japan. The New Years Festival in Japan start on 1st of January and runs until 3rd of January (Most Japanese taking a long holiday up to the 8th of January). It is like Christmas and kids receive little envelopes with money from their relatives. 
Everybody goes through the Hōzōmon Gates for Oshogatsu

If you have been to Tokyo, you have been here too, just it was packed, usually there are not so many people!


Many wearing masks in Japan, sign of people with a cold

Facts about Hōzōmon
The Hozōmon (宝蔵門 "Treasure-House Gate"?) is the inner of two large entrance gates that ultimately leads to the Sensō-ji (the outer being the Kaminarimon) in Asakusa, Tokyo. A two-story gate (nijūmon),  the Hōzōmon's second story houses many of the Sensō-ji's treasures. The  first story houses two statues, three lanterns and two large sandals.  It stands 22.7 metres (74 ft) tall, 21 metres (69 ft) wide, and 8 metres  (26 ft) deep.[1]  SOURCE
One more great thing is the tradition of eating Mochi (a Japanese rice cake). I love Mochi despite it having having insane calories, it is so tasty.
Do you like Mochi ???
I am blogging about the following topics :
Exposed (Uncovering Stories you need to know)
Lifehacks (How to save money,etc) 
SPOTTED (Limited Edition Food, Drinks, Gadgets)
Steemperlen (German Version)
SQUEEZE (Interview Series) 
COOKED (10 Episodes Cooking Series)
Working anytime, anywhere (New series for freelancers)
Frequent Traveller (New series about Travel Hacks and FFPs) 
HEAVEN (NEW Luxury Travel Magazine)
ABOUT ME: Some insides into my Steemit life