Slow Down, Tourist – Fiesta Of The Giants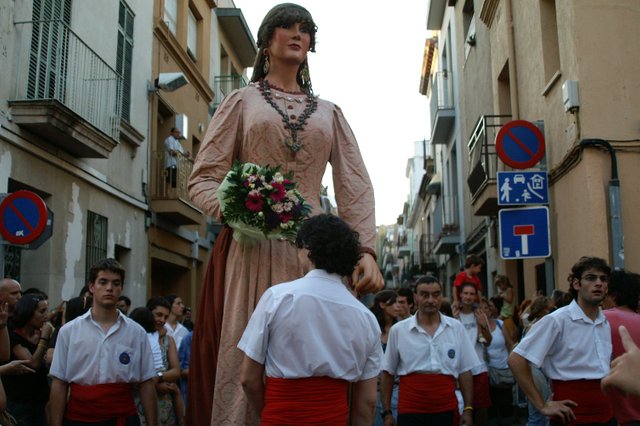 I noticed I'm writing too much about medieval constructions and not enough about people. Because tourism is not only about buildings and monuments, museums and good restaurants. It should be important to know the people, their habits, culture, the art of thinking, music, and dance, maybe every day's work, if possible.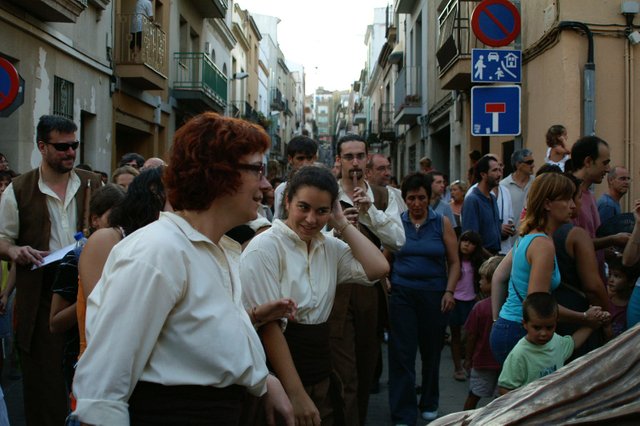 One way is going to events celebrated for the "aborigines", the local people, and not made for the tourists. That can happen of two kinds of ways, planned – you trace down which event will be celebrated in a special city or in which city you can find something interesting. With the internet, it can be easy nowadays. Or sometimes you can have luck and run in a street party accidentally like me some years ago.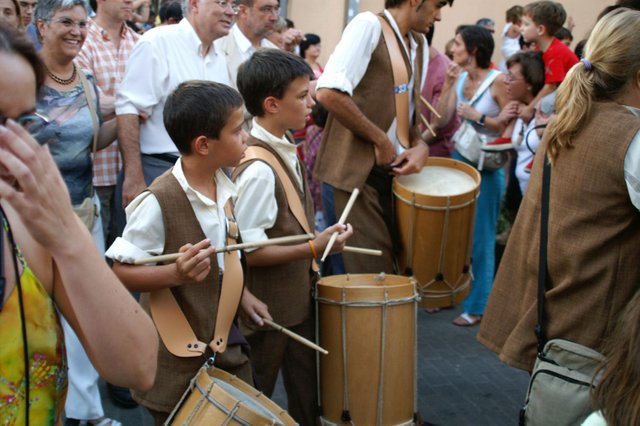 In this case, I went to Mataró, a middle size Catalonian city (about 127,000 citizens) to a small distance of about 31 kilometers to the North of Barcelona. To take a bath in the sea, because Barcelona's people say it's better bathing outside of the town's territory than in the crowded urbanization area.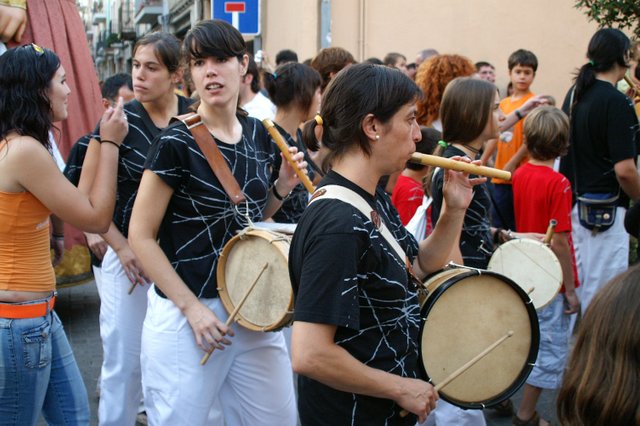 "Common tourists" travel to Barcelona, and are completing mostly this list: the famous church Sagrada Familia, the Parque Güell, 1-4 other works like houses of Antonio Gaudí, the Ramblas walking promenade, the Boquería market, and a walk by the port. Eating, drinking, a little sunbathing or swimming, and that was it, mostly enough to fill a weekend.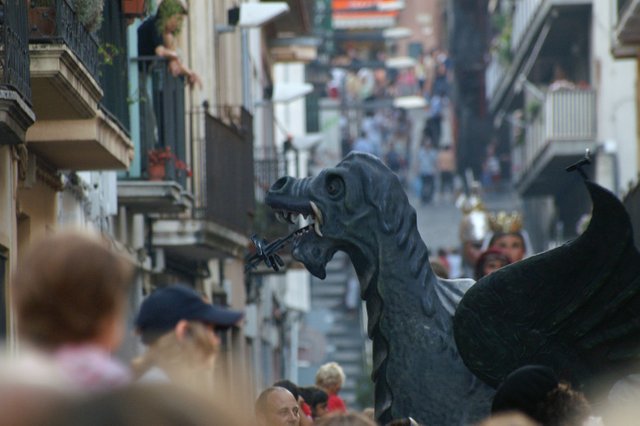 You have to slow down and spend more time to discover more unique details, some less known curiosities. Go to nearby villages, neighbor towns, where there you don't clash with a tourist every 60 centimeters (24 inches) on the street like in Barcelona center.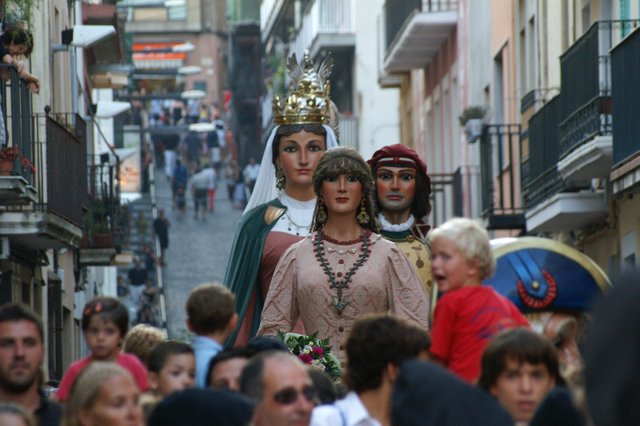 Spanish people like great street parties, marches, fiestas. Every town has its own special days or a whole week to celebrate, mostly the day of their patron saints. On this festivities, they also show the giants of the city, normally hidden in the town hall.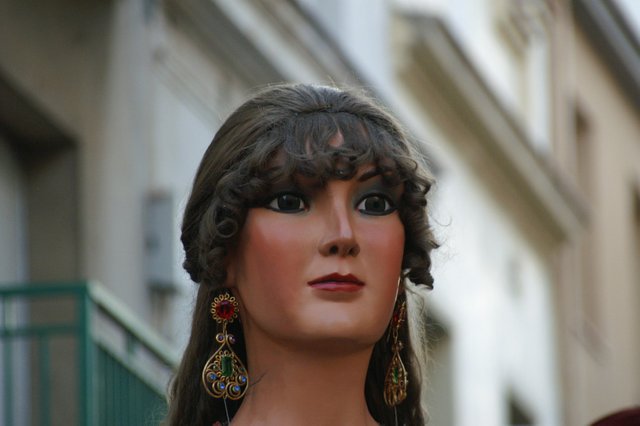 Many Spanish and Portuguese festivals include costumed figures known as gigantes y cabezudos, roughly, "Giants and Big-Heads". They have paper maché head; bodies are covered in clothing matching the costume's theme. (Wikipedia.)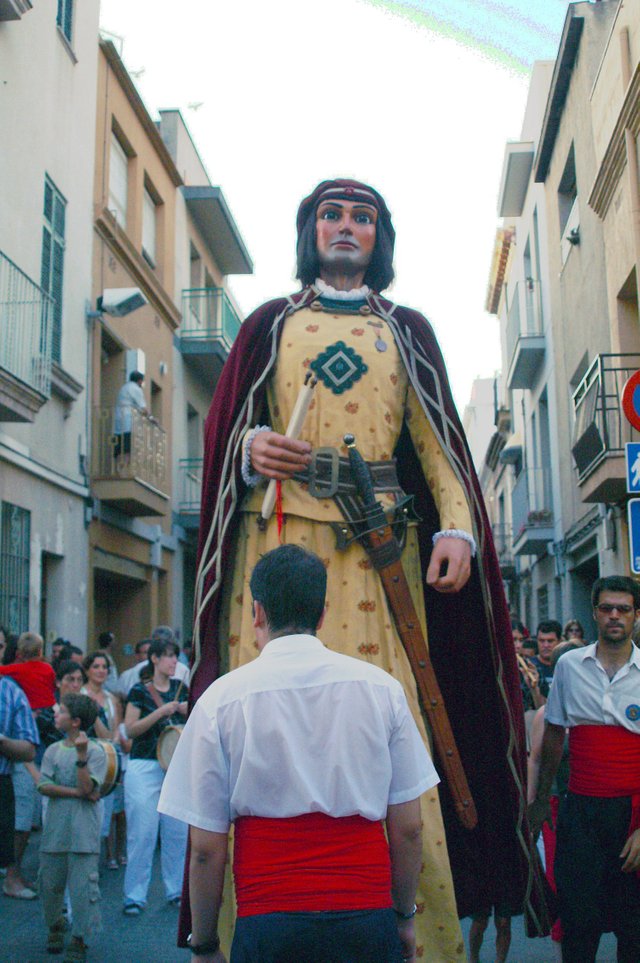 (colour corrections here)
The figures usually depict archetypes of the town, such as the bourgeois and the peasant woman, or historical figures of local relevance, such as a founding king and queen, or pairs of Moorish and Christian nobles.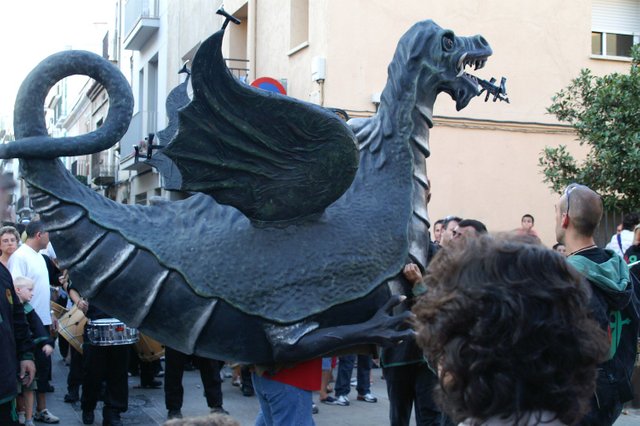 Cabezudos are smaller figures, usually to the human scale, that feature an oversized, carton-pierre head.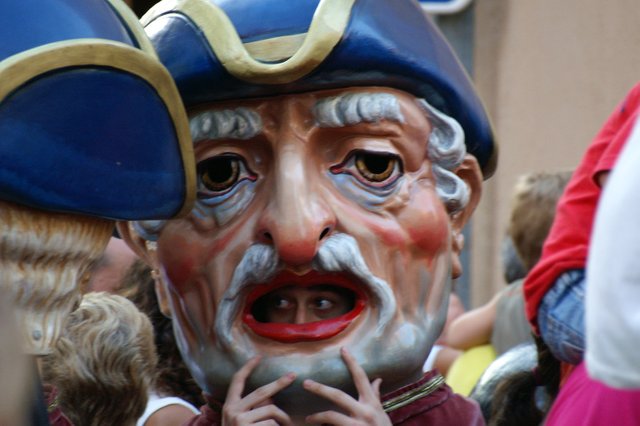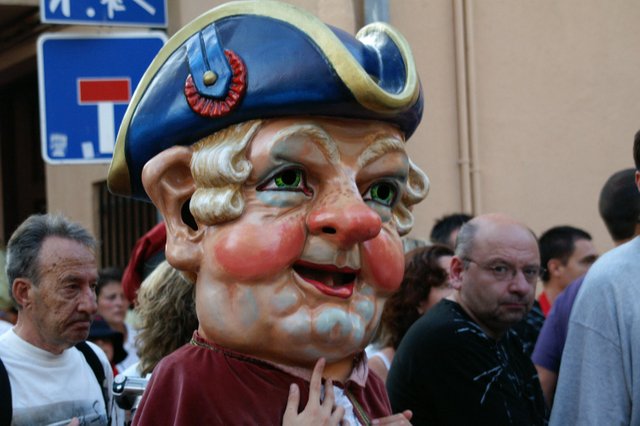 Do you see? The kids are participating. Is this the smallest giant in town? (The photos are old, he should be adult now.)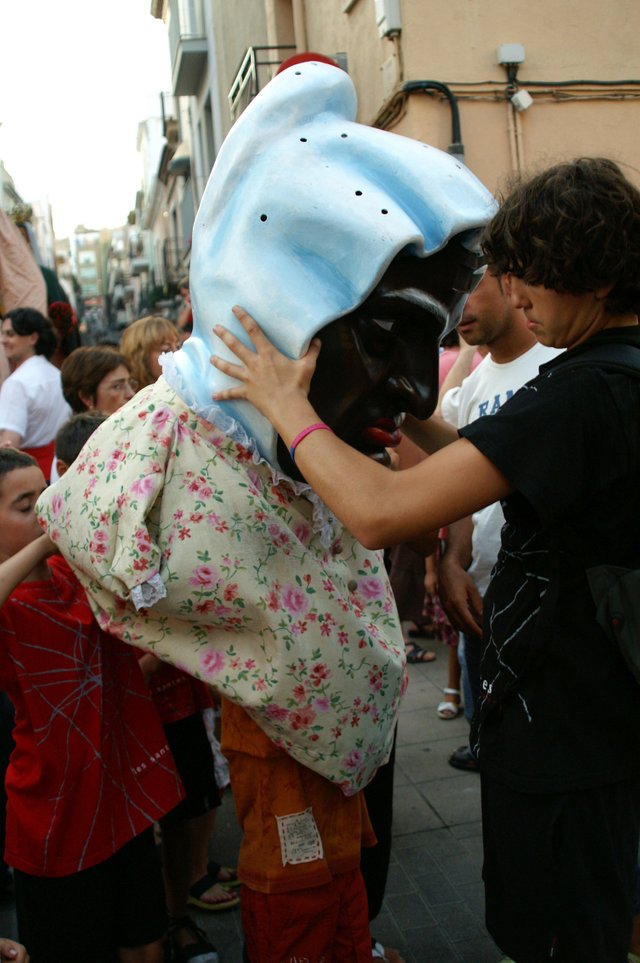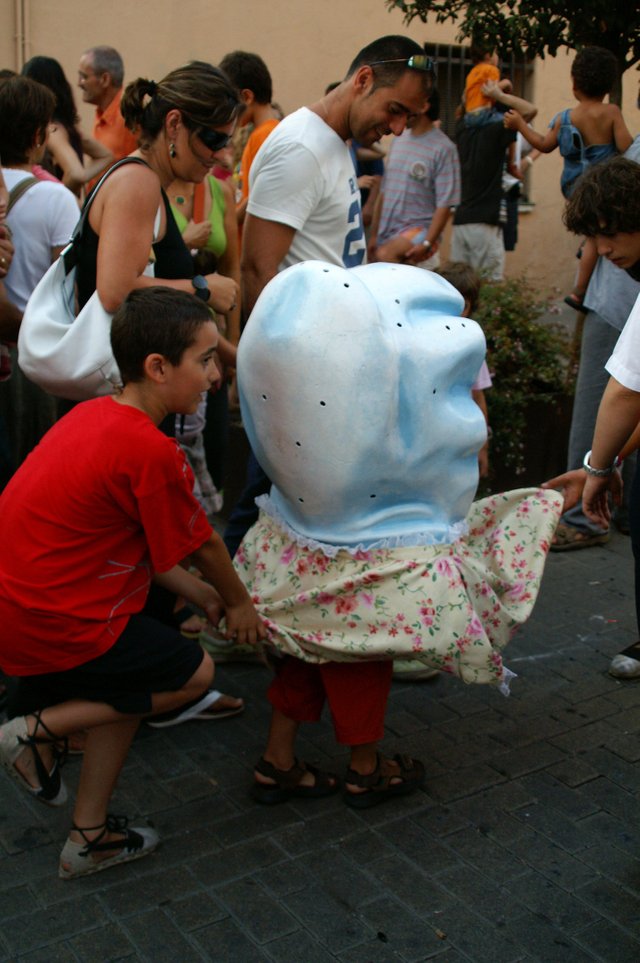 I'm sure this was the "Les Santes, Mataró's annual city festival" from an earlier year. This year, 2018, they celebrated it the 25–29 July.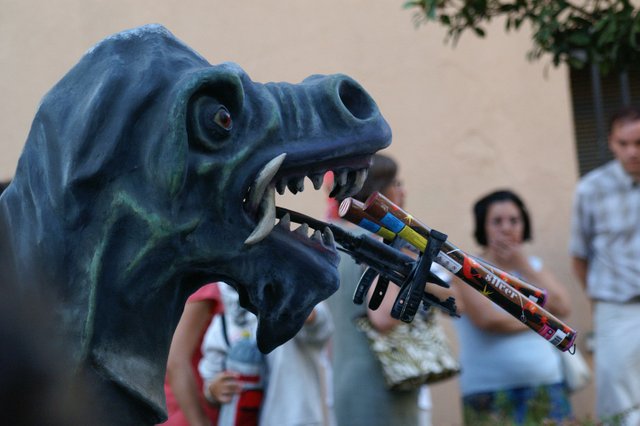 A sign that this fiesta is original, and was thought for people in town and not made for tourists, is their official homepage. Namely, it's only in the Catalan language, or, when not, the other versions are very well hidden somewhere.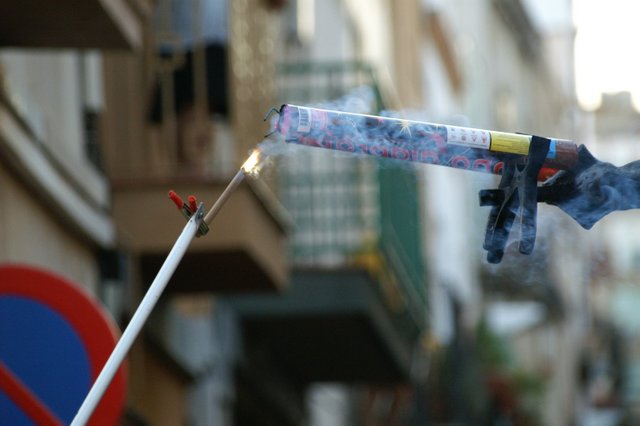 Another thing Spaniards are seemingly loving very much, are fireworks and other pyrotechnic toys. On some days like New Year's Eve or the Fiesta de San Juan (June the 23th, solstice), or this local parties like in Mataró, streets are covered with smoke and the noise, better, cacophony, corresponds to a battle in some bitter war.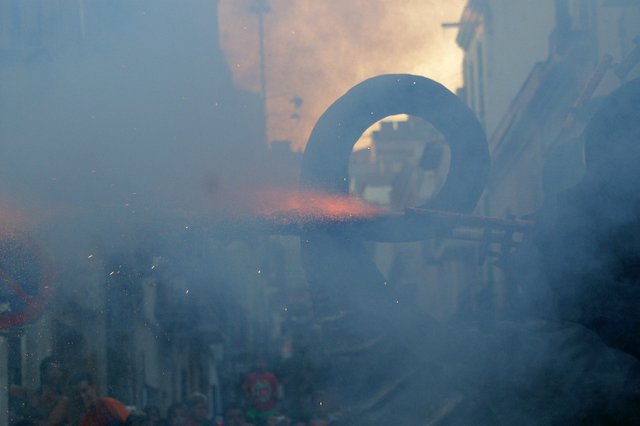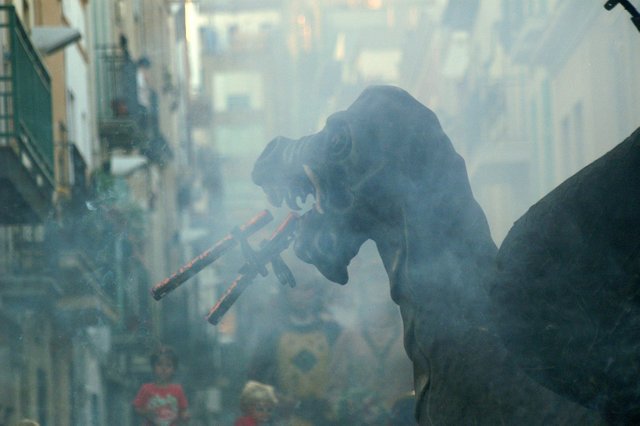 My "Slow down, tourist" project
Millions and millions of tourists are traveling to the most crowded destinations, like London, Paris, Amsterdam, Barcelona, Athene, Roma etc., but only hundreds or thousands to other historical places, beautiful medieval or classic destinations.
Many people are running from one famous monument to other, and from one bar to other, without paying attention to nice or important details. I'm a slow tourist, trying to know less known places, small towns or villages, sometimes everyday's life of the people. I'm trying to share my experiences with you in this series.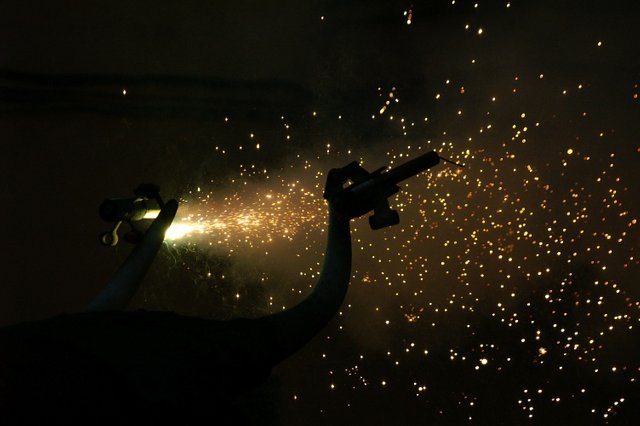 Other posts in my series "Slow down, tourist" you may want to read:
(Camera and objectives used to take photos in this post: Konica Minolta D7D, Sigma 28-300, Minolta 18-70.)
You can message me on Discord.