Today's the Day... We Switch Countries Again
As I ate my last breakfast in Vietnam this morning, I told @k10yoga it's hard to believe we've already hit 3 countries in our first week. We're zipping right through them! But the good news is we will slow it down a bit from here on out. We'll be in Siem Reap, Cambodia for 4 nights, then in Vientiane, Laos for 4 nights. Once we get to Thailand we'll have about a week to just chill out. The slower pace should give me time to rest and finally get rid of this stubborn cold. And believe me, this thing is super stubborn!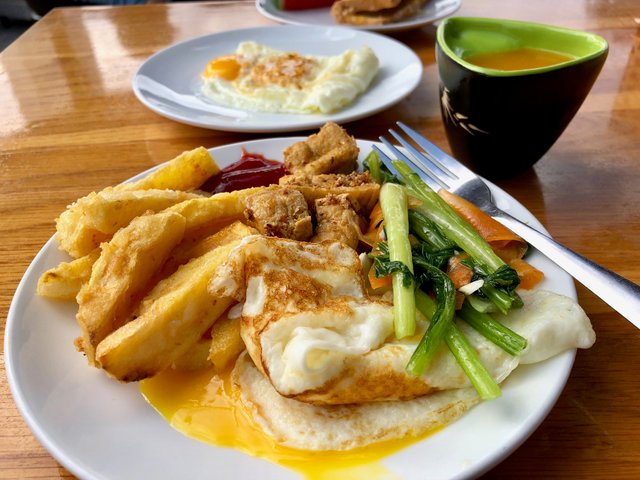 Can't mention breakfast without a pic
One thing I'm REALLY looking forward to in Cambodia is phone service. I'd like to say that I'm totally fine with having no internet... that it enhances the experience of traveling... or that one doesn't need internet when they're out exploring a foreign city. But if I'm gonna keep it 100% real, I have to admit that internet on my phone would have been handy while navigating our way through the city. It's also been hard to stay in communication with my business partners while traveling in Vietnam. But in a way it's also been freeing.
The Flight to Cambodia
Maybe it's my cold. Or maybe it's the fact that I live in the Sonoran desert where there is zero humidity. But this plane ride was freaking miserable. It must've been 90+ degrees on the plane and even at our cruising altitude of 16,000 ft it never cooled off. And the humidty? Uh.. it felt like we were swimming. Add to that the surrounding body odor from everyone on board and the fact that my head is stuffy and I'm coughing every few seconds. Yeah, it was rough to say the least.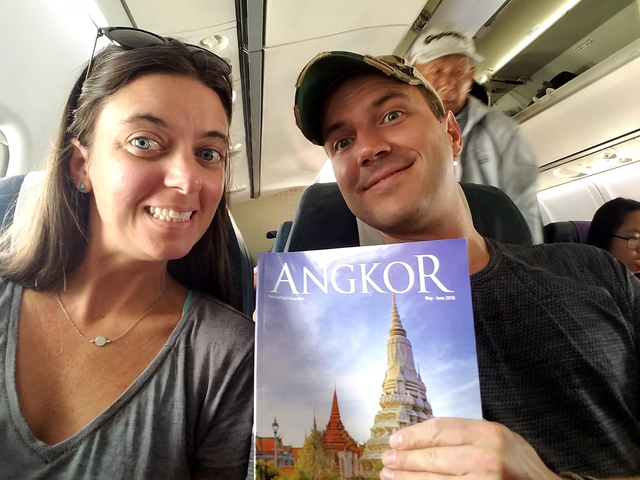 Still managed to smile for the camera :)
Luckily the flight was only an hour and a half so it wasn't long before we landed in Siem Reap where our chariot awaited...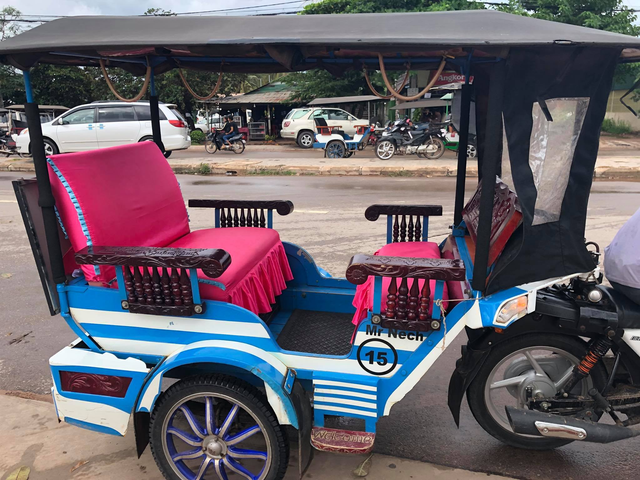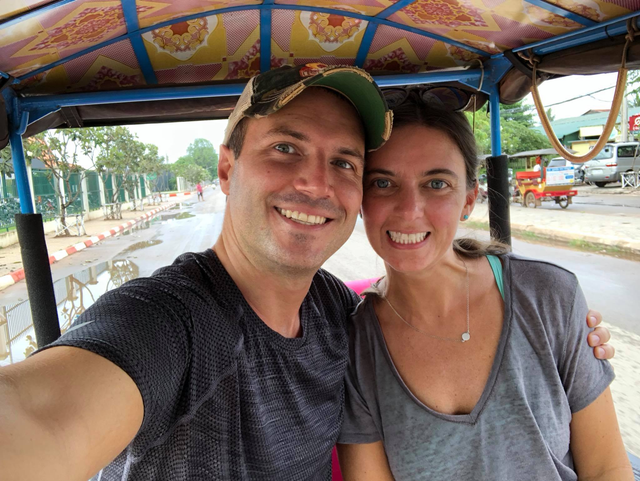 Yes, that's a tuk tuk and it was complimentary thanks to our hotel. It was my first time on one and I have to say it's a fairly efficient means of travel in these South East Asia countries.
Our Hotel
When you book a hotel online you really don't know what you're going to get until you actually get there. We all know how misleading pictures can be. But I have to say that the pictures on booking.com did this place no justice. It truly is amazing what $25 a night will get you here in Cambodia.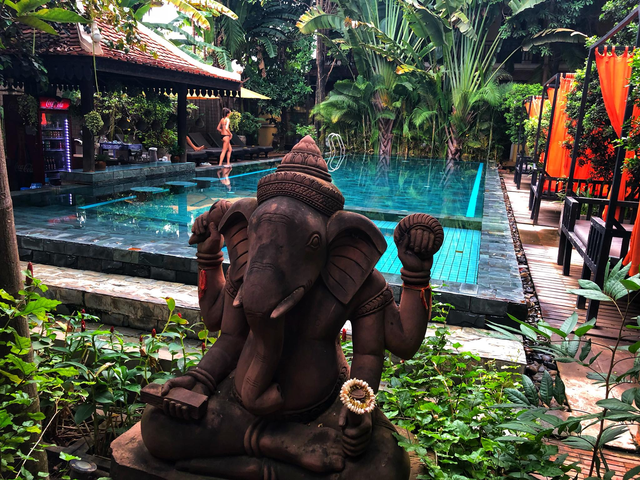 I cannot wait to get in this pool!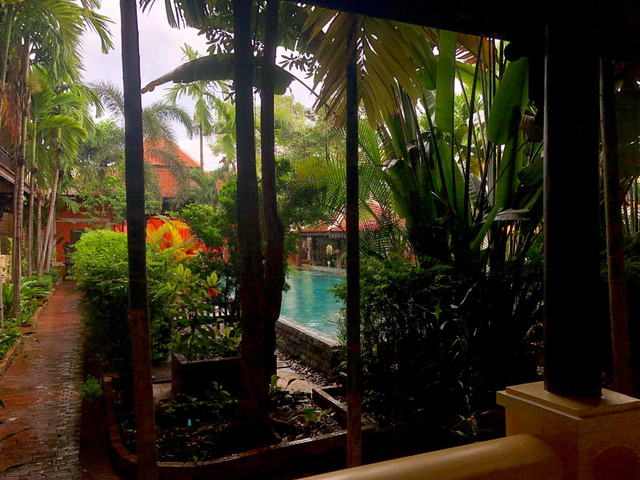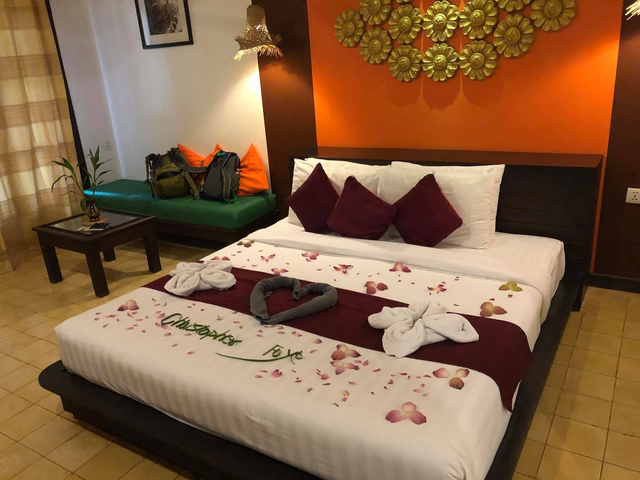 They even wrote my name on the bed (my legal first name is Christopher)
We decided to grab a little dinner at the hotel. I think our entire meal was around $14 which is honestly probably kind of pricey for Cambodia. But at least we didn't have to go far for it...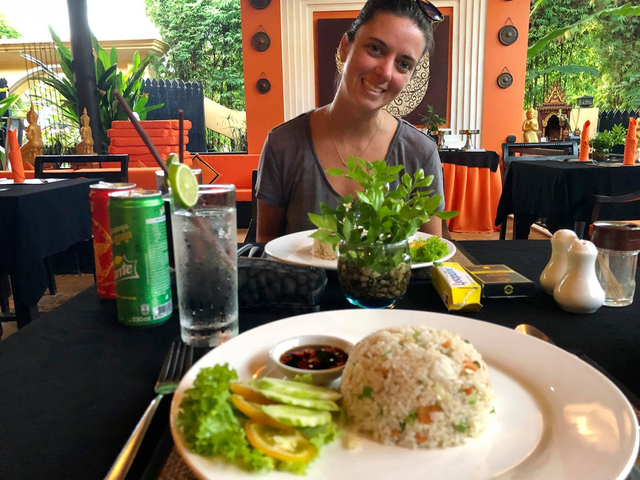 After dinner we set out to find some more medicine to combat this cold. That stuff I got in Ho Chi Minh City just wasn't cutting it. I needed some actual medicine, not ancient Vietnamese home remedies lol. Luckily there was a pharmacy right across the road from our hotel and they did have the real stuff. I loaded up on it because I'm going to need the rest tonight.
Tomorrow's Agenda?
Tomorrow we will be getting up early (at 4am) to see Angkor Wat temple at sunrise. It's supposed to be the best time to view the temple. If you don't know about Angkor Wat, it's the largest religious monument in the entire world. It's so important to the Cambodian people that it's even on the country's flag. And it's also one of the top 10 man-made wonders of the world. Don't worry I'll be sure to snap plenty of pics in the morning.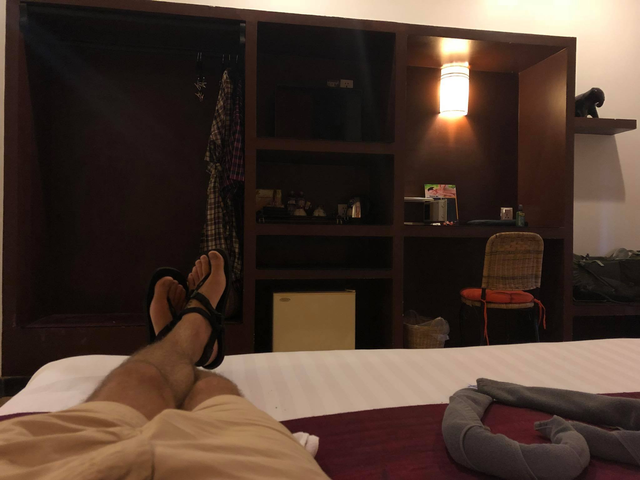 But for now, it's time for sleep. 4am is gonna come super early! Thanks for reading and following along on this journey with me. :)

Recent Posts
---