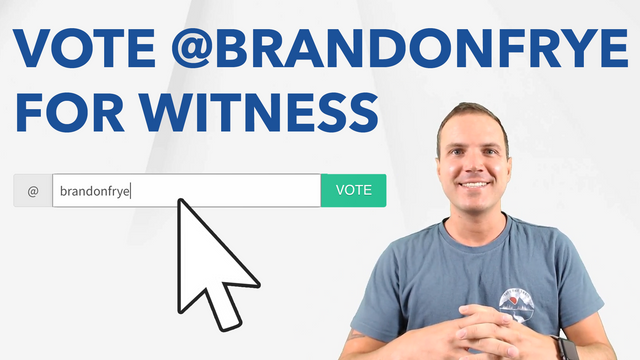 My Official Steem Witness Application
Yep, it's an application. Although many would think you can simply throw together a server, add security, install the necessary configurations, sync up with the blockchain, and build blocks from day one... that's not really the case. Actually, becoming a Steem Witness is SO MUCH more than that. I need YOU in order to build blocks for YOU... and keep this blockchain secure and going strong!
That's why we call this a witness application… not an announcement. Please give me a few minutes of your time and allow me to prove my case :)
---
Why Would You Want to Vote For Me?
I started thinking, why would people want to vote for me? What do I bring to the table? There are so many great witnesses already who have built incredible projects and have accomplished so much. Many of them helped me to get where I am today, whether that was from using their applications, or just following along with their blogs.
Here's what sets me apart...
I genuinely care about Steemit, Steem, and the future of our blockchain. I've been in love with the platform and the community from day one. And I have been 100% involved with the Steem blockchain for the last 7 months. In that short amount of time I've developed a strong relationship with many Steemians from all over the world, and have even started an initiative to ensure that the "little guys" don't go unnoticed.
10 Reasons Why I Feel I Deserve Your Vote:
I spend most of my days on the blockchain learning about Steem, the people (and the politics), and I also share in the discussion of things we feel could be improved.
I've powered up almost 6,000 Steem since I joined, spending roughly $16,000 USD to do so. I plan to add another $10,000 - $20,000 by the end of 2018.
My channel is full of information about using the various Steem dapps and educating people about our blockchain and how to be a great content creator.
I've joined numerous witness forums, and I'm now participating in all Witness-related steem.chat rooms and discords so that I can stay connected with other witnesses and be prepared for blockchain updates/security patches, etc.
I created the @minnowfund initiative back in early April which aims to help new Steemians grow faster through upvote support, visibility, Steem Power delegation, and education. We've already delegated 650 SP!
I provide an upvote service via the @brandonfrye upvote bot which helps people promote their posts for higher visibility and possible ROI. The service also pays out delegators 90% of the incoming bids. Learn more here
My YouTube videos have brought on hundreds, if not thousands, of new Steemians.
I respond to at least 99% of all comments on my posts whether it be written responses or in video format. Reason being is I believe in the power of building community and supporting other users. That's what Steemit is all about, right? This is why I do the Weekly Comment Catch-Up every Friday. I don't want to miss the opportunity to make a connection with anybody.
My college studies included Web Design, Network Security, Linux OS, Database Management, Programming, etc. I also owned a web design business for a short period of time. Just adding this in here so you know I'm capable of managing these servers lol.
As I mentioned before, I have put my heart and soul into this blockchain since day one. It's given me so much and so I would like to give back as much as possible. This feels like a great way to do that.
And... today is my birthday! Seriously, June 11th is my birthday and this year I turn a ripe 21 35 years old. So your vote would be the perfect gift :)
---
Witness & Seed Setup
Both my seed and witness server have the same specs and configurations. And yes, I decided to setup a seed as well, which helps to ensure that all witnesses can access the blockchain and sync up quickly. This is something worth mentioning as it shows my intentions of fully supporting the blockchain. I plan to be here long-term and I hope you do too!
Server Specs:
CPU: Intel Xeon E3-1270v6 - 4c/8t - 3.8GHz /4.2GHz
RAM: 64GB DDR4 ECC 2400 MHz
Storage: 2x450GB SSD NVMe
OS: Ubuntu Server 16.04 LTS
Network: 1gbit/s
Location: North America
Security and Other Notes: Added firewall (URW), disabled root login, disable password login, changed SSH port, etc. Utilizing NTP to ensure time synchronization (and no missed blocks). Lots of other technical stuff you're probably not interested in lol.
I should also note that the blockchain is growing larger and larger by the day, and I'm prepared to upgrade my servers at a moment's notice and with minimal downtime.
---
Shoutout To Those Who Helped Me
I have to give credit where credit is due, and the following people either directly, or indirectly, helped me get everything setup. Special kudos to @yehey who took the time to walk me through some issues on his discord channel!
@yehey, @pfunk, @themarkymark, @jerrybanfield, @drakos, @quochuy, @perduta, @krnel, @furion, and @k10yoga (my girlfriend who totally surprised me by purchasing one of the servers for my birthday!)
---
So... Can I Get Your Vote!?
If you'd like to support everything I'm doing here on the blockchain, I would love to have your vote! All you have to do is go over to https://steemit.com/~witnesses, scroll to the bottom, and insert my name (brandonfrye) into the box. Then just click vote!

Be sure to refresh your page to make sure the vote sticks. If you're not logged in with your Active key, it will kick back the vote.
---
Thanks for reading, giving me your support, and making this the best birthday ever!!