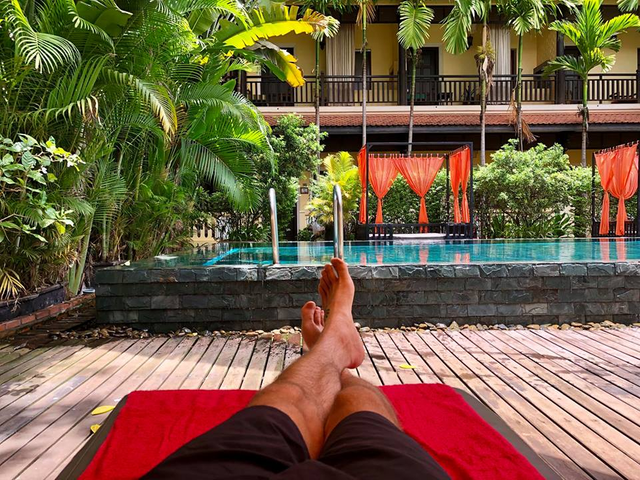 Just a Relaxing Day Here in Cambodia
My plan for today was to relax and take it easy... and I did... somewhat. I really needed to relax in order to recover from this cold/cough I've had for the last 8 days. This constant coughing is getting SO FREAKING OLD!
Anyways, we started off with a nice breakfast at our hotel, which was complimentary with our $25/night booking. I'm still shocked at how cheap this place was.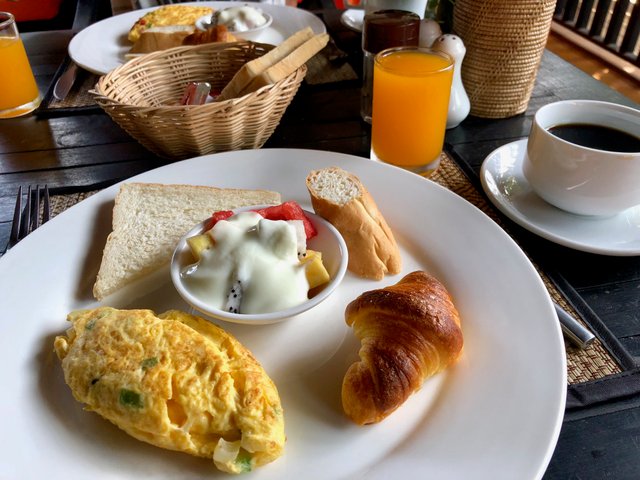 After breakfast we ran over to the pharmacy across the road to re-up on my meds. I was telling complaining to Kristen last night that this country really should get some Tusin or real medication to treat coughs and colds. Because the stuff I've used so far hasn't really helped at all.
Lucky for me, Kristen is super observant. While we were at the pharmacy today, and about to check out with some more of the same old medicine, Kristen noticed a box on a back shelf behind the cashier that read "Tusin". Could it really be!? I've never been so excited to see a box of medication in all my life! LOL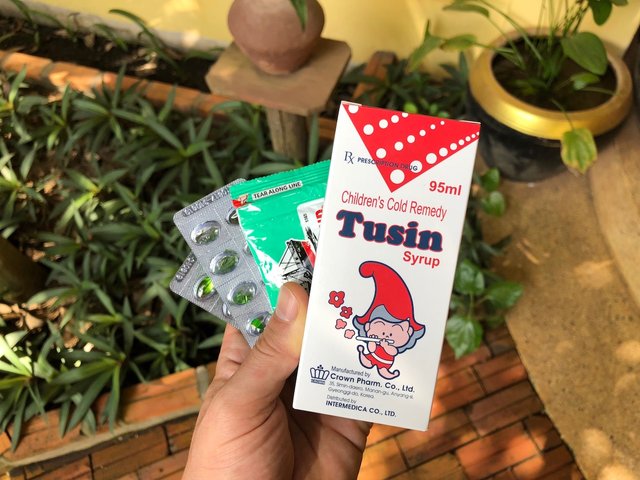 Turns out the pharmacist had been holding out on me this whole time. They really did have the good stuff but were giving me ivy leaf extract and Tylenol. She said it was for kids but the ingredients on the box were exactly what's in American Robitussin. I just need to adjust the dosage for an adult.
Finally... I may get rid of this cold yet!! 😁
Much Needed Pool Time
We've been so busy here that we haven't even had time to jump in the pool for a swim. But today that's exactly what we did right after breakfast. We lounged by the pool for a couple of hours which was really refreshing. It's one thing to walk around in this hot (and damp) weather, but when you're in the pool it feels great!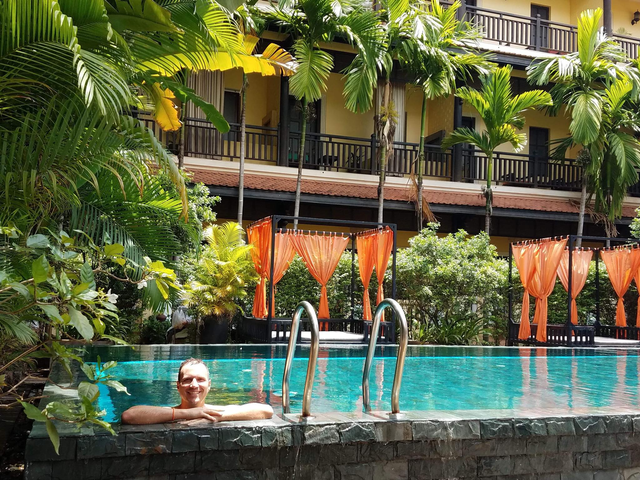 After a while we decided to get cleaned up and go explore the city a little bit. One place we've been wanting to check out is the Angkor National Museum which has exhibits and information on the history of the nearby Cambodia temples.
But first we had to find some place to eat. I'm not sure if you know this or not, but Kristen and I are both vegans when we're at home. When we travel we slip into vegetarianism... and sometimes I even eat fish. But we try our best to eat as healthy as possible while we're away and today we found a nice vegetarian restaurant near the museum we were headed to.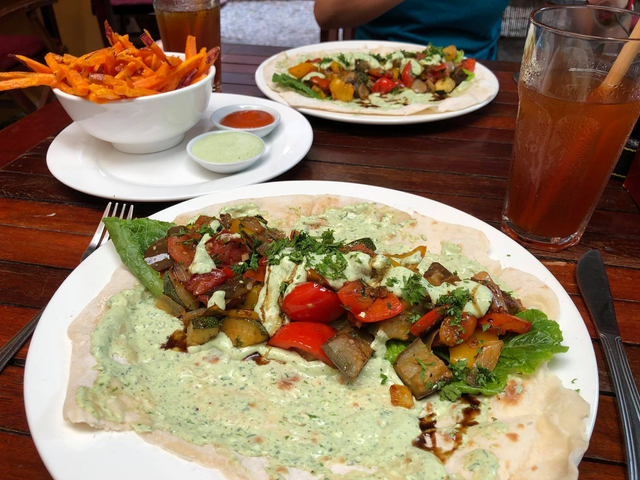 Mediterranean Veggie Wrap w/ Sweet Potato Fries
As with all the food we've had in Asia so far, it was delicious!
Angkor National Museum
Finally we made our way to the museum. But unfortunately we weren't allowed to take pictures inside... which was really a shame because there were so many cool pieces of art I would've loved to share with you all.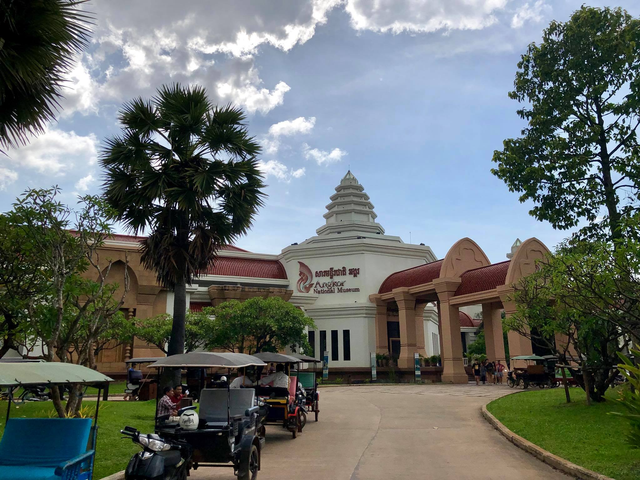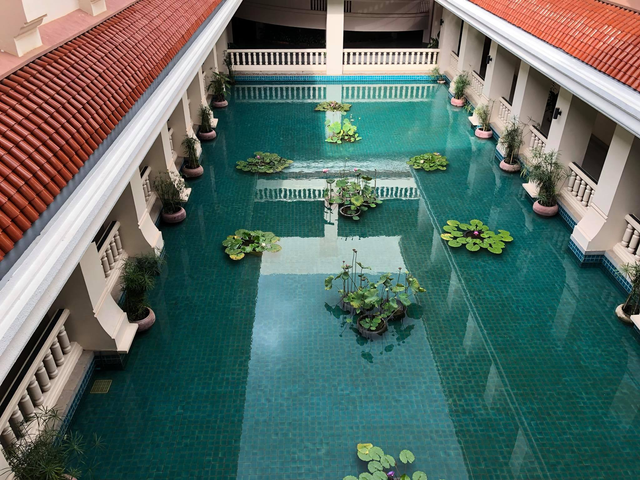 I did get a shot of the lotus pond inside. I know, I'm such a rebel! 🤣
We learned a lot and got to see a bunch of artifacts that were recovered from Angkor Wat and other temples in the area. Plus, we gained some more knowledge on the history of Hinduism and Buddhism in Cambodia and neighboring countries. Honestly, we got a lot more out of this museum than we were expecting.
The Siem Reap Old Market
The Old Market is really more of a place for locals to come and buy fresh local fruits, vegetables, meats, clothes, or just get their hair washed and cut. It's basically like an old mall right in the heart of the city... but without AC.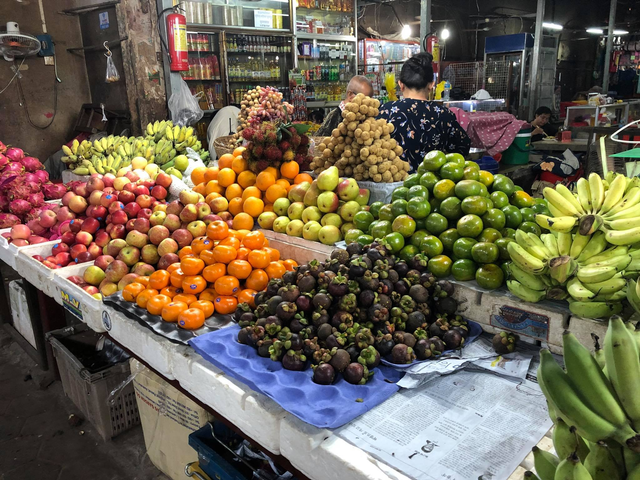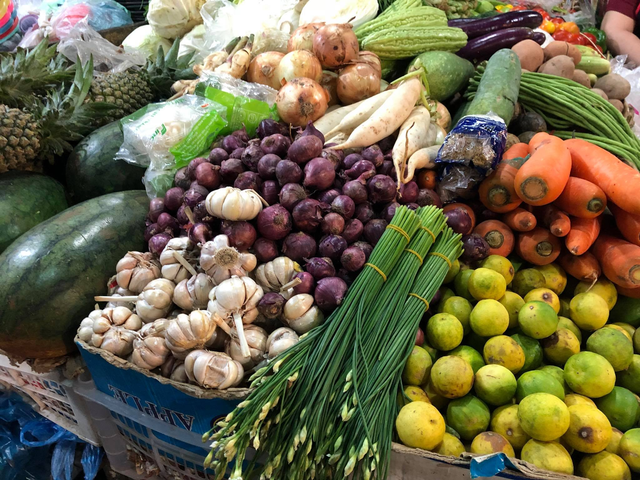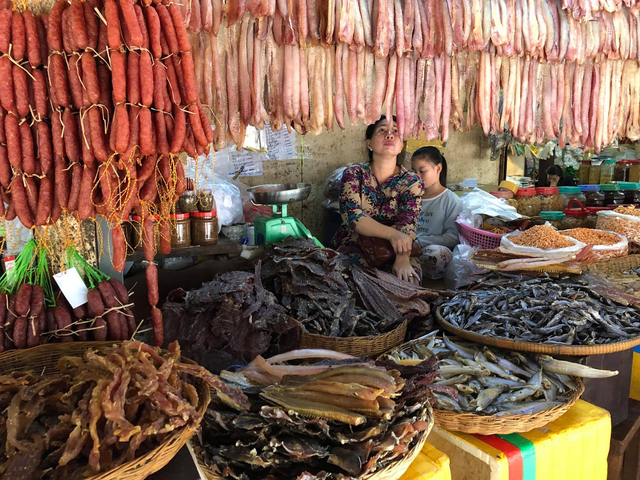 We did buy a few things here. Some souvenirs for our families and Kristen bought a shirt. But that was about it. We were just killing time waiting for the night market to open up at 8pm.
The Night Market & Pub Street
On the other side of the bridge (from the Old Market), an entirely different scene was taking shape. Loud westernized music was blaring from the speakers, bars and clubs every where you turned, and more upscale restaurants that we had yet to see in the main city. And you might have guessed... LOTS of Americans, Europeans, and otherwise familiar faces.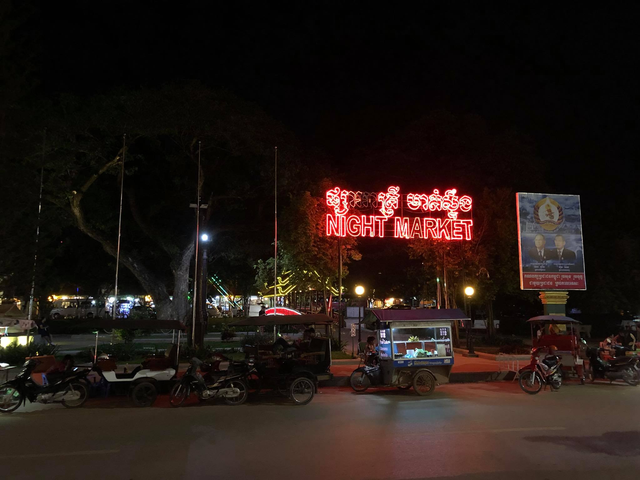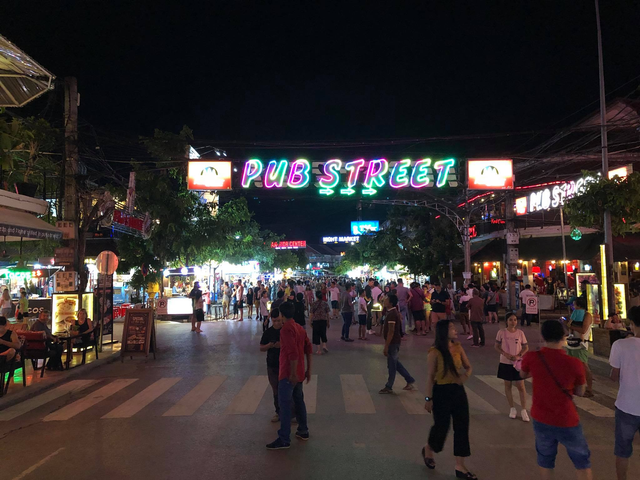 We also got our first taste glimpse of the infamous Cambodian fried insects, scorpions, and spiders. I told myself before leaving for this trip that, if given the chance, I would try the fried tarantulas. But... I changed my mind once I saw them LOL. It still might happen but not in this blog post. 😉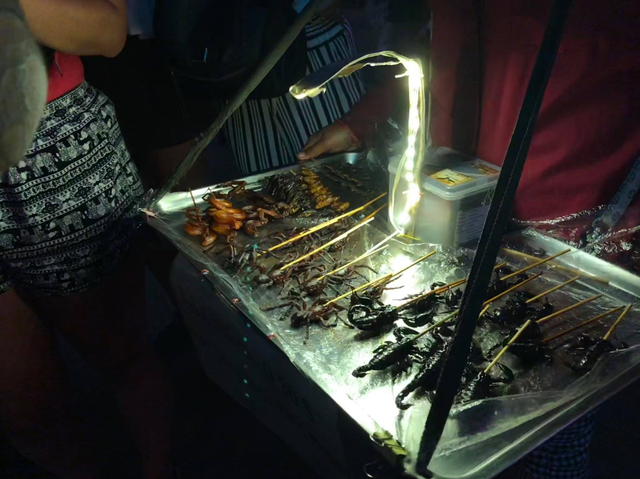 We managed to find a relatively quiet, vegetarian restaurant right near Pub Street. Kristen and I both ordered the Cambodian Curry with Rice. The spices and veggies blended together nicely and really gave us a taste of what traditional Cambodian cuisine has to offer.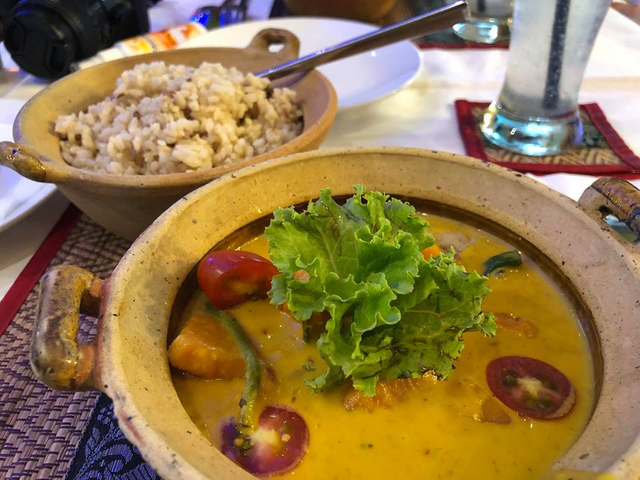 Now, here it is about midnight Cambodia time and we're headed to bed. Another day in the books.
Tomorrow we have a tour scheduled for Kompong Khleang, the largest floating village in Siem Reap. It's located about 55km outside of the city, and the villages are home to over 10,000 people, many of whom have been living there for generations. On the tour we'll get to try Khmer sticky rice and take a ride in a boat to the village of stilted homes and a school. We'll get to meet the people there and experience their way of life which should be really cool!
Anyways, off to bed now. I appreciate all of you guys who take the time each day to read through our daily recaps. I look forward to sharing more with you tomorrow. Until then, have an awesome day!

Recent Posts
---