Apple's Ecosystem

Source
Apple has the best ecosystem out of all electronics vendors. No question. No other player in the tech industry makes both hardware and software (at least not on every platform), whereas Apple creates both the hardware and software for phones, tablets, computers, TVs... You name it. This gives Apple some massive advantages when it comes to their systems (such as amazing optimisation on IOS and MacOS, and great security, services, etc), but it also means that their ecosystem is all compatible with each other. It just works. Today I want to ask the question, is it worth investing in the Apple ecosystem?
Before I begin this, let me explain some of the key features that make buying the whole Apple ecosystem worth it. Handoff is a major part of this system, but what exactly is handoff?
Handoff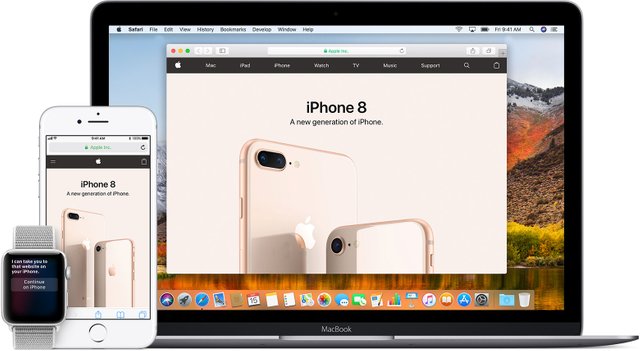 Source
Handoff is something I would call nothing short of amazing. Have you ever wanted all of your devices to sync? Have you ever wanted to be able to copy text on one device, and paste it on another? How about call someone on your laptop, using your phone number? Handoff lets you do all of this and more.
To list just a few of the features of handoff: You can call and message people on any device (your watch, laptop, tablet, phone) using the number provided by your phone. All of your devices automatically tether to your phone if you want, meaning you always have wifi for them (provided through your phone). If you open a spreadsheet on your phone while on the bus, when you get home it will be ready (with the most recent data all entered) on your laptop or tablet. Handoff syncs all of your devices and means that you never need to send files between systems, or use third party apps.
By now you might be asking the question: But does it actually work well? I am no stranger to syncing apps. I have used an iPad, Windows PC, Mac and Android phone for a long time, and in that time I always searched for the best cross platform app to sync all of my data... But there was none. Either they didn't sync well, they cost lots, the just weren't effective, or they weren't on every platform. Handoff works every time. And it is instant (I tested this with my three devices and it worked every time. The copying and pasting is also instant).
The only limitation on it currently is that it only works with select Apple apps... But they sort of cover everything. Notes, reminders, internet browsing, photos, word processing, spreadsheets... Honestly it's all there.
Set-up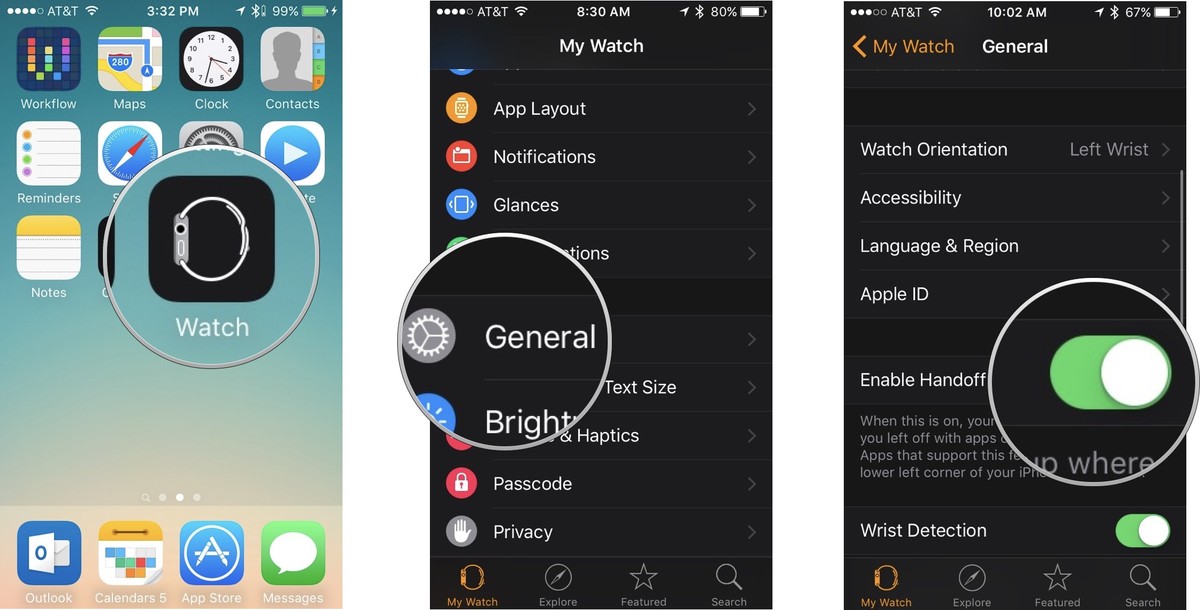 Source
There ya go! Well... You might think I'm skimping out on showing you how to do it, but no! I'm really not. These are the instructions for the watch, but the iPhone and iPad settings are nearly identical (inside their respective settings menus), and the Mac is the same. Then simply enable Bluetooth and connect them, and they will work forever!
My Experience
By now it probably seems that I am an Apple fanboy who has purchased every iPhone since release. But no, actually I have never had an iPhone until now. I always loved Android, but recently I can't stay with it anymore. I have had a Mac for years, and and iPad for about 2 or 3. However, I use and still have a PC for gaming and editing, I am a power user and I don't have the money for an iMac Pro, so I will always have my PC. But across all of my other devices I am now Apple and I don't regret it at all.
One of the first things I tried when getting a new phone was Handoff. It took a while because I didn't think it was working, but then I realised it was and I had just setup the wrong accounts. Since then I have tried all of the functions Apple showed on their site and they all perform flawlessly! It's amazing really. Copy and pasting across devices is something I have ALWAYS wanted and I am so happy to finally have it.
Apple's devices aren't perfect, and sometimes a non-Apple device is needed. However, Handoff is near perfect as far as I am concerned, and nothing really competes with the ecosystem they have.
Is it worth it though? It depends on your needs and your current devices. If you are any 'normal' tech user, I would say a whole-hearted YES. Gradually pickup all the Apple devices as your other devices get old. However, some people need a PC, and some need Android. In that case it's different obviously, but even just two Apple devices together is amazing. In the end though, it's up to you.