ZEAL WITHOUT KNOWLEDGE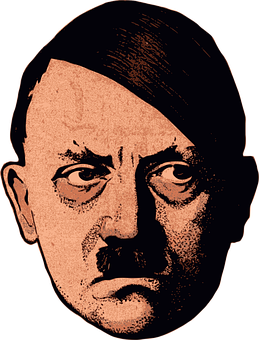 Let there be no confusion, I am not a Nazi. I'm using Hitler to illustrate the concept of Energy Banks, which I wrote about in my most recent post.https://steemit.com/teamsteemup/@mistermercury/observations-of-a-fool-energy-banks
However, I find it chilling and horrifying that the current group, Antifa (anti-fascist), seems to be under a similar spell as the Germans were under Hitler. Violence. Hive mentality. Hatred of a designated enemy . Lock-step allegiance to the group. How ironic, and so very human, the very behaviors Antifa proclaims to resist they are promoting. Zeal without knowledge.
How can this be? Don't people think for themselves? (The answer to that one is: not very often). I am betting that were I fortunate enough to interview typical college-aged Antifa members they could not accurately define fascism, or any other form of government, nor could they tell me any details about WWII, even as much as when it occurred, or who the Allies were and who they were fighting! Hint: the Fascists!
This illustrates Energy Banks. Antifa has it's own energy. Those who join or associate with Antifa drench themselves with this energy. They literally start to resonate or vibrate with the same energy. They, in a way, become Antifa. And this is the most important thing: because they take upon themselves the energy of Antifa they cease to question it's validity, their new identity is largely defined by Antifa and they can get to the point where they will sacrifice themselves, literally, for Antifa because they ARE Antifa. Does this make sense?
Most of us have asked ourselves how the guards at the Nazi concentration camps could have lost their humanity, how they could so dispassionately slaughter men, women and children. The answer: They were no longer individuals, they had become the energy of the Nazi party.
Now, since you and I are human we no doubt look at the Nazi's and Antifa and point our fingers and condemn them for their ignorance and gullibility. I know I do. But I assure you that you and I have taken upon ourselves the energy of groups, teams, political parties, Presidents, religions, nations, and corporations, etc. You and I vibrate to the energy of Steemit, or Buddhism, or Mormons, or here is a good one: Climate change, or Trump, or Nigeria (couldn't resist that one). And we say to ourselves, "Yeah, but my eyes are open. I'm no sucker." Really? Let's test that out.
How do you respond to these statements: EOS is better, Steemit is for fools. Buddhists are in fantasy land. Trump is an idiot and can kiss my ass. Mormons are delusional. Climate change is a religion. Nigeria. Can anything good come from Nigeria? Now since you knew the quiz question was coming you were prepared. But what if I really meant it? Remember how important it was to be either a Ford or a Chevy man? What about your sports team? How locked into that team are you? And how about your political party? Do you close your eyes and ears when anything negative is said about it?
What I'm saying is that these groups, institutions, religions, teams, etc., really do have their own energy and we frequently take those energies upon ourselves. And when we do we begin to loose our individuality. Many people literally stop thinking for themselves. The Pope said so. The Prophet said so. The Mullah said so. The President said so. My Team is the best. Dodge is the best. And so on.
I thought it was interesting, almost humorous, a few months ago when the Pope supposedly said in an interview that "there is no Hell." I would have thought most Catholics would jump for joy. Such was not the case. They could not comprehend a faith without the threat of eternal damnation. Amazing. The energy bank of the Catholic Church is largely founded upon the concept of Hell.
Consider this too. When you go to a concert, or a political rally, or a weekend retreat, or even a movie you are moved, affected, changed. You literally begin to vibrate to the energy of the group or event. It's true just think about. Don't believe me for goodness sakes. Ponder upon it for yourself.
This is why when the world gets crazy I go down to the river in a grove of trees and become a sponge to that energy. It has no agenda, no lies, no anger or dogma. It just is nature. The energy of nature calms me, brings my own energy back into balance and helps me maintain my individuality.
Ah, well, I ramble. Many blessings.