SUMMARY
STORJ could potentially have Google Drive, OneDrive and other similar services some strong competition. However, given that it is a Cryptocurrency used to pay the hard drive space providers, the price of the coin will primarily be driven by the Cryptosphere overall sentiment. Currently, that senitment is in a corrective mood and STORJ is no exception.
The below chart shows a fractal pair in development. Of all financial instruments, I've never seen as many occurrences of fractals like in Cryptos; clearly, another unique personality trait. IF fractal #1 (white box) can serve as a guide to the progression of fractal #2 (blue box); then pattern would be the first item to observe. Fractal #1 completed a definable rounding price formation (blue line) and the same has been extrapolated for Fractal #2. The primary differences between the two fractals are size and time proportions. Recall that a fractal pair have a high similarity pattern but are not exact. So variations in proportion types are quite acceptable.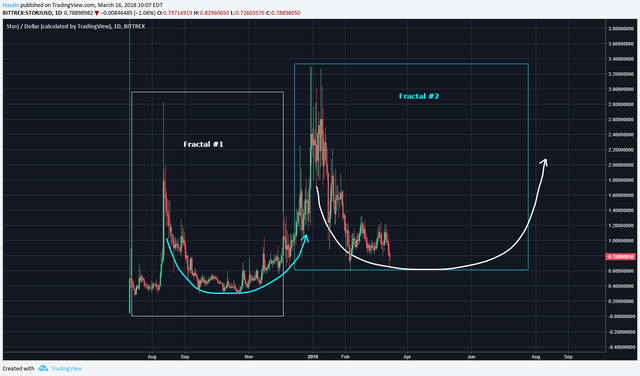 Using the Fractal map, the Elliott Waves can be laid down. The wxyxz applied well for fractal #1 prior to impulsing to five waves. Note that wave 5 has some extension as well and could impact the degree of retracement. Fractal #2 also labels well in the same triple wxyxz except that the z wave is still in progress. Wave red c of Z could reach as low as prior wave 2, given the extended 5 and so needs to be kept into awareness.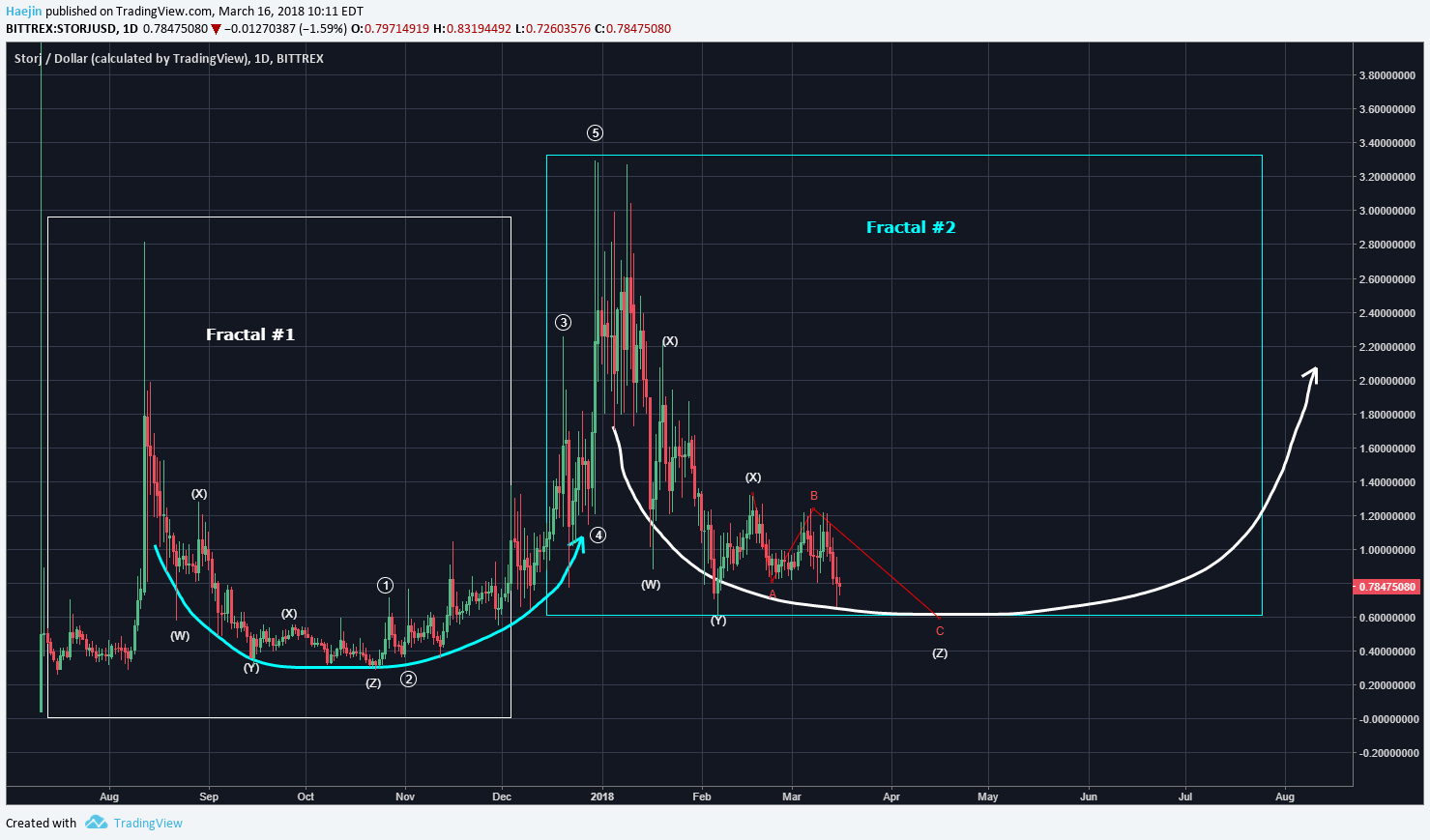 Legal Disclaimer: I am not a financial advisor nor is any content in this article presented as financial advice. The information provided in this blog post and any other posts that I make and any accompanying material is for informational purposes only. It should not be considered financial or investment advice of any kind. One should consult with a financial or investment professional to determine what may be best for your individual needs. Plain English: This is only my opinion, make of it what you wish. What does this mean? It means it's not advice nor recommendation to either buy or sell anything! It's only meant for use as informative or entertainment purposes.
Please consider reviewing these Tutorials on:
Elliott Wave Counting Tutorial #1
Elliott Wave Counting Tutorial #2
Elliott Wave Counting Tutorial #3
Laddering and Buy/Sell Setups.
Laddering Example with EOS
Tutorial on the use of Fibonacci & Elliott Waves
@haejin's Trading Nuggets
Essay: Is Technical Analysis a Quantum Event?
Follow me on Twitter for Real Time Alerts!!
Follow me on StockTwits for UpDates!!
--
--