Antimatter, the mirror world (Particle Physics Series – Episode 4A)
Let's take the red pill together and travel across the mirror, unraveling the mysteries of Antimatter.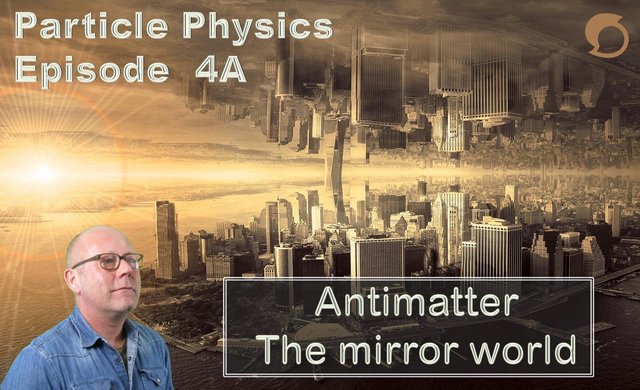 Since the first episode of this series, we have been visiting the fascinating world of small scale physics as we know it today. We have met many of the elementary particles described by the standard model as well as some of the interactions between them.    
Yet, there's more, much more, at least twice as more!   
Every matter particles has a twin brother identical in some ways and opposite in others: its anti-particle. For example, the up and down quarks have anti particles called anti-up and anti-down quarks. Combined, these can form anti-protons. Electrons have anti-particles called anti-electrons (or positrons). Combine a positron and an anti-proton and you get an anti-hydrogen atom.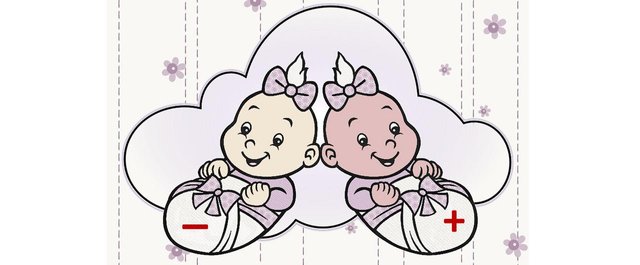 Anti-particles, like the positron, have been observed in nature and can even be created artificially. Anti-hydrogen atoms have not been observed in nature but can be fabricated in the lab using particle accelerators, although in extremely minute quantities.  Anecdotally, anti-hydrogen must be one of the most expensive materials ever: count a production cost of about 60 trillion dollars per gram. That's a lot of Steem ;-)!
When you think about it, antimatter is quite a weird concept, yet it is there, an integral part of our universe. Its study reveals many mysteries yet to be solved. This is a good thing: scientist love puzzles, because these allow them to move forward in understanding the intricacies of our universe.   
Join me in meeting this fascinating family of particles.

Preliminary Notes
In order to fully appreciate the content of this article, especially if you are new to particle physics, I invite you to review some of the basics.    
If you wish to dig in fast in this fascinating world, you can read a summary about what you need to know in the appendix of the article 'Let Quarks be free'. Open the article in a new tab, and then go straight at the end of the article to the appendices (Appendix 1: elementary particles and Appendix 2: building protons and neutrons out of quarks).   
If you wish to really catch the train and get a solid understanding of matter before meeting its little brother, antimatter, feel free to consult the previous episodes of this series:

1/ Table of contents 
There is so many fascinating aspects of antimatter to discuss that this subject will actually be presented as a mini-series of 5 episodes, maybe more. 
Episode 1 (This one): How antimatter was discovered. Description of antiparticles and composite anti-particles. 
Episode 2: Interaction of matter and anti-matter (pair production and annihilation). Meeting an anti-you and destroying the world. The birth of matter and antimatter in the universe. 
Episode 3: Matter/antimatter asymmetry and The CPT theorem.
Episode 4: Detecting antimatter in our universe. Are there anti-planets, anti-stars and anti-galaxies? 
Episode 5: Could we be the neighbors of an antimatter universe? (Context: multiverse of level 1).
As you can see, that's cool stuff that is cooking for you my dear science savvy Steemians!   
Now, let's dive in!  

2/ A brief history of antimatter …
The existence of a mirror world was first imagined by Schuster in a letter to Nature in 1898. He didn't have any formalism to mathematically describe this crazy idea for the times. A few decades later, after much theoretical progress in Physics had been made (Einstein's relativity, quantum mechanics ), the antimatter world naturally appeared in equations.
Let's see how.
Erwin Schrodinger had just developed his famous equation describing the weird behavior of quantum mechanics taking as frame Newton's classical mechanics. At the time, Einstein's special relativity was starting to be wildly accepted by the scientific community. It therefore felt like the next step to re-write Schrodinger's equation within the frame of special relativity.
It is Paul Dirac that was able to reformulate Schrodinger's equation within that frame. To his surprise, when applying this formalism to the quantum behavior of the electron, he realized that to each solution of positive energy corresponded a solution of negative energy (Think about solving x2 = 4, there are two solutions: +2 and -2). This result implied the existence of a symmetric particle, the positron…

It was in 1932 that Carl Anderson made the first observation of a positively charged electron in radiation coming from the sky (cosmic rays). It was found that such particles would annihilate into gamma photons when in contact with matter. It didn't take long before those particles were produced artificially by bombarding matter with high energy gamma rays. 
About 20 years later, in the years 1955 and 1956, the anti-proton and the anti-neutron were observed.    
Today, we know that there is a mirror version to all particles. 

3/ What is Antimatter?
To all particles of matter is associated a particle of antimatter. We will start our exploration by comparing a particle and its antiparticle.    
Let's consider the up quark. We have seen previously that this particle, involved in the formation of the neutron and the proton, carries an electric charge Q of +2/3 (of the elementary charge e) and a baryon number B of +1/3. It also has a mass and a spin.
Its anti-particle, the anti-up quark has an opposite charge and an opposite baryon number (Q = - 2/3 and B = - 1/3). On the other hand, spin and mass stay the same. Same story with anti-down quark (Q = +1/3 and B = - 1/3).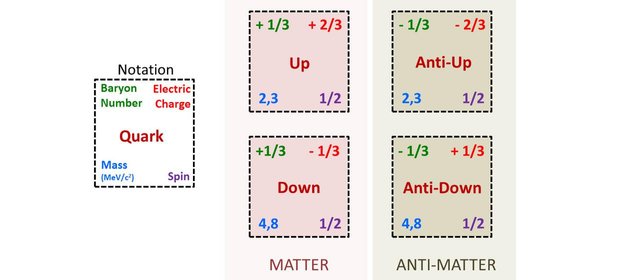 The principle is the same for leptons. The electron has an electric charge Q = - 1 and a lepton number (L) of +1. Its antimatter counterpart, the positron (or anti-electron) has a charge and baryon number of same magnitude but of opposite sign: Q = + 1 and L = - 1. As for quarks and anti-quarks, mass and spin stay the same when passing from lepton to anti-lepton. This principle applies for all elementary fermions.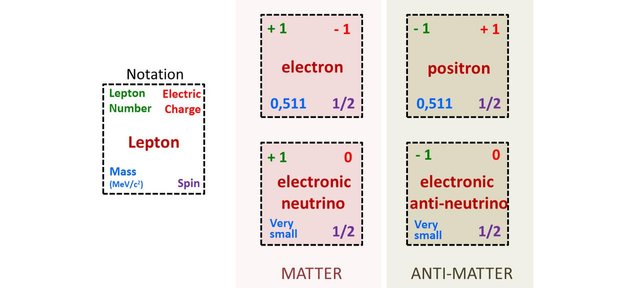 The standard notation that you will encounter in most publications and books about antimatter consists in putting a bar above the letter representing the particle (with an exception for the anti-electron, the anti-muon and the anti-tau where the sign of the electric charge is indicated).

For bosons, it is a little more complicated. Some are their own antiparticles (the photon, the Z0 boson), while others, because charged in respect to their role in a fundamental force, have antiparticles associated to them (the W- is the antiparticle of the W+, an "anti-X-colored" gluon is the anti-particle of the "X-colored" gluon).  

4/ Elementary antimatter particles are also lego brick!
Is it possible to build up composite particles with antimatter? Yes, absolutely.  Apart from having some quantum numbers of opposite sign, they do behave like matter particle, thus can be subjected to the same interactions and build up composite particles the same way.    
For example, an anti-proton is composed of two anti-up quarks and one anti-down quarks (uud). The charge of the anti-proton is therefore Q = - 2/3 - 2/3 +1/3 = -1. Its baryon number is B = - 1/3 -1 /3 -1/3 = -1, so it is also an anti-baryon. 

Try it for the neutron (udd), you will see that an anti-neutron ends up also as an anti-baryon (B = -1) of charge Q = 0.
Feel free to dive into the details of antimatter particles by visualizing the video I made for my students:  
So, we have seen that anti-nucleons like the anti-proton and the anti-neutron can be built out of anti-quarks. What about anti-atoms? Well, it works also...
By letting an anti-proton meet an anti-electron, one gets an anti-hydrogen atom. In 1995, the first anti-hydrogen atoms were artificially created with much effort at CERN. Today, it is still not a routine operation, but anti-hydrogen atoms can be produced and most importantly, can be contained for more than a quarter of an hour, long enough to study their properties in detail. 
It was confirmed that anti-hydrogen atoms behave exactly like normal atoms: anti-hydrogen atoms exhibit the same emission spectra than hydrogen atoms. That means that anti-hydrogen atoms exhibit the same energy levels than normal hydrogen does. For more details about atomic spectra, consult the video series on atomic physics I published a few months ago on Steemit.
The fact that anti-atoms behave like atoms can make the imagination go wild… Could anti-planets, anti-stars or even anti-galaxy exist somewhere in the distant universe? Stay tuned, because we will discuss this fascinating idea in a further episode of this series!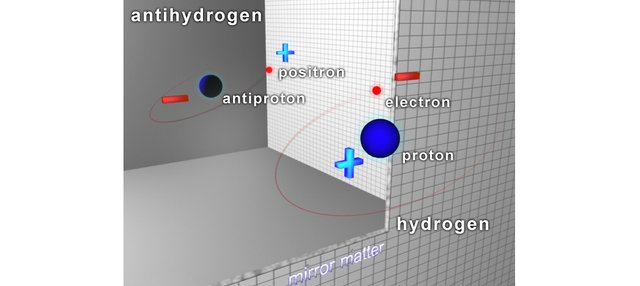 The 'Particle Physics' series is aimed at providing an introduction to the world of small scale physics to non-scientists and high school students preparing for their high school exams.  
Previous episodes:
Can't wait to know more?
If you can't wait to dive deep into the antimatter world, there are already some excellent articles on Steemit written by a professional particle physicist, @lemouth.

Sources, references and to dig deeper:
Image credits: 

Hi,
I'm @muphy (see intro post),
My life revolves around music production, teaching sciences, and discovery through travel.
You enjoyed that post?    Resteem and Upvote!
You are interested in these topics?    Follow me!