Elementary fermions: the particles of matter… (Particle Physics Series – Episode 3A)
You are made of fermions, your car and your house are made of fermions, the whole planet is made of fermions. Essentially, all matter is made of a family of particles called fermions.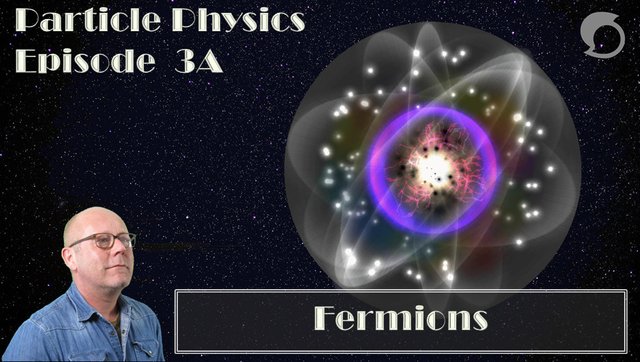 Take an atom of carbon. It is composed of a nucleus with 6 electrons hanging out around it. Electrons are elementary particles, part of a subfamily of fermions, the leptons.
The nucleus of a carbon atom consists in 6 neutrons and 6 protons. Neutrons and protons are also called nucleons because they can be part of an atomic nucleus. Both particles are composite particles, meaning that they are built from smaller blocks, quarks. Quarks are elementary (they cannot be cut in smaller parts) and are also part of the fermion family of particles.  
Fermions is the family of particles that form everything we see around us, our body, our friends, our food, our environment and all the stars and planets in the universe.
These little guys deserve a little visit, don't you think?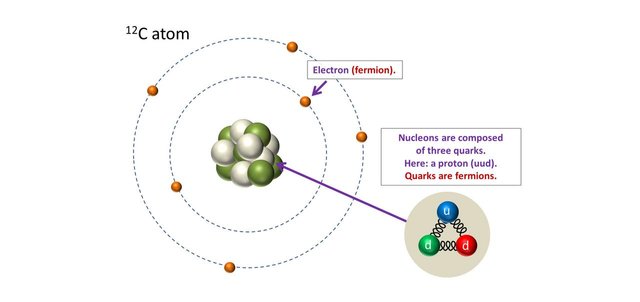 In the first episode of this series we have explored what is called the Standard Model of Particle Physics, that lists all elementary particles (including fermions) and describes their interactions.   
In the second episode, we have learned about the rules defining how composite particles can be formed from quarks. These composite particles are called hadrons which include  baryons (neutron & proton) and mesons (pions and kaons).  
Interactions between particles and their resulting behaviors originate from their intrinsic properties. What are these properties? How are they described? What consequence do they have on the particle's behavior and interactions and ultimately on our reality?  
This episode is aimed at giving you some answers. However, this is a huge sub-topic of particle physics that could deserve a whole book. This is why I decided to divide it in 5 papers.  

PART 3A (this article) reviews the elementary fermions that exist and describes their properties by introducing the concept of quantum numbers.  
PART 3B focuses on one specific property: the mass of fermions. We will also compare their individual mass with that of the composite particles they form: that will make us understand something really important about what matter really is. 
PART 3C discusses a key concept in particle physics: quarks hate being alone… they have to exist in the confines of a hadron… We will see why… 
PART 3D makes us travel the other side of the mirror and discover the thrills of antimatter.  
PART 3E freaks us out when we realize that our world is invaded by trillions of trillions of mysterious ghost particles called neutrinos (neutrinos are leptons, thus elementary fermions).  
I produced a video for my students corresponding to a lighter version of the content of this article. Feel free to check it out before reading further!  
1/ Our reality is made up of 17 elementary particles
We have seen in the first episode that the standard model of particle physics consists in 17 elementary particles.   Among them, there are 6 quarks and 6 leptons that group into a larger family: the fermions. These are the particles of matter.
There are also 4 bosons, which are the particles of force: These are involved in the propagation of the forces between fermions. The photon carries the electromagnetic force. the gluon transmits the strong force that stick quarks together to make nucleons and hold the nuclei of atoms together. W+, W- and Z0 bosons are the vectors of the weak force that plays a role in transforming quarks in one another like in a beta decay. Finally, the hypothetical graviton is supposed to be the carrier of gravity. 
There is a 5th boson, very different from the others and with a crucial role: it is responsible for the mass of particles!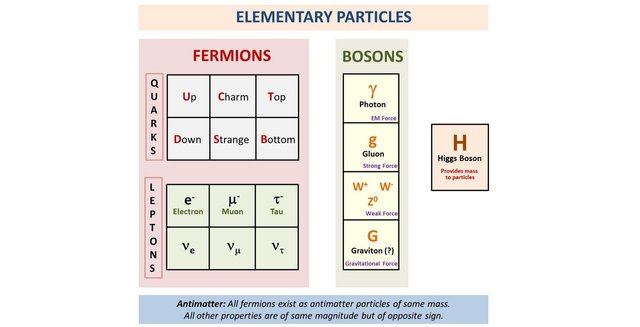 2/  What are fermions exactly?
In high school physics text books, fermions are often defined as being the particles of matter. This definition is actually incorrect because too restrictive.  
What indicates if a particle is a fermion or not is how it appears to spin on itself.  Fermions are particles, elementary or not, that have a value for their spin which is a half integer (1/2, 3/2, 5/2 etc…). For example composite particles like neutrons and protons have spins which are half integer, so these behave also as fermions.   
In this paper we will limit ourselves to elementary particles, therefore elementary fermions.
The spin of all elementary fermions is 1/2.

3/ The spin of a particle? What does it mean?
Particles have magnetic moments. The magnetic moment of a body is associated with the torque (understand a rotating force) it would experience in a magnetic field. This torque leads naturally to an angular momentum, i.e. the spinning of the body around an axis.  

Because particles have magnetic moments, it is inferred that they must be spinning. Yet, in absolute, this idea is incorrect. A particle is not really a little sphere with a definite surface so it cannot really spin on itself in the Newtonian sense. 
Still, I do allow myself to represent Spin like a self-rotation as it is way easier for the human mind to visualize than just talking about an abstract property. I also represent in my mind the value of Spin as the direction of the rotation (clockwise or anticlockwise) combined with the relative direction of the axis.  

Spin has a huge impact on the collective behavior of the particles:  
The spins of all Fermion are half integers. This implies that fermions must obey Pauli's exclusion principle that states that two identical fermions (i.e. sharing the same state) cannot have the same position and momentum. 
In contrast, bosons, the other main family of particles (photons, gluons etc.) have a spin value that is an integer value (0, 1 ,2 …). This implies that Pauli's exclusion principle does not apply and that we can observe multiple bosons behaving as if they were a single one.  
A typical example is the laser: all the photons emitted are in the same state.

Another example is the Bose-Einstein condensate where atoms for which the spin adds up to an integer number (making them bosons) are cooled at such low temperature that they become indistinguishable from one another. In other words they become one super atom!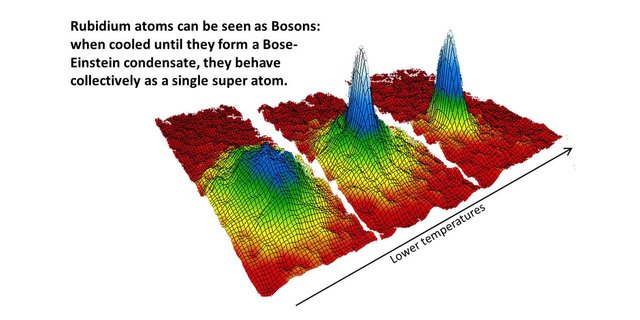 As you can see, Bosons can exhibit some pretty funky behaviors. We will discuss more about these little guys in a future episode. promise :-)!      

4/ What are Quantum Numbers?
In the previous paragraph we have discussed a fundamental property of particles, called spin. The value of the spin defines if this particle is a fermion or a boson, thus characterizes its behavior and interactions with its environment. Spin is limited to a set of fixed values. Spin is an example of what is called a quantum number.       
Objects have properties. Take for example the pen below:

This pen has intrinsic properties: a mass (about 20 grams), a color (it is blue), a shape (it is cylindrical) etc.
Particles also have intrinsic properties. For example, an electron has a spin, a charge and a mass that is intrinsic to the fact that it is an electron. For elementary particles, many of intrinsic properties can only take a set fixed of values: they are quantized and thus can be represented by a quantum number.  
A good example of a quantum number is the electric charge Q. For quarks, it can only be (2/3 or -1/3) while for leptons it can only be -1 or 0 (inverse the sign for anti-quarks and anti-leptons). 

5/ Quantum numbers of elementary fermions
Let's go through the main quantum numbers that describe the properties of Fermion. 
Spin: As we have seen, quarks and leptons are elementary fermions, therefore they have a quantum number Spin equal to ½. The notation is J. The spin defines their collective behavior and interactions with the environment. 
Electric Charge: We also mentioned the electric charge, noted with the letter Q. The electric charge defines if and how the particle will trigger the electromagnetic force. The up, charm and top quarks (the happy quarks) have an electric charge of +2/3, while the down, the strange and the bottom quarks (the depressed ones) have an electric charge of -1/3. The electron-type fermions, which are the electron, the muon and the tau have a charge of -1. The neutrino, like their name suggest are neutral: their charge is zero. 
Baryon Number: Another important number is the baryon number, noted B. It defines how much of a baryon is a particle. All quarks have got a baryon number of 1/3 because they are a third of a baryon. For example, a proton is made of 2 ups and 1 down, that is B = 1/3 + 1/3 + 1/3 = 1. It confirms that a proton is a baryon. Leptons on the other hand are not baryons, they cannot assemble to build baryons, so their baryon number is 0.   
Lepton Numbers: Leptons all have a lepton number of 1, because they are leptons. The symbol for this quantum number is L. Quarks are not leptons, so their lepton number is 0. The lepton number is actually a sum of three lepton numbers: The electronic lepton number + the muon lepton number + the tau lepton number. For example, for the muon, the lepton number is 1 because it is 1 for the muonic lepton number and 0 for the two others: L = 0 + 1 + 0 = 1.   

Strangeness: Another number often mentioned in high school physics text books is Strangeness, symbolized by the letter S. The strangeness of a particle defines how much it has the characteristic of a strange quark. So it is non-zero for the strange quark and zero for all other particles. The strangeness of the strange quark is -1. For example the meson K- (ūs), a composite particle made of an anti-up quark and a strange quark has a strangeness of -1.   
Charmness, Topness and Bottomness: Other similar quantum numbers exist as charmness (C), topness (T) and bottomness (B) expressing how much of the characteristic of a specific quark is possessed by a particle. The charm quark has a charmness of +1, the top quark, a topness of +1, while like the strange quark, the Bottom quark has a bottomness of -1.   
Other quantum numbers : Other quantum numbers exist and are assigned to elementary and / or composite particles. These are also applied within conservation laws to deduct if an interaction or reaction does or does not occur, and also hint on which of the fundamental forces is involved.

For example, the quantum number called "hypercharge", noted Y, is conserved when the reaction occurs via the strong force but is not conserved necessarily if it is the weak force that is involved. Another quantum number "weak isospin" (noted T3) relates to the weak force. It is always conserved for all interactions whatever the fundamental force involved. The only exception is when the interaction is with the Higgs field. In that case, it is a specific linear combination with another quantum number (the weak hypercharge, Yw) that is systematically conserved.  
We will not go in the details of these other more complex quantum numbers in this series of articles. However, one thing to remember is that in all interactions, it is the conservation or non-conservation of quantum numbers that give the clues when investigating interactions between particles.   

6/ Quantum numbers are used to determine what can and what can't happen
Many of you know that in chemistry, when there is a reaction, charge must be conserved, right? For example, in the oxidation reaction of hydrogen, the initial electric charge of the system is zero, and the final charge is +2 – 2 = 0. 

The total charge of the system stays the same: it is said to be conserved.     
In particle physics, this principle is absolutely fundamental. In nearly all interactions between particles, conservation laws apply to quantum numbers. If there were only one reason for which quantum numbers were invented to define elementary particles, this would be it!   
Let's consider a simple particle physics reaction to exemplify. Let's consider the decay of a positive pion into an anti-muon and a muonic neutrino, and let's observe how quantum numbers change.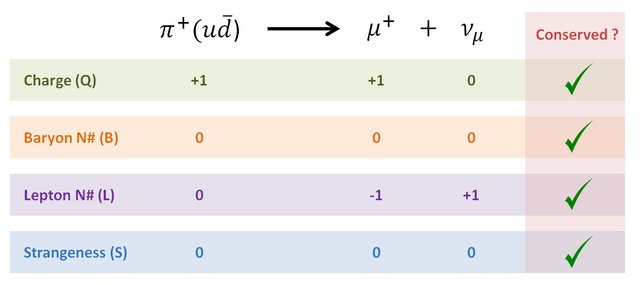 As you can see, all quantum numbers are conserved. This means that this reaction is possible. This concept of conservation is a critical aspect of particle physics and will deserve a full blown episode…   

7/ Conclusion
Quantum numbers are a fundamental concept used to describe the properties and interactions of elementary particles, including fermions. These indicators allow us to predict if a reaction could occur or if it is just plain impossible.  
We have listed these properties for fermions, but we did leave one aside on purpose: mass… In the next article, we will be approaching the concept of mass for elementary fermions, and from what we will learn, realize quite some amazing facts about our reality...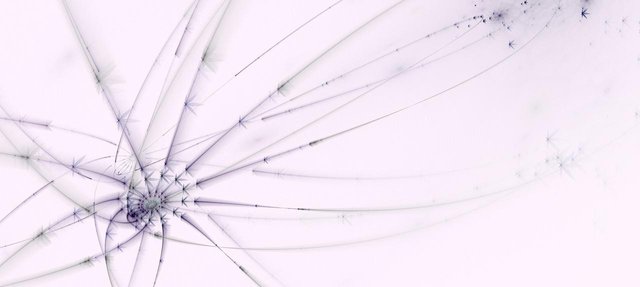 The 'Particle Physics' series is aimed at providing an introduction to the world of small scale physics to non-scientists and high school students preparing for their high school exams.  
Previous episodes:
Need some more particle physics?
If you wish to sharpen your understanding by approaching particle physics via another angle, please explore @lemouth series of articles on particle physics. You can start here:  https://steemit.com/science/@lemouth/the-bestiary-of-particle-physics-this-is-how-i-introduced-particle-physics-to-cern-summer-students      

Sources, references and to dig deeper:
Image credit: 
Picture of the lasers by Zaereth (Own work) [CC BY-SA 4.0], via Wikimedia Commons [source]
Original graphic of the Bose Condensate  by the National Institute of Standards and Technology via Wikimedia Commons [source]. legends and text on this image have been added by me. 
The decorative picture at the end, the thumbnail background picture and some graphic elements for friezes and illustrations were found on Pixabay.com. 
Picture of the pen, all illustrations and the friezes have been produced by me. 
Video and music on video produced by me.

Hi,
I'm @muphy (see intro post),
My life revolves around music production, teaching sciences, and discovery through travel.
You enjoyed that post?    Resteem and Upvote!
You are interested in these topics?    Follow me!