Elementary particles, the building block of reality (Particle Physics Series – Episode 1)
What is reality made of? Have you ever wondered about this question? Amazingly, the recent progress in Particle Physics and High Energy Physics allow us to hope that one day we will have answers. 
And these might not necessarily be '42' ;-)! 
Answers to understanding what we are, what we are doing here, and why reality appears as it does are closer today than in any other period of humanity's history. Yet, the journey is far from over! 
Jump on the train by following this series, and take this fascinating trip into the building blocks of our reality.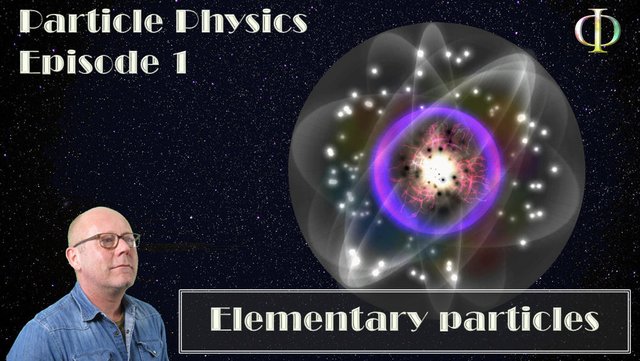 Following the series will able you to fully understand the implications of scientific news when they come out, and join the bubbling excitement that animates the scientific community. 
Particle Physics may appear as being a hard topic (after all it is presented as a 'hard science'). Nothing is further from the truth. To get a good grasp of its intricacies does not require notions further than high-school maths and physics. Actually, I am creating these videos for my students (IB and A-Levels). Hence, the level is high school, and actually, I made sure to make the notions presented here are fun to discover and learn, and accessible to all.
So... give it a go!  


In the previous series of videos, we have been diving deep within the physics the atom… That is why the series was named 'Atomic Physics'. 
Let's dive deeper! 
An atom consists of a nucleus surrounded by electrons. Nucleus and electrons are bound by the electromagnetic force.  
A nucleus is composed of protons and neutrons (called collectively nucleons) bound together by what nuclear physicists call the strong nuclear force. We are now in the realm of Nuclear Physics. 
Nuclear physics studies the nuclei of atoms, their composition, their interactions with their environment and their evolution. For example, nuclear physics deals with radioactive decay, nuclear fusion and nuclear fission, the latter being the reaction exploited in nuclear power plants. 
One could think that this is the last stop of our voyage into the ultra-small … Well… no… There is another step into tininess that human knowledge models quite well: Particle physics.

By diving deep into nucleons, we realize that these are also composed of even smaller particles: quarks bound by gluons (the particle associated with the strong nuclear force). These particles are called elementary particles. The 'elementary' adjective originates from the fact that these particles cannot be sub-divided into smaller ones. For example, electrons, quarks, photons etc. are elementary particles: they cannot be broken down into smaller constituents.   
Let's discover these elementary particles in the video: 
The video unveils what is referred in high school manuals as the 'particle zoo': There are 17 elementary particles which are the building blocks of everything that is happening in the universe. These are classified in families depending on their properties: matter particles (quarks, electron, neutrinos etc.), force carrier particles (photon, gluons etc.), and finally, the famous Higgs boson that provides mass to some of them.  
This way of classifying particles and the study of their interactions results in a model, called the standard model of particle physics. So by briefly describing the elementary particles that exist, this first episode sets the framework to explore the standard model (See picture below).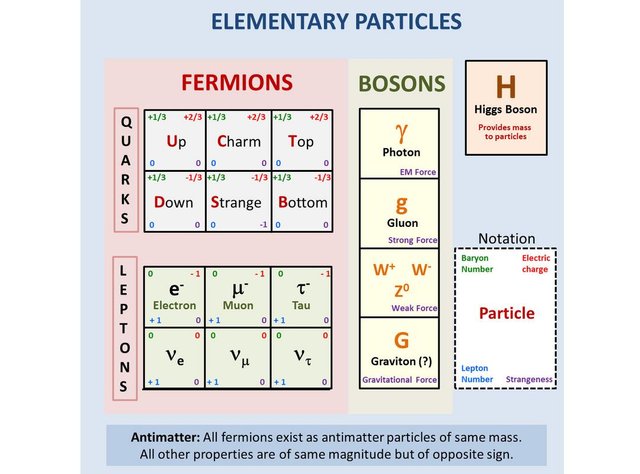 The second episode will stress how 99.9% of the matter around us results from quarks assembling into composite particles, like for example the familiar neutrons and protons. Yes, Matter is mostly made of Quarks !  
In the third episode, presented in 5 sub-sections (5 videos), we will realize that all particles of matter (the 6 quarks, electron, muon, tau and their respective neutrinos) are part of a group of particles called fermions. We will look at their properties in detail and understand what these means in terms of their individual role in our reality. In this episode we will also look at specifics of the IB-Physics program as quark confinement, antimatter and neutrinos.

This series is currently in the making, so the plan for the next episodes is not engraved in stone. However, I believe it will look something like: 
Episode 4: Leptons,  
Episode 5: Fundamental forces and their exchange particles (bosons), 
Episode 6: Conservation laws as the backbone of reactions between particles, 
Episode 7: Feynman diagrams, 
Episode 8: Training exercises for IB and A-level students in Physics.    
Enjoy the voyage!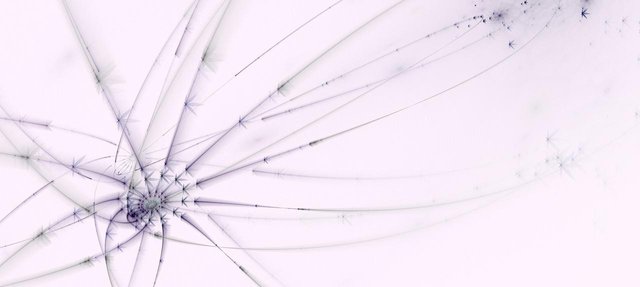 The 'Particle Physics' video series is aimed at providing an introduction to the world of small scale physics to non-scientists and high school students preparing for their high school exams.  
If you wish to deepen your understanding, please explore @lemouth series of articles on particle physics. 
The relevant paper for this video is:  https://steemit.com/science/@lemouth/the-bestiary-of-particle-physics-this-is-how-i-introduced-particle-physics-to-cern-summer-students  

Image credit: the final decorative picture,  some elements of the frieze, and the molecule of adrenaline were images found on Pixabay.com. These were used as visual elements in the illustrations. 
All illustrations are created by @muphy. 
Video and music on video produced by @muphy. 

Hi,
I'm @muphy,
My life revolves around music production, teaching sciences, and discovery through travel.
You enjoyed that post?    Resteem and Upvote!
You are interested in these topics?    Follow me!