For the past six months I've been writing posts on Steemit exclusively in English. My mother-tongue however is Dutch, which means every word and sentence I write is a translation of something else.
I'm sure my English is not perceived as 'bad', but I also know I have to correct after publishing more often than I like, plus I always carry this feeling with me that I would have written something better if I would have written it in my own language.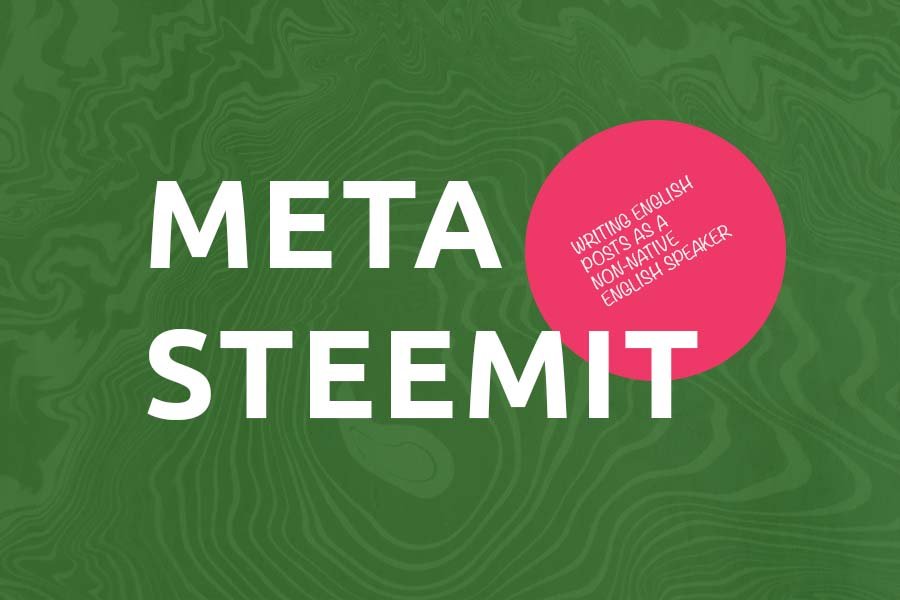 My English education
---
In short, my English education exists of:
Lessons (boring ones) at secondary school, lessons were held in Dutch until after three years
Lots of English science paper reading at university, classes were held in Dutch
Lots and lots of American and British television, first with Dutch subtitles, later on with English subtitles once I got at the level I could get annoyed by the mistranslations
Secondary school
I remember getting my first English language lesson in secondary school. All the pupils arrived from different primary schools, so of course the starting levels of most subjects would be a little bit different. I remember opening my book, seeing all these words I did not know. The teacher started it's lesson and already assumed we would know a few basics, like yes, no, house... And just went right on from there!
Now, I was not raised with parents who let me watch television a lot. And since this form of 'education' was perceived as 'normal' it was also assumed 12-year olds would already know these basics from the English language.
Well, I did not.
And although I'm a fast learner I remember feeling 'behind' for the biggest part of that first year of English classes. I basically had to learn and 'learn backwards', all the unspoken knowledge I was assumed to already carry with me.
I kept up with the lessons though, and since 'language' in general was my best subject I could probably make up for my being behind relatively fast. But not without feeling frustrated a lot of times :-)
American English versus British English
---
Now, after secondary school I learned a lot of psychological jargon in English during my studies. But mainly I went from watching Dutch-subtitled television to watching series with either no subtitles or English subtitles.
No subtitles is perfectly fine for me if there's not too crazy accents involved. As soon as heavy Irish, or some American accents, or English spoken (and often exaggerated) by non-English natives I'm prone to missing a lot from what's being said and I like to use English subtitles.
English subtitles explicitly, because as mentioned above at some point my English had gotten good enough to feel very annoyed when the Dutch subtitles mistranslated the spoken English.
(I honestly feel very conflicted if I'm watching a series on Netflix and the only options available are 'Dutch subtitles' or 'No subtitles'. Knowing the Dutch ones are often bad, but I will miss out on some information if I watch without. What to do?)
Spoken English to written English
---
Now this means I learned a lot of English through spoken form. Subtitles are not actively used even when they're 'on', only when I miss a word. And this spoken English is different in accent... But the words mean the same and I don't have to be bothered much by the fact if it's an American speaking the word or a person from the UK.
This is different in writing though: some words that sound (apart from dialect) the same are actually written a bit different in these languages!
And: I never chose sides, so I don't explicitly write in American-English or British-English!
As long as you write in the same word editor this doesn't matter much. But as I'm writing in a browser, and even multiple browsers, or on a phone, or sometimes on a different computer... I do get 'suggestions' for my English / mistakes, but these suggestions will not always be the same! It depends on what version of English it's being checked with.
I noticed I have a preference for writing down certain words:
Honour (British English) instead of honor (American English)
Behaviour (British English) instead of behavior (American English)
Realization (American English) instead of realisation (British English)
Mesmerized (American English) instead of mesmerised (British English)
Look, my current Brave Browser has a preference:


But, even though I have a preference for one over the other I might be impulsive at some days and just 'accept' any suggestion that's being thrown at me. So I might write 'honour' today and you might read 'honor' tomorrow ;-)
Conclusion
---
Well, I might want to train myself to perfection and/or even take some writing classes! I've actually been thinking about some creative writing classes in English and try to push myself at a higher level. Just for fun and just to help myself feel more confident in my writing. That might also mean I have to pick sides and not mix up languages anymore.
Who knows.
For now I'm honoured to meet you and often realize how lucky and happy I am to be a writer on Steemit ;-)
---
How about you? Is English your second language? If yes, do you like writing in English? And do you feel you would write a lot different in your own language? Why did you choose to write in one language and not the other? And how many mistakes do I have to correct in the above piece? ;')