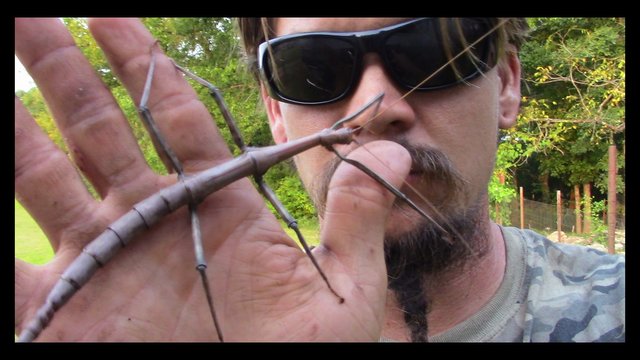 Do I really have to let another creepy bug crawl on me just to try to get paid on here?
---
What do you guys think, is anyone tired of putting up a front here on steemit? Is it getting harder and harder to try to fake it through a post? I share a bit of my recent thoughts in this vlog, but I'll type out a few below after the video.
WHO ARE YOU?
IS PAPA REALLY FAKING IT?
No, and that was my point. My question wasn't "is anyone else tired of pretending?" it was "is anyone tired of pretending?" Because, if they are, it may be best just to quit. I don't mean it may be best to quit steemit, but rather to quit pretending. Also, It doesn't just work on steemit, but in life too.
There is no need for anyone to "wish they were like @papa-pepper" and then go get bit in the face by a snake.
You see, whether it is planting my garden, teaching my @little-peppers, loving life with @mama-pepper, or me out in the wild enjoying the creatures, I'm just being me. It's the same me that I was before steemit ever came out, and it's the same me that'll be living this same life years from now (Lord willing.) I'm not putting on a show or faking anything, I'm just enjoying what I enjoy and sharing it through video, photos, and writing here on steemit.
I think that too many in life (and therefore by default on steemit as well) spend way too much time pretending to be something or someone that they are not. They may spend a lot of money on expensive clothing so that they will "look cool" enough to convince others that they "are cool." If you understand peppers at all, you'll know that @papa-pepper just isn't concerned with "cool." It is not the way of the pepper.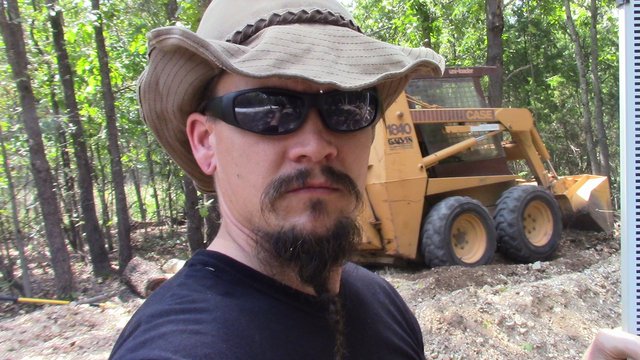 Did you guys see that awesome shirt that I'm wearing in that photo? Yeah, I think that it cost about $2 USD at Wal-Mart. Pretty cool, huh? Oh yeah, let's not forget my sweet ride with the amazing paint job.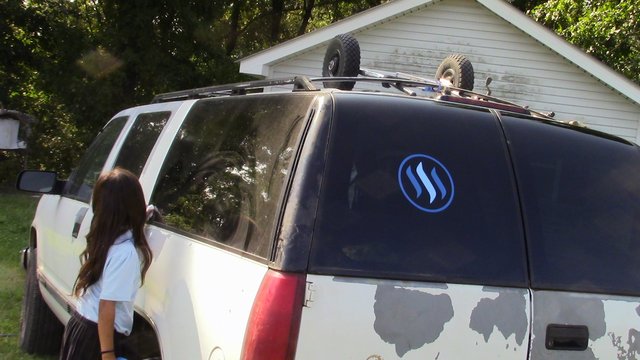 Okay, so it does have the logo going for it, but the peeling white on grey is not what most would choose. Now don't get me wrong, I'm not bragging about not bragging, I'm just saying that this is who I am. I'm more than a shirt, and more than a truck. I won't be standing next to the neighbor's sweet ride pretending it's mine, even if my neighbor eventually gets a sweet ride.
YOUR TURN!
In my time on steemit, I've met a lot of REAL people. Sometimes, I even drive over to their houses and eat the larvae of hornets with them, just to make sure that they are real people.
@xtrodinarypilot
Unfortunately, I can't do that with everyone, can I? No, sometimes I just have to settle for playing with balloons on their couch, or at least trying to play with balloons with them.
@dwells
Since we can't all just hang out offline and be real together, perhaps we should be real here. I honestly think that there is no way as many people would be enjoying my posts if it wasn't for me just being real and sharing life here.
I know that some of you may be thinking that playing with snakes and balloons is more entertaining than what you are up to in your life. Though it may be more entertaining, opinions vary. Check out @jaybird sometime. Right now, he is mostly making sandwiches or music. Those are some of the things that he is enjoying in life right now, and he is having fun sharing those things here on steemit with the rest of us.
I went back into the blog history of @jaybird a bit, and I have to admit, I don't think that he is pretending to make sandwiches. I think that he is really doing it, and doing it well. In fact, just like I encourage others to take photos of the plants and animals around them in my weekly Combination Photography Contest @jaybird is actually running a Steemit Sandwich Contest. I appreciate @jaybird being real and enjoying himself while he is just being himself so much that I've actually been donating some SBD to help fund his contest for some time now.
CLOSING THOUGHTS
I feel like I know a lot of you now, and I appreciate that. Hopefully, many of you are getting to know me more too. On the platform steemit is a community of steemians and that community grows bigger and stronger by our relationships. Whoever you actually are, I'm glad that you are here, and I'm glad that you have this opportunity that steemit provides along with the rest of us. It's a great thing to be a part of.
So, whether it is snakes or sandwiches, just be yourself. That crazy big stick insect in the cover photo and vlog was a gift that someone gave to me. I'm not sure how many of you have ever received a giant bug as a gift, but the only reason that I ever did was because I am real. I really like creatures like that, and people really know that I do. Therefore, sometimes when they see an interesting one, they let me know.
The same thing is true for the pygmy rattlesnake in that video. People not only know what @papa-pepper is really about, and they even support it!
I guess that the only thing that you may still really want to know is if I am actually @papa-pepper, or if I just created that alias for steemit. Perhaps this original music video from 2013 may put those questions to rest.
Sure, I may have spelled my name differently back then, but it's still me. For real!
As always, I'm @papa-pepper and here's the proof: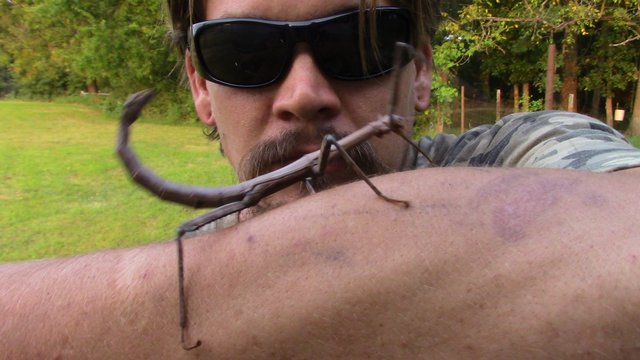 proof-of-papa-just-being-papa-with-a-big-old-bug-on-him
---
---
Until next time…
Don't waste your time online, invest it with steemit.com

---