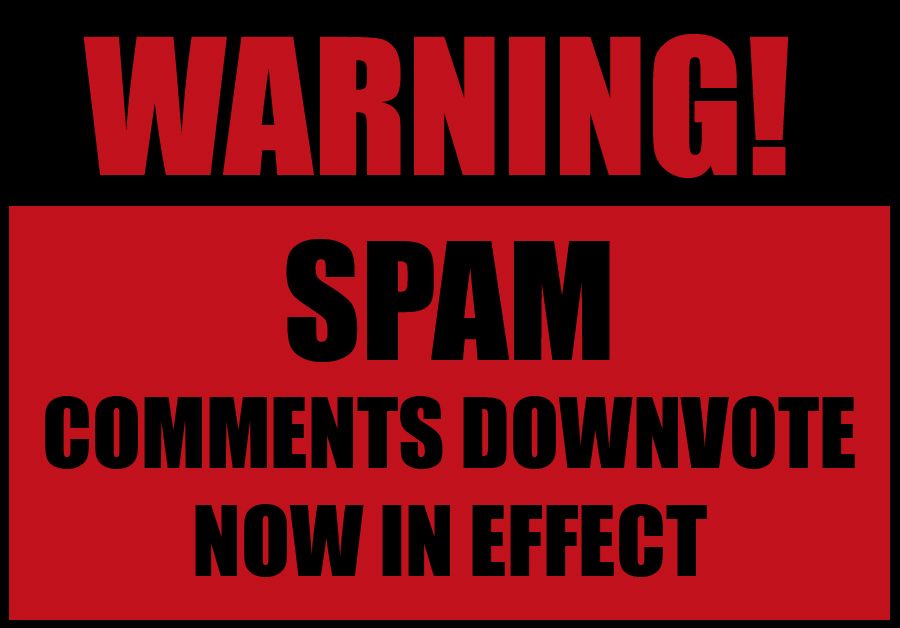 ---
Hello Steemit Friends,
as you probably noticed, in the last days you might have seen some spam comments downvoted and labeled with this banner:
---
| BE AWARE... | No SPAM! |
| --- | --- |
| | This COMMENT has been DOWNVOTED by @miti for its content. I'm not a BOT and my aim is to clear posts by trolls and spammers. Want to support me? Upvote this comment, delegate SP to me or make a donation. I need the maximum SP possible to clean as many posts as possible. Thanks! |
If you do want to report a spammer or troll, reply to his comment with "@miti downvote"
For more info contact me in steemit chat
---
This here's all part of my new plan to combat the scourge of spammers and trolls who comment the majority of trending and hot posts in Steemit.
Did you happen to read something interesting and loose lot of time to skip spam comments? Happens to me all the time, I guess you do too!
I'm a great believer in steemit growth, so i think have to do something to free our community from peolple aren't interested in steemit community but only to harassing and take advantage of such attitude.
---
I'll just give you a very quick overview of what's going on inside the downvote project i've studied.
Every time I read comment like "Vote for vote"... "please vote me"... "nice my friend pliss vote and follow me"... and so on...... i will downvote it and i will comment it with my banner.
You must be wondering why not only downvote? Because a downvote is not as evident as a banner and might not be enough to discourage spammers and trolls. I will also take a look in spammer user page to make sure he done repeatedly spam before to downvote his comment.
Every week I will write a post with all the flagged comments and some of my earlier points.
I'm not acting like a cop, i'm not trying to discourage new users... because this kind of users are not interested in netiquette, rules and respect to steemit community. This people are only interested in fast earn at any cost.
I'm acting by myself because i don't use bot (i hate them).. they're too stupid to do a critical job like this..
If you do want to report a spammers or troll, you could reply to his comment with "@miti downvote" and I'll take a look to comment and user to decide if he's worth a downvote.
I'm getting to power up with my own funds because i need more Steem Power to clean as many posts as possible. I am determined to improve this project, i've a lot of related idea to develop so I hope to be able to count on your support:
UPVOTE my banner, DELEGATE some SP or MAKE a donation. I will really appreciate it.
---
ALL ADVICE WELCOME.. By working together, we can better ourselves!!!