Partiko Mentors Program Begins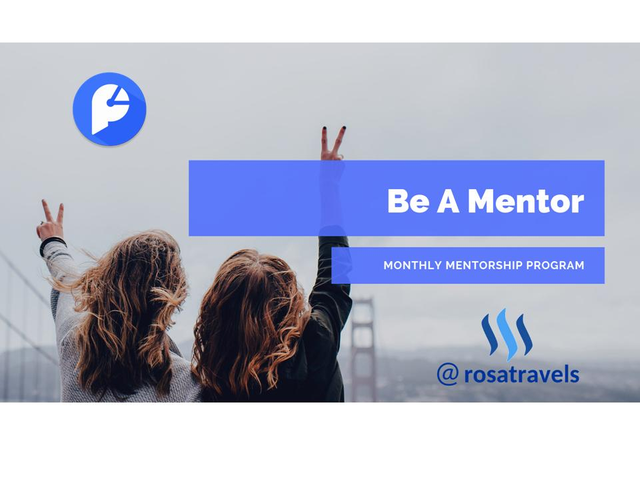 Welcoming our First 10 Awesome Partiko Mentors
The following table shows the 10 Awesome Partiko Mentors that were chosen for Partiko Mentors Program Round 1.
When you can click onto their application links, you will understand why they are chosen.
Partiko is looking for Partiko Mentors!
Congratulations! Let's welcome these first 10 Partiko Mentors on board as they begin!
---
---
Role of a Successful Partiko Mentor


The Role of a successful Partiko Mentor come in 4 Stages:
Reach out to potential newbies and welcome them!
Introduce Partiko app to newbies. Or if you have friends who are not using Partiko app yet, they can also be your target of outreach.
Guide them. Download the Partiko app & earn up to 3300 Partiko points
Create a Post before Feb 10, 2018 of your Mentoring Work
I try to keep this Mentorship program as 'simple' as possible so that we can get results within 2 weeks to help the newbies.
While the 4 points up there are so simple, I will now expand on the above 4 points in detail.
Let's get to work guys!
---
Stage 1: Reach Out To Potential Newbies
Search for Potential Newbies
As a mentor, you need to search out for potential newbies. Do some screening to find potential students whom you are willing to spend the time to mentor.
Available Resources
Note: For people you are already interacting on the Steem blockchain, you can check their Partiko Point by going to their profile pages. If they have zero Partiko Point, that means they are not using Partiko. People with low Steem Power and low reputation is preferred because they need more help.
Welcome the Newbie
Welcome the newbie in one of the newbie's post
Introduce yourself
Some newbies might be wary about why you are so interested in them, so feel free to let them know that you are in the 'Be a Partiko Mentor' program hosted by @rosatravels.
Hint:
If the newbie responds, great! You can move on to stage 2.
If the newbie does not respond, leave him alone and move on!
In a nutshell, in this 1st stage, reach out to a few newbies or to your friends who are not using Partiko yet. Not everyone will respond. If you reach out to about 20 people, the chances of getting 5 people to respond will be quite high.
---
Stage 2: Introduce the Partiko App
Interact & Introduce the Partiko app to your potential student.
Here are some suggestions for you:
Tell them how long you have been using Partiko app and why it is so great for you
There is 0% cut of their earnings when they use the app
Partiko gives away 3000 free Partiko Points for downloading the app
They can exchange their Partiko Points for upvotes
Tell them they can Earn Steem Power by using Partiko today
Hint:
If the potential student ignores you here, leave it. Move on.
If the potential student responds, move on to Stage 3.
---
Stage 3: Guide them to Use the App & Earn PP
1. Show them where to download the Partiko App
2. Show them the following 4 Features to Earn Partiko Points
You can use my Partiko Tutorial #1 to help you.
Earn 10 Points by checking in every day
Earn 5 points by upvoting
Earn 30 points by writing a post
Earn 10 points by writing comments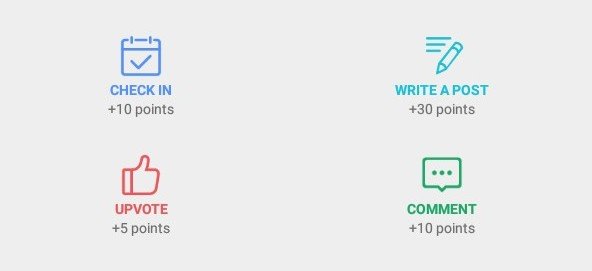 3. Motivate them to Earn 300 Partiko Points in 2 weeks time
Let them know that your success as a Mentor depends on their earning 300 Partiko Points in 2 weeks
If possible, ask them to write a Post regarding their experience with you
If they check in every day for 2 weeks, they will easily earn 140 points
If they post every day for 2 weeks, they will easily earn 420 points
If they make a comment every day for 2 weeks, they will easily earn 140 points
You see, it is not difficult to earn that 300 PP but you will need to guide them in these 2 weeks.
---
---
Stage 4: Create a Post of your Mentoring
A. Create a post with a title: Partiko Mentoring Round 1 - @username
Please put in the following tags:
Tap into your creativity and show us the evidence of your success.
You can create tables.
You can create videos.
You can create GIFS.
You can do creative writing
Please have ALL the information in ONE Post Only!
B. List your successful students
Tell us the number of students you succeeded in mentoring
List the name of students you succeeded in mentoring
Post their profile links to give them some visibility
C. Show evidence of your work with screenshots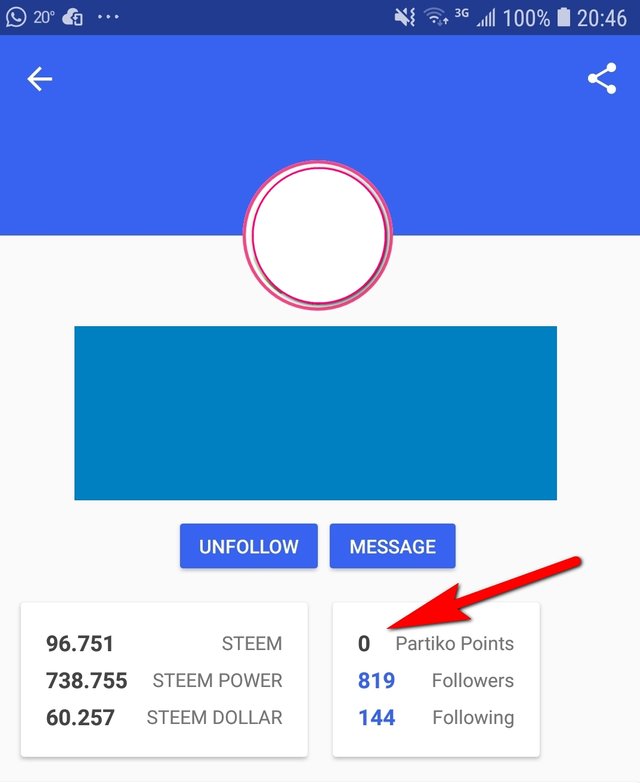 Before joining Partiko: Partiko Points is 0
A person who has not joined Partiko, will have "0" Partiko Points on their Partiko profile page as shown by the red arrow.
After Downloading Partiko app: Partiko Points becomes 3000
After the person downloads the app and joins Partiko, the person will be given 3000 free Partiko Points. Where the red arrow is, you will see 3000 Partiko points on his profile page.
After your mentoring: Partiko Points needs to have 3300+
Your goal is to get your student to earn an extra 300 points. If their Partiko profile page shows 3300+ Partiko points, you have succeeded.
D. Get Your Students to Create a Post Regarding their Experience
In order to help the newbies to get more visibility, encourage them to write a post regarding their experience in this program. This will help them grow and increase their followers.
Include the student's post link in your write up so that onlookers can also upvote them to give them some boost.
---
Deadline to Submit Post - Feb 10, 2018
Rewards From Our Sponsors
@Partiko and @Haejin are sponsoring this "Be A Partiko Mentor" Round 1 with the following Rewards:
| Mentor's Students | Rewards From Partiko | From Haejin |
| --- | --- | --- |
| 1st Student | 1 Steem | 1 Steem |
| 2nd Student | 2 Steem | 1 Steem |
| 3rd Student | 3 Steem | 1 Steem |
| 4th Student | 4 Steem | 1 Steem |
| 5th Student | 5 Steem | 1 Steem |
Total Rewards you can get from @Partiko: 15 Steem
Total Rewards you can get from @Hajejin: 5 Steem
If you are successful as a Mentor, you can earn a total of 20 Steem!
---
A Final Note
If you have questions, ask below.
For me to keep up with your progress this week, please bookmark this post and you can check in by letting us know how you are progressing every day. I will be in here to cheer you on. In that way, not only I, but all the other mentors can also know how you are progressing also.
Check in here everyday,
Rosa
@rosatravels
Download Partiko Android here
Download Partiko iOS here
Partiko website: https://partiko.app/
Blog: https://steemit.com/@partiko
Discord: https://discordapp.com/invite/N7Et97G
Twitter: https://twitter.com/PartikoTeam
---
Thank you for reading this post! If you like the post, please resteem and comment.
谢谢你的阅读!希望你喜欢。如果你喜欢我的分享, 请点赞并跟随我。
---
Sponsored ( Powered by dclick )