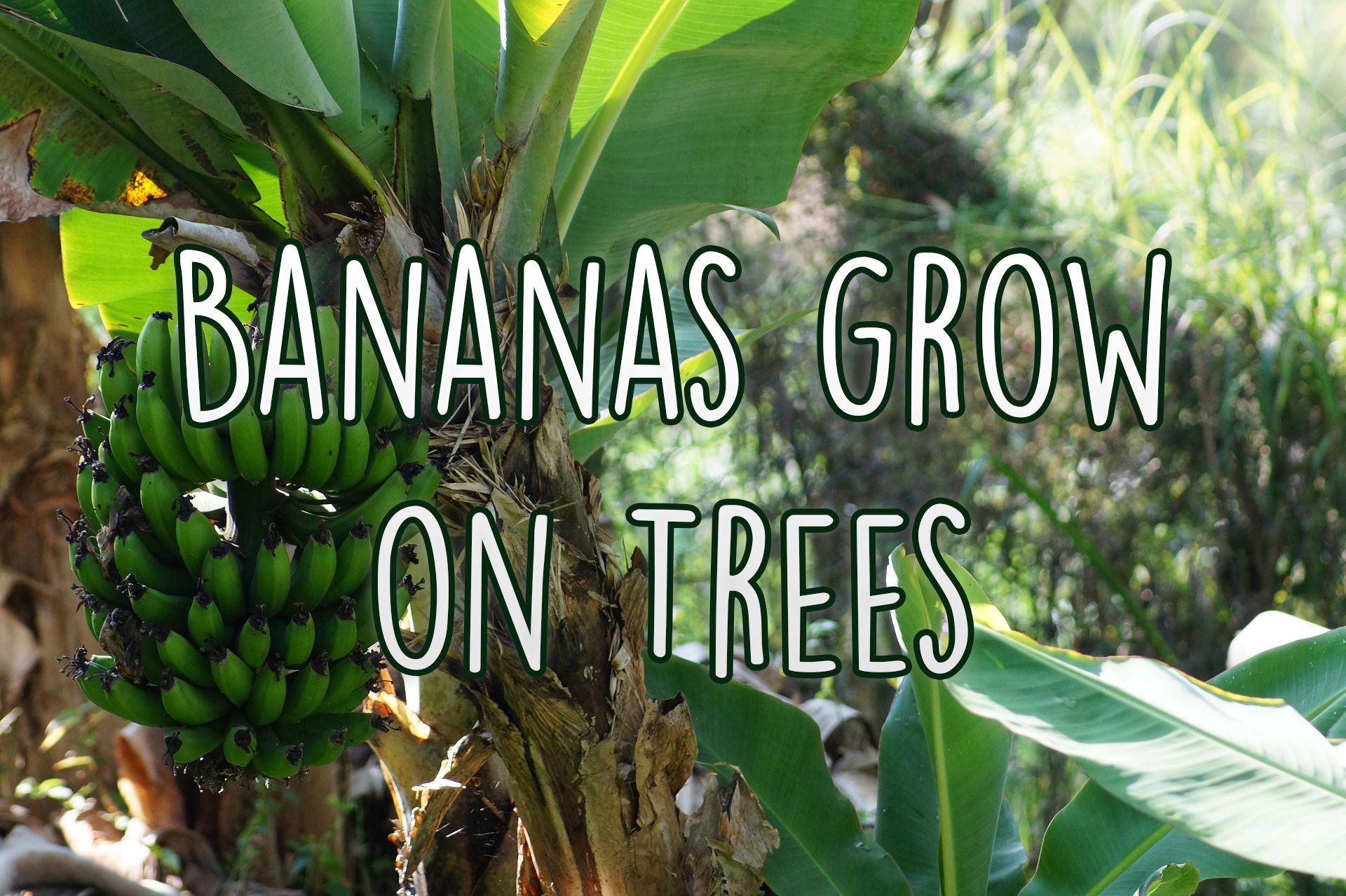 Welcome my dear Steemian friends to a new episode of Myth or Fact! A series in which we will show that some common believes are myths while others turn out to be true.
We all have this one friend, the smart aleck who knows everything better. Walking through the thick jungle of Thailand this know-all saw bananas growing and said, 'Look there are berries growing.' I couldn't spot a single berry but bananas and asked him if he meant the bananas growing on the tree. All of a sudden he started to sound like my old teacher giving me lessons. 'No! Bananas don't grow on trees but herbs and therefore are berries.' he explained.
Well Steemians what is your guess? Today we will know more. Let's have a closer look!
Trees or herbs, fruits or berries?
I do not know what you are thinking but my mind was totally blown! In fact bananas don't grow on trees and technically are considered as berries. Right, berries! (Tomorrow I will tell you that strawberries are nuts!)
Let us have a look at the banana plant and understand its structure. In the picture below you will recognize that the banana plant has no real trunk but is made of packed leaves. Actually the whole tree is made up of leaves. Having no wooden tissue doesn't mean the stem is soft, in fact it is sturdy.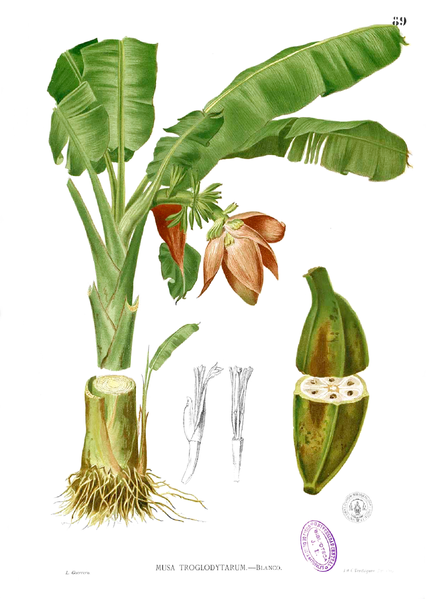 Fig.1 Musa troglodytarum Source
The correct term to use to describe banana plants is perennial herb. The banana family is known as Musaceae and the banana herb called Musa. Having sturdy stems allow the banana plants to grow up to 25 ft! That's pretty high for a herb, as a matter of fact, it's the largest herb on earth. Like I said the banana itself is not a fruit but rather a berry. It contains seeds you can see in the figure below.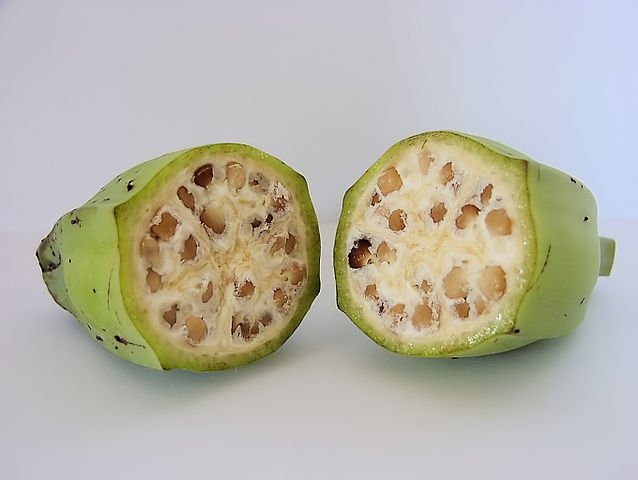 Fig.2 Wild banana berry with seeds Source
Haven't blown your mind yet? Then take a look at the title picture and guess in what direction the bananas grow. You will notice that they grow upwards against the gravity! The phenomenon is known as geotropism, in this case negative geotropism. Roots grow in the direction of gravitation while stems grow against the gravitation.
---
Myth or Fact? #31 – The great Wall of China can be seen from the Moon
Myth or Fact? #30 - Your tongue is mapped into different areas of taste
Myth or Fact? #29 - Chicken or Egg, what came first?
Myth or Fact? #28 - Can jellyfish kill people?
Myth or Fact? #27 - Drinking alcohol makes you warm
Myth or Fact? #26 - Lightning can strike from ground upwards
Myth or Fact? #25 - Bats are blind
Myth or Fact? #24 – Watermelon Seeds will grow inside your Stomach
Myth or Fact? #23 – Tea has Theine and Coffee has Caffeine
Myth or Fact? #22 - You have to wait an hour to swim after eating
Myth or Fact? #21 - Stretching before exercise is dangerous
Myth or Fact? #20 – A Penny dropped off the Empire State Building kills you
Myth or Fact? #19 – Cold weather makes you catch a cold
Myth or Fact? #18 – Hair and nails keep growing after death
Myth or Fact? #17 – Cockroaches can survive a nuclear catastrophe
Myth or Fact? #16 – Skin on heated milk is dangerous
Myth or Fact? #15 - Survive a falling elevator by jumping up as it hits the floor
Myth or Fact? #14 - Mosquitoes prefer people with sweet blood
Myth or Fact? #13 - Does Santa Claus exist? 🎅
Myth or Fact? #12 - Acid and Base saves Life
Myth or Fact? #11 – Glass is a liquid
Myth or Fact? #10 – During summer the Eiffel Tower is taller
Myth or Fact? #9 - Hot water freezes faster than cold water
Myth or Fact? #8 - Oxygen runs out in overfilled rooms
Myth or Fact? #7 – Does a mirror swap left and right?
Myth or Fact? #6 – Radioactive contaminated waste glows green
Myth or Fact? #5 – Does drinking distilled water kill you?
Myth or Fact? #4 - We only use 10% of our Brain
Myth or Fact? #3 - Is it colder during Winter because the Sun is further?
Myth or Fact? #2- The world's most famous equation: E=mc²
Myth or Fact? #1 - The Five Second Rule
---
Thanks for reading this episode of Myth or Fact! If you enjoyed it feel free to resteem and leave a comment! I would love to know what you think about todays episode!
Do you love photography? Then I hope you didn't miss the most recent MyPictureDay photography contest where. You can see it here MyPictureDay Challenge Round #6. You should participate in the contest and win some Steem Power!

Yours,
Tim