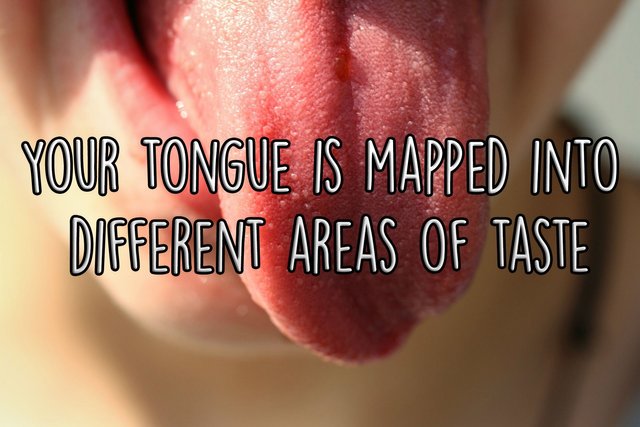 Welcome my dear Steemian friends to a new episode of Myth or Fact! A series in which we will show that some common believes are myths while others turn out to be true.
It is widely known that our tongue has different areas of taste. Traditionally those tastes are sour, salty, sweet and bitter. In addition to these there is also the taste of umami and fat but more on that later. This notion suggests that what you will taste surely depends on where your food gets in touch with your tongue. If you were to put a bonbon on the wrong spot of your tongue you most likely wont taste anything, in theory. But is this saying true? It is scientifically proven that our tongue is mapped into different areas of tastes?
We will find out
The five main tastes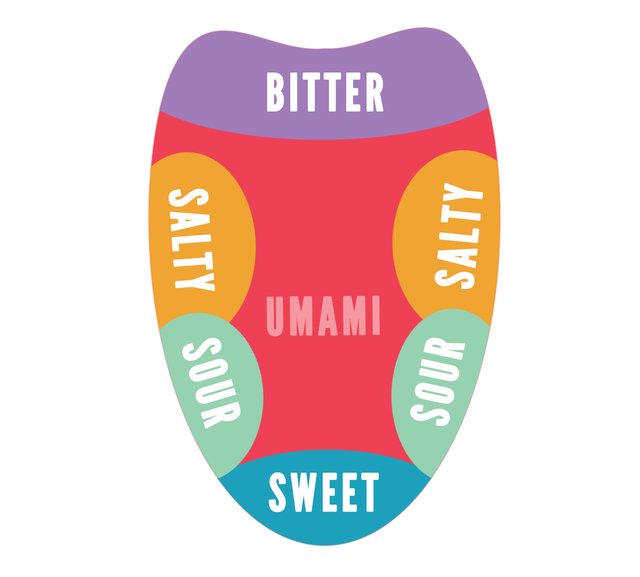 Fig.1 Zones of taste.
Credits
Depending on what we consume we can differentiate between five main tastes:
Salty
Sour
Sweet
Bitter
Umami
The following figure shows the taste areas of our tongue. We instinctively will agree on that and accept it as a fact. However this just another common misconception. Looking at your tongue you will see small bumps on it, called papillae. These papillae contain taste buds. The senses of taste is transmitted by these taste buds which contain about 50 to 100 receptor cells each. Most of these receptor cells that cause the sensation of taste are located on the tongue.
We have papillae that cover the whole tongue and each taste bud can perceive all five tastes! However, the threshold to perceive the individual taste varies within our tongue. A threshold has to be exceeded in order for a taste to be perceived. Each flavor has its specific taste receptor within the taste buds and each type of taste receptor is activated differently. We will now have a look at the specific taste receptors and how they are activated.

If you want to know more about how the taste buds work I suggest you to read my article Life Explorers - The Human Senses Part IV: Taste.
We have two different kinds of receptors here: Ion receptors and G-protein coupled receptors. Salty and sour taste work with ion receptors whereas sweet, umami and bitter taste work with G-protein receptors (GPRCs)
Salty and Sour
Table salt (NaCl), ammonium chloride (NH4CL), magnesium chloride (MgCl2) and sodium fluoride (NaF) for instance are responsible for the sensation of a salty taste. To understand how the signal transmission works I recommend to read my last Life Explorers article about the sense of touch. The sodium cations cause the cell membrane to depolarize. This leads to release of Ca2+ Ions which in turn releases neurotransmitters. By doing so the neurotransmitters are redirecting the action potential trough the nerve paths to the brain.
The higher the concentration of salt is the more intense the actual taste.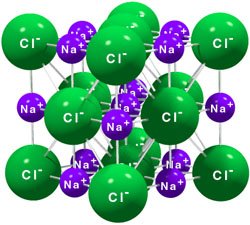 Fig.7 Grid structure of salt.
Credits
The same happens when we taste sour. Sour is caused by protons. These protons block the ion channel which in turn depolarizes the membrane and releases Ca2+ cations.
Sweet, Bitter and Umami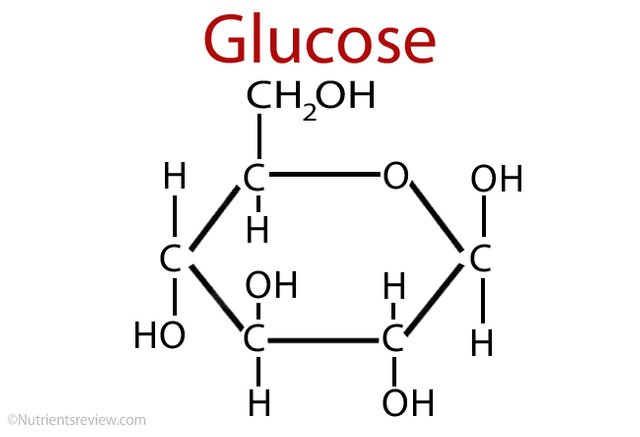 Fig.8 Chemical formula of Glucose.
Credits
Glucose, sucrose, sweeteners etc. bind on specific receptors which in turn activates GPRCs. These lead again to a depolarization of the cell and releasing Ca2+ cations. The release of Ca2+ cations is the reason that the nervous signal is transmitted by neurotransmitters.
The same process is happening for bitter and umami tasts. Umami is a taste of glutamate, aspartate etc. binding to the certain recptors. Bitter is the result of bitter-tasting compounds binding to GRPCs.

Fig.9 Chemical formula of bitter compounds.
Credits
Where does the myth come from?
In the year 1901 the German scientist David P Hänig published his research on how sensitiv to certain tastes the different areas on the tongue are. He measured the threshold of the certain receptors and then presented his work to other scientists. His results were that certain areas are more sensitive to specific tastes than others. It never said that certain areas
only
register specific tastes. The problem was the way he presented his results, it led to confusion.
Make a simple test! Take some salt and put it at the end of your tongue. You will certainly taste the salt, in fact you will taste the salt on every part of your tongue. However at the sides of your tongue the sensation will be most intense.
---
Myth or Fact? #29 - Chicken or Egg, what came first?
Myth or Fact? #28 - Can jellyfish kill people?
Myth or Fact? #27 - Drinking alcohol makes you warm
Myth or Fact? #26 - Lightning can strike from ground upwards
Myth or Fact? #25 - Bats are blind
Myth or Fact? #24 – Watermelon Seeds will grow inside your Stomach
Myth or Fact? #23 – Tea has Theine and Coffee has Caffeine
Myth or Fact? #22 - You have to wait an hour to swim after eating
Myth or Fact? #21 - Stretching before exercise is dangerous
Myth or Fact? #20 – A Penny dropped off the Empire State Building kills you
Myth or Fact? #19 – Cold weather makes you catch a cold
Myth or Fact? #18 – Hair and nails keep growing after death
Myth or Fact? #17 – Cockroaches can survive a nuclear catastrophe
Myth or Fact? #16 – Skin on heated milk is dangerous
Myth or Fact? #15 - Survive a falling elevator by jumping up as it hits the floor
Myth or Fact? #14 - Mosquitoes prefer people with sweet blood
Myth or Fact? #13 - Does Santa Claus exist? 🎅
Myth or Fact? #12 - Acid and Base saves Life
Myth or Fact? #11 – Glass is a liquid
Myth or Fact? #10 – During summer the Eiffel Tower is taller
Myth or Fact? #9 - Hot water freezes faster than cold water
Myth or Fact? #8 - Oxygen runs out in overfilled rooms
Myth or Fact? #7 – Does a mirror swap left and right?
Myth or Fact? #6 – Radioactive contaminated waste glows green
Myth or Fact? #5 – Does drinking distilled water kill you?
Myth or Fact? #4 - We only use 10% of our Brain
Myth or Fact? #3 - Is it colder during Winter because the Sun is further?
Myth or Fact? #2- The world's most famous equation: E=mc²
Myth or Fact? #1 - The Five Second Rule
---
Thanks for reading this episode of Myth or Fact! If you enjoyed it feel free to resteem and leave a comment! I would love to know what you think about todays episode!
Do you love photography? Then I hope you didn't miss my recent TimTravels Episode where I went to Paris. You can see it here TimTravels - La Ville Lumière: Paris

Yours,
Tim