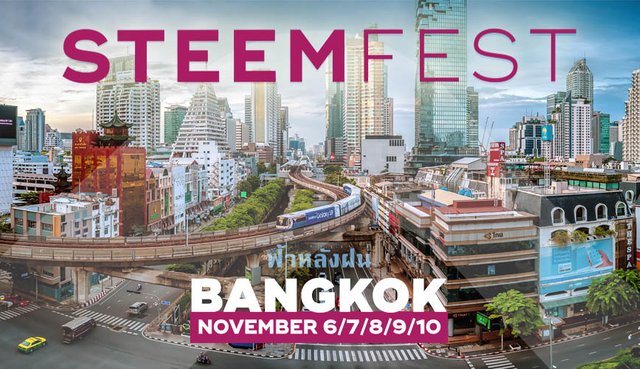 If you have no idea what Steem Fest is about, you can read about the date, location and some other details in @roelandp's annoucement post here!
The Steem Fest noise and hype is getting real as more and more people write about who they want to meet and why!!
Last year, I came up with an idea so some of the attendees would write about their #roadtosteemfest to break the ice - it's only normal if hundreds of strangers are meeting for the first time - and to get to know each other before meeting in Krakow, Poland for Steem Fest 3.
Now, for this upcoming event in Thailand, those who have Steem Fest on their minds began writing about it, so if you want to get to know them better so when the time of meeting in person comes you are not completely strangers, then this post isfor you!
There will be a nice surprise in Bangkok for those who join these little post topics, and some Blocktrades votes here and there to help you guys cover your trip expenses for this upcoming November. Please read the original announcement here if you want to make a post about it.
Now, for those interested in reading first hand about the Steemians who have SF on their mind, here are some of the posts written them, don't forget to follow them and perhaps comment on their posts! Who knows, perhaps you'll end up meeting them in Bangkok this year :)
| Steemian | Picture | Memory |
| --- | --- | --- |
| @slobberchops | | 'I might be going', 'Maybe, I will know closer to the time', 'Yes possibly'…, well I can't say I would like you meet you if you're going to just give me maybes? |
| @soyrosa | | Some of them I have met already, and it will probably be something like a big sweaty hug once I see them again. |
| @fieryfootprints | | I am most interested in meeting a few people. Most of them are not sure about going to SF4. This will likely be a boring post because due to... |
| @fingersik | | I'm not looking to meet any really. I want to meet everyone that holds any intellectually interesting potential |
| @osavi | | I know who I want to meet, but this people don't know me. It was a little bit sad and weird. Hello, some random write about you, so you can scroll down your wall |
| @bugavi | | I found new five people I would like to meet. In any case, it seems to me that I'm not familiar with them |
| @celestal | | But also, there's probably going to be a lot of new people I'm going to meet that I don't even know as of yet |
| @fermionico | | Una muy buena pregunta porque la virtualidad separa al humano en la distancia y lo acerca en sentimientos |
| @danielvehe | | So I'd love to talk relaxed with a few beers with the following steemians to support the incredible projects they are carrying out |
| @olga.maslievich | | I chose 6 people with whom I dream of meeting on SF4, but of course they are much more !!! |
| @mariannewest | | Let me start with the most recent meetups (and this will not be an inclusive list since I am terrible with remembering spellings of usernames!) |
| @misslasvegas | | Well, there were a few people who I met last year, who I like to see again, but there are also people who I've seen twice, but just never had the chance to talk to |
| @jayna | | I will start with people I haven't met yet, but there are tons I have met and look forward to seeing again. I'll add a list of those friends too. |
| @anouk.nox | | So let's make a list of those that I really want to meet finally when I'm at Steemfest |
| @enmy | | Going to Steem Fest is the perfect opportunity to share through videos #threespeak everything that happens in this great event |
Thank you everyone who made a post about this. Any vote or resteem is appreciated, since all the liquid rewards from this post will go to fund one lucky Steemian's Steem Fest 4 entry ticket.
There is already one contest to win a Steem Fest ticket and it's sponsored by Blocktrades and Actifit, you can check it out here!!
There is also some Steem Monsters tournaments going next Saturday to win a Steem Fest ticket, be on the lookout for the announcement in a few days!