[save the date] SteemFest⁴ Bangkok, Thailand - 6/7/8/9/10 November 2019 - ⛅ ฟ้าหลังฝน - Let's go!
This year, SteemFest heads to the "Venice of Asia", Krung Thep Maha Nakhon, city of the angels, or as known to most of you, Bangkok - Thailand!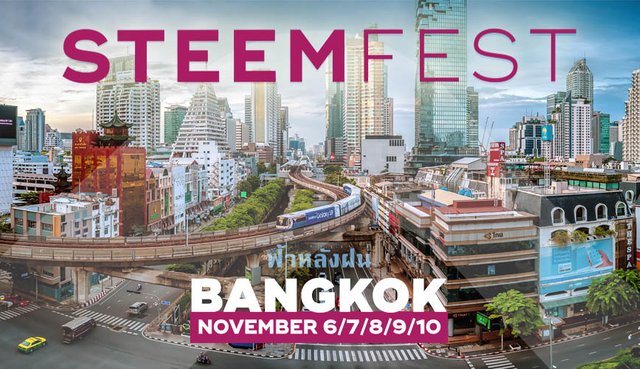 This megapolis is home to about 9 million people build around the swirling Chao Phraya river. A true city jungle with daily challenges to experience: heat (albeit agreable in early November), gridlock of traffic, harmonious chaos and generic sensory overload!
Come for SteemFest, stay for the Thai experience
SteemFest is the annual gathering for Steem users and its ecosystem. It is a reunion meets conference meets citytrip - aiming to meet new people, foster relationships and learn from each other.
Next to the two conference days held in several parts of Bangkok, SteemFest will be larded once again with various social events and tourist trips. Going to and from the event venues are little adventures in itself, as I found when taking on Bangkok during last March' soaring temperatures.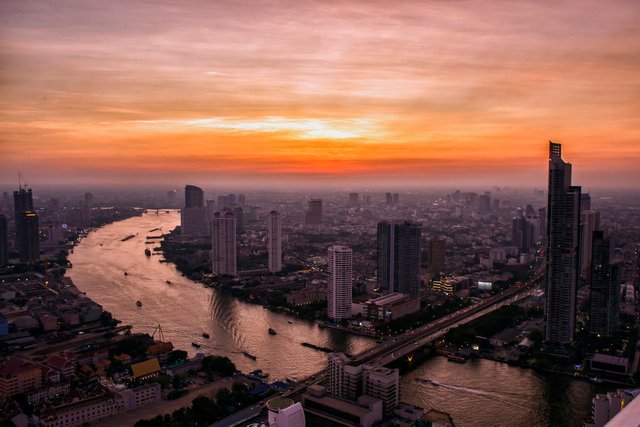 Bangkok Chao Praya river - by massimo_riserbo on Flickr
Explore beautiful sights, temples, (floating) markets, Thai massages, sky bars, enjoy epic streetfood, kindest people and new worlds every other Soi (sidestreet) you walk in to. And after 5 days in Bangkok? The Thai islands lure. Don't head back to the airport just yet. Shall we turn Koh Chang into Steem Island?
After 3 years in Europe, SteemFest heads to Asia
People from over 60 different countries attended past 3 SteemFest events and every year saw about 15% of the attendees coming from various countries in Asia. It is therefore time to make the leap and settle for this edition in Bangkok in the heart of Asia, with a great Steem community. Great weather, in early November not yet too hot, at the start of the tourist season.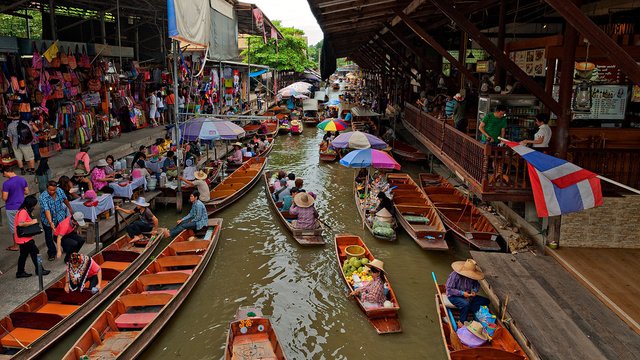 Floating Market Bangkok - by BB Wijdieks on Flickr
Overall a beautiful and foreigner welcoming country, wonderful people (Land of the Smiles), easy going attitude: some of Thailand's features. This year's destination was also chosen because:
Tourist friendly visa policy: as a country living of tourism it has a very easy visa policy. Do your own research for your origin prior to booking tho!
Very well connected international airport. With over 160 direct flight connections, including 10 cities in Europe or so.
Favourable economy (albeit Bangkok being somewhat more expensive). You can slash the SteemFest hotel price from last year by 50%-75% and once the full budget is completed I hope the ticketprice can also once again be lower compared to last year. This also depends on to be defined sponsorships though.
SteemFest⁴ "theme": ⛅ ฟ้าหลังฝน
Above is a thai saying, literally translated into "SKY AFTER RAIN". Which is so true and reflecting: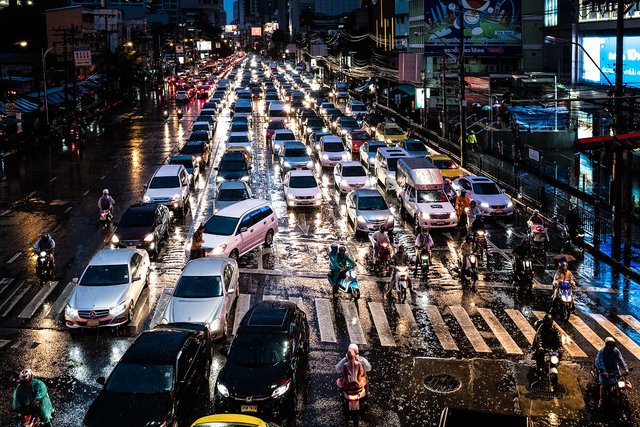 Rain in Bangkok - by Torbus on Flickr
After past year(s) cryptowinter, hope glories on the horizon. Recent spikes see renewed interest from old and new parties in the blockchain ecosystem offering opportunities for Steem. After (imho) some depressing months last year, the Steem chain has seen countless community efforts launching, not only keeping the soul alive but also firing up the spirit. Let's reach out for the sky in Bangkok!
SteemFest⁴ current status:
Prior to my Bangkok visits in February & March I've done a lot of desk research and during the 30 day Thailand trip had a lot of meetings with suppliers, hotels and potential event venues. As Asia is a change of continent I did not want to wait any longer with announcing. With about 6 months to go, for anyone around the world there is plenty of time to plan, save up and work towards another epic edition. Seeing that the [Save the date] 2018 post last year was only out in July, this year you have another 2 months extra to plan!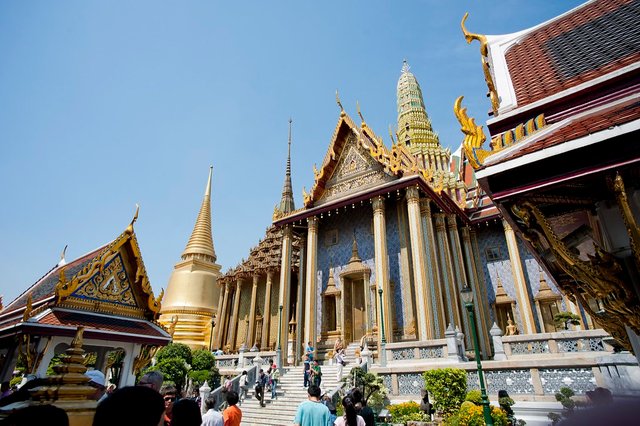 The Grand Palace - by cokedragon on Flickr
Be smart, plan early!
Some great websites to checkout: Skyscanner.net and Flyhacks.com. Of course if you come long haul, you will need to cough up, but by being a smartpants you can turn the odds in your favour: I found a "flyhacks" price for example for 504 USD (446 EUR) from NYC / BKK return flight for the SteemFest⁴ dates. Some other prices: Los Angeles (446 USD), London (406 USD / 360 EUR), Moscow (375 USD), Jakarta (130 USD), Seoul (188 USD), Tokyo (268 USD), New Delhi (261 USD), Also recommendable is
HackTheFlight.net
which lists all found bargain prices from around the net. - How about a 245 EUR flight from Frankfurt to BKK?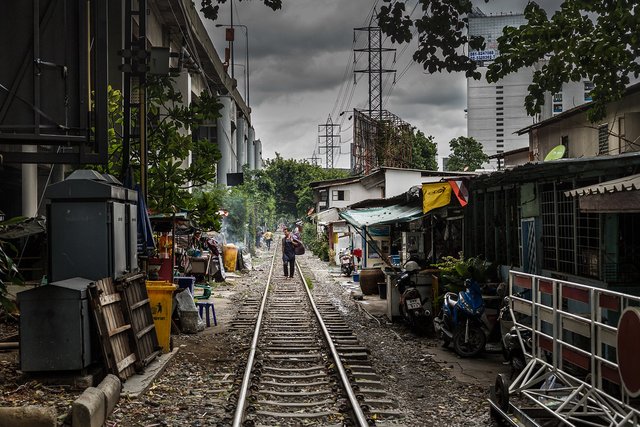 Bangkok: On the Railway - by Torbus on Flickr
Of course this year will see another iteration of the SteemFest Travel Reimbursement Fund, as always donations are open to the @t-r-f account, which will be distributed based on miles travelled and attendees can register for a piece of the pie during SteemFest in Bangkok. By the way, should you need any tips & tricks in finding great flights or deals, please ping me. I am a part time travel planner and I find it a challenge to find good prices.
The SteemFest⁴ Hotel
Book your place asap (optionally with free cancellation)
You need a place to stay & sleep (some). Bangkok is big. Let's get a hotel together. For this year SteemFest teamed up with
Prince Palace Hotel Bangkok
.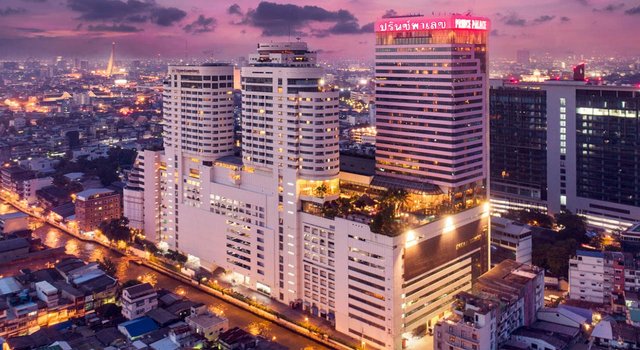 Prince Palace Hotel - Bangkok
This is the place for festival checkin, opening drinks and for some unplanned steem pool parties! This hotel was chosen for economic viability, but also conveniently located on the Khlong San Saep canal which has fast typical thai 0.25 EUR/ride ferries to Silom (5 minutes) where the BTS Skytrain gives access to travel Bangkok by superfast public transport vs. the gridlocked roads. This enables you to see a lot of the city and also have events scattered around, but not leave you sitting in cabs all day long. Because of Bangkok's traffic challenge, the past editions "frequent" SteemFest rented shuttle rides will not be an option so much this year.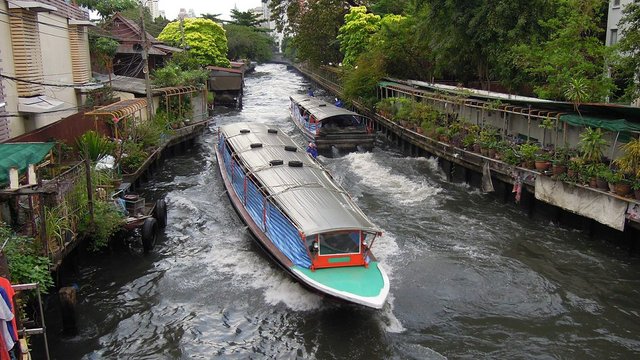 Khlong Saen Saep Express Boats, Bangkok, Thailand - by dgmckelvey on Flickr
Prince Palace Hotel Bangkok is a 3-star hotel with 4/5 star-rating and affordable prices. Room rates start at €45 for a single room, double occupancy, but can go as low as €17/person if you hack the hotel and book a 3 bedroom family room, occupying with 6. Featuring: Two outdoor pools, poolbar, spa/fitness, 6 bars & restaurants, 800+ rooms in various layouts.
Although the hotel has 800 rooms, seeing that November is the start of tourist season in Thailand, I recommend you to book early via Agoda. (The hotel itself recommended me Agoda, as it has more affordable pricing compared to their own booking system or what they can offer). Agoda also has room offers with free cancellation up to 1 week prior to the event. Needless to say, I've already booked my rooms. (Staying with the whole family this year).
The SteemFest Ticketshop...
... opens latest in July once the budget is more or less set in stone. That said, SteemFest is very open to sponsorships! Engage your product & brand among the most fresh, cutting edge epic early adopters in cryptoland and help them make SteemFest4 unforgettable and affordable! Contact
[email protected]
for sponsorship opportunities.
That's it for now! Start planning! Join the SteemFest Telegram and subscribe to the newsletter if you have not yet done so.
Sawadee krap!
@roelandp
---
6/7/8/9/10 November 2019 - Bangkok, Thailand
[Click here for .ics file to add SF4 to your calendar]
---
Liquid rewards from this post will go to organising @steemfest

if you like what I am doing here, consider voting for me as a witness