I know the way to Freedom
Is through the Golden Spiral
I saw in a Vision
Beings full of Stars
Traveling down the Golden Spiral
There are Stars inside our bodies
and outside in the Sky
There is no in or out
from what I saw
I sat on the cusp
of the Golden Spiral
and watched them go
wishing I could fly with them
But It's not my time
I thought to myself
so I will stay here
for a little longer
and help my family
---
Birth of a Sound Poem
This collaborative Sound Poem started 29 days ago with a comment on one of my posts by @reddust - I thought her comment was very poetic, so I asked her to paint her vision, and send me an audio file of her reading the poem.
It turns out these words were describing an unforgettable vision she had while on a spiritual retreat, and that she always had it in the back of her mind to paint this experience.
So she got to work on this very personal and beautiful painting, and kept us posted on her progress :

The Golden Spiral ~ Work In Progress part 1
The Golden Spiral ~ Work In Progress part 2
The Golden Spiral ~ FINISHED!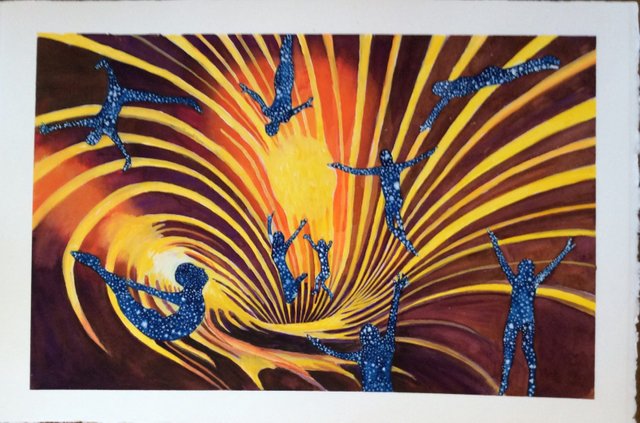 But Wait - There's More ............
As I was starting to cook up ideas for the soundtrack, and waiting for
@reddust
to send me the recording of her voice, I happened upon a cool music post by
@vachemorte
:
Sonata for Mandolin and delay pedal
and I knew right away that piece of mandolin music was the perfect vibe for The Golden Spiral Sound Poem, and @vachemorte happily agreed to let me use it .
So now here it is ! - a brand new Steemit collaboration by @reddust - @vachemorte - and @greatdabu
We hope you like it :)