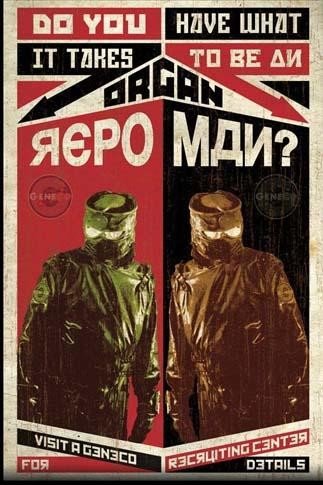 The final chapter before my closing argument against DynCorp is the most grisly and difficult to prove, but has been repeated time and time again as real by noted researchers such as George Webb. My greatest criticism of Webb so far has been the lack of links and source material to support such claims, so I decided to do some digging myself on the subject. In fact, altogether there is very little documentation given that implicates DynCorp with organ trafficking, but this article will attempt to rectify this.
Respected fellow Steemit researcher, @v4vapid, has published some supporting documentation to Webb's claims as well, and in particular with the KLA's involvement in organ trafficking, but I will attempt to go even further to establish a complete chapter in this case on DynCorp's specific activities. By demonstrating a clear, documented connection between DynCorp and international organ harvesting I hope to show the reader the sheer scale, depth, complexity and severity of the crimes in which DynCorp is involved.
The entity DynCorp already pillages, rapes and murders as it pleases, and yet the facts suggest they may take this even further insofar as to include the recycled use of victims' fluids, tissues and organs for continuing, massive profits.
This is part of an on-going series to catalogue and report major criminal and unethical activities of DynCorp. A complete collection of known findings can be found on the Pizzagate Wiki's DynCorp page.
The hope is to provide the reader with historically factual, and well documented cases so that they may better understand why DynCorp has been a major subject of Pizzagate research and should be further investigated by federal law enforcement.
2000s Kosovo - DynCorp's prototype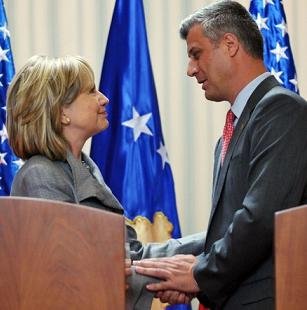 Hillary Clinton and Hashim Thaci
George Webb and I would independently come to similar conclusions in our research, and most notable among these is that Kosovo represented a major turning point for DynCorp operations. Once known collectively as Yugoslavia, the states of Kosovo, Bosnia and Serbia would be the proving grounds for some of DynCorp's most horriffic, yet financially successful ventures in defense contracting and it would paradoxically expand their sphere of influence to unprecedented heights.
We all know about the sex trafficking incidents which took place in 90s Bosnia and Kosovo, as it was discussed in Part III. It would not end there, however, and in addition to drugs and weapons it seems DynCorp may also have been involved in the rampant organ trafficking market of Kosovo which continued to the 21st Century.
Some others might recognize this as when v4vapid reports the KLA trafficked organs as well in Kosovo. The KLA, or the Kosovo Liberation Army, fought on behalf of the Prime Minister of Kosovo and Albanian Mafia leader Hashim Thaci during the 1990s. The KLA under Thaci would be found by the United Nations to be involved in the theft of kidneys and other organs from Serbian civilians and resistance groups during this time.(1)
Some Serbians and some Albanian Kosovars were held prisoner in secret places of detention under KLA control in northern Albania and were subjected to inhuman and degrading treatment, before ultimately disappearing.
Source: neurope
A "handful" of the healthiest prisoners were presumably transferred to a farmhouse near Fushë-Krujë, not far the Albanian capital of Tirana, where they were killed for their kidneys.
Source: The Guardian
Tying all this to DynCorp is a rarely glimpsed 124-page investigation published by New York Times reporter, David Binder. Binder would state in his summary:
The study sharply criticizes the United States for "abetting the escape of criminals" in Kosovo as well as "preventing European investigators from working."
This has made Americans "vulnerable to blackmail."
It notes "secret CIA detention centers" at Camp Bondsteel and assails American military training for Kosovo (Albanian) police by Dyncorp, authorized by the Pentagon.
Source: David Binder
This not only corroborates DynCorp being in Kosovo during the time period, but this also clearly demonstrates DynCorp's involvements with training and arming the state forces of Kosovo (ie. Hashim Thaci and the KLA) and all while under Pentagon direction.
Given that DynCorp's primary industry at this time was aircraft maintenance and logistics, and nobody really knows how Kosovo "shipped" these organs to Turkey and Nigeria, it stands to reason that DynCorp could have likely facilitated such exchanges and possibly more.
It might be worth mentioning here that substantial ties between Hillary Clinton and Hashim Thaci can be found as well. Hillary Clinton would cover for and defend both Hashim Thaci and DynCorp's criminal activities repeatedly.
Nigeria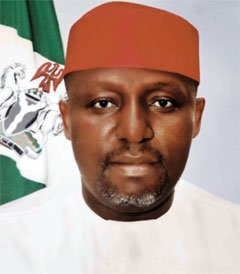 Rochas Okorocha
Hashim Thaci's organ trafficking ring would include another country and powerful leader in Nigeria. Rochas Okorocha, a billionaire doctor and elected leader of Imo State, Nigeria would testify against Hashim Thaci and implicate them both in an international organ trade.(2)
In 2005, and interestingly enough during the Thaci regime, DynCorp International would be awarded a lucrative contract to "build and operate West Africa's Most Advanced Private Airport" in, of all places the same region of Nigeria as Rochas Okorocha.(3) This project would ultimately become the world-renowned Akwa Ibom International Airport.
Sometime in 2011, however, things began to change out of DynCorp's favor. For one reason or another the contract was re-awarded to another contractor and DynCorp's airport was literally seized by the Nigerian government.(4)
Things would continue to escalate as the Akwa Ibom State proceeded to sue DynCorp over the project in 2012. It would turn out the Nigerian government would claim DynCorp actually abandoned the project after collecting the funds,(5) an overall very similar pattern to what was described in Part VIII.
One is left to speculate as to why the double-cross occurred and what possibly led to Okorocha incriminating himself in the organ trade.
Haiti
In another article by @v4vapid several major connections can be found between major hospitals in Haiti and the organ trade. This is pretty much essential material on the subject, but I will attempt to paraphrase some of the major points.
One of George Webb's major claims is that a Cholera outbreak was used to funnel patients to DynCorp-run hospitals like L'Hopital La Coeur Sacré (The Sacred Heart Hospital) in Haiti where organs were then stolen.
@v4vapid was able to find that Sacred Heart Hospital was supported by CRUDEM (Center for Rural Development of Milot), who was in turn supported by USAID, CDC, U.S. State Department and curiously enough the Order of Malta. CRUDEM and the Sacred Heart Hospital would provide support for thousands during the 2010 Haitian Earthquake, including Cholera patients: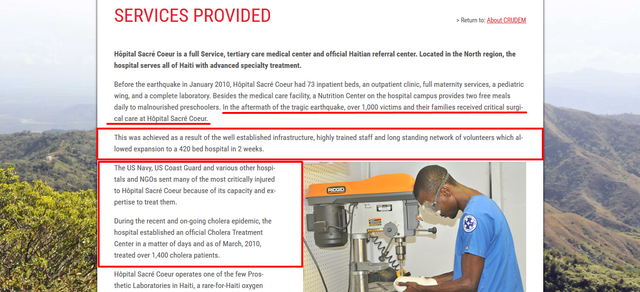 CRUDEM
This is a painful and uncomfortable pill to swallow for the UN since we know that UN troops, supplied/trained by DynCorp, introduced Cholera to Haiti that infecetd over half a milion and caused thousands of preventable deaths.
Before the quake there had never been a recorded case of Cholera in Haiti.
Government contracts in Haiti are granted by the State Department and through USAID.
DynCorp has billions of dollars in US government contracts much of them issued by the State Department and/or USAID.
This is strongly suggestive that DynCorp played a significant role in the proliferation of Cholera and subsequent Cholera vaccinations in order to obtain substantial profits and possibly lure victims to DynCorp-run hospitals as well.
The only question that remains then is were DynCorp-run hospitals involved in actual organ harvesting and trafficking? Well...
The Haitian Prime Minister Jean-Max Bellerive would announce that organs were indeed being trafficked from Haiti(6) through seemingly legitimate organizations. Bellerive would go on to elaborate:
Many groups appear to be legitimate, "but a lot of organizations -- they come and they say there were children on the streets. They're going to bring them to the [United] States," he said.
He said 70 to 80 percent of the aid coming to the country right now does not go through the Haitian government.
Bellerive said about 90 percent of American aid, for example, goes through non-governmental organizations.
Source: Jean-Max Bellerive quoted on CNN
Considering the overwhelming historic presence of DynCorp in Haiti, it is easy to see how they could have facilitated organ trafficking just as they had done before in Kosovo and Nigeria.