Thai Basil Curry & Coconut Rice - FOOD PHOTO SHOOT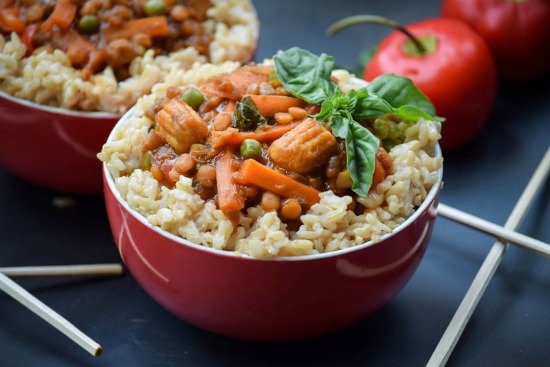 Who knew basil was so good in thai food? Why have I never tried this!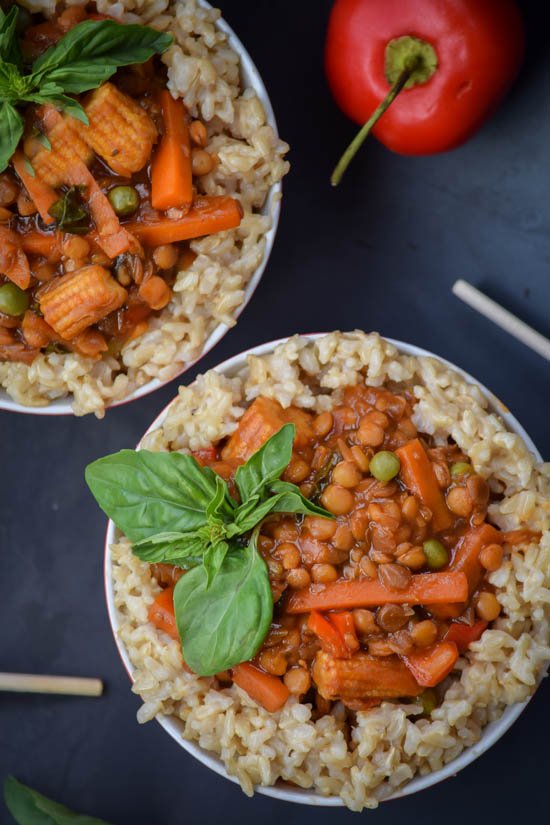 I had all of this beautiful fresh basil that I wanted to use while it's still in season. That's what inspired this recipe. Oh, and a quick note on the ingredients: the hot red pepper I used was this kind that we happened to get at our produce stand this week and, I think , was called a rocoto pepper.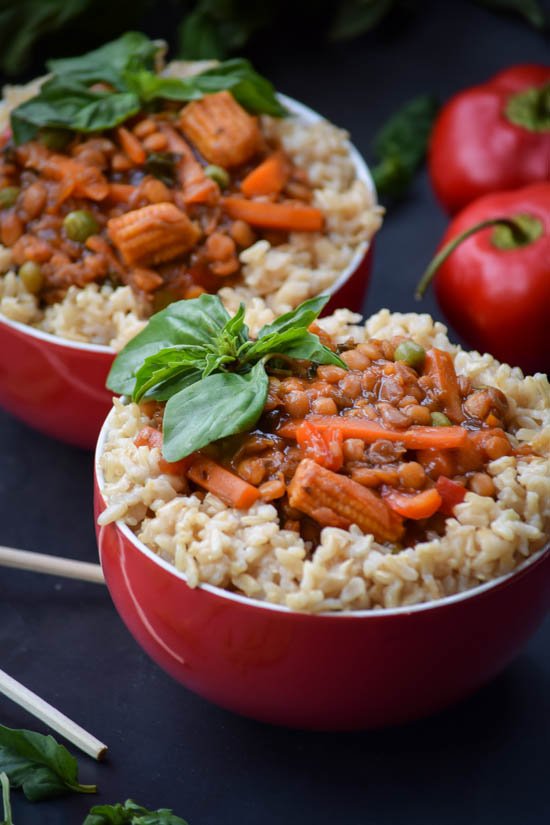 At least that's the closest thing I could find when I searched the internet for the name of a red pepper with black seeds (they were really hot). You can use any kind of spicy pepper, sauce, or dried spice. It's just to add your desired level of kick.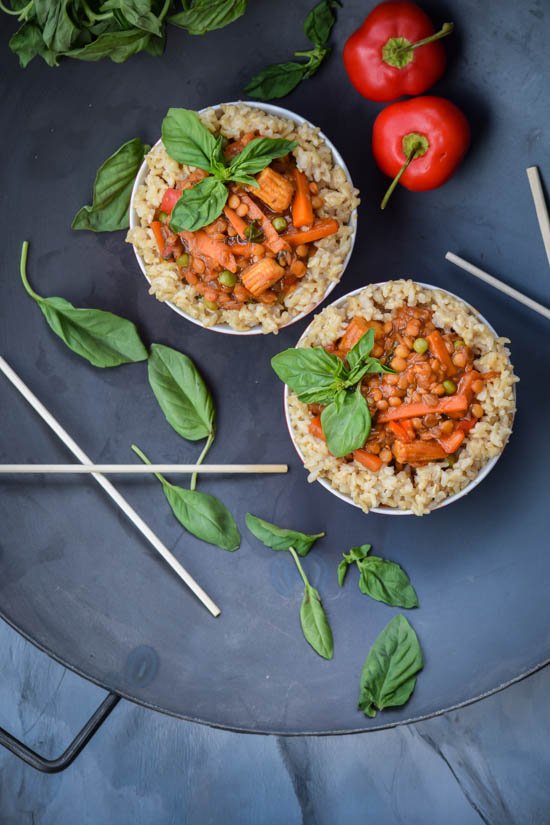 Hope you enjoy this little weekend quickie. ;)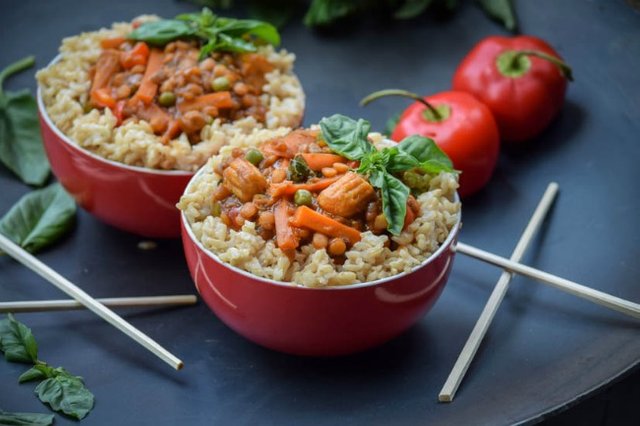 Thai Basil Lentils & Toasted Sesame Coconut Brown Rice
Prep Time: 20 minutes
Cook Time: 40 minutes
Total Time: 1 hour
Yield: 6 - 8 servings
Ingredients
Toasted Sesame Brown Rice:
1 cup full fat coconut milk
5 cups water (plus more if needed)
2 1/2 cups uncooked brown rice
1 teaspoon salt (or to taste)
1 1/2 tablespoons toasted sesame oil
2 tablespoons toasted sesame seeds
Thai Basil Lentils:
1 small onion, chopped
2 large carrots, cut into matchsticks
3 cloves garlic, minced
1 red bell pepper, cut into small pieces
1/2 of 1 small hot red pepper, chopped (you sub dried spice like cayenne to taste)
1/2 tablespoon, freshly grated ginger
1 tablespoon toasted sesame oil
1 cup shelled sweet peas
1 can baby corn (or sub with another veggie)
1/2 cup water
1 tablspoon tamarind paste
1/2 cup soy sauce
2 tablespoons rice wine vinegar
1/2 cup tomato sauce
1/4 cup fresh basil leaves, chopped
1/4 cup brown sugar
1 tablespoon cornstarch + 2 tablespoons water
2 cups cooked lentils (I used canned)
Instructions
Toasted Sesame Brown Rice:
Combine coconut milk and water in a medium pot and bring to a soft boil. Add salt and rice, cover with lid, and reduce heat to medium low. Simmer, stirring occasionally, until all liquid is absorbed snd rice is al dente. Add more water if needed. Turn off heat when done and stir in sesame seeds and oil. Cover to keep warm.
Thai Basil Lentils:
While rice is cooking, add carrots, garlic, onion, ginger, peppers, and sesame oil to a wok or large pan and saute over high heat until starting to brown, about 4 minutes. Add 1/2 cup water and continue cooking until liquid is almost completely evaporated. Add all remaining ingredients up until cornstarch and stir to combine.
In a small bowl mix cornstarch with 2 tablespoons water and quickly stir into sauce. Add lentils and reduce heat to low. Cover and simmer for 10 to 15 minutes.
Serve hot over rice.

ALL CONTENT IS MINE AND ORIGINAL! All of these food photos were taken with my Nikon D750 and my favorite Lens, the Nikon AF-S FX NIKKOR 50mm f/1.8G. You can find out more in my INTRO POST.
Also, a huge shoutout to @rigaronib for designing my logo!
If you're looking for more recipes check out some of my other recent posts!
Also, I've been starting to vlog in case you missed it.