Fast and Simple "Egg" Rolls - FOOD PHOTO SHOOT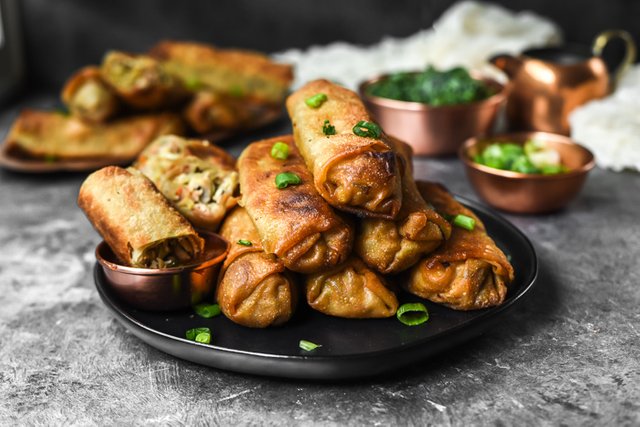 What do you do when the craving for egg rolls hits? And what if, on top of that, you're just not in the mood to leave the house?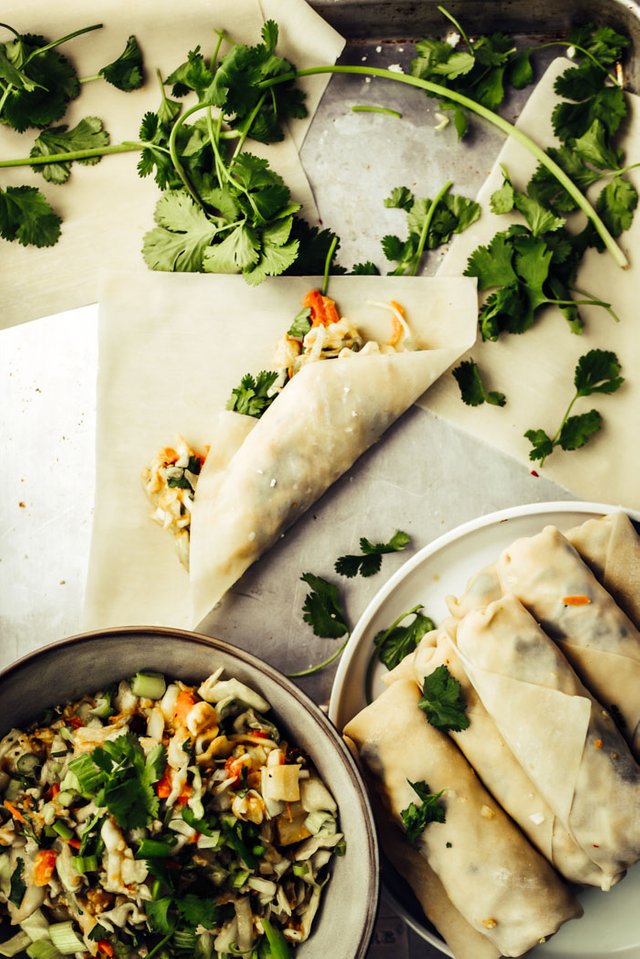 Just make them yourself! Besides, they're way better that way in the first place. I think there are some foods that people assume have some secret complicated process. They're definitely one of those, but they can honestly be so simple.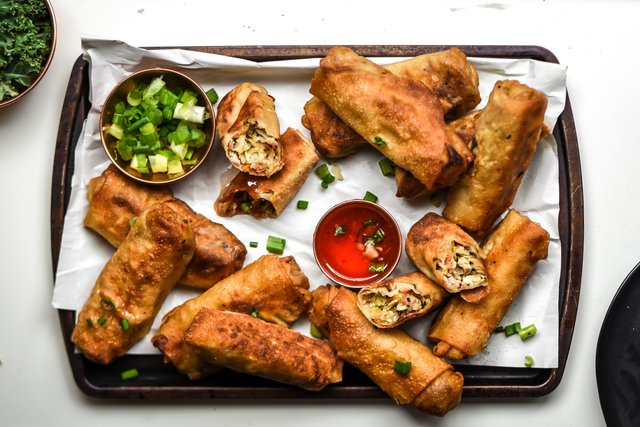 In the past I've even made them by rolling out the wrappers by hand. That was back when I was living internationally and I couldn't find anywhere to buy wrappers. I'll admit, that doing them from scratch is a bit time consuming when you have perfectionist tendencies like I do. Even still though, there really isn't any magical secret to them. Basically, they're just like little Asian versions of burritos that get fried.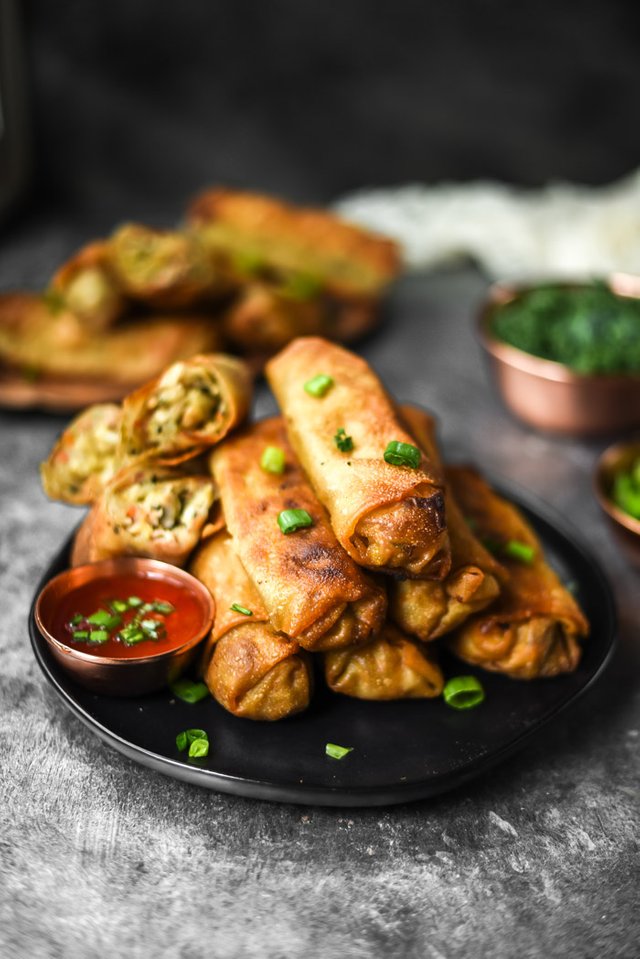 Even if you don't decide to never get egg rolls from your local Chinese place again, it's still a really great recipe to have under your belt I think. Maybe it's just me, but for some reason I really like to try making everything at least once. That usually involves me making a handful, or sometimes a lot, of tweaks to the basic recipe. That's definitely been the case every time I've made egg rolls.
I've tried quite a few flavor variations for egg rolls in the past but I thought it would be nice to keep these rolls minimal. Of course, that doesn't mean you can't very easily change them or add in your own ingredients. Like I'm always saying, there are no rules in cooking that aren't made to be broken.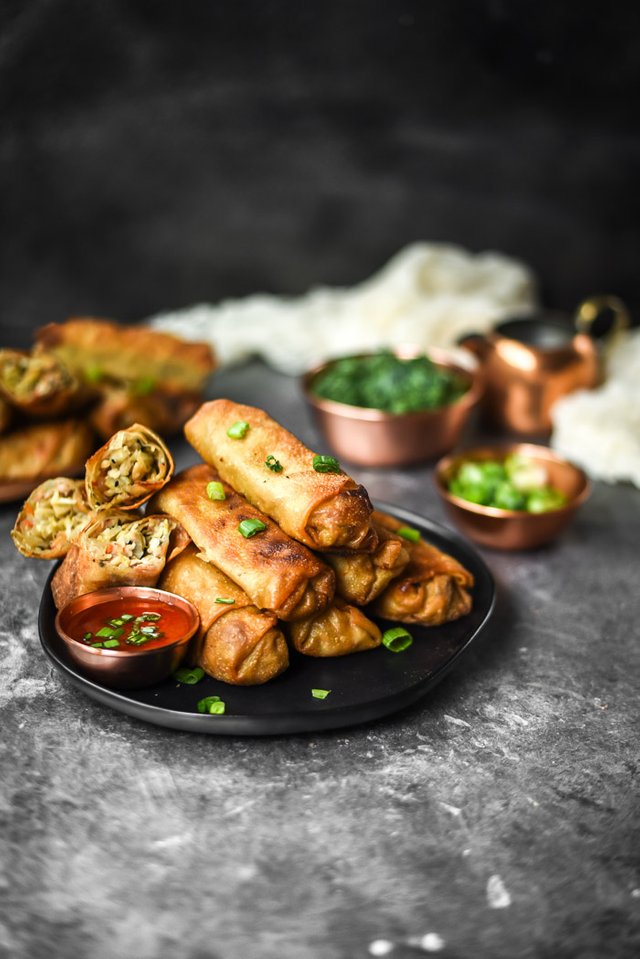 Well, okay you probably shouldn't break every rule out there (please don't put foil in the microwave!) but I think you catch my drift, right? The bottom line is that homemade egg rolls are nothing to be intimidated by and definitely something you should try for yourself.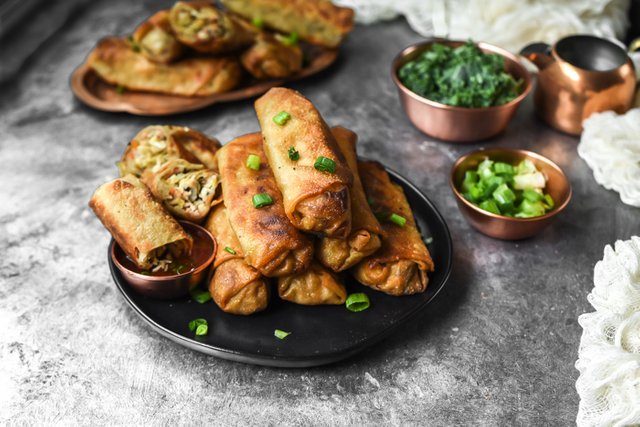 Fast and Simple "Egg" Rolls
Forget ordering takeout, you can make it at home and these egg rolls are just the thing for curing those Chinese food cravings!
Prep Time 25 minutes
Cook Time 25 minutes
Total Time 50 minutes
Servings 18 rolls (about)
Ingredients
1 18-count package of square egg roll or wonton wrappers (check ingredients if vegan)
2 teaspoons grated fresh ginger
2 cloves garlic finely chopped
1 large carrot julienned
2 cups green cabbage shredded
1 small onion diced
1/4 cup cilantro chopped
2 teaspoons toasted sesame oil
1/4 cup soy sauce
1 tablespoon rice wine vinegar
2 teaspoons chili garlic paste
1 quart oil for frying
Optional for serving:
Asian dipping sauces like this sauce
fresh chives
Instructions
Heat oven to 400 degrees F (200C) and line a baking tray with parchment or foil. Combine carrots, cabbage, onion, garlic, ginger, and cilantro in a medium mixing bowl. Add the sesame oil, soy sauce, chili garlic paste, and rice vinegar then stir to combine.
Fill a small bowl with water and use your fingers or a small brush to wet all of the edges of each wrapper. Spoon about 1/4 cup of filling onto 1 corner of wrapper then start rolling towards center. Fold in sides and wrap tightly. Add a little more water to seal the tip if necessary. Repeat until all of the rolls have been filled. (Note: you may not need all of the wrappers depending on how much you put in each roll.)
Heat oil to 350 degrees F (180 C) in a wok or deep fryer and fry the rolls in batches (of about 4) for 3-4 minutes per side or until golden brown. Remove with a slotted spoon to a paper towel lined plate. Place them on prepared baking pan and bake for about 10 minutes, or until golden
Serve hot with your favorite Asian dipping sauces.

ALL CONTENT IS MINE AND ORIGINAL! All of these food photos were taken with my Nikon D750 and my favorite Lens, the Nikon AF-S FX NIKKOR 50mm f/1.8G. You can find out more in my INTRO POST.
Also, a huge shoutout to @rigaronib for designing my logo!
If you're looking for more recipes check out some of my other recent posts!
Also, I've been starting to vlog in case you missed it.