Pimp Your Post #11
---
---
Pimp Your Post
Pimp Your Post is Back for the 9th installment and the plan currently is to make this a weekly opportunity to promote your posts and hopefully find a couple other interesting posts to read. We feel this is a good way to create more exposure for everyone involved! To achieve this everyone needs to not only post their link but also visit other posts. If you just want to earn a few cents go ahead and drop your link, but this is an opportunity to do more.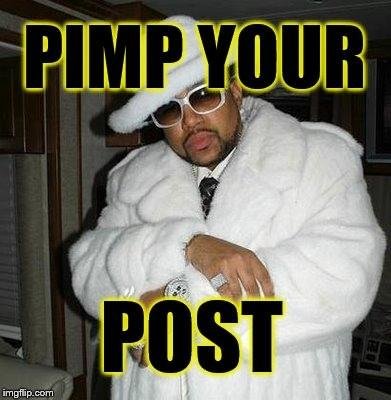 Rules for Pimp Your Post:
This is the easy part and hopefully one that will bring you some added eyeballs to your posts. Remember nobody is forced to vote on your posts so make sure they are quality. Also don't even think of including stolen content.
Leave a comment with the Link to Your Post, but also "Pimp It"...that is sell us one why to visit your post.

Support Others by Visiting their Posts and leave a reply to their comment that you did so.

Post needs to be 3 days old or less when you add your comment
Naturally we love your support and appreciate your votes and resteems!
Tag Someone
Know someone that you think would like more exposure to their posts? Then tag them and invite them to Pimp their Post.

Steem-Bounty
As an added bonus a @steem-bounty of 2 Steem is being set on this weeks Pimp Your Post. @steem-bounty is a great way for @pifc to be able to reward everyone at a higher level without burning up to much Voting Power or taking a ton of time to send out rewards for entries. This payout happens automatically just after post payout to all entries @pifc upvotes.
If you like what @steem-bounty is doing helping engagement on steemit set steem-bounty as a witness. In order to do so you can go to: https://steemit.com/~witnesses and enter the "steem-bounty" account into the text field and click vote. @knircky is the brains behind @steem-bounty and he does a lot to help boost the contest posts allowing for higher rewards.