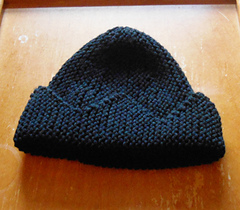 In flat knitting on two needles, there is nothing easier than garter stitch. The late, great Elizabeth Zimmerman designed countless creative shapes using nothing but knit stitches.
The "Jughead" hat above (inspired by the iconic Archie comics character) is made in sections of garter stitch from crown to hem, increasing and decreasing in sine wave fashion to create the pointed cuff. The pattern I used is in the book DomiKnitrix by Jennifer Stafford. Garter stitch makes a thick, warm hat.
I hope you all enjoy your Needlework Monday. I will be off teaching all day, then cleaning house for Thanksgiving. Grandchildren are coming (they must be measured for sweaters!) and college student is coming home for the weekend. Lots of love!