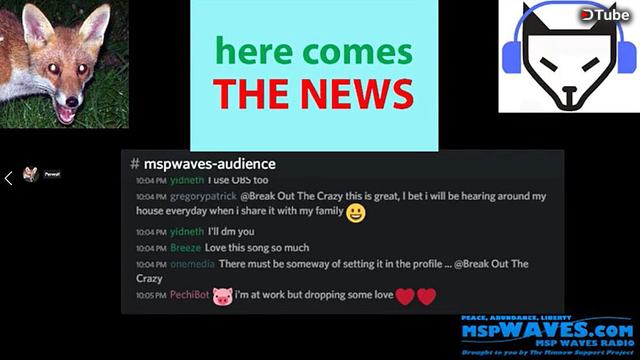 ---
In case you missed the show here is the recording of last Thursday's episode of Here Comes The News.
The show aired on MSP Waves Radio on Thursday 30 August 2018.
This was the first episode of a news news oriented show called Here Comes The News.
The show aims to promote independent and citizen journalism on steem - with different steemian presented news stories from around the world.
The music side was not forgotten with two steem musicians joining the show to present their new work, as well as a number of other new tracks from steem musicans.
The guests on the show were, in order of appearance :
@breakoutthecrazy - Chris came along to tell us about the launch of their new EP 'Pause Rewind'
@yidneth - Priscilla joined the show to talk all about her new trending song and video Līgo
@krnel - Kris presented two news stories about the risks of the Gardasil vaccine and social media regulation
@flauwy - Flauwy from Costa Rica came along to fill us in on the new 1Up development
@gregorypatrick & @johnvibes - Greg Patrick and John Vibes presented a range of their news stories covering trade wars, magic mushrooms, marine animal die-offs and dirty cops
---
---
We also featured a number of other new steem musician songs of the week :
---
---
This recording is also available on YouTube
---
---
The musicians featured in the show have given permission for their songs to be included in this recording.
---
---
The 'Here Comes The News' show airs on MSP Waves Radio on Thursdays from 8pm to 11pm UTC.
If you need to convert UTC time to your local time visit World Time Buddy
You can listen to the show via the PAL Discord server, via mspwaves.com or on Twitch at twitch.tv/mspwaves.
---
▶️ DTube
▶️ IPFS