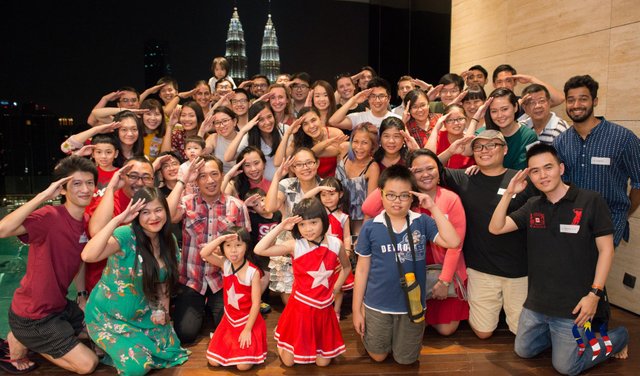 Last Sunday was the Official Team Malaysia CNY Gathering 2018 which was held at Pool Villa, Setia Sky Residence that was organized by @joannewong and myself with the support of our Big Brother, @bitrocker2020 and other committee members such as @littlenewthings, @elizacheng, @karinzdailygrind, @orangila and @zord189.
We had few special guests namely @firepower, @sjennon, @shenoy and @varunpinto who flew all the way from overseas​ to join us for this event, @nickychu who flew all the way from Labuan as well and lastly, @kevinwong, the strong supporter for Team Malaysia makes the scene as well. It's been an honour​ to hosting you all and Team Malaysia members for this CNY Gathering.
Starting Ceremony
Team Malaysia CNY Gathering wouldn't be complete with a starting ceremony by our Big Brother, @bitrocker2020 while the Yee Shang is prepared by @elizacheng, @bitrocker2020 and his lovely wife 😊, while I finished off with pouring some the sauces over it.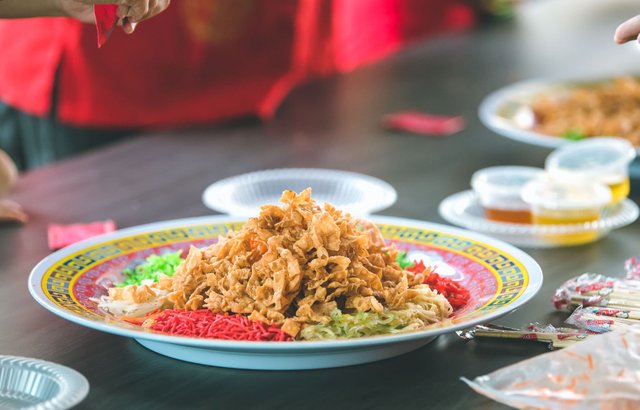 Yee Shang Preparation

Before the throw toss begins, we started off with @bitrocker2020 giving a small speech on how to lou yee shang as there are​ few international guests which this was their first time doing it as well. After the speech, everyone had ready their own chopsticks and get into position! Toss Toss Toss!

Everyone is enjoying their tossing 😂.
Photo by @varunpinto

Team Malaysia Lou Sang Video Clip
Honestly, I thought​ this Lou Sang will be like soft and easy kind of Lou Sang, well turns out it wasn't 😅. The amount of aggressiveness shown on this Team Malaysia Lou Sang is super high and everyone is wishing a lot. Below are some of the outcome​​ of the Yee Shang from the ​different group, guess which is more aggressive​? You be the judge of this 😂.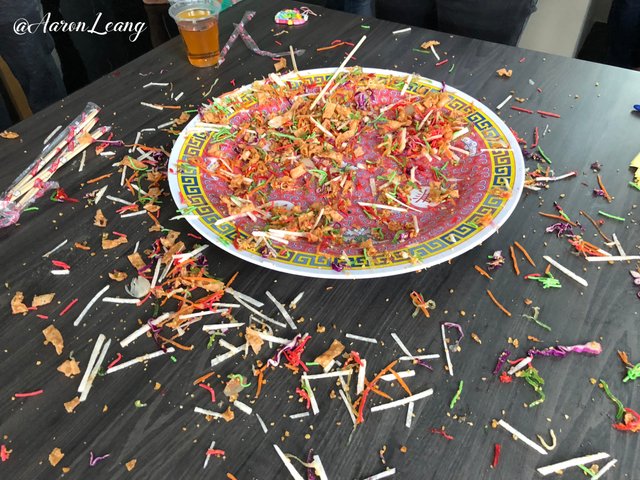 Yee Shang A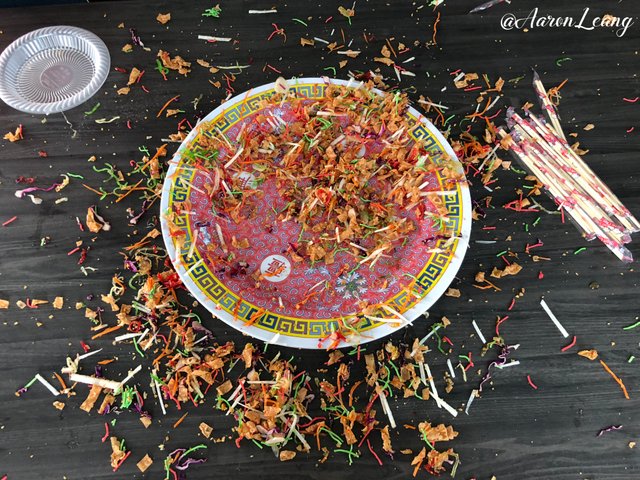 Yee Shang B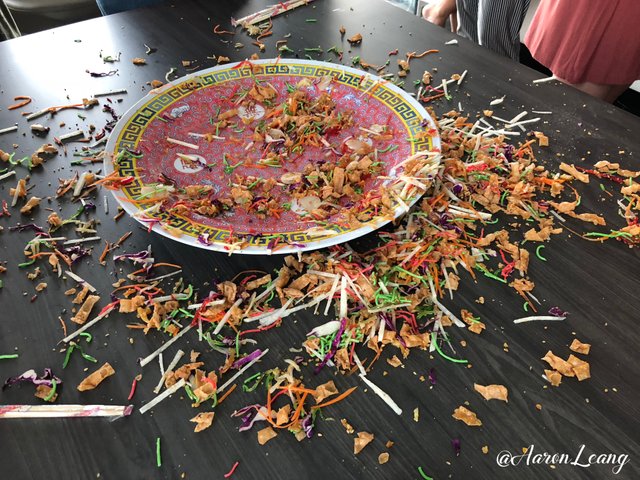 Yee Shang C

After the Lou Sang marks the starting of the event, everyone grabs​ some of the ​yee shang while some proceed to get some food over the other sides. While @bitrocker2020 and I clean up the table so other Steemians can have a seat to eat their food.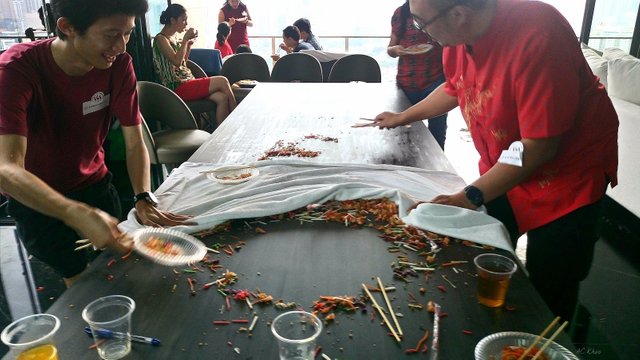 Clean up in progress, photo by @ackhoo
Food and Sunset Combo
It took us quite a while to finalize the menu as the choices given by the caterer is so much 😅, the ​number of registration​ keeps coming in and food that must be suitable for the occasion​ and everyone.
Finally, ​we hand over the menu 2 days before the event begins and voila~ here comes our food for the gathering. I hope everyone is satisfied with the food we prepared for this gathering, any feedback can let me know about it 😊
All food photos below are taken by @varunpinto which is super nice, and I got hungry again while drafting this post 😂.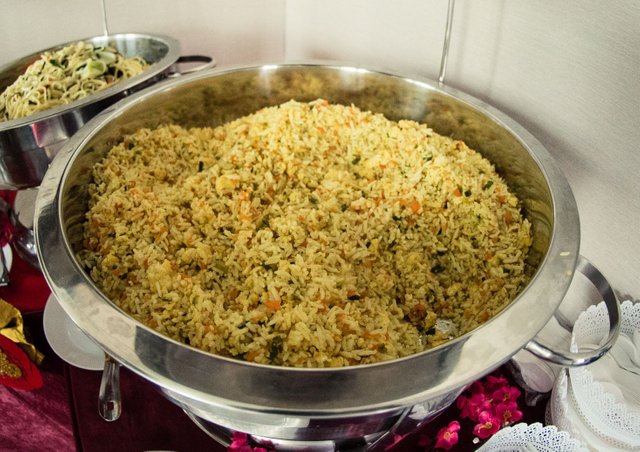 Golden Fried Rice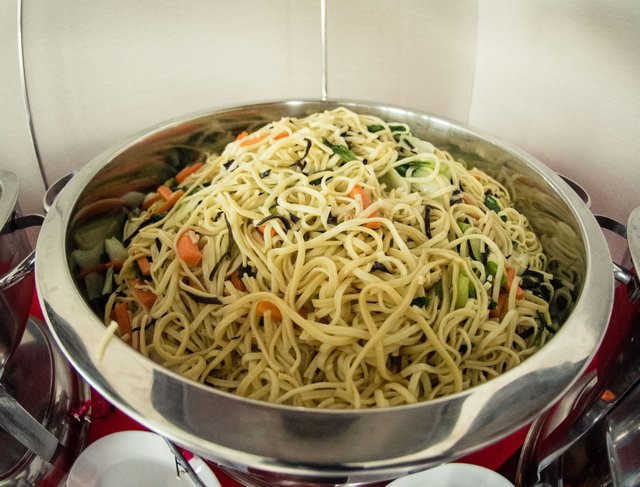 Fried Longevity Noodle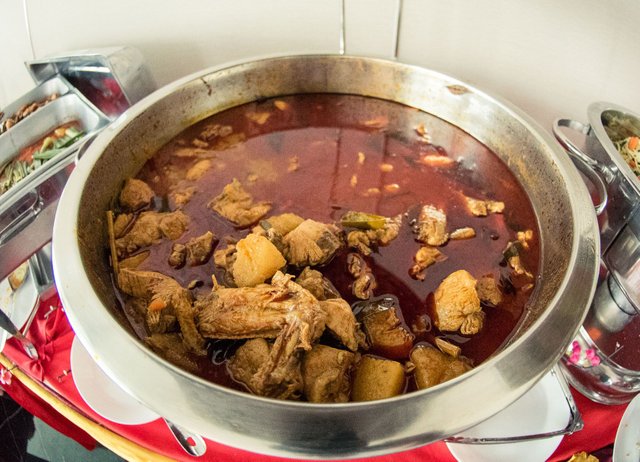 Curry Chicken with Potatoes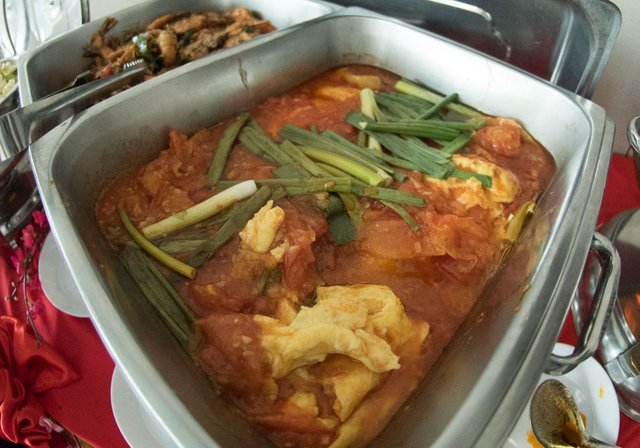 Tomatoes Eggs Chinese Style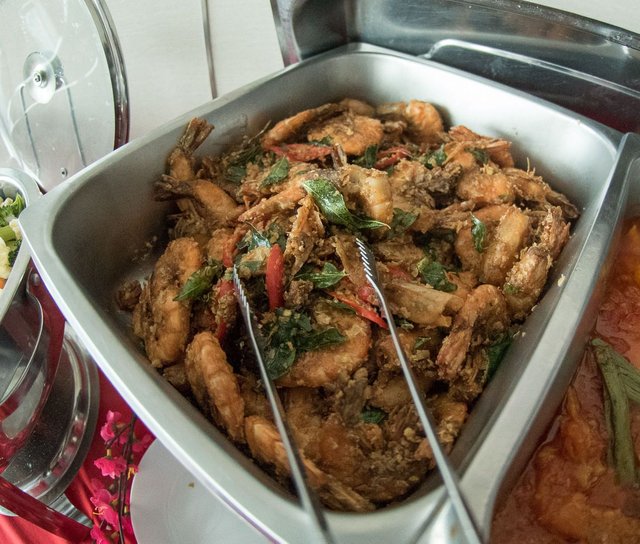 Salted Egg Prawns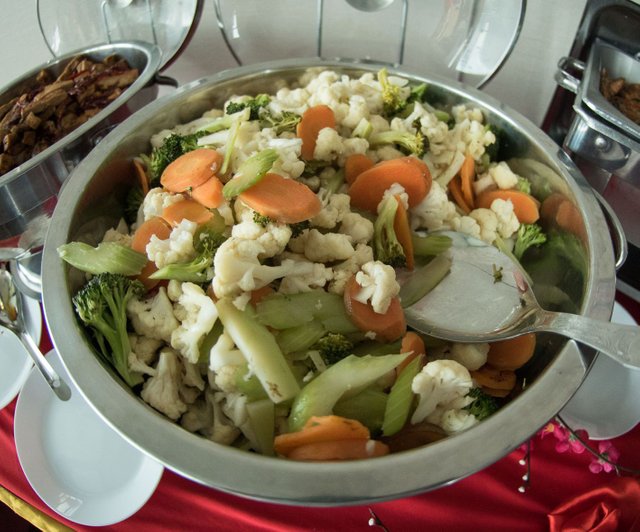 Stir Fried Mixed Vegetables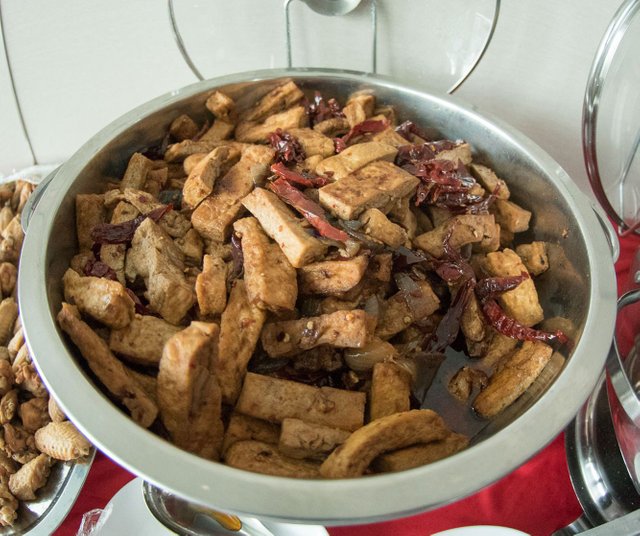 Kung Pao Tofu

​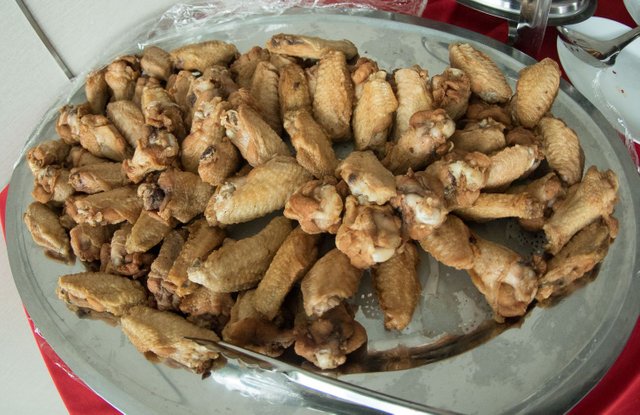 Nam Yue Fried Chicken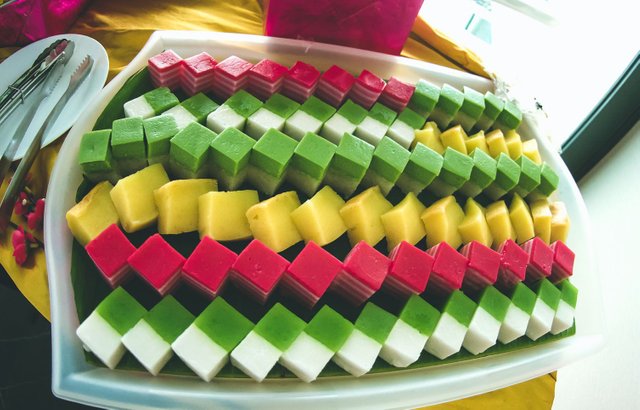 Nyonya Kuih Platter - Bingka Ubi, Seri Muka, Kuih Lapis and Kuih Talam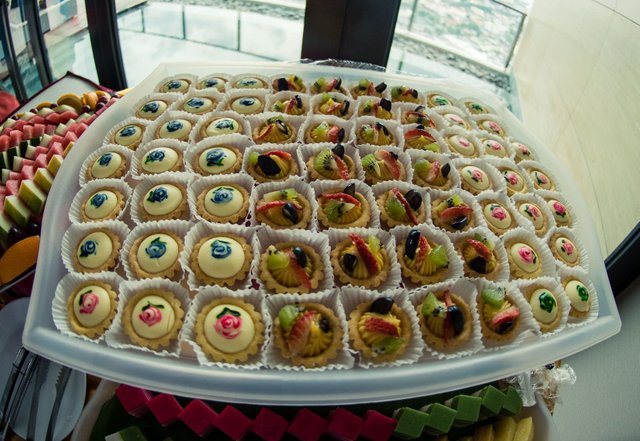 Mini Tarts Platter - Mini Fruit & Cheese Tarts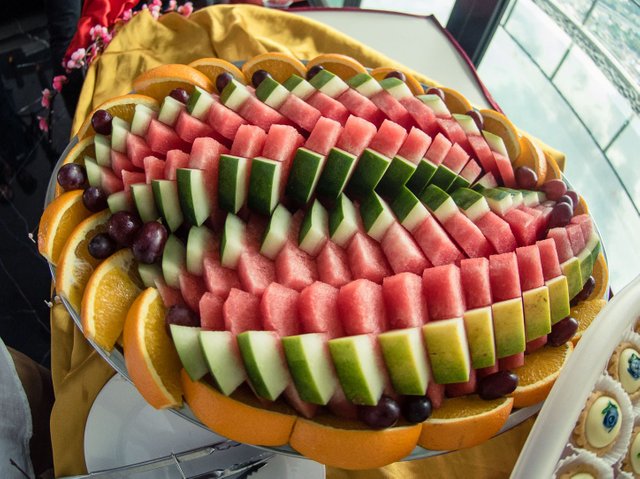 Fruits Platter - Watermelons, Grapes & Oranges

Besides enjoying the food, some Steemians also taking pictures of the breathtaking​ view and combo with the sunset making it the perfect shoot for contents and memories (Pray hard for a nice weather 🙏🏻 has been paid off).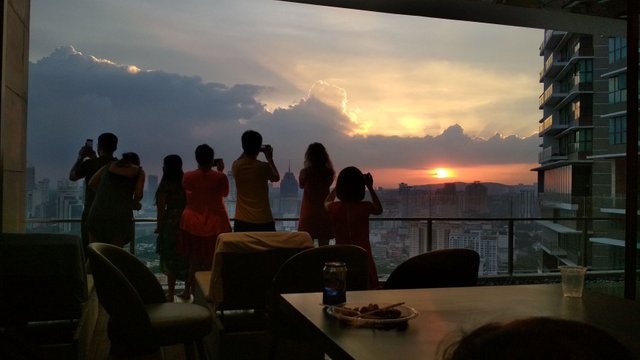 Look at those hardworking Steemians taking photos 💪🏻.
Photo by @elizacheng
I've must have​ missed out the sunset view while doing some interview shot by @shenoy and @varunpinto just outside the pool villa and bringing up Steemians who arrived at the lobby.
Group Pictures Gathering
When all the Steemians attendant​ had arrived, it's time to gather up for some group photo. Since the pool villa has limited spaces inside, we proceed to do​ our group photo just outside the swimming pool area with the KLCC Twin Tower as our background.
@bitrocker2020 & His Awesome Announcement for Group Photos
It took a while for everyone to arrange their standing as we had 50+ of us in the group together and our photographers @orangila and @varunpinto are testing few shoots to get a nice angle. With all the setup completed, is time for that moment, 📸!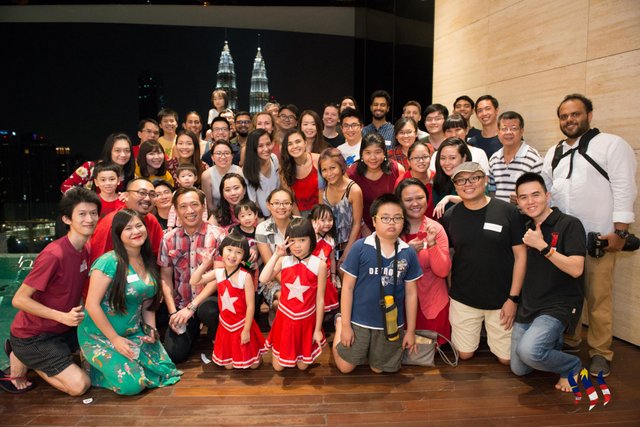 Team Malaysia CNY Gathering Group Photo by @orangila

Thanks to Steemit and Team Malaysia, I've met​ more talented people comparing last year itself, who would have thought​ of this community went from merely few people to a big amount of people
Yummmm Sheng Moment
After the group photo, we went back into​ the pool villa and this is where Alcohol got everything hyped up during the gathering, and calling Yum Sheng makes the whole gathering super alive showing how energetic Team Malaysia it is. @bitrocker2020 showing the way of Yum Sheng to our international guest making it a very funny moment to be captured​ for my post 😉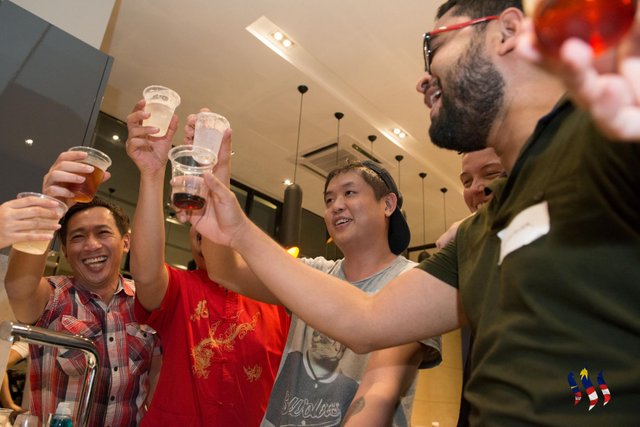 Yum Sheng moment by @orangila

Yummmm Sheng Funny Moment with Steemians
​
Fortune Bag Cake
As time passes away, some of the Steemians had gone​ back home as tomorrow is Monday and I totally forgot about the cake that we bought for the gathering but I managed to bring it out before the gathering ends.
Choosing the right cake is a bit tricky when @joannewong and I went to the Bakery shop as it needs to suit the whole gathering theme. I did saw a durian shaped cake at the Bakery 🙈 but not all people will like the durian taste ( @sjennon is one of them 😅 ), in the end, ​we choose this Fortune Bag Shaped Cake which there might be a lot of STEEM, SBD, UPVOTES in it 😏.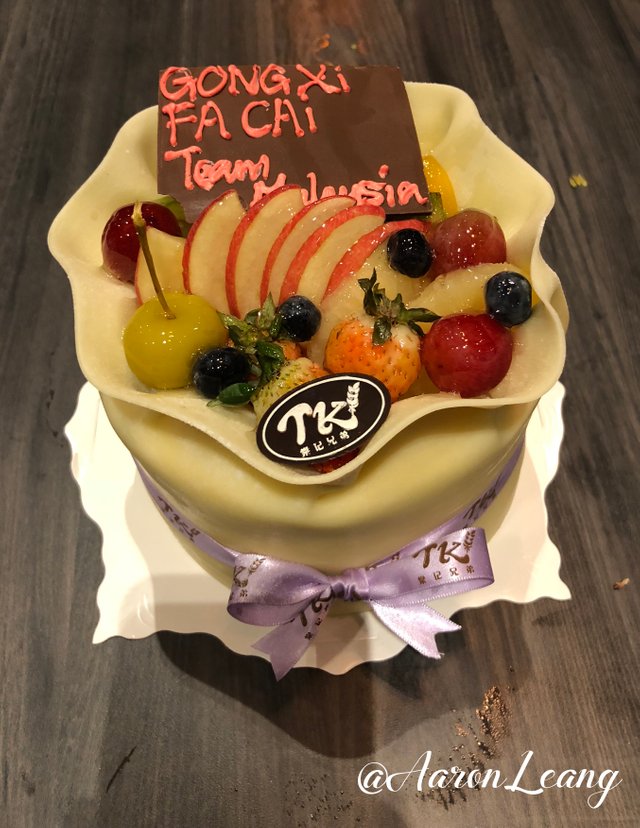 Gong Xi Fa Cai Team Malaysia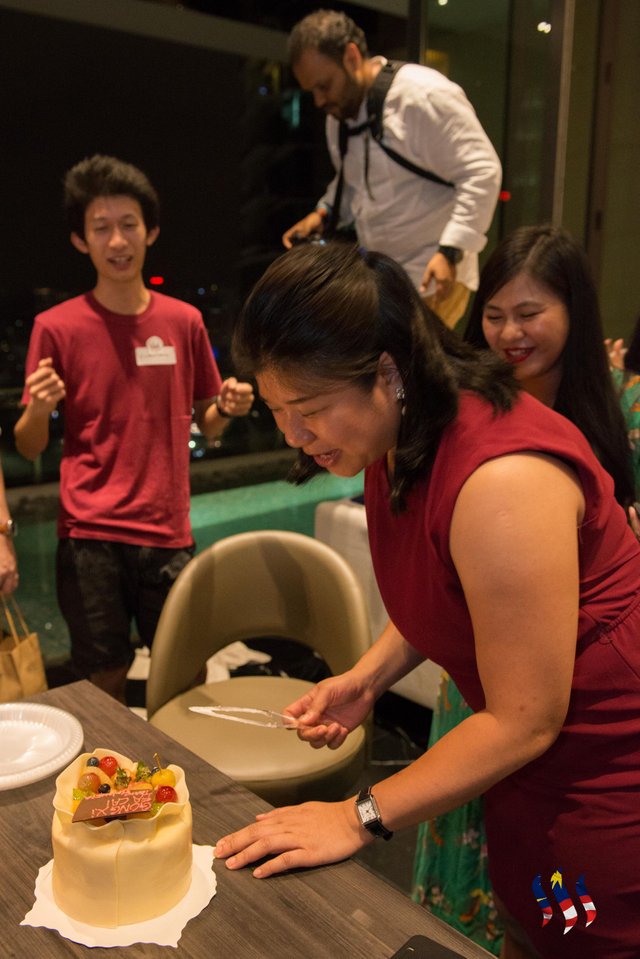 Letting @karinzdailygrind, our February baby to do the honor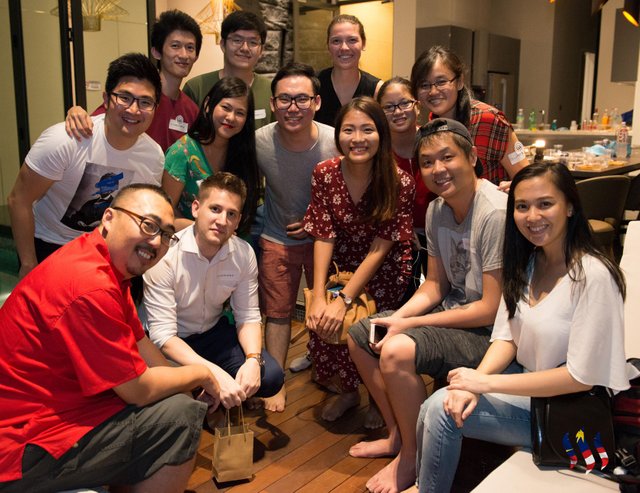 Look who just arrived 🙈

We end our gathering with some cake eating, mini group photo and some of the Steemian help out to clean up the venue and bring the heavy item back to my place.
Post Gathering Session
Most of the Steemians had gone​ back at this moment and the pool villa had to be empty off before midnight, some of our guests​ stay back at our place to hang around, chatting more technical blockchain stuff, eat to fill up their empty stomach after that yum sheng​ moment and chill for the night until around 2.00 AM​.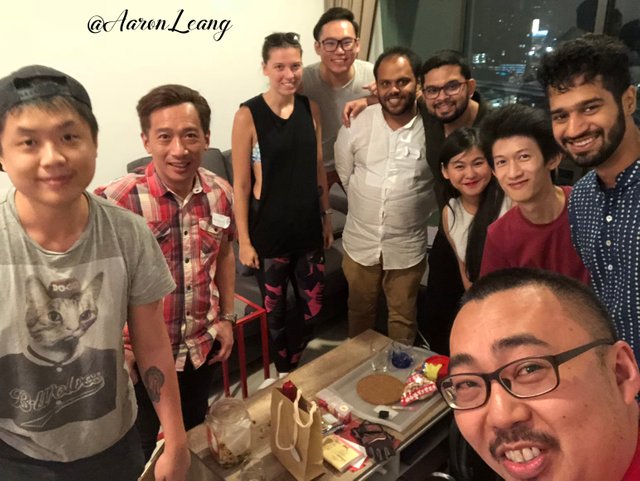 End the session with a wefie

---
Check out some of the updates from other Steemians who attended the Gathering as well right below here. Sorry if I've missed out your post 🙏🏻.
Once again, thank you all Steemians who came for the gathering and I hope you enjoy it very much! Sorry for my delay update for the CNY Gathering post, I know some of you had been waiting for it after my teaser updates 😅. Below are the attendees, but some of them aren't in Steemit
Committee Members
Special Guest
Team Malaysia Members
Looking forward to​ more major and minor gathering happen in Team Malaysia, do stay tuned to​ our discord channel for more updates and Talk Kok​ Sing-Song with us 😉.
---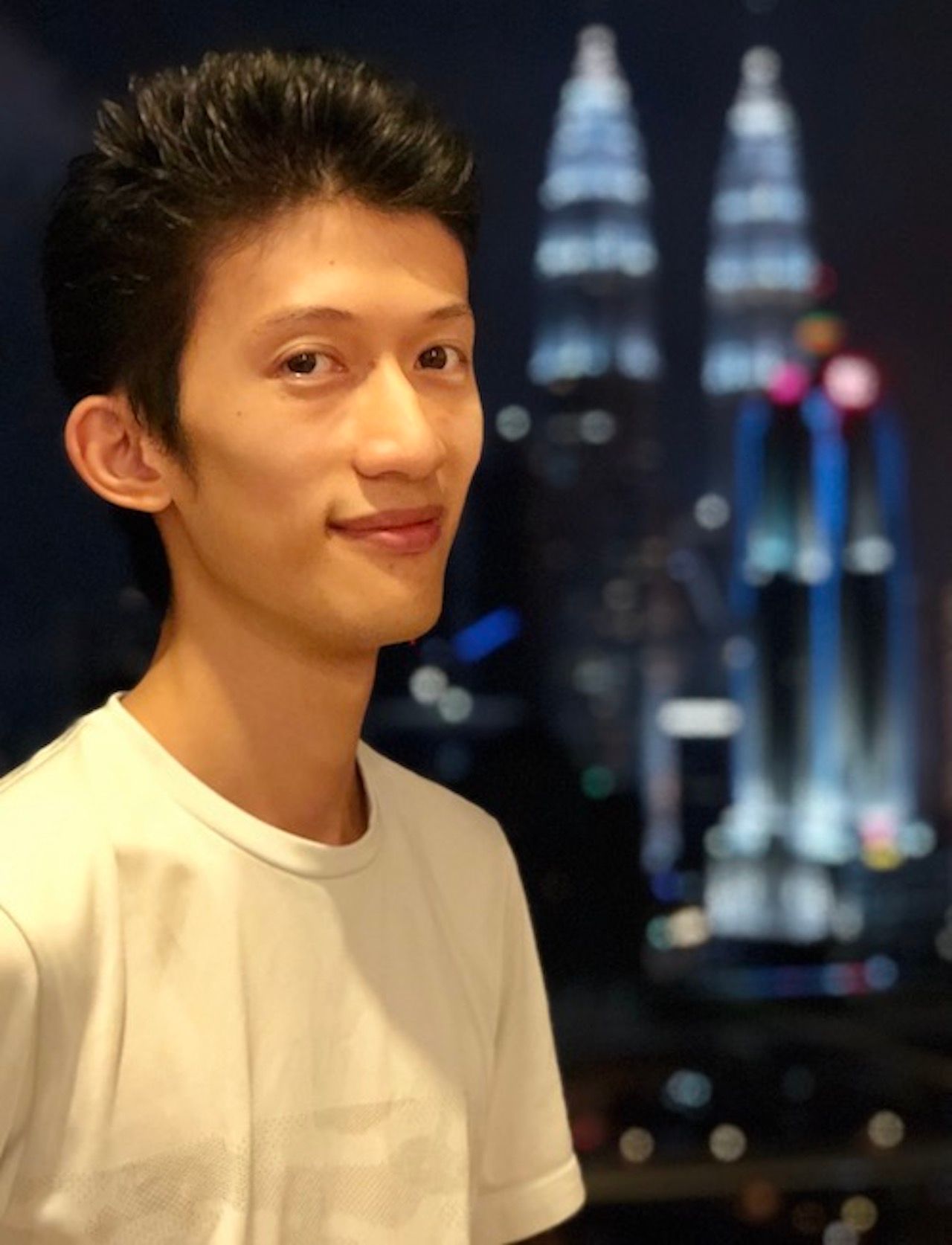 Hello, I'm Aaron Leang from Team Malaysia
Why Steemit?
Unlike other social media platform out there, you can actually earn some reward by creating good quality contents, comments, and community projects in Steemit!
What's the Cost?
You do not​ need any initial​ capital or money during the entire process. Just sign up for an account and voila~, you're on your way to earn some STEEM yourself​.
Like this Post?
You can support this post by giving an upvote, comment or resteem! I appreciate it very much ​and thank you for the support
---
Stay Tuned, Keep Calm and STEEM On!