Hello steemians!
I am RYO!
-Jingi- new chapter has been completed!
From this chapter I decided to write a sentence under the page!
If you are not used to reading manga, if you want to translate it into your country's words you can copy them and read -Jingi-!
Furthermore, I will also run them on the past chapter and will post a new post!😀
Then, about hints to read manga before reading chapter 6
Read manga from the right
Red word are Japanese. The meaning is written in (※)
Synopsis of the story so far↓
New Meiji government that runaway for new reform…
The government was hitting the villagers to suppress the traitors…
And mysterious samurai appeared there and entered the government to stop the runaway…
And that samurai, Takeuchi Shinden(竹内真伝) controlled the fight between government leader Yoshida(吉田) and Katana…
However, Yoshida who lost the fight acts ominous…
Then please enjoy the Chapter6!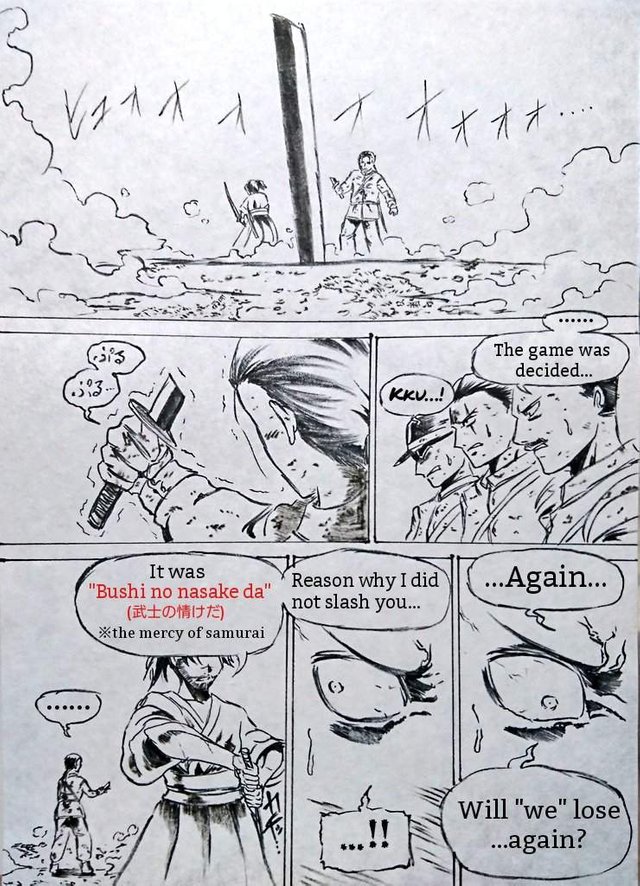 The game was decided…
…Again…Will "we" lose…again?
Reason why I did not slash you…It was "the mercy of samurai"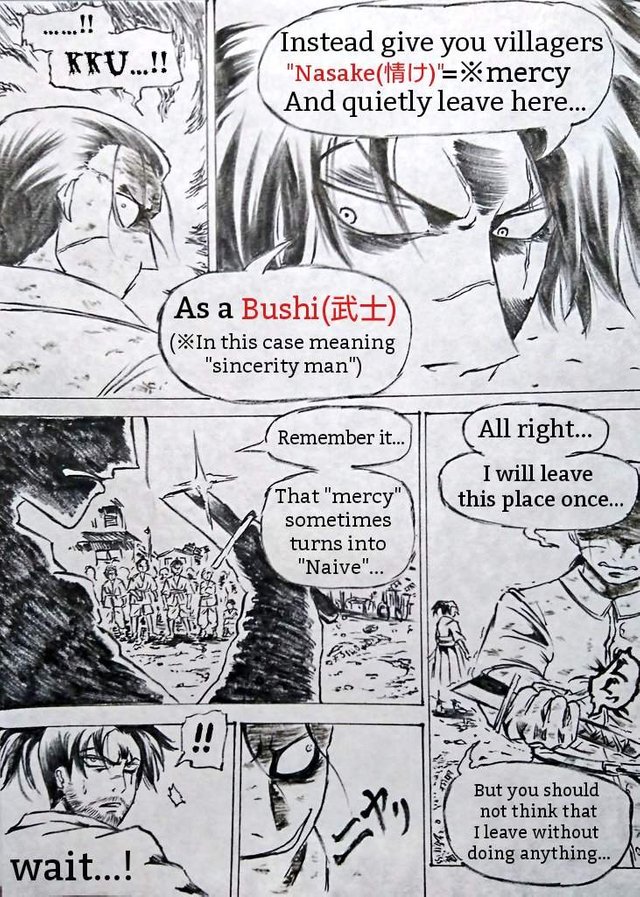 Instead give you villagers mercy…And quietly leave here…As a Bushi…(In this case meaning "sincerity man")
kku…
All right…I will leave this place once…
But you should not think that I leave without doing anything…
Remember it…That "mercy" sometimes turns into "Naive"…
Wait…!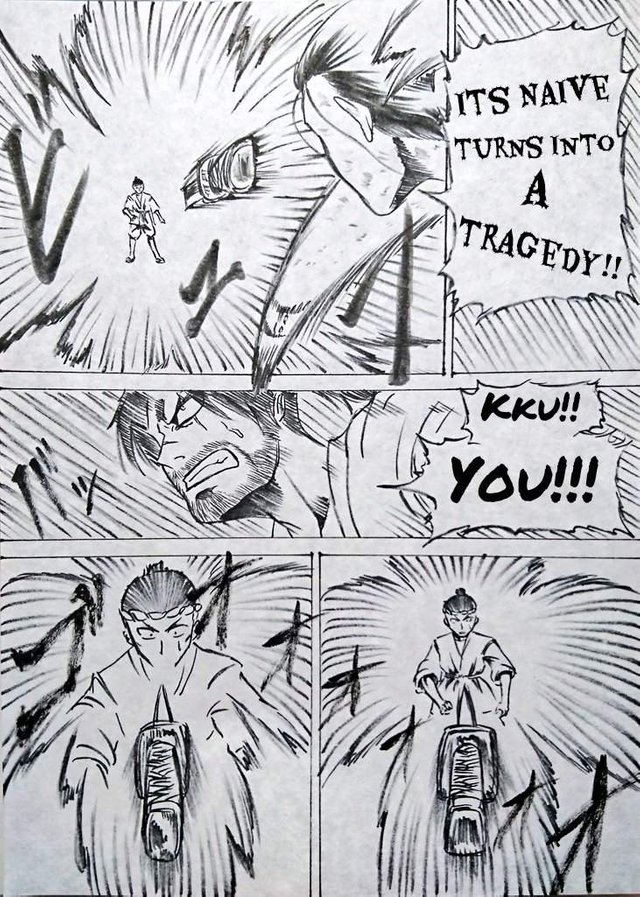 Its Naive turns into a tragedy!
Kku!! you!!!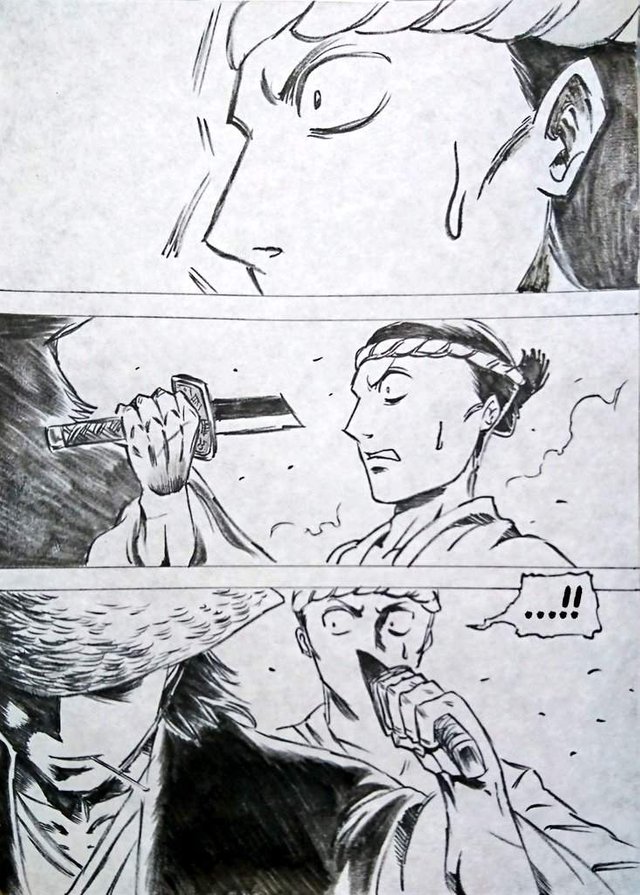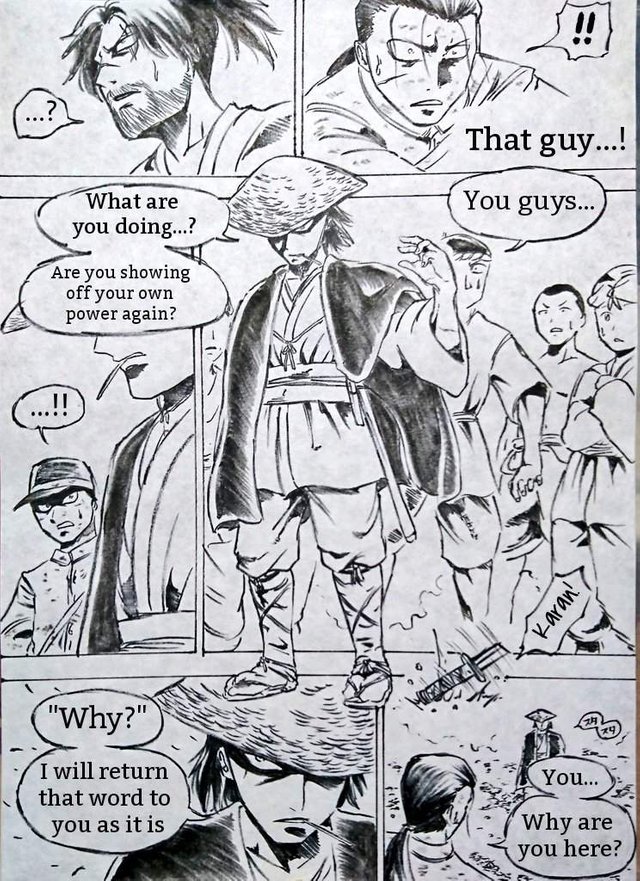 That guy…!
You guys…What are you doing…?
Are you showing off your own power again?
You…Why are you here?
"Why?"
I will return that word to you as it is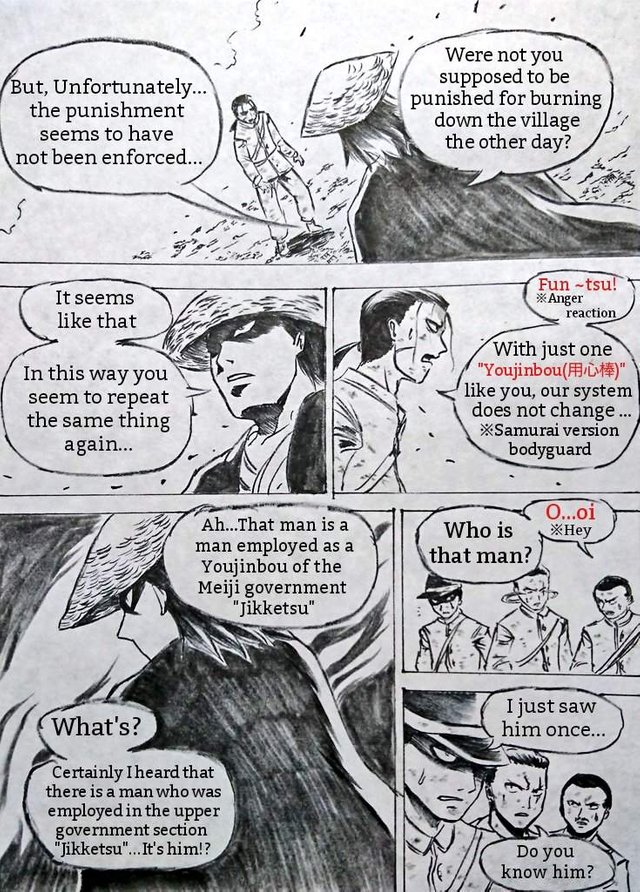 Were not you supposed to be punished for burning down the village the other day?
But, Unfortunately…the punishment seems to have not been enforced…
Fun ~tsu! (※When the Japanese got angry say like this)
With just one "Youjinbou(用心棒)" like you, our system does not change ...
(Youjinbou=※Samurai version bodyguard)
It seems like that,
In this way you seem to repeat the same thing again…
O…oi ※Hey
Who is that man?
I just saw him once…
Do you know him?
Ah…That man is a man employed as a "Youjinbou" of the Meiji government "Jikketsu"
What's? Certainly I heard that there is a man who was employed in the upper government section "Jikketsu"...It's him!?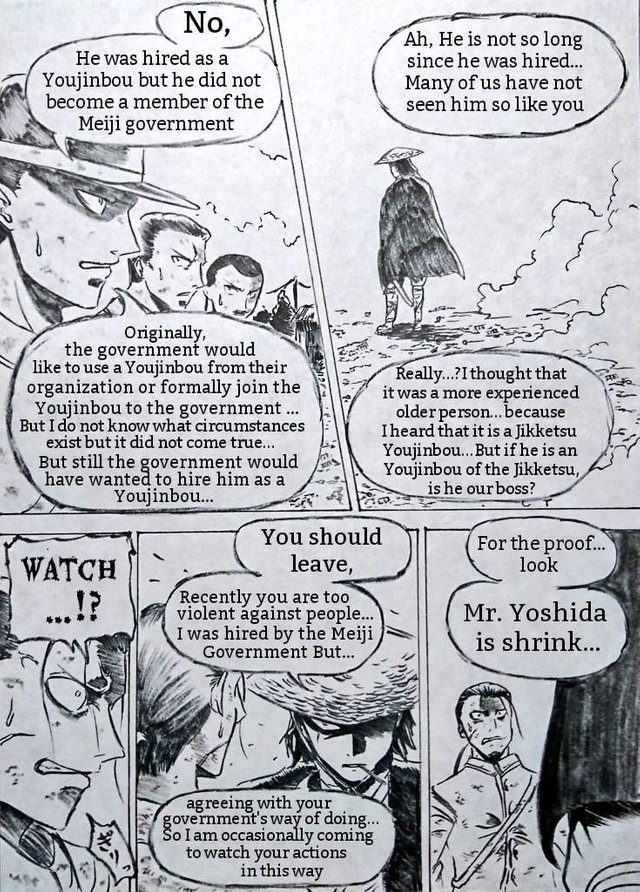 Ah, He is not so long since he was hired…Many of us have not seen him so like you
Really…? I thought that it was a more experienced older person because I heard that it is a Jikketsu Youjinbou...But if he is an Youjinbou of the Jikketsu, is he our boss?
No, He was hired as a Youjinbou but he did not become a member of the Meiji government.
Originally the government would like to use a Youjinbou from their organization or formally join the Youjinbou to the government...
But I do not know what circumstances exist but it did not come true…
But still the government would have wanted to hire him as a Youjinbou.
For the proof…look Mr. Yoshida is shrink…
You should leave, Recently you are too violent against people…
I was hired by the Meiji Government but…I am not agreeing with your government's way of doing ...So I am occasionally coming to watch your actions in this way
watch…!?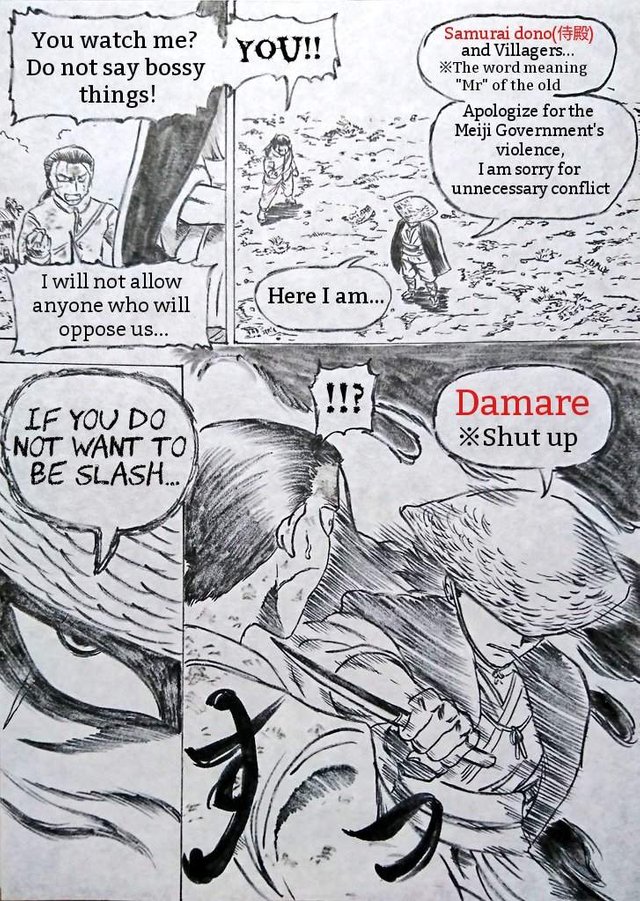 Samurai dono 侍殿 (※The word meaning "Mr" of the past. "Dono(殿)" has a meaning of worship and respect for the opponent) and Villagers.
Apologize for the Meiji Government's violence. I am sorry for unnecessary conflict, Here I am...
You! You watch me? Do not say bossy things! I will not allow anyone who will oppose us…
Damare(黙れ) ※Shut up
if you do not want to be slash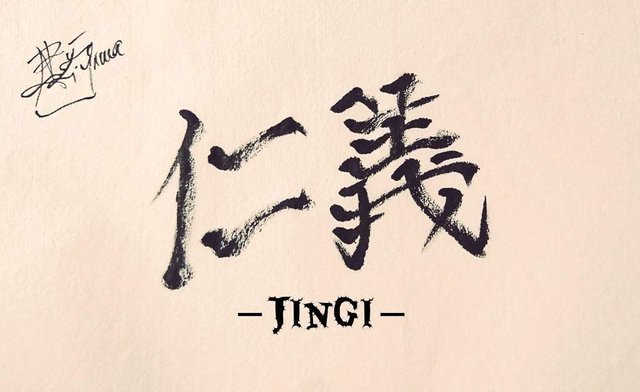 The chapter6 is over!
Did you enjoy -Jingi-?
I hope the sentences under the page will help you read manga!
Please wait for the next chapter!
Thank you for reading!
Arigatou gozaiwashita!(ありがとうございました)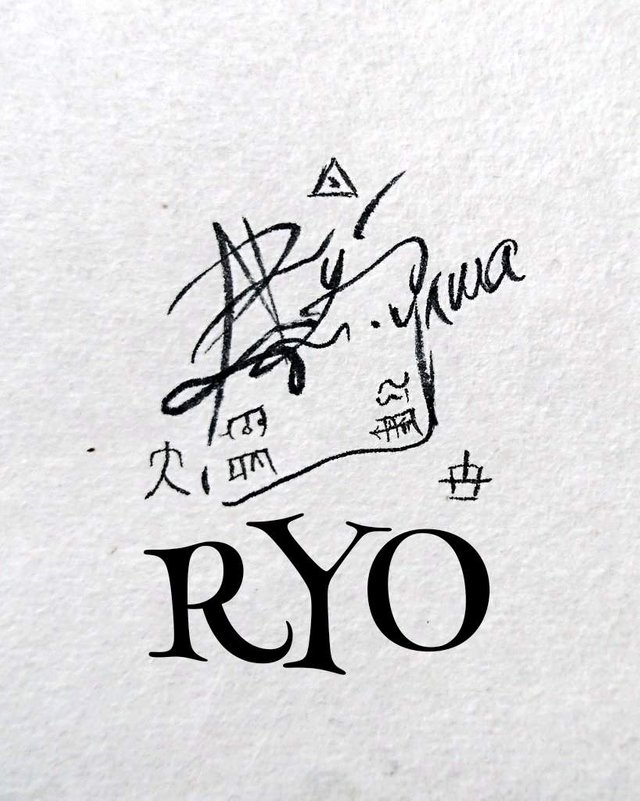 Have not you seen the -Jingi-仁義 series yet?
My Samurai manga -Jingi-仁義 can be seen here!
First Chapter
https://steemit.com/manga/@ryo-6414/samurai-manga-release-z1ielgba
Chapter2
https://steemit.com/jingi/@ryo-6414/jingi-episode2-ymis2fo9
Chapter3
https://steemit.com/art/@ryo-6414/jingi-episode3-rnkdpp91
Chapter4
https://steemit.com/manga/@ryo-6414/the-samurai-manga-jingi-chapter4-flhko54g
Chapter5
https://steemit.com/manga/@ryo-6414/the-samurai-manga-jingi-chapter5-howrz8l1
All my mangas drawn in "Washi(和紙)"
It is a traditional Japanese paper made from 1300 years ago.
Posts on Washi and manga processes↓
https://steemit.com/art/@ryo-6414/samurai-manga-jingi-process-ia9qudum
Posted using Partiko Android