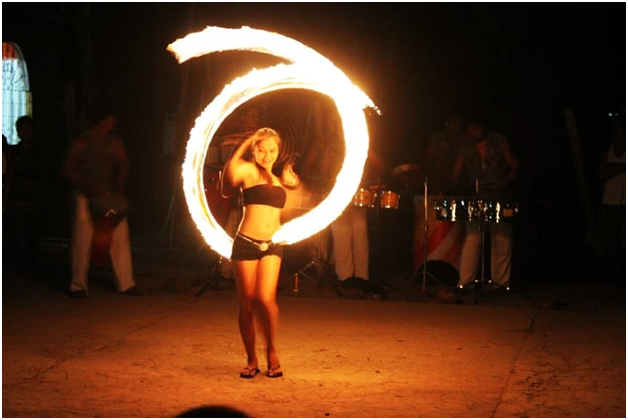 Hello again Steemians! I have been telling you about myself as a Biologist and as a Scuba Diver, this time it's me as a Fire Dancer.
---
HOW IT ALL STARTED
Dancing has always been part of my life. When I dance, I forget everything else and just feel completely happy. I could even still remember myself as a kid joining contests in fiestas with my sister and cousins. We always dominate the competition because we do not just dance, we perform!
As an ambitious girl aiming to do things unique and remarkable, I wanted to turn dancing into a whole new level. Way back college, I decided to join the "Sugbo Performing Dance Group" which offers a variety of dance from cultural dances to international ones like Hawaiian and Brazilian. Joining a cast full of amazing performers, we showcased our talents in many luxurious hotels in Cebu.
Just when I felt the contentment of performing the kind of dances the group showcases, I saw one of my friends doing some rhythmical patterns using poi, a chord with a ball-end used for fire dancing.. Yes, what she's doing is fire dancing! The contentment I had went from 100 to 0 real quick. Watching her do those tricks made me feel excited that I began to think of fire dancing as something I could get into.
---
LEARN BEFORE YOU BURN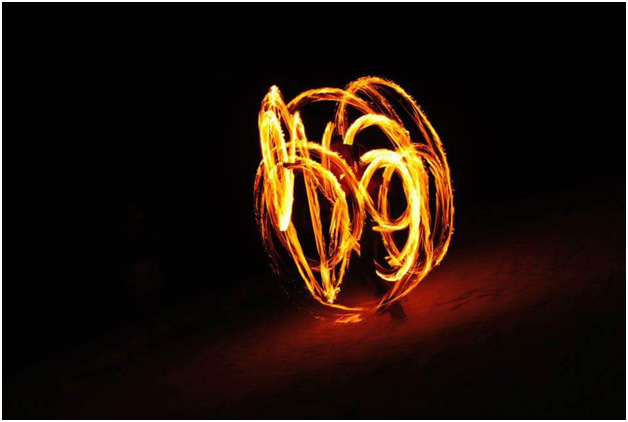 This is me fire spinning and having fun with flames.
Practice like you've never won, and perform like you've never lost.
It takes a whole lot of practice just to learn fire dancing, and mastering it is another story. The amount of time you've been spinning or the number of moves you know has little effect on whether or not you're ready to spin with fire yet. Basically, it's the quality of one's training that matters and not the quantity, itself. The gauge is your confidence and ability to perform the moves you do well before litting up the poi and get into the real action. At least, these are the things they adviced as I was still a rookie at that time.
There and then, I made my own poi for practice. As simple as 1, 2, 3 – I just needed a pair of lengthy and not-so-smelly socks and a couple of tennis balls. All I needed to do was to stick a tennis ball in the end of each, and whamo – I have a set of practice poi! Having the pieces needed, I straightly went to look for an ideal place to have my most anticipated first spin.
Though making a poi is as simple as 1-2-3, the whole training was as complex as the square root of 3 - 2i. It definitely is brutal as I was hit several times while spinning my socks, and it s*cks. There were even times I doubted and hesitated to continue, but the eagerness I had prevailed. With the determination burning in my heart, I didn't give up. I even made the training a part of my morning fitness routine.
One month of poi practice and I felt like I could dance with fire already. The confidence I had was enough to push myself on taking that next step. I also mastered some tricks for me to try with the end of the chain ablazed. With some expert friends handing over the lit poi, I finally danced with the flames for the first time. It was a pulsating yet satisfying moment for me as I was surprised at the heat and size of the fireball but ultimately doing the tricks as clean as it gets. Man, was I on fire!
---
TINKERZUKIE ENTERTAINMENT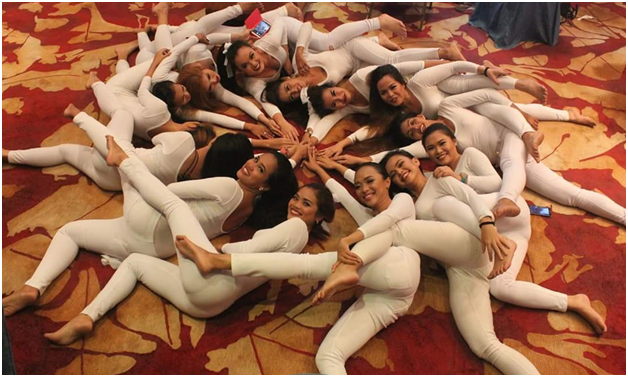 Me and my Tinkerzukie family doing some crazy stuffs before the show.
To watch us dance is to hear our hearts speak.
-Hopi Proverb
This is what Tinkerzukie Entertainment is all about. It is based in Cebu and offers a variety of new and exciting live performances across Visayas region.The group offers different kinds of production including fire dance, led dance, hawaiian dance, tribal drum beaters, modern dance, belly dance, cultural dance, and live bands. Joining a circle like this, right after learning the art of fire dancing, was an easy decision for me because some of the members, including the manager, were also from Sugbo Performing Dance Group.
Since joining Tinkerzukie, I have showcased my talent on many luxurious hotels in Cebu with the likes of Shangrila Mactan, Crimson Resort and Spa, and Hilton Hotel. Aside from fire dancing, I also experienced performing hawaiian dance and the jaw-dropping led poi dance. Hitting 3 birds in 1 stone, this is what I achieved for being part of this bond – my ultimate dream of performing, the passion for doing unusual things, and the pleasure to meet new friends.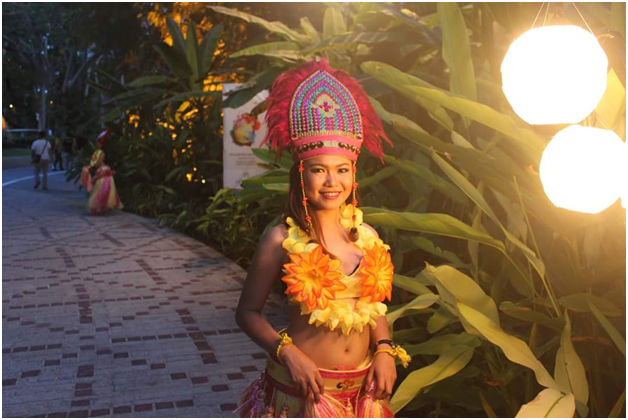 Getting ready to perform Hawaiian dance at Shangrila Mactan.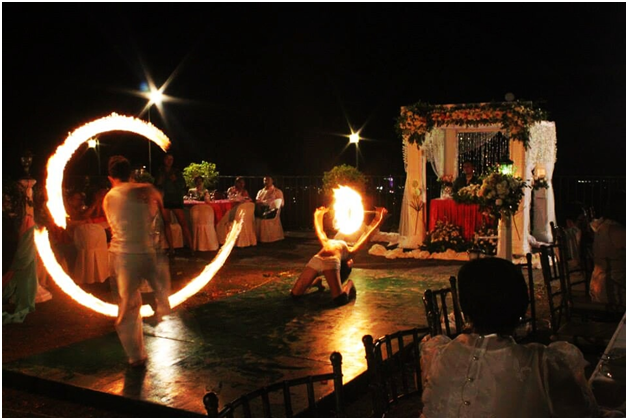 Fire dancing performance by TInkerzukie at a wedding!
---
EARTH HOUR: ONE FOR MOTHER EARTH
Oh, I almost forgot - the fourth bird I just hit in 1 stone, and that is being part of events wherein we unite people and keep up with nature. My previous blogs indicated how passionate I am when it comes to that. As a biologist, I always make sure that the things I do should always make a difference for Mother Earth. In scuba diving, I participate activities concerning the conservation of ocean such as Scubasurero: Dive Against Debris. In fire dancing, I perform not just for my passion, but also for my advocacy and that is to protect wildlife and nature.
Earth Hour is now the world's largest grassroots movement for the environment, inspiring millions of people to take action for our planet. Every year, millions of people around the world join the movement and switch off their lights for one hour to show support and love for the environment. It's greatest strength is the power of people.
As luck would have it, Tinkerzukie always end up invited to perform on Earth Hour events in hotels and resorts. It's as if we're shining the light on climate action while joining the movement through fire spinning performances. I consider it as one of the many ways to connect with nature. Instead of seeing non-essential lights, people watch us perform the art of fire manipulation.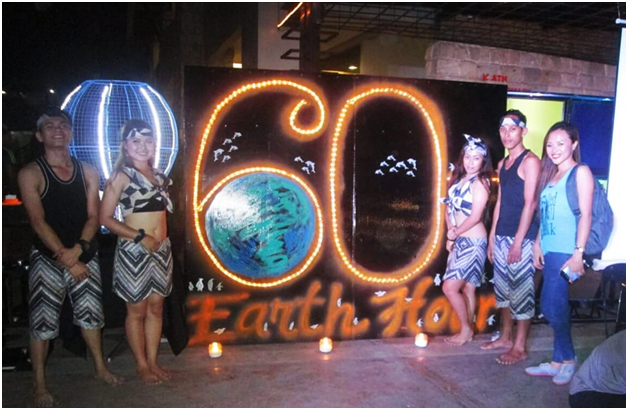 Earth Hour event held at Crimson Resort and Spa.
---
PASSING THE TORCH
Teach what you learn, and speak what you heard (Broad Shoulders by Taylor Bennet). This is what I always believe my whole life and I want to continue sharing especially in this kind of platform. By teaching what you already know about your profession or hobby, you'll learn more, potentially gain some insights from other's experiences, make new connections with people, and find new opportunities. And you'll have some fun.
On my previous post, I've made a tutorial on how to be a licensed Scuba Diver,and soon enough I'll be posting one for you to become a fire dancer. Below are just some tips to start playing with fire, both in your hands and in your heart.
• A great way to start is to get a pair of long socks, stick a tennis ball in the end of each. I think this is the easiest way to have a practice poi.
• Practice with music, it gets you moving – trust me.
• Master what tricks you are trying to do and have the full confidence before litting up the poi. Remember, learn before you burn.
• Befriend a spinner and learn the technicalities and experience-based thoughts from them.
• The most important one is to have fun!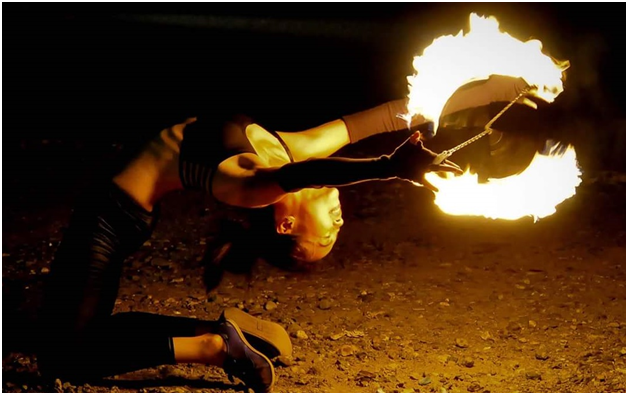 Meet Aurora, our fire dancing manager, who taught me how to play with flames.
---
Make goals, dream big and live your passion because YOLO, you only live once. This is why you should do what makes you happy. I knew fire dancing was unsafe, but it fulfills me as a person. This is what I wanted all my life, to do what is unusual to others, and to perform in front of a crowd.
Steemians, Im proud to say - I just don't dance, I fire dance.