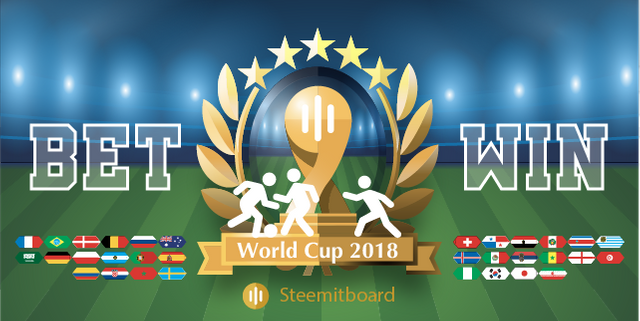 We are now within 48 hours of the semi-finals of the World Cup. So many great teams were eliminated during the group stage or the Round of 16.
During the quarter-finals, as expected, France and England won their match.
Belgium created a surprise by eliminating the favorite of the World Cup, Brazil!
And unfortunately, Russia had to bow to Croatia despite the extraordinary encouragement of its supporters.
So, we will now enter the Semi-Finals with 2 wonderful matches:
France vs Belgium
You may have noticed that @arcange has a clear preference for one of the two teams. Will you support the same team or vote for the other one?

Croatia vs England
Croatia has gone through this world cup in a very extraordinary way. Will they be able to confirm this adventure and beat England, the favorite of this match?
Which teams will be in the final? It will soon be time to choose your side!
Are you ready?
SteemitBoard is ready for the Semi-Finals
The board of the World Cup has been updated and the two matches will soon be unlocked for betting.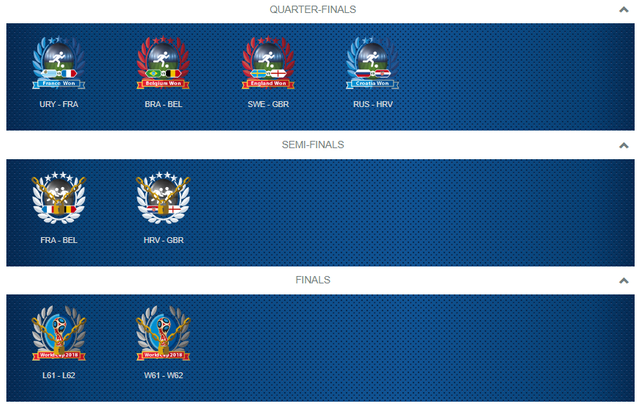 You can still participate to the contest
For those who want to join the contest, remember that you can enter it at any time of the competition. As the prize pool is distributed among all the (lucky) participant, you may still get a share of it if you successfully guess some match results. Better late than never!
Please, carefully read the rules in the announcement post!
To register for the contest, send 0.010 SBD or 0.010 STEEM to @steemitboardpool with wordlcup2018 in the memo.
Current result of the contest
The last results of the contest have been published in this post.
Check your board to see the badges you collected.
Find your current position in the ranking on the dedicated web page:
https://steemitboard.com/wc2018
There are only 4 badges left to win. For those who are in the lead, this is the decisive moment. For everyone else, this is an opportunity to increase your share of the Prize Pool.
Top players: play attention! Remember this rules:
In the event of a tie between the top players, the winner will be the one who first lightened all his badges. This means that the badges obtained during the group stage will weigh more than those in the final.
If there is still a tie after applying the previous rule, the voting time of the players will decide, the winner being the first to vote.
So be careful not to vote too late if you want to keep your advantage.
Good luck and enjoy the World Cup 2018!
---
The prize pool is 1750 SBD thanks to our sponsors
---
Do you like this contest?
Upvote and Resteem this post to support our work and bring fun to Steemit!
---
Steemitboard is a project created by @arcange